Disclaimer: We sometimes use affiliate links in our content. For more information, visit our Disclaimer Page. 
Team dynamics are the invisible forces that shape how a team functions, communicates and collaborates to achieve its goals. In today's workplace, the ability to foster effective team dynamics is paramount, influencing not only the productivity of a team but also its overall morale and job satisfaction. 
The hallmark of effective team dynamics is the positive impact they have on a team's output and success. A well-coordinated team, where members understand their roles and trust each other's capabilities, can outperform and outinnovate the competition.
Setting the correct tone for these interactions is critical in 2023, as it can dictate the team's overall effectiveness. Recognizing the importance of team dynamics and their implementation is the first step toward cultivating a thriving work environment for all team members.
Key Taweays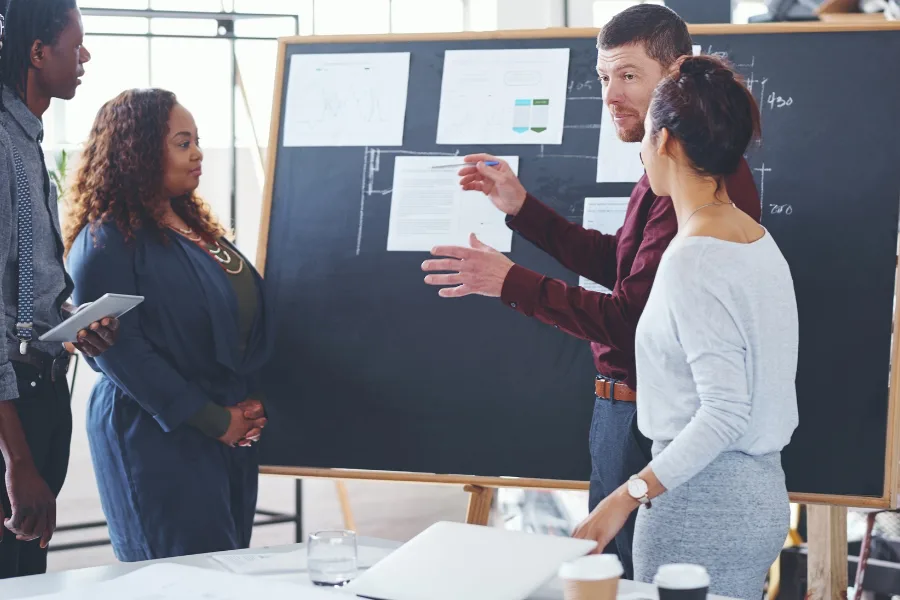 Understanding Team Dynamics
Before we can dissect the anatomy of successful collaborations, it's essential to grasp the concept of team dynamics. These are not just the guidelines for how team members interact, but they are the very heartbeat of the team's collective effort.
What Are Team Dynamics?
At the core, team dynamics are the psychological forces influencing a team's behavior and performance. These dynamics are pivotal, as they can significantly dictate the pace and direction of the team's workflow and output.
It's through understanding team dynamics that we learn how they shape every aspect of how a team functions—from decision-making processes to daily interactions and long-term goal achievement. Every strategy, conversation, and action within a team is a reflection of these underlying dynamics.
The Components of Effective Team Dynamics
In the intricate dance of collaboration, certain elements are essential for maintaining the rhythm of effective team dynamics. Foremost among these is effective communication—the linchpin that keeps the team aligned and moving in harmony. It's the clarity of dialogue and the openness of discussion that foster understanding and trust among team members.
Equally critical is mutual respect, the undercurrent that allows diverse ideas and personalities to flow together rather than clash. When team dynamics are healthy, the relationships and processes naturally coalesce, crafting an environment where the team doesn't just function, it excels.
Recognizing Bad Team Dynamics
Conversely, the strain of bad team dynamics can disrupt the collective tune, causing discord and hindering the achievement of team goals. Symptoms often manifest as persistent conflicts, lack of engagement, or even a palpable tension that saps energy and creativity.
Real-world examples abound where poor dynamics led to project delays, cost overruns, and failed initiatives. In these instances, the warning signs were there—silos forming, accountability dodging, and an erosion of trust. The cost of such dynamics extends beyond the immediate team performance, potentially damaging the broader organizational culture. Recognizing these red flags early is critical to prevent the ripple effect of bad team dynamics.
Examples of Effective Team Dynamics
Effective team dynamics are often the unsung heroes behind the curtain of organizational triumphs. Here, we peel back that curtain to reveal the mechanics of team success.
Real-World Examples of Effective Team
Google stands as a paragon of effective team dynamics with its emphasis on psychological safety—a climate where every team member feels secure voicing their thoughts without fear of ridicule. This approach has catapulted them to the pinnacle of innovation. To understand this better, consider exploring Google's five dynamics of effective teams, which outline the principles that foster high-performing teams.
In the sports arena, the New Zealand All Blacks' legacy of success is built on a culture where camaraderie and collective responsibility are ingrained—each player knows their role and trusts their teammates implicitly, leading to unparalleled achievements on the rugby field.
Within the startup ecosystem, companies like Slack have made headlines not just for their products, but for their team cohesion. Their commitment to transparent communication and regular team meetings has been a cornerstone of their rapid growth and adaptability.
These narratives underscore that when a team's dynamics are fine-tuned, the outcomes can be as varied as they are remarkable. The common thread is a commitment to fostering environments where every individual is empowered to contribute to the team's vision.
Great Team: Cohesiveness in Action
Cohesiveness is the glue that binds a great team together, transcending the sum of its parts to achieve exceptional results.
Within the realm of sports, the legendary cohesion of the Chicago Bulls during the 1990s showcases a synergy where every player's strengths were amplified by trust and a shared vision, leading to a dynasty in basketball history.
In the business sector, companies like Pixar animate the concept of cohesiveness. The studio's brain trust meetings, where candor is encouraged and hierarchy is flattened, exemplify how fostering an inclusive atmosphere ignites creative brilliance.
At the helm of every cohesive team stands a team leader whose role transcends mere management. They are the stewards of the team's ethos, the catalysts for a culture where respect and team goals are not just espoused, they're enacted.
Team Member Spotlight: Roles in Improving Team Dynamics
It's in the collective harmony where every individual's understanding of their role coalesces into a symphony of productivity and innovation.
For instance, at NASA, every team member, from engineers to mission specialists, plays a crucial part in the intricate ballet of space missions. Their clear comprehension of roles and interdependencies is a testament to team dynamics at their best.
In tech startups, such as Asana, the synergy is palpable when team members bring diverse skills to the table, working in unison to fine-tune their product and support structure, demonstrating the power of united efforts.
Every story of a team member contributing to enhanced cohesion serves as a reminder that individual roles, when clearly defined and integrated, are essential cogs in the wheel of team dynamics.
How to Create Great Team Dynamics?
To build a foundation of great team dynamics, one must approach it with a strategy that is as dynamic as the team itself. The following enhanced strategies are designed not only to foster great team dynamics but also to ensure they are sustainable and adaptable to the evolving business landscape.
Articulate a Compelling Vision: A shared vision acts as a guiding star for the team. Leaders should communicate this vision with enthusiasm, linking team objectives to the larger organizational goals to inspire collective effort.
Set Measurable Goals: Objectives should be specific, measurable, achievable, relevant, and time-bound (SMART). This approach clarifies expectations and provides a tangible way to track progress.
Define Roles and Foster Accountability
Clarity in Role Definition: Use tools like RACI charts (Responsible, Accountable, Consulted, Informed) to define roles and responsibilities, reducing ambiguity and enhancing accountability.
Empowerment Through Autonomy: Assign tasks based on individual strengths and allow team members autonomy in how they complete these tasks. This approach can enhance engagement and personal responsibility.
Advance Open Communication and Collaborative Decision-Making
Cultivate an Open-Door Policy: Encourage an environment where team members feel their input is valued. Open-door policies coupled with regular feedback loops can significantly enhance communication.
Leverage Collaboration Technologies: Utilize collaborative platforms and tools that facilitate sharing of ideas and managing projects, making sure the entire team is aligned and connected.
Build Trust and Respect in a Diverse Environment
Trust-Building Activities: Integrate activities that build trust into regular team interactions, such as team-building retreats or trust workshops.
Inclusivity in Practice: Develop and enforce policies that support diversity and inclusion. Diversity training programs can help team members appreciate and utilize the unique contributions of each individual.
Handle Conflict with Emotional Intelligence
Conflict Resolution Training: Provide training in emotional intelligence and conflict resolution to equip team members with the skills to handle disagreements professionally and constructively.
Promote a Culture of Feedback: Encourage a feedback-rich environment where constructive criticism is delivered in a way that is beneficial, not detrimental, to team morale.
Provide Tools for Success and Recognize Achievements
Invest in Professional Development: Offer continuous learning opportunities, mentorship programs, and career development plans to help team members grow and feel invested in.
Public Acknowledgment of Successes: Create a culture of recognition where contributions are regularly celebrated in team meetings or company-wide communications, reinforcing the value of individual and team efforts.
Embrace Continuous Improvement through Reflective Practices
Regular Team Health Checks: Conduct regular assessments of team dynamics and well-being to preemptively address issues and reinforce positives.
Iterative Approach to Team Processes: Implement an agile methodology, where the team reviews and refines workflows and processes in iterative cycles, always seeking to improve efficiency and effectiveness.
Deepening the approach to fostering team dynamics requires a conscientious effort to understand and nurture the human elements that drive teamwork. By deliberately addressing these facets, leaders can cultivate a work environment where teams not only succeed but also thrive.
Strategies to Improve Team Dynamics
In the corporate symphony, every note matters; similarly, in a business, the harmonious interaction of team members can elevate the ordinary to the extraordinary.
To nurture a landscape where positive team dynamics flourish, consider adopting methodologies proven to solidify the foundations of any high-performing team.
Fostering Positive Team Dynamics
Practicality is key—team-building activities can act as a catalyst for camaraderie, enabling individuals to see beyond roles and hierarchies. For example, companies like Zappos use culture books and team events to reinforce their core values and unite their workforce.
Strategic implementation of regular team meetings and open forums encourages transparent communication, which is instrumental in building trust. Look to organizations like Buffer, which attributes its transparency and 'Default to Transparency' value as critical for its remote team's cohesion.
Moreover, adopting conflict resolution protocols preemptively can be instrumental. They provide a clear path for team members to address and resolve issues, preventing the erosion of trust. This approach is embodied by firms such as LinkedIn, which emphasizes clear communication channels and a culture of openness as part of their dynamic work environment.
Such strategies are not merely beneficial; they are necessary. They mold a team capable of weathering challenges collectively—a team where dynamics aren't left to chance, but are carefully cultivated.
Tips for Improving Team Dynamics
The journey to fine-tuned team dynamics begins with intentional steps toward cultivating an environment where each individual is seen, heard, and valued.
Team leaders, akin to conductors, have the power to orchestrate harmony within their teams. They can start by setting clear team goals and roles, ensuring that every team member understands how their work contributes to the bigger picture. Embracing regular feedback sessions not only helps in course correction but also in making each member feel involved and important.
Empowering team members starts with entrusting them with autonomy over their tasks. Allowing space for creativity and innovation can spur a sense of ownership, as seen with companies like Google, where employees are encouraged to spend a percentage of their time on passion projects, which often leads to new product ideas and innovations.
Role of Leadership in Effective Team Dynamics
The mantle of leadership comes with the responsibility to be the cornerstone of positive team dynamics. Leaders and managers set the emotional and professional tone of their teams, and their actions can significantly influence the internal dynamics.
To pivot away from bad team dynamics, leaders must adopt a proactive stance. Initiatives like regular one-on-ones, transparent communication channels, and recognition of achievements contribute to a positive atmosphere. The leadership at IBM, for example, regularly engages in open dialogues with employees, seeking input and feedback, which fosters a sense of inclusion and value.
By providing support and empowering team members, leaders can transform even the most challenging dynamics. Tactics such as investing in team members' growth, celebrating milestones, and providing clear communication can reshape and strengthen a team's cohesion.
In essence, leaders are the architects of team dynamics. Their commitment to nurturing a positive environment is often the difference between a group that simply works together and a strong, successful team that excels together.
Maintaining Effective Team Dynamics
Effective team dynamics are the lifeblood of a thriving business, ensuring that the sum of a team's parts translates into a powerful collective force.
Importance of Regular Assessment
The regular assessment is akin to a navigational compass for team dynamics, guiding teams back on course when they veer and affirming the path when it's correct.
Conducting Periodic Reviews: Hold frequent reviews of team dynamics to preempt stagnation and address any misalignment promptly, reinforcing the principle that every team member's input is vital for success.
Adaptive Response Mechanisms: Implement a responsive framework that allows for swift adjustment of strategies to enhance or rectify dynamics within the team, demonstrating that each team member's contribution is not only acknowledged but pivotal.
Maintaining Momentum Among Team Members
Sustaining momentum is crucial; it's the difference between a team that burns out and one that burns bright, setting benchmarks within the industry.
Goal Clarity and Shared Vision: Anchor the team's efforts with clear, achievable goals that are well communicated, ensuring that each team member is not just aware of the 'what' but also the 'why.
Fostering Team Spirit: Encourage interactions that build camaraderie, establishing a workplace where respect and trust among team members are not optional extras but fundamental necessities for a positive and productive team environment.
Maintaining effective team dynamics is a continuous process, akin to tending a garden; it requires constant care and the right conditions to flourish. Regular assessments and sustained momentum are the tools with which we cultivate a robust team environment where every member can thrive.
Conclusion
In the rapidly evolving landscape of 2023, the crux of building a successful team lies indisputably in nurturing effective team dynamics. These dynamics serve as the linchpin for high-performing teams, enabling them to navigate complexities with agility and cohesion. Leaders are entrusted with a pivotal role—they must orchestrate a symphony of skills and personalities, transforming individual strengths into collective prowess.
It's imperative that these team architects proactively engage in regular tune-ups of team mechanics, employing a spectrum of strategies from clear communication to empowering team members. This continuous process of refinement is essential, as dynamic teams are not built overnight but sculpted through persistent and mindful efforts.
We invite you to reflect on the discourse herein and contribute your own narratives of fostering a vibrant and productive team environment. Share your success stories or lessons learned, for every insight adds a strand to the intricate web of group dynamics knowledge. Engage with us in this ongoing dialogue to distill the essence of what propels a team from mere functionality to exceptional performance.
Your experiences, triumphs, and challenges enrich the collective understanding and are the guideposts for those who aspire to enhance the dynamics within their teams. Join us in this continuous journey of discovery and improvement, for the pursuit of effective team dynamics is a shared endeavor across industries and sectors. Together, we shape the future of teamwork.
FAQs
How can team dynamics often make or break the effectiveness of team working?
Team dynamics can influence team effectiveness by impacting communication, morale, and collaboration. Positive dynamics often lead to enhanced productivity and innovation, while negative dynamics can result in conflicts, decreased motivation, and inefficiency.
What are some effective team dynamics strategies for a team without clear goals?
For teams lacking clear goals, establish shared objectives, use goal-setting frameworks like SMART criteria, and align individual roles with these goals. Encourage open dialogue to ensure understanding and commitment to these newly defined objectives.
What are examples of effective team dynamics?
Effective team dynamics include clear communication, defined roles, trust-building, diversity embracement, conflict resolution skills, team-building activities, adaptability, and leading by example.
How will team building play a crucial role in enhancing team dynamics in 2023?
Team building in 2023 is vital for seamless collaboration, transparent communication, goal-setting, and fostering innovation and creativity within teams.