Disclaimer: We sometimes use affiliate links in our content. For more information, visit our Disclaimer Page. 
In today's fast-paced world, effective communication has become more crucial than ever. Strong communication skills enhance our ability to express ourselves, understand others, and navigate complex situations. In essence, they form the backbone of both our professional and personal lives.
Through the activities outlined in this blog post, you can not only improve your communication skills but also learn to communicate effectively and build strong relationships along the way.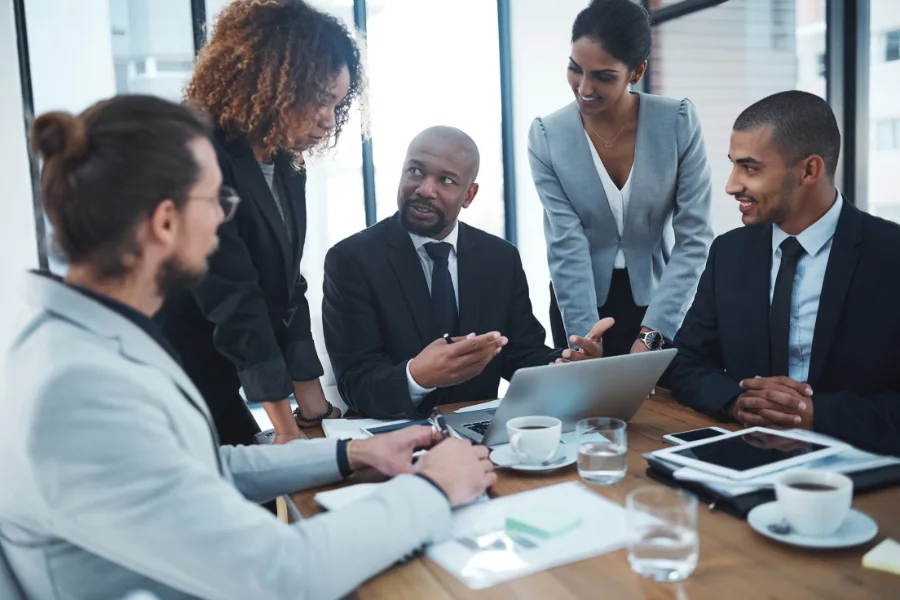 The Importance of Verbal and Nonverbal Communication
When we talk about improving communication skills, we often focus on verbal communication. Yet, nonverbal communication skills, such as body language and eye contact, are equally important. Our facial expressions, posture, and the way we maintain or avoid eye contact can send strong messages, sometimes even contradicting our words. An integral part of honing good communication skills involves learning to master these nonverbal cues.
Effective communication is not just about speaking clearly; it's also about listening carefully. Active listening skills, including paying attention to what the speaker is saying, not interrupting, and providing thoughtful responses, are vital for meaningful conversations. By participating in communication activities, you can refine your active listening skills and become a better communicator.
Dive into Effective Communication Activities
In the following sections, I'll walk you through some engaging and effective communication activities that will enhance both your verbal communication and nonverbal communication skills. The activities are interactive, fun, and can be adapted for a range of environments – from a team meeting at work to a social gathering with friends.
1. Spread the Word
Spread the Word is a powerful communication game aimed at fostering good communication skills among participants. In this game, a group leader whispers a message into the ear of the next person, who then passes the message on. By the time the last person gets the message, it often differs from the original, highlighting the need for clear communication.
This activity serves as an entertaining yet insightful way to demonstrate the importance of verbal communication and active listening. It teaches participants to listen carefully and articulate their thoughts effectively. And remember, while it's a fun way to spend a few rounds, the ultimate goal is to improve your communication skills.
2. Stinky Fish
Stinky Fish is another communication activity designed to encourage team members to communicate openly. Each team member shares a metaphorical "stinky fish," a problem or challenge they're facing, while others listen without judgment.
This activity fosters empathy and helps build strong communication skills by promoting an open exchange of thoughts and feelings. By learning to communicate effectively in this safe environment, you're able to carry these skills into your everyday conversations.
3. Four at a Time
The Four at a Time activity is an excellent tool for improving communication skills in a group setting. In this activity, team members are divided into groups of four. Each group discusses a pre-determined topic, taking turns to express their views.
This exercise enhances group communication and helps participants develop a better understanding of other people's perspectives. It's a great way to foster active listening and respectful vocabulary in a team setting.
4. Don't Listen, Just Listen
This exercise highlights the importance of active listening in effective communication. In Don't Listen, Just Listen, participants pair up, with one person speaking while the other person listens without interruption. The listening participant is not allowed to react verbally or nonverbally, focusing solely on absorbing the speaker's words. This communication activity encourages active listening and patience, both crucial components of effective communication.
5. Blind Drawing
Blind Drawing is a fun way to hone nonverbal communication skills and active listening techniques. In this activity, participants pair up, with one blindfolded and the other providing verbal instructions to draw a specific object or shape.
The success of this activity hinges on clear communication from the instructor and careful listening from the blindfolded participant. It's a fantastic way to improve communication skills and demonstrate the importance of paying attention to verbal cues and honing one's listening skills.
The Role of Body Language in Effective Communication
Body language can convey so many words and meanings. A mere facial expression can speak volumes about a person's feelings or reactions. Good communication includes understanding this nonverbal language and using it to enhance verbal communication.
In activities like Blind Drawing and Don't Listen, Just Listen, participants learn the impact of body language and eye contact on effective communication.
Obstacle Course: An Activity for Team Communication
Another fantastic activity to improve communication skills, particularly in a team setting, is an Obstacle Course. In this activity, participants form teams and navigate a set course, relying on their collective communication skills. Team members must effectively communicate instructions, obstacles, and encouragement to navigate the course successfully.
The Obstacle Course activity encourages team members to collaborate, make decisions together, and build their team's communication skills. The exercise demonstrates the power of clear communication in achieving common goals.
Related: Team Communication
Back-to-Back Drawing: Enhancing Nonverbal Communication
Back-to-Back Drawing is another exciting activity that places nonverbal communication under the spotlight. It's quite similar to Blind Drawing, but in this activity, both participants see the object, and one provides nonverbal instructions through gestures. This activity focuses on improving communication skills through body language, fostering an understanding of nonverbal cues and their impact on communication.
Practice Speaking: Communication Activities for Children
Teaching children effective communication skills early in life sets them up for success. One such activity to teach communication skills to children is Practice Speaking. This activity involves giving children a topic to discuss and letting them express their thoughts. This practice allows children to develop their conversation skills, learn to listen to others and understand the value of clear communication.
Just a Few Minutes: Communication Games for Teens
A fun way to engage teenagers in building their communication skills is the Just a Few Minutes game. In this communication game, each participant speaks on a given topic for a few minutes while others listen attentively. Afterward, listeners provide constructive feedback on the speaker's communication style, body language, and eye contact. This activity encourages open communication, active listening, and respectful vocabulary, all important facets of effective communication.
The Power of Emotional Intelligence in Communication
Effective communication skills aren't just about speaking and listening – they also involve emotional intelligence. Being able to empathize with the speaker's feelings, respond appropriately, and adjust our body language and tone accordingly can significantly enhance our communication effectiveness.
Activities like Stinky Fish and Four at a Time provide excellent opportunities for participants to practice empathy and emotional intelligence. They encourage team members to share personal stories, fostering empathy, self-awareness, and understanding among the group. Such communication activities are particularly useful in personal relationships, where understanding and expressing emotions is crucial.
Fostering Communication in the Workplace
Effective communication activities aren't just for personal use; they are equally vital in the workplace. From team meetings to leadership roles, strong communication skills can drastically improve the working environment.
Activities like Stinky Fish, Four at a Time, and Obstacle Course are perfect examples of exercises that can enhance group communication in a team setting. These activities encourage open conversation, collaboration, and mutual understanding, thereby fostering better communication within a team.
One excellent activity for a team meeting is the Communication Circle. The group leader starts by sharing a message with the next person, who then communicates the same message to the next team member, and so on until the message returns to the group leader.
The aim is to have the last person relay the same message that was initially shared. This activity underscores the importance of clear communication, active listening, and the potential for misunderstandings if these aspects aren't taken into account.
Related: Effective Verbal Communication in the Workplace
Enhancing Public Speaking through Communication Activities
Public speaking is an area where many individuals struggle. However, it's an essential part of effective communication, and various activities can help improve these skills.
The Speech Relay is an exciting game to help improve public speaking skills. Participants are given a topic and must speak on it for five or ten minutes. The key is to make the speech engaging to maintain the audience's attention. This activity enables participants to practice speaking on a given topic and boosts their confidence in public speaking.
Nonverbal Communication: Beyond Words
In communication, actions often speak louder than words. Nonverbal communication, including facial expressions, body language, eye contact, and other non-verbal communication skills, plays a crucial role in conveying our messages and intentions.
Communication activities like Blind Drawing and Back-to-Back Drawing allow participants to explore the power of nonverbal communication. These exercises require participants to rely on nonverbal cues to accomplish a task, highlighting the importance of these skills in effective communication.
The Impact of Positive Language on Effective Communication
The language we use significantly impacts our communication. Using positive language can create an inviting atmosphere that encourages open and effective communication.
The Positive Language Game is a fantastic activity to explore this concept. In this game, participants form pairs and share a story, first using neutral or negative language, then retelling it using positive language. The contrast between the two narratives demonstrates the impact of language on the listener's perception and overall communication.
Related: Verbal Communication Skills
Wrapping Up
To sum up, effective communication activities provide an engaging and interactive way to enhance your communication skills. These activities focus on various aspects of communication, including verbal and nonverbal communication, body language, active listening, emotional intelligence, and the use of positive language.
Whether in personal relationships, social interactions, or the workplace, effective communication is key. Through these activities, you can practice and enhance your communication skills, fostering clearer, more meaningful interactions with those around you.
FAQs
What are some activities to improve verbal communication?
Some effective activities to improve verbal communication include Spread the Word, Four at a Time, Just a Few Minutes, and Speech Relay. These activities provide a platform to practice speaking clearly and effectively while enhancing active listening skills.
How can we improve nonverbal communication skills?
Nonverbal communication can be improved through activities like Blind Drawing and Back-to-Back Drawing, which require participants to rely on nonverbal cues to accomplish a task.
How can we improve listening skills?
Listening skills can be honed through activities that focus on active listening, such as Don't Listen, Just Listen, and Communication Circle. In these activities, participants must listen carefully to instructions or relayed messages, highlighting the importance of attentive listening.
What activities can help improve communication in a team?
The Obstacle Course, Four at a Time, and Communication Circle are effective communication activities for enhancing the team's communication skills. These activities promote collaboration, active listening, and clear articulation, enabling teams to communicate more effectively.
How can we teach children effective communication skills?
Children can be taught effective communication skills through fun activities that incorporate key principles of communication. Games, like Spread the Word and Communication Circle, are great for teaching children how to express themselves clearly and listen attentively. Additionally, the Positive Language Game is an excellent activity to teach children the impact of language on communication.