Disclaimer: We sometimes use affiliate links in our content. For more information, visit our Disclaimer Page. 
In an increasingly interconnected world, the ability to communicate effectively stands out as a pivotal skill for social and professional advancement. Deeply rooted in this skill set is a keen understanding of one's communication strengths and weaknesses. This article embarks on a journey of self-discovery designed to enhance one's interpersonal skills through a thorough communication evaluation.
Embracing effective communication is not merely about transmitting information but also about fostering meaningful connections. By scrutinizing our communicative practices, we open doors to improved personal relationships and more efficient business interactions. The insights offered here aim to guide you toward recognizing areas where your communication excels and could use a touch of refinement.
Key Takeaways
Assessing communication strengths and weaknesses is crucial for interpersonal effectiveness.
Understanding the impact of effective communication can enhance both personal and professional relationships.
Self-evaluation is an essential step in improving communication skills.
Identifying core areas for communication development can lead to strategic enhancement.
Practical advice and strategies will be offered to advance one's communication capabilities.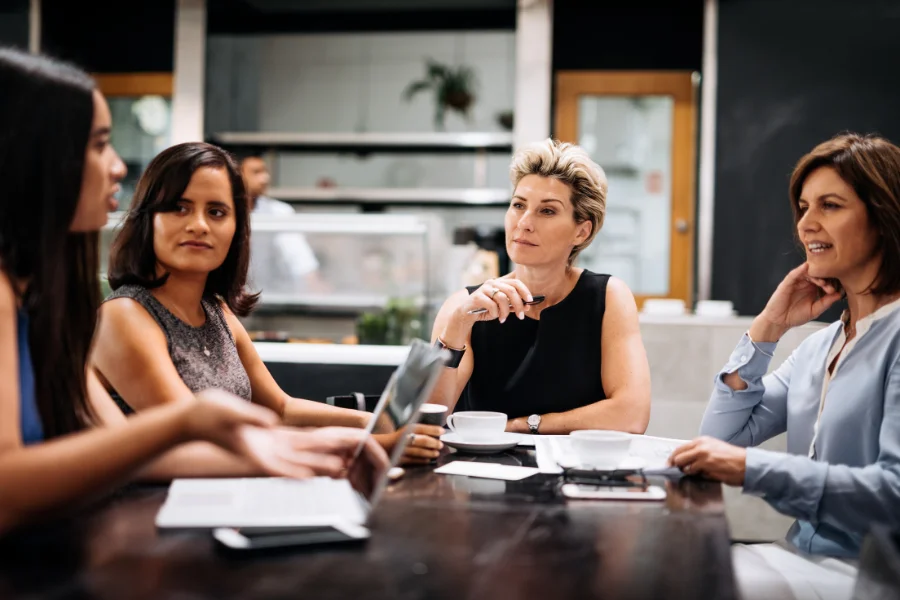 Understanding Communication Strengths and Weaknesses
At the heart of virtually every aspect of our lives lies the power of effective communication. Whether in the boardroom or at the dinner table, the ability to convey ideas and emotions precisely, understand others, and foster an environment of shared understanding is paramount. The impact this has on engagement, honesty, and clarity cannot be understated, as these are the cornerstones determining the quality of our interactions personally and professionally.
Consider momentarily the role that communication plays in building trust within your team. Clear, honest messages engender a strong sense of reliability and integrity, which are critical to achieving professional success. This is mirrored in our private lives, where clarity and openness in dialogue contribute significantly to the strength and resilience of our relationships. Here, we see engagement not just in terms of attention but as an active, invested participation in conversations that shape our social fabric.
The quest for personal development, too, is greatly influenced by our communicative abilities. Setting goals, achieving milestones, and networking involve much interaction with others. Hence, developing an ability to express ourselves clearly while being receptive to others' perspectives is a pivotal growth element.
Effective communication is the bridge between confusion and clarity. — Nat Turner
The table below illustrates how different elements of communication directly impact various outcomes in personal and professional contexts:
| Communication Element | Impact on Professional Life | Impact on Personal Life |
| --- | --- | --- |
| Engagement | Promotes team collaboration and productivity | Strengthens relationships through active participation and interest |
| Honesty | Establishes trust and ethical standards | Builds a foundation of trust and mutual respect |
| Clarity | Reduces misunderstandings and streamlines processes | Clarifies intentions and reduces conflicts |
Fostering effective communication practices is not merely beneficial—it's essential for creating an environment conducive to achievement and contentment. The threads of articulate discourse, timely feedback, and empathetic listening hold together the framework of our interactions. By mastering these elements, we enhance our capacity for personal development and contribute to a culture of understanding and cooperation that underpins our societal structure.
Identifying Your Communication Strengths
Recognizing your communication strengths is an empowering process that enables you to leverage your inherent abilities for effective interaction. By examining body language, verbal clarity, and active listening, you can refine your approach and engage more constructively with others.
Body Language and Non-Verbal Cues
Our body language and non-verbal cues play a significant role in how our messages are received. Subtleties such as nodding to indicate agreement or maintaining open body language to seem more approachable can greatly enhance the reception of our verbal communication. Recognizing these non-verbal strengths involves self-awareness that reflects a positive attitude and empathy towards the audience.
An upright posture can signal confidence and assertiveness.
Facial expressions contribute to conveying sincerity and emotional intelligence.
Tactics like mirroring can show empathy and build rapport.
Clarity and Articulation in Verbal Interaction
Verbal interactions hinge on the ability to convey thoughts with clarity and articulation. Direct speech and concise phrasing are indicators of a strong communicator. These skills ensure that your messaging remains clear, reducing the likelihood of misinterpretation. To identify your strengths in this domain, reflect on occasions where your straightforward communication has led to effective results.
Active Listening and Emotional Intelligence
Equally crucial to communication success is the skill of active listening. It involves not just hearing but also understanding and responding thoughtfully to speakers. Coupled with emotional intelligence, which enables us to perceive and manage our emotions and those of others, active listening forms the backbone of productive interactions. Identifying these skills within yourself could be as simple as recalling interactions where empathy and assertiveness have positively influenced the dynamic.
| Strength | Description | Why It Matters |
| --- | --- | --- |
| Body Language | Use of physical expression to communicate non-verbally | Enhances the interpretation & emotional impact of verbal messages |
| Verbal Clarity & Articulation | Ability to express ideas succinctly and clearly | Ensures information is understood and retained by the audience |
| Active Listening | Engaging fully in the communication process by attending to and processing what is said | It builds trust and rapport and helps in accurately responding to others |
| Emotional Intelligence | Understanding and managing emotions in self and others | Facilitates better interpersonal relationships and conflict resolution |
Recognizing Communication Weaknesses
While identifying communication strengths paves the way for leveraging one's inherent abilities, scrutinizing the flip side—communication weaknesses—is equally valuable for personal and professional advancement. Individuals can foster far more effective and transparent interactions by pinpointing and addressing the overuse of fillers, learning how to navigate through language barriers, curtailing instances of miscommunication, and honing listening skills.
The first step in this journey is an acknowledgment of one's shortcomings through rigorous self-observation and a commitment to improvement. Overusing "um," "like," and other fillers often undermines the speaker's credibility or distracts from the message being conveyed. Similarly, language barriers can lead to frustration and disengagement from both parties involved.
Poor listening skills manifest in various forms, whether through interrupting others, failing to retain information, or the inability to read between the lines in conversations. Subsequently, these deficiencies culminate in miscommunication—a primary obstacle to effective dialogue marred by misunderstandings and unmet expectations.
To illustrate a structured approach to addressing these weaknesses, here is a comprehensive table that identifies common communication pitfalls, their potential impacts, and improvement tips:
| Weakness | Potential Impact | Improvement Tips |
| --- | --- | --- |
| Overuse of Fillers | Cause distractions and make messages less compelling | Practice pausing instead of using filler words; focus on slowing down and organizing thoughts |
| Language Barriers | Clearly define terms and expectations; confirm comprehension through feedback. | Enhance language skills relevant to your audience; use visual aids and simple language when necessary |
| Miscommunication | Result in conflicts and errors in task execution | Create a barrier to understanding and relationship-building |
| Poor Listening Skills | Create a barrier to understanding and relationship building | Engage in active listening; show attentiveness and respond appropriately to confirm understanding |
Acknowledging these vulnerabilities enables us to actively work towards diminishing them. For instance, addressing the overuse of fillers can be accomplished through conscious speech practice and perhaps joining public speaking groups like Toastmasters.
Improving communication also involves expanding one's proficiency with languages, thus overcoming language barriers. This doesn't solely apply to multilingual contexts but also to jargon and technical language, which can obscure understanding in professional environments. Moreover, refining listening skills can be one of the most transformative aspects of your communicative repertoire, as it influences the quality of your responses and the strength of your relationships.
As we move forward, let us carry with us the understanding that growth in communication is an incremental process, necessitating patient self-work and a genuine openness to change. In doing so, we will find ourselves better equipped to navigate the complexities of human interaction, personally and professionally.
Strategies for Improving Clarity and Confidence in Speaking
Effective communication is the cornerstone of successful interactions in both personal and professional settings. Enhancing clarity and confidence in speaking is pivotal for leaders, educators, marketers, and individuals from all walks of life. Let's delve into tried-and-true strategies to bolster your speaking abilities by tailoring your message to your audience and overcoming language and cultural barriers.
Tailoring Your Message to Your Audience
Understanding your audience is critical to crafting a message that resonates. A keen grasp of audience analysis enables you to create a communication strategy with appropriate message framing. Here are actionable steps to align your message with the audience's expectations and needs:
Research Your Audience: Gather data on audience demographics, psychographics, and preferences to inform your approach.
Analyze Communication Contexts: Understand the situations in which your audience consumes information, including the platforms they use and their cultural background.
Message Framing: Using relevant language and examples, frame your message to appeal to the audience's values and interests.
Employing these techniques ensures that your speech directly addresses the concerns and aspirations of those you speak to, enhancing connectivity and engagement.
Overcoming Language and Cultural Barriers
In an ever-shrinking world, intercultural communication is paramount. Language barriers and cultural differences can impede understanding in cross-cultural negotiations and collaborative efforts.
Awareness and Education: Invest time learning about the cultural norms and language intricacies of the audiences you interact with.
Accommodations for Non-Native Speakers: When language barriers exist, speak slowly and clearly and use simple language to aid comprehension.
Use of Translators and Interpreters: Consider professional translation services to ensure your message is conveyed accurately for essential communications.
By overcoming these barriers, you facilitate clearer communication and demonstrate respect and sensitivity toward cultural diversity.
Here is a table illustrating steps to enhance clarity and confidence in speaking across different areas:
| Area of Improvement | Strategy | Expected Outcome |
| --- | --- | --- |
| Message Tailoring | Conduct audience analysis and customize content. | Increased engagement and relevancy of message. |
| Cultural Sensitivity | Learn cultural norms; avoid jargon and idioms. | Better connection with culturally diverse audiences. |
| Language Clarity | Use interpreters; simplify language for broader understanding. | Improved comprehension across language barriers. |
Ultimately, the efficacy of your communication hinges on your ability to articulate thoughts with precision and to connect with your audience's worldview. Whether addressing a boardroom of executives or a community gathering across the globe, your efforts to refine your messaging and transcend cultural divides will result in more impactful and influential orations.
For effective communication, tailor your speech, understand your audience, and bridge the language divide. The speaker who connects is the speaker who leads.
Enhancing Non-Verbal Communication Skills
The subtle art of non-verbal communication often speaks louder than words. Mastering eye contact, open body language, and other nonverbal signals can dramatically improve interpersonal interactions, creating better professional and personal connections. This section explores the critical importance of these non-verbal elements and guides how to enhance them.
Importance of Eye Contact and Open Body Language
Eye contact is not just a sign of attention; it's a powerful means of conveying confidence, interest, and respect. Consistent eye contact tells the listener you are engaged and invested in the conversation. Conversely, lack of eye contact can be interpreted as disinterest, dishonesty, or anxiety. Open body language, which includes gestures such as uncrossed arms, nodding, and leaning toward the speaker, further complements eye contact by signaling approachability and attentiveness.
Appreciating how these nonverbal cues can influence interactions encourages us to be more mindful of our outward expressions and posture. Below are tangible strategies to amplify your presence using nonverbal communication:
Maintain eye contact, but remember that the appropriate eye contact may vary culturally. Strive for balance—neither stare nor evade gaze.
Adopt open body language to signal that you are open to thoughts and willing to communicate. Avoid defensive postures such as crossed arms or avoiding gaze.
Be aware of your facial expressions. They should be congruent with your message, whether a smile to show friendliness or a furrowed brow to express concern.
Enhance your gestures for emphasis, but ensure they are natural and not overdone, as exaggerating can distract from the verbal message.
Use spatial awareness to your advantage, respecting personal space but not distancing yourself so far as to create a sense of separation.
To provide a clearer understanding of non-verbal communication's impact, consider this comparative table:
| Non-Verbal Element | Positive Impact | Potential Negative Consequences |
| --- | --- | --- |
| Eye Contact | Creates a sense of connection and trust. | Excessive or insufficient eye contact can be discomforting or signal inattentiveness. |
| Facial Expressions | Enhances the emotional depth of the verbal message. | Incongruent expressions can confuse or mislead the receiver. |
| Open Body Language | Fosters an environment of friendliness and cooperation. | Closed or defensive body language can signal disinterest or hostility. |
| Gestures | Can underline the importance of speech content and help retention. | Over-gesturing may distract from the main message and seem inauthentic. |
| Proxemics (use of space) | Proper use can enhance personal connection and show sensitivity. | Too much or too little space can be perceived as uncomfortable or rude. |
Mastering the Art of Constructive Criticism and Feedback
In the journey toward excellence in personal and professional realms, the role of constructive criticism and feedback cannot be exaggerated. Feedback loops are integral to continuous improvement, providing the necessary insights for individuals to refine their skills and behaviors. Whether you are on the giving or receiving end, mastering these critical communication competencies is essential for growth and development.
Offering motivational and developmental feedback requires a delicate balance and understanding of human emotions. Similarly, the reception of feedback offers a unique challenge, demanding openness and a non-defensive posture to benefit from another's perspective. Here, we explore the nuances of imparting and accepting feedback, equipping you with techniques to navigate feedback loops in any context skillfully.
Techniques for Delivering Constructive Criticism
Be Specific: Clearly articulate the behavior that needs change, avoiding general or vague statements that may lead to confusion.
Focus on the Issue, Not the Person: Center the feedback on the action or outcome rather than attributing it to the person's character.
Provide a Path Forward: Constructive feedback should also include strategies for improvement, offering solutions or alternative approaches.
Let's illustrate these techniques with a blockquote often heard in professional workshops:
Communication should illuminate your ideas, not add smoke to the room. By focusing on the clarity of your message, you enhance its reception and impact.
This specific feedback targets the issue and suggests focusing on message clarity as a strategy for improvement.
Techniques for Accepting Feedback
Listen Actively: Give the feedback giver undivided attention and acknowledge their points without interrupting.
Maintain a Positive Attitude: Approach feedback with an open mind, seeking opportunities to learn and grow.
Seek Clarification: If aspects of the feedback are unclear, ask specific questions to gain a better understanding.
Accepting feedback with grace is reflected well by the wisdom of Carol S. Dweck, a renowned psychologist:
Feedback is an opportunity to learn and evolve, not an indictment of your abilities.
Now, here's a table delineating the essential attributes of both giving and receiving feedback:
| Feedback Aspect | Attributes of Giving Feedback | Attributes of Receiving Feedback |
| --- | --- | --- |
| Approach | Empathetic, Solution-Oriented | Open, Non-Defensive |
| Communication Style | Clear, Direct, and Specific | Active Listening, Clarifying Questions |
| Outcome Focus | Behavioral Improvement | Personal Growth and Skill Development |
Whether within a professional review session or a casual peer-to-peer exchange, fine-tuning the art of providing and receiving constructive criticism is fundamental. By embracing these techniques and integrating feedback into our regular routines, we promote a culture of open dialogue and mutual respect, paving the way for collective growth and achievement. As leaders, colleagues, friends, and family members, let us champion feedback loops as a cornerstone of evolution and success.
Adapting Communication Techniques for Different Channels
In the digital era, the ability to adapt communication techniques for various channels is paramount. With a myriad of platforms at our disposal, understanding the specifics of each can dramatically increase the effectiveness of our interactions. From email communication to real-time virtual meetings, each medium necessitates a unique approach to ensure engagement and clarity.
Email Communication and Online Interaction
Email remains a cornerstone of business communication, offering a blend of formality and efficiency. To maximize its potential, consider the following best practices:
Subject lines should be concise and informative, clearly indicating the email's content.
Use a professional tone and avoid ambiguous language that could lead to misinterpretation.
Include a call to action if a response or specific next step is required.
Be mindful of your digital footprint; email correspondence often serves as a record of official communication.
Online communication, including social media and chat platforms, requires a different tact. The informality of these channels invites a more conversational tone, but professionalism should always be maintained. Visual elements such as emojis or GIFs can enhance the message, provided they are appropriate for the audience and context.
Communication Strategies for Virtual Meetings
The transition to virtual workspaces has invigorated the significance of communication technology and introduced the concept of video conferencing etiquette. Here's how to maintain professionalism and clarity during virtual meetings:
Test your technology in advance to prevent interruptions due to technical issues.
Maintain eye contact by looking at the camera and ensuring good lighting.
Use 'raise hand' features to minimize interruptions and maintain orderly discussion.
Mute your microphone when not speaking to avoid background noise.
Ensuring participant engagement in a digital setting can be challenging. Therefore, involve attendees by asking for input regularly and using collaborative tools such as shared documents or live polls.
Expressive Gestures and Visual Presentation Skills
Whether in-person or online, the efficacy of your presentation is heavily influenced by your expressive gestures and visual presentation skills. These elements bolster the delivery of your message, complementing your verbal communication. Here are strategies to elevate your presentations:
Use gestures purposefully to emphasize key points or to express enthusiasm.
In virtual settings, ensure gestures are visible within the camera's frame.
Integrate relevant and high-quality visuals to support your message.
Practice timing when transitioning between topics or slides to maintain a cohesive flow.
Remember, public speaking and presentation techniques apply to the virtual space as much as they do to physical spaces. Rehearse your delivery to achieve a natural and compelling presentation.
| Communication Channel | Best Practices | Key Outcomes |
| --- | --- | --- |
| Email | Clear subject lines, professional tone, concise language. | Efficient information relay and record keeping. |
| Online Platforms | Conversational tone, judicious use of visual elements. | Enhanced engagement and relatability. |
| Virtual Meetings | Pre-meeting tech checks, video conferencing etiquette adherence. | Smooth, disruption-free virtual interactions. |
| Presentation Skills | Expressive gestures, judicious use of visuals, practiced delivery. | Dynamic, memorable presentations. |
Adapting to different communication channels is not just about altering our language but also involves understanding the nuances of each medium. Email and online correspondence call for clarity and professionalism, while virtual meetings benefit from structure and etiquette. For presentations, expressive body language combined with compelling visuals can significantly impact the delivery. By mastering these varied channels, our capability to communicate in the digital world is not only maintained but enhanced.
Conclusion
The unfolding narrative of our ability to communicate reveals a path of continuous improvement and adaptive strategy. Developing our communication techniques is not a destination to be reached but a journey to engage in perpetually.
Whether our goal is to provide constructive feedback, enhance non-verbal cues, or convey ideas eloquently across diverse platforms, the blueprint for professional development lies in our willingness to undertake personal reflection. Each section of this discourse articulates not only the tools required for mastering effective communication but also the intrinsic value found within the process itself.
On this odyssey of skill refinement, let it be known that your voice—amplified by the myriad of strategies shared in this article—is the instrument through which you may orchestrate more meaningful interactions in both professional and personal spheres.
Embrace the concepts of active listening, verbal clarity, and emotional intelligence; strive to convey messages as effortlessly through digital correspondence as you would face-to-face. By doing so, the dialogue within your orbit will resonate with an authenticity borne of earnest self-awareness and a commitment to growth.
FAQs
What are some common communication strengths?
Common communication strengths include body language and non-verbal cues that reinforce verbal communication, the ability to articulate thoughts with clarity and conciseness, and practicing active listening paired with emotional intelligence.
Why is effective communication important?
Effective communication is vital for building trust, fostering engagement, navigating professional realms, maintaining personal relationships, and ensuring that one's message is understood clearly and accurately.
How can I identify my communication weaknesses?
Identifying communication weaknesses can be done through self-reflection, soliciting feedback from others, being aware of language barriers or cultural differences, and noticing a tendency to use filler words or experiencing frequent miscommunication.
How can virtual meetings be made more effective?
Virtual meetings can be more effective by using clear and direct speech, ensuring good visual presentation skills, engaging participants through interactive elements, preparing adequately, and using technology that facilitates clear audio and visual communication.
Why is constructive criticism and feedback important?
Constructive criticism and feedback are essential for personal and professional growth. They help identify areas of improvement, encourage innovation, and create an environment for open communication and continuous learning.