Disclaimer: We sometimes use affiliate links in our content. For more information, visit our Disclaimer Page. 
Effective communication is the key to building strong personal and professional relationships. Communication is a skill that can be developed and improved with practice. In this article, we will introduce you to 10 effective communication activities you can start trying today to improve your connection with others.
Key Takeaways:
Communication is a skill that can be developed and improved with practice.
Effective communication is essential for building strong relationships.
Through 10 effective communication activities, you can improve your connection with others.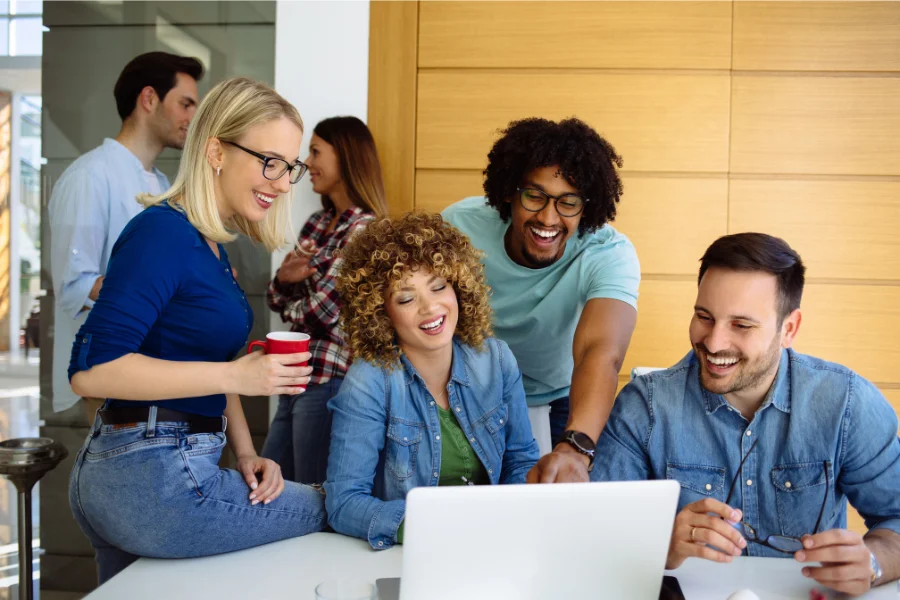 Importance of Effective Communication
Effective communication is essential for individuals to communicate their thoughts, ideas, and feelings clearly and concisely. Communication is the key to building strong relationships both personally and professionally. Developing the skills required for effective communication can help individuals build better relationships, improve their self-confidence, and achieve greater personal and professional success.
Effective communication involves verbal and nonverbal communication, and it is essential to understand the nuances to communicate effectively. Communication skills development is ongoing, and individuals should continuously strive to enhance their communication skills.
Active Listening Exercises
Active listening is an essential communication skill that helps you understand others' perspectives and respond appropriately. The exercises below will help you develop your active listening skills effectively.
1. Reflection
Reflection entails repeating what the speaker has said in your own words to verify your understanding. To practice reflective listening, pair up with a partner. One person will speak for two minutes while the other listens actively. After two minutes, the listener will repeat what the speaker said in their own words. Then, they will switch roles.
2. Empathy Map
The empathy map exercise is a visualization tool for understanding emotional experiences better. Draw a map with four quadrants (See Table 1) and focus on a personal or professional situation. Fill in the quadrants and discuss with your partner.
| Say | Think |
| --- | --- |
| What does the speaker say or do? | What does the speaker think or feel? |
| Do | What action should the speaker take? |
| Feel | What emotions does the speaker feel? |
3. Storytelling
The storytelling exercise involves sharing personal experiences to develop trust and understanding. In a group setting, have each person share a personal story. After everyone has shared, discuss common themes and how they relate to the group's goals.
You can improve your active listening and interpersonal communication skills by practicing these exercises. These communication exercises will help not only in personal but also in professional life.
Non-Verbal Communication Games
Effective communication isn't just about the words you use and the non-verbal cues you give. Body language, facial expressions, and gestures can all impact the message you're trying to convey. These interactive communication games help improve non-verbal communication skills:
1. Charades
Charades is a classic game that's perfect for improving non-verbal communication skills. Divide players into teams and have them act out various scenarios without speaking. The other team members must guess what they're trying to convey based on their non-verbal cues.
2. Pictionary
Pictionary is another fun game that requires players to use non-verbal communication to convey a message. Divide players into teams and have them draw pictures of various words or phrases. Based on their drawings, the other team members must guess what they're trying to convey.
3. Mirror Game
The mirror game is a simple but effective exercise for improving non-verbal communication. It involves two players mirroring each other's movements. One player leads the movements, while the other follows and tries to match their movements exactly.
4. Non-Verbal Storytelling
This game involves telling a story without using any words. One player starts by making a non-verbal gesture or movement, and the other must continue the story by making their own gestures.
By practicing these non-verbal communication games, you'll improve your ability to read and convey non-verbal cues, which will ultimately help you become a more effective communicator.
Building Trust through Communication
Trust is a crucial element in building effective communication within teams and groups. Without trust, communication can become strained and ineffective. That's why it's important to incorporate team-building activities that promote trust and open communication.
Here are some group communication activities that can help you build trust:
Two Truths and a Lie – Each team member shares three statements about themselves in this game. Two statements are true, and one is a lie. The group must guess which statement is the lie. This activity promotes honesty and vulnerability.
Trust Fall – This classic team-building exercise involves one person closing their eyes and falling backward, trusting their team members to catch them. This game requires a high level of trust and communication between team members.
By incorporating these team-building activities into your communication strategy, you can strengthen relationships within your team and promote effective communication.
Conflict Resolution Strategies
Effective communication is essential for resolving conflicts healthily and constructively. Here are a few communication exercises and strategies that can help you handle conflicts:
Active listening: Listen actively to the other person's point of view. Repeat what they say to ensure understanding and avoid interrupting them. Ask open-ended questions to show you are interested in their perspective.
Use "I" statements: Use "I" statements to express your thoughts and feelings instead of blaming the other person. For example, say, "I feel hurt when you interrupt me" instead of "You always interrupt me."
Paraphrasing: Paraphrase what the other person says to ensure you understand their perspective. For example, say, "So, I'm hearing that you feel disrespected when I don't listen to you."
Seek common ground: Identify areas of agreement and build on them to find a solution that works for both parties.
Take a break: If emotions are running high, take a break to cool off before continuing the conversation. Schedule a time to resume the conversation when both parties are calm and ready to listen.
These communication exercises and strategies can help you resolve conflicts healthily and constructively. Remember, effective communication is key to building strong relationships and resolving conflicts.
Emotional Intelligence Development
Building emotional intelligence is crucial to effective communication in personal and professional settings. It involves understanding and managing your own emotions while also recognizing and responding to the emotions of others. Here are some team-building and interpersonal communication activities that can help enhance emotional intelligence:
Emotions Charades: Participants act out different emotions in this activity while others guess which emotion they are portraying. This helps with identifying and understanding emotions in oneself and others.
Emotional Scavenger Hunt: Participants search for items representing different emotions and discuss how they relate to them. This helps with empathy and understanding the perspectives of others.
Individuals and teams can develop stronger emotional intelligence skills that translate to better communication and relationships by engaging in these activities.
Improving Communication in Virtual Settings
The rise of remote work has made virtual communication an essential aspect of modern business. However, communicating effectively in a virtual environment can be challenging due to various factors such as time zones, technical difficulties, and lack of face-to-face interaction. Thus, it is crucial to develop and practice virtual communication skills.
Here are some communication exercises that can help you improve your virtual communication skills:
Practice active listening: During virtual meetings, it is easy to get distracted or multitask. However, active listening is crucial for effective communication. To practice active listening, focus on the speaker, take notes, and ask clarifying questions.
Use video conferencing: Video conferencing can enhance virtual communication by providing visual cues and facilitating non-verbal communication. Turn on your camera during virtual meetings to improve engagement and connection.
Set communication norms: Establish communication norms with your team or colleagues to ensure everyone understands how to communicate effectively in a virtual setting. For example, set guidelines for responding to emails or instant messages and use clear and concise language.
Be mindful of tone and language: In the absence of non-verbal cues, tone and language become even more important in virtual communication. Be mindful of your tone and language, and avoid using sarcasm or ambiguous language that can lead to misunderstandings.
Provide feedback: In virtual settings, it is essential to provide timely and constructive feedback to ensure effective communication. Provide feedback on communication skills, technical issues, and teamwork to improve collaboration and productivity.
Use collaboration tools: Various collaboration tools, such as project management software and instant messaging apps, can improve virtual communication and teamwork. Use these tools to share information, assign tasks, and facilitate communication.
Practicing these communication exercises can improve your virtual communication skills, leading to better collaboration, productivity, and connection with your colleagues and team.
Enhancing Presentation Skills
If you want to improve your presentation skills, you can try several communication exercises. Here are a few tips:
Structure Your Presentation
The structure of your presentation plays a significant role in how well it is received. Consider dividing your presentation into sections, such as introduction, key points, and conclusion, to make it easier for the audience to follow you. Making use of bullet points can also help you to remember your main points as well as keep the audience engaged.
Improve Your Body Language
Your body language can greatly affect how well your presentation is received. Avoid slouching or hiding behind the podium. Instead, stand up straight, make eye contact, and use hand gestures where appropriate to add emphasis. Movements should be natural and genuinely portray emotions and attitudes.
Engage With Your Audience
Engaging with your audience is essential for keeping their attention during your presentation. You can achieve this by using your voice tone, pacing, and eye contact to convey emotions and maintain the audience's interest. Additionally, you can involve your audience in your presentation by asking questions, conducting a survey, or having them participate in interactive activities.
These communication exercises can help you improve your presentation skills and ensure your message gets across to your audience effectively.
Cultural Sensitivity Training
In our diverse world, it is crucial to understand and respect cultural differences, especially in interpersonal communication. Cultural sensitivity training is an effective way to promote inclusivity and respect in teams or groups.
A fun team-building activity that can enhance cultural sensitivity is the "World Café" method. This activity involves assigning small groups to different tables, where they discuss specific topics related to cultural differences while enjoying food and drinks that represent various cultures. This activity promotes open and respectful communication while allowing team members to learn from each other's experiences.
Another fun activity is "Cultural Dress-Up Day." Each team member can dress up in traditional attire representing their cultural background. This activity can be followed by a brief presentation where each person shares information about their culture, creating a deeper understanding of cultural differences and promoting respect.
Promoting cultural sensitivity and inclusivity in communication is crucial for building strong relationships in the workplace and all areas of life. By incorporating these fun communication activities, teams and groups can enhance communication skills and develop a deeper understanding and respect for cultural differences.
Conclusion
Effective communication is essential for building connections in personal and professional settings. By implementing the 10 effective communication activities discussed in this article, you can improve your communication skills and foster stronger relationships with those around you.
From practicing active listening to enhancing presentation skills, each activity offers valuable insights and techniques to help you communicate more effectively. So, why not start incorporating these activities into your daily routine to improve your connections and interactions with others?
Remember, communication is a two-way street requiring effort and practice to master. By committing to improving your communication skills and trying out these activities, you can create more meaningful and fulfilling relationships in all areas of your life.
FAQs
What are the 5 communication activities?
Communication activities are exercises designed to enhance various aspects of communication skills. Five common communication activities include role-playing, group discussions, storytelling, active listening exercises, and communication games.
What are the 6 types of communication activities?
Verbal Activities: Engaging in conversations and discussions.
Nonverbal Activities: Practicing body language and facial expressions.
Written Activities: Writing emails, reports, and essays.
Visual Activities: Using images, diagrams, and presentations.
Listening Activities: Participating in active listening exercises.
Digital Communication Activities: Social media, video calls, and online discussions.
What are 10 good communication skills?
Active Listening: Paying full attention and showing understanding.
Clarity and Brevity: Expressing ideas clearly and concisely.
Nonverbal Communication: Using body language effectively.
Empathy: Understanding and relating to others' feelings.
Open-mindedness: Being receptive to different viewpoints.
Conflict Resolution: Addressing disagreements positively.
Confidence: Speaking with assurance and self-assuredness.
Flexibility: Adapting communication style based on the situation.
Feedback: Providing and receiving constructive feedback.
Assertiveness: Expressing opinions while respecting others.
What are some communication games and exercises?
Guess the Object: Participants describe an object without naming it, and others guess.
Telephone: A message is passed through a line of participants to see how it changes.
Show and Tell: Participants share stories about an object they bring.
Picture Storytelling: Participants create a story based on a provided image.
Charades: Players act out words or phrases without speaking.
Obstacle Course: Teams navigate an obstacle course while communicating.
How can I improve my communication skills?
Practice Active Listening: Give your full attention and respond appropriately.
Expand Your Vocabulary: Learn new words and phrases to express yourself better.
Practice Public Speaking: Engage in speaking opportunities to build confidence.
Join Group Discussions: Participate in discussions to improve articulation.
Observe Nonverbal Cues: Pay attention to body language and gestures.
Seek Feedback: Request input on your communication style to make improvements.
Read Regularly: Reading helps improve vocabulary and overall communication.
Embrace Diversity: Engage with people from different backgrounds to enhance understanding.
Use Technology Wisely: Utilize digital tools to practice online communication.
Practice Empathy: Put yourself in others' shoes to improve your perspective-taking.