Disclaimer: We sometimes use affiliate links in our content. For more information, visit our Disclaimer Page. 
Workplace conflict is an unavoidable part of human nature and occurs in every work environment. This blog post will explore various strategies for resolving conflict and promoting a more harmonious workplace. We'll discuss conflict resolution skills, the importance of effective communication, and how to prevent conflicts from escalating. By the end of this guide, you'll have a better understanding of how to resolve conflicts and create a more positive work environment for everyone involved.
Understanding Workplace Conflict
Workplace conflict occurs when employees have differing opinions, values, or interests that clash. Conflicts can arise from miscommunication, personality clashes, or competition over resources. To effectively resolve conflict, it's essential to understand its root cause and the parties involved.
The Impact of Unresolved Conflict
Unresolved conflict can have detrimental effects on an organization, including decreased productivity, low morale, and increased employee turnover. It's crucial to address conflict promptly to maintain a positive work environment and support employees' professional growth.
Related: Examples of Hostile Work Environment
Conflict Resolution Techniques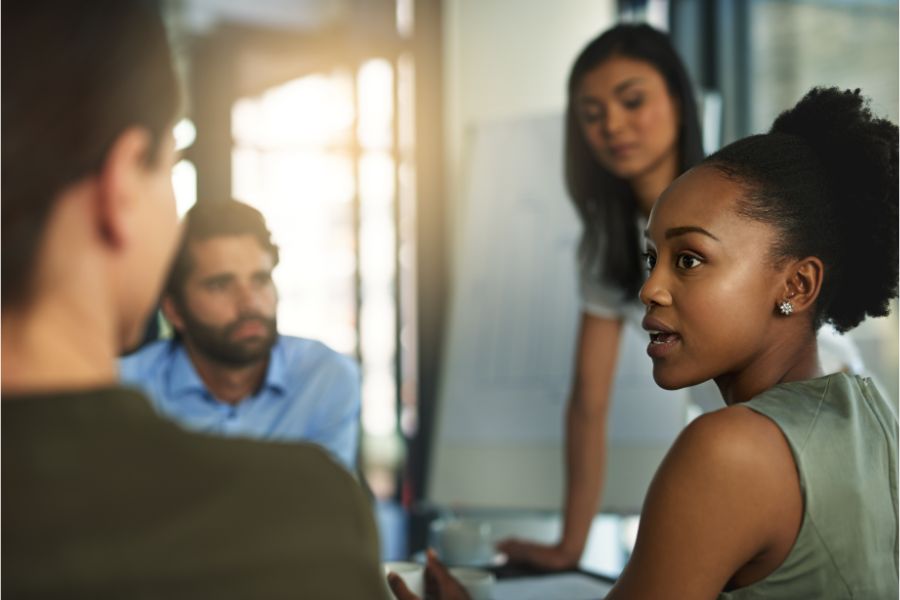 There are several techniques for resolving workplace conflict. The following sections discuss some of the most effective methods.
Active Listening
Active listening is an essential communication skill for resolving conflict. It involves fully focusing on the speaker, ensuring you understand their perspective, and responding thoughtfully. By practicing active listening, you can find common ground and work toward a resolution.
Addressing Conflict Head-On
Avoiding conflict is a bad idea, as it can lead to unresolved issues festering and causing further harm. It's crucial to address conflict head-on by confronting the issue in an honest manner. Open lines of communication encourage parties to express their feelings and concerns, which can lead to a better understanding of the problem and possible solutions.
Finding Common Ground
Finding common ground is an essential step in resolving conflict. It involves identifying shared interests and goals between the conflicting parties, which can be a foundation for finding a resolution. By focusing on shared objectives, parties can work together to create a solution that benefits everyone involved.
Enhancing Conflict Resolution Skills
Developing strong conflict resolution skills is crucial for dealing with workplace conflict. The following sections discuss ways to improve these skills.
Self-Awareness
Self-awareness is vital for resolving conflict effectively. Being aware of your own emotions, biases, and communication style can help you better handle conflict and adapt your approach to suit the situation.
Communication Skills
Effective communication plays an important role in conflict resolution. It involves clearly expressing your thoughts and feelings while also actively listening to the perspectives of others. Improving your communication skills can help you navigate difficult conversations and prevent misunderstandings that can lead to conflict.
Problem-Solving
Problem-solving is an essential component of resolving conflict. It involves identifying the root cause of the conflict, brainstorming possible solutions, and working together to find the best course of action. By developing strong problem-solving skills, you can better manage workplace disputes and work toward resolutions that benefit all parties involved.
Related: Conflict Management Skill
Preventing Conflicts in the Workplace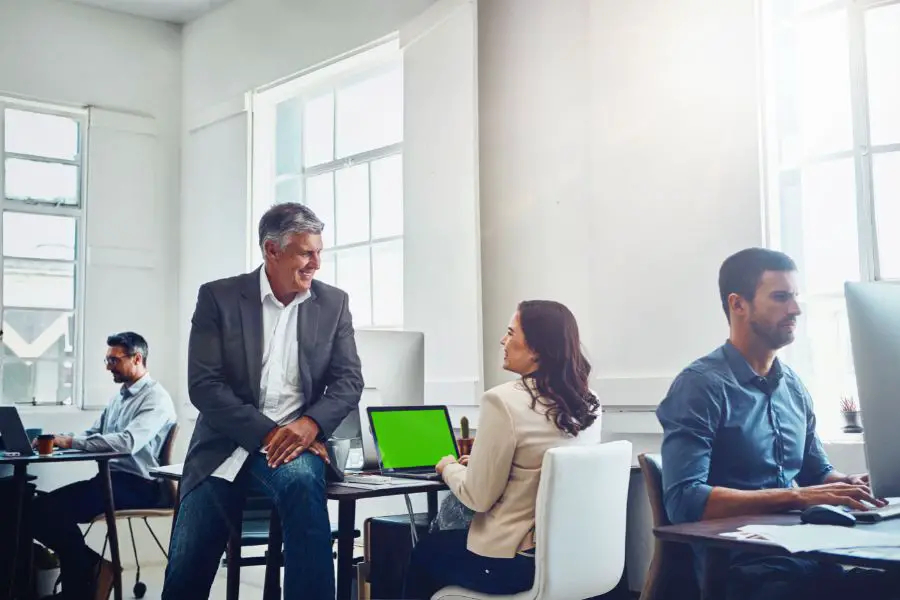 While conflicts are a natural part of human interaction, there are steps you can take to minimize their occurrence in the workplace. The following sections discuss strategies to prevent conflicts and maintain a positive work environment.
Open Door Policy
Implementing an open-door policy encourages employees to voice their concerns and communicate openly with management. This policy can help address potential conflicts before they escalate and promotes a culture of transparency and trust.
Encourage Collaboration
Fostering a collaborative work environment can help reduce the likelihood of conflict. Encourage teamwork and open communication, and provide opportunities for employees to collaborate on projects and decision-making processes.
Promote Respect and Understanding
Promoting respect and understanding among employees can help create a more harmonious work environment, reducing the chances of workplace conflict. Encourage employees to appreciate the value of diverse perspectives, and provide training on cultural sensitivity and unconscious bias.
Dealing with Employee Disputes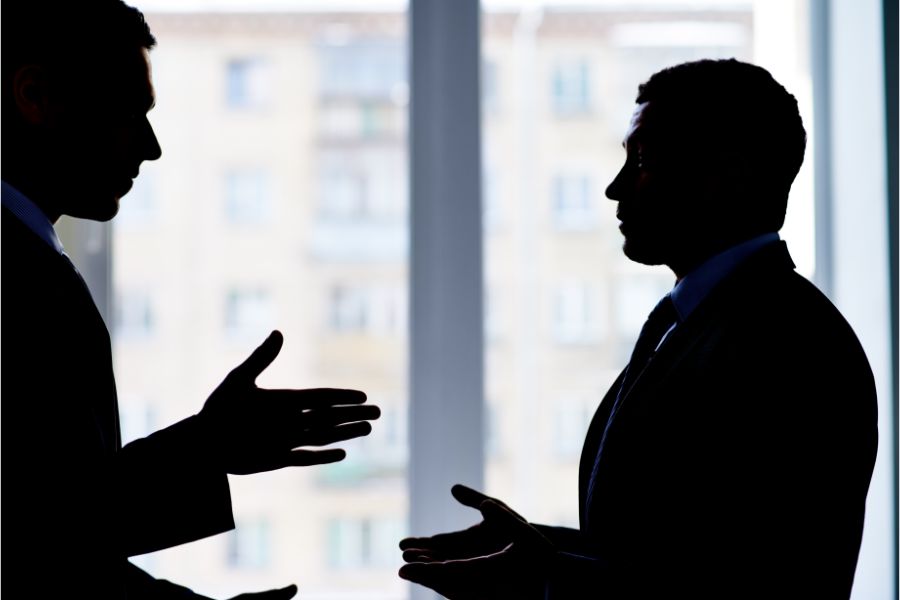 Despite your best efforts, employee disputes can still arise. The following sections discuss strategies for effectively managing these disputes and resolving conflicts.
Mediation
Mediation is a neutral third-party process that can help facilitate communication between conflicting parties. By involving a trained mediator, the focus remains on finding a solution rather than assigning blame. This process can be particularly effective in resolving workplace conflict when emotions are running high.
Disciplinary Action
In some cases, disciplinary action may be necessary to address and resolve conflict. This approach should be reserved for situations where an employee has violated company policies or engaged in misconduct. It's important to follow a fair and consistent process when taking disciplinary action to ensure that employees are treated equitably.
Related: How to Handle Disputes at Work Effectively
The Role of Human Resources
Human Resources (HR) plays an important role in managing workplace conflict. HR professionals can help identify the root cause of conflicts, provide guidance on appropriate resolution strategies, and ensure that policies and procedures are followed. They can also facilitate training and development programs to improve conflict resolution skills among employees and managers.
Promoting a Positive Work Environment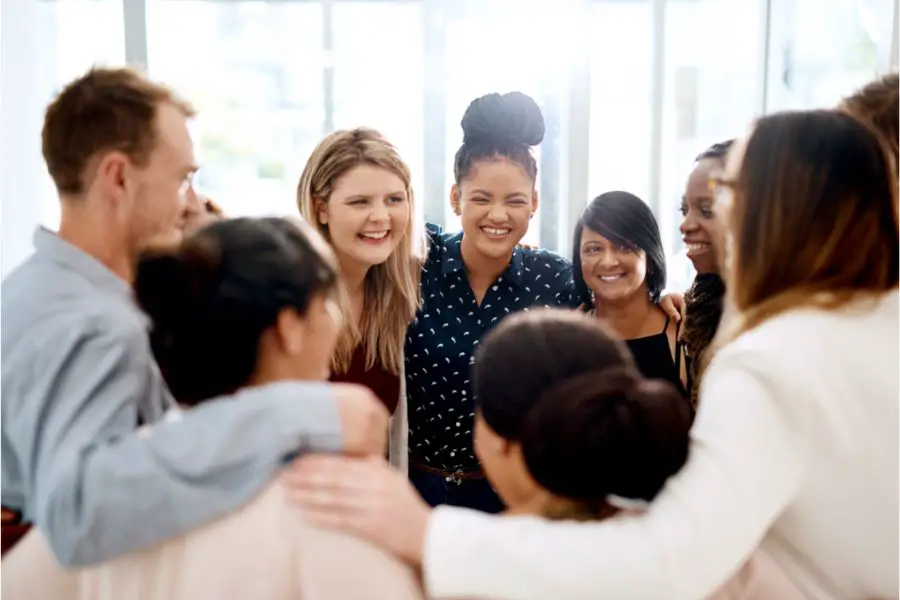 Creating a positive work environment is crucial for preventing and resolving conflicts in the workplace. The following sections discuss strategies to foster a supportive and inclusive atmosphere.
Recognize and Reward Success
Recognizing and rewarding employees for their hard work and achievements can help boost morale and encourage a positive workplace culture. This approach can help prevent conflicts arising from resentment or unfair treatment.
Support Employee Development
Providing opportunities for professional growth can contribute to a positive work environment. Investing in employee development demonstrates that you value their contributions and care about their success. This approach can help reduce workplace conflict by promoting a sense of belonging and loyalty to the organization.
Create Opportunities for Team Building
Organizing team-building activities can help strengthen relationships among employees and improve communication. By encouraging employees to work together and learn from one another, you can foster a collaborative and supportive work environment, reducing the likelihood of conflict.
Related: Attitude of a Leader: Power of Positive Leadership
Leadership's Role in Conflict Resolution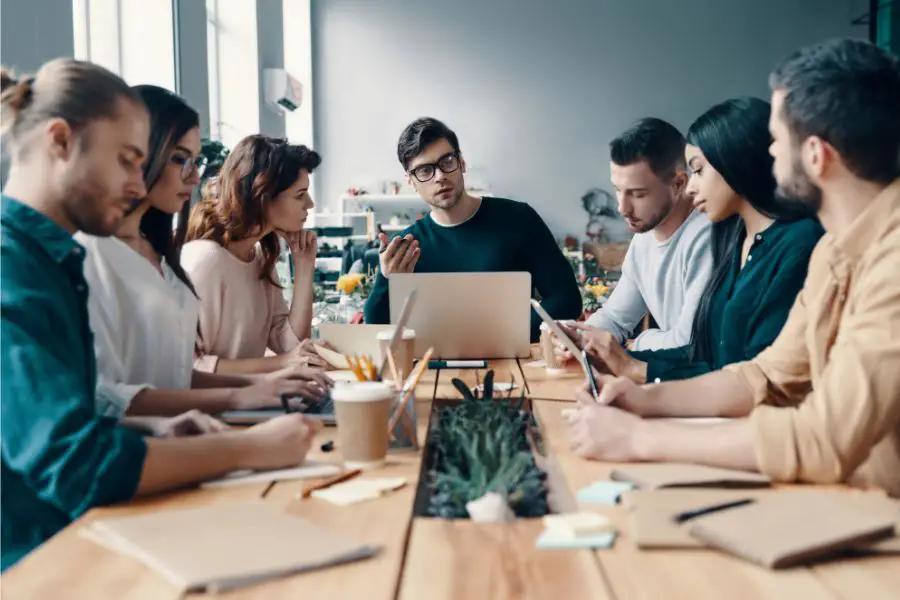 Leaders play a crucial role in managing and resolving conflict in the workplace. Their actions and behavior set the tone for the entire organization. The following sections discuss the responsibilities and strategies leaders can employ to effectively address workplace conflict.
Model Effective Communication
Leaders should model effective communication by being open, honest, and respectful in their interactions with employees. By demonstrating good communication skills, leaders can help set the standard for how employees should communicate with one another, reducing the likelihood of misunderstandings that can lead to conflict.
Be Proactive in Addressing Conflict
Leaders should be proactive in addressing conflict by monitoring the work environment and addressing potential issues before they escalate. By taking a proactive approach, leaders can help prevent conflicts from becoming more serious and difficult to resolve.
Provide Support and Resources
Leaders should ensure that employees have access to the necessary resources and support to effectively manage and resolve conflicts. This might include providing training on conflict resolution, offering access to mediation services, or ensuring that HR policies and procedures are up-to-date and well-communicated.
Related: Collaborative Leadership Styles
Conclusion
Understanding how to resolve conflicts in the workplace is essential for maintaining a positive work environment and supporting employee success. By developing effective conflict resolution skills, fostering open communication, and promoting a culture of collaboration and respect, organizations can minimize the occurrence of conflict and more effectively address issues when they arise.
Mastering conflict resolution in the workplace is an ongoing process that requires commitment, self-awareness, and the willingness to adapt and learn. By embracing these principles and techniques, employees and leaders can create a healthier, more resilient work environment that fosters collaboration, communication, and success.
FAQ
Why is it important to address conflicts in the workplace?
Addressing conflicts in the workplace is essential because unresolved conflicts can negatively impact productivity, morale, and teamwork.
What are some common causes of workplace conflict?
Common causes of workplace conflict include differences in opinions, personalities, communication styles, and workloads.
How can I improve my conflict resolution skills?
Improving conflict resolution skills can be achieved through active listening, remaining calm and professional, and collaborating on a solution.
What is the role of a manager in resolving workplace conflict?
The role of a manager in resolving workplace conflict is to mediate and facilitate a resolution that addresses both parties' needs.
Can workplace conflict ever be beneficial?
Yes, workplace conflict can be beneficial when it is addressed promptly and leads to a resolution that improves communication and teamwork.