Disclaimer: We sometimes use affiliate links in our content. For more information, visit our Disclaimer Page. 
In today's fast-paced world, effective communication is essential for both personal and professional success. While most people focus on improving their verbal communication skills, understanding the importance of nonverbal communication can make a significant difference in how we connect with others.
This article will explore various types of nonverbal communication, their importance, and practical ways to enhance your nonverbal communication skills.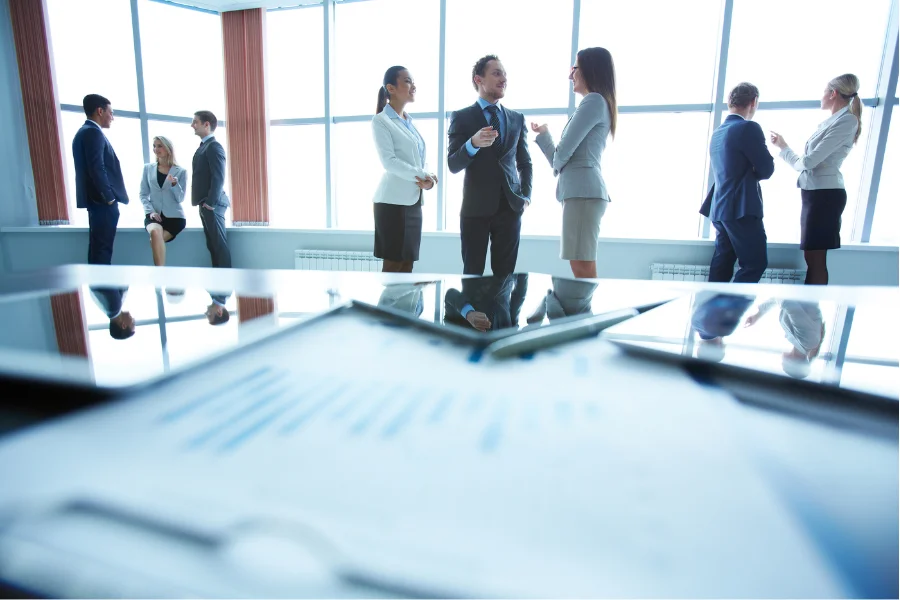 The Importance of Nonverbal Communication
Nonverbal communication is the process of conveying information without using spoken words. It includes various forms of body language, facial expressions, eye contact, and more.
Nonverbal communication is incredibly important because it often carries more weight than verbal communication. Research conducted by Dr. Albert Mehrabian in the 1960s suggests that up to 93% of communication is nonverbal, with only 7% attributed to spoken words.
Nonverbal communication can help:
Reinforce or contradict verbal messages
Convey trust, confidence, and other emotions
Regulate the flow of conversation
Add clarity to a verbal message
Considering the significance of nonverbal communication in our interpersonal relationships, it is essential to develop nonverbal communication skills and understand how they can enhance the way we communicate with others
Types of Nonverbal Communication
Several types of nonverbal communication can help you convey messages more effectively. Some of these include:
Body Language
Body language is one of the most well-known forms of nonverbal communication. It involves physical movements, postures, and gestures that can reveal a person's emotions, intentions, or attitudes. Nonverbal communication examples of body language include crossed arms, slouching, or leaning towards someone during a conversation. By paying attention to a person's body language, you can gain valuable insights into their thoughts and feelings.
Facial Expressions
Facial expressions play a crucial role in nonverbal communication, as they convey a wide range of emotions, from happiness and surprise to anger and sadness. Learning to read facial expressions can help you better understand a person's emotional state and respond appropriately.
Eye Contact
Eye contact is another essential aspect of nonverbal communication. In many Western cultures, maintaining eye contact during a conversation is considered a sign of trust, attentiveness, and respect. However, in some other cultures, direct eye contact may be considered offensive or disrespectful. Understanding the cultural nuances of eye contact can help you navigate different social situations more effectively.
Personal Space
Personal space refers to the physical distance between two individuals during an interaction. Different cultures have different norms for personal space, so being aware of these differences can help you avoid making others feel uncomfortable. Respecting a person's personal space can convey trust and help establish rapport.
Tone of Voice
While not entirely nonverbal, the tone of voice is an essential aspect of communication that goes beyond spoken words. The tone of voice can convey emotions, sarcasm, and other nuances that may not be evident in the words themselves. By paying attention to the tone of voice, you can gather more information about the speaker's intentions and emotions.
How to Improve Your Nonverbal Communication Skills
Developing nonverbal communication skills can enhance your personal and professional relationships. Here are some practical tips to help you improve your nonverbal communication:
Be aware of your body language: Pay attention to your posture, gestures, and movements during conversations. Adopting a relaxed, open posture can convey confidence and approachability.
Monitor your facial expressions: Practice expressing different emotions through your facial expressions and be mindful of the signals you send with your face.
Maintain appropriate eye contact: Make an effort to maintain eye contact during conversations, but be mindful of cultural differences and avoid staring.
Respect personal space: Be aware of the physical distance between you and the person you are communicating with, and adjust your position to respect their personal space.
Listen carefully to the tone of voice: Pay attention to the vocal tone of the person you are speaking with, and consider how it might affect the meaning of their words.
Applications of Nonverbal Communication in Everyday Life
There are various situations where nonverbal communication skills can prove to be invaluable. Some examples include:
Job Interviews
During job interviews, your nonverbal communication can significantly impact the impression you make on your potential employer. Conveying confidence through body language, maintaining eye contact, and displaying positive facial expressions can all contribute to a successful interview.
Building Relationships
In interpersonal relationships, nonverbal communication is essential for establishing trust and rapport. Being mindful of your body language, facial expressions, and eye contact can help you build stronger connections with friends, family members, and colleagues.
Negotiations
Nonverbal communication is crucial in negotiation settings, as it can help you gauge the other party's intentions and emotions. Reading body language and facial expressions can provide valuable information about the other person's mindset, which can inform your negotiation strategy.
Conflict Resolution
Resolving conflicts effectively often requires strong nonverbal communication skills. Demonstrating empathy through your body language, facial expressions, and tone of voice can help de-escalate tense situations and facilitate constructive conversations.
Public Speaking
When delivering a speech or presentation, nonverbal communication plays a significant role in engaging your audience and reinforcing your message. Using gestures, maintaining eye contact, and employing an appropriate tone of voice can all enhance your public speaking abilities.
Related: Importance of Nonverbal Communication in the Workplace
Cultural Considerations in Nonverbal Communication
As mentioned earlier, nonverbal communication can vary significantly between different cultures. Understanding these cultural differences is essential for effective communication in diverse settings. Here are some examples of cultural variations in nonverbal communication:
Eye contact: In Western cultures, maintaining eye contact is generally seen as a sign of respect and attentiveness. However, in some Asian cultures, prolonged eye contact may be perceived as aggressive or disrespectful.
Gestures: Hand gestures can have different meanings across cultures. For example, the "thumbs up" gesture is considered positive in most English-speaking countries, but in some Middle Eastern countries, it is considered offensive.
Personal space: The acceptable amount of personal space varies between cultures. People from Western cultures tend to require more personal space than those from more collectivist cultures, such as in many Asian countries.
Touch: Physical touch is another area where cultural differences can be significant. In some cultures, physical contact during conversations (e.g., patting someone on the back) is common and seen as friendly, while in other cultures, it may be considered intrusive or inappropriate.
Being aware of these cultural differences can help you avoid misunderstandings and communicate more effectively with people from diverse backgrounds.
The Role of Sign Language in Nonverbal Communication
Sign language is a unique form of nonverbal communication that allows deaf and hard-of-hearing individuals to communicate without spoken words. Sign language relies on hand gestures, facial expressions, and body movements to convey meaning. There are various sign languages used worldwide, with American Sign Language (ASL) being the most widely used in the United States.
While sign language is primarily used by deaf and hard-of-hearing individuals, it can also be a valuable communication tool for hearing individuals in certain situations. For example, learning some basic sign language can be useful for communicating with a deaf or hard-of-hearing family member, friend, or colleague.
Nonverbal Communication in the Digital Age
As we increasingly rely on digital communication methods, such as text messages, emails, and social media, the role of nonverbal communication is evolving. While face-to-face interactions allow for a full range of nonverbal cues, digital communication often lacks this depth. However, there are still ways to incorporate nonverbal elements in digital communication:
Emojis and emoticons: These visual symbols can help convey emotions, tone, and context in digital messages. While they may not fully replace the richness of in-person communication, they can add a layer of nonverbal meaning to text-based conversations.
GIFs and images: Including GIFs or images in digital communication can help convey feelings, reactions, and emotions that may be difficult to express through text alone.
Video calls: Video calls, such as Zoom or Skype, enable face-to-face communication in a digital context. While not a perfect substitute for in-person interaction, video calls allow for the use of facial expressions, eye contact, and some body language cues.
Voice messages: Sending voice messages or using voice chat can help convey the tone of voice and emotion that may be lost in text-based communication.
By incorporating these nonverbal elements into digital communication, we can maintain a more authentic and meaningful connection with others, even when we are not physically present.
The Connection Between Nonverbal Communication and Social Skills
Effective nonverbal communication is closely linked to strong social skills. Being able to read body language, facial expressions, and other nonverbal behaviors can enhance your ability to interact with others and build rapport. Here are some ways that improving your nonverbal communication skills can benefit your social skills:
Active listening: Paying attention to nonverbal communication cues can help you become a better listener, as you will be more attuned to the emotions and intentions behind the words. This can lead to more empathetic and supportive conversations.
Empathy: Developing your nonverbal communication skills can help you better understand the feelings and experiences of others, fostering a deeper sense of empathy and compassion.
Assertiveness: By communicating nonverbally and using nonverbal signals effectively, you can convey confidence and assertiveness in your interactions. This can be particularly useful in situations where you need to advocate for yourself or express your needs.
Conflict resolution: Recognizing and responding to nonverbal cues can help you navigate difficult conversations and resolve conflicts more effectively.
By developing your nonverbal communication skills, you can become a more socially adept and empathetic individual, strengthening your personal and professional relationships.
Related: Active Listening Skills
In Conclusion
Nonverbal communications are an essential aspect of human interaction, playing a critical role in conveying emotions, and intentions, and reinforcing verbal messages. By understanding the various nonverbal communication types and how to use them effectively, you can improve your communication skills and enhance your interpersonal relationships.
Additionally, being aware of cultural differences and the evolving role of nonverbal communication in the digital age can help you navigate diverse settings and adapt to new communication technologies.