Disclaimer: We sometimes use affiliate links in our content. For more information, visit our Disclaimer Page. 
In today's fast-paced world, effective communication is more important than ever. How we communicate can greatly impact our personal and professional lives, and one key skill that many people overlook is assertiveness.
In this blog post, we'll explore how to improve your assertiveness skills and use them to communicate more effectively and confidently. By the end of this post, you'll have a better understanding of assertive communication and how it can benefit you in various aspects of your life.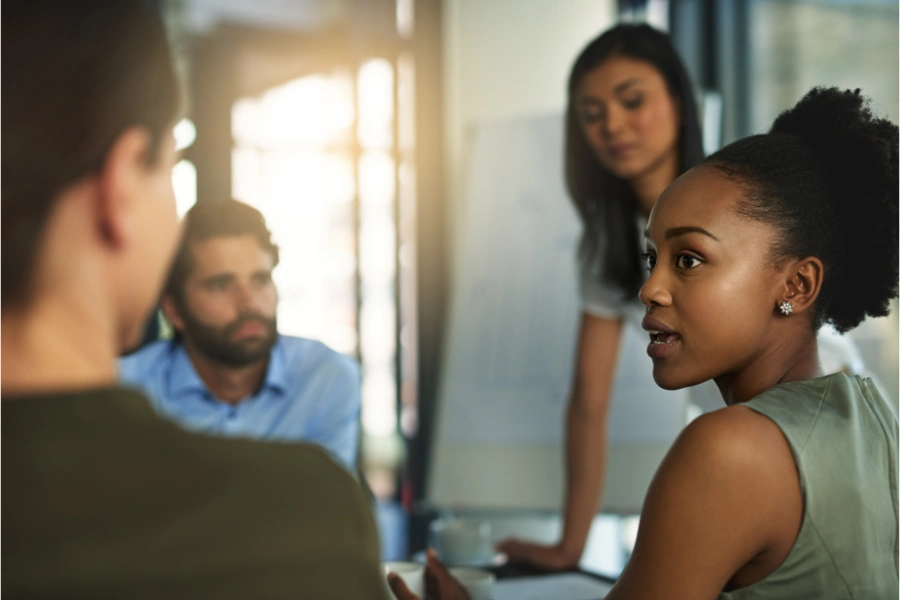 What is Assertiveness?
Assertiveness is a communication style that involves expressing your thoughts, feelings and needs in a direct, honest, and respectful way. It's a delicate balance between passive behavior, where you may not stand up for yourself or express your opinions, and aggressive behavior, where you may come across as overly forceful or even hostile.
Assertiveness is about standing up for your rights while respecting the rights of others. It's a key interpersonal skill that can help you build honest relationships and improve your mental health.
The Benefits of Assertive Communication
There are several benefits to developing assertiveness skills, including:
Improved self-confidence: When you're able to communicate your thoughts and feelings clearly and directly, you're more likely to feel self-assured and confident in your abilities.
Better decision-making: Assertive people are less likely to be swayed by others' opinions, allowing them to make decisions that are in their best interest.
Reduced stress: By expressing your needs and setting boundaries, you can avoid situations where you feel overwhelmed or taken advantage of, ultimately reducing stress.
Enhanced relationships: Assertive communication fosters mutual respect and understanding, leading to stronger personal and professional connections.
Greater personal satisfaction: When you're able to stand up for yourself and express your true feelings, you're more likely to feel content and fulfilled in your life.
Assertiveness vs. Aggression
It's crucial to understand the difference between assertive behavior and aggressive behavior. While both involve standing up for yourself and expressing your needs, the key difference lies in the approach.
Assertive communication is respectful and considers the feelings of others, whereas aggressive communication is forceful and can violate the rights of others. Striking a balance between passivity and aggression is essential for effective assertive communication.
Developing Assertiveness Skills
Improving your assertiveness skills takes practice and patience. Here are some techniques to help you get started:
1. Understand Your Communication Style
Before you can develop assertiveness skills, you need to be aware of your current communication style. Are you naturally assertive, passive, or aggressive? Identifying your tendencies can help you understand where you need to make changes.
2. Practice Self-Awareness
Pay attention to your thoughts, feelings, and body language. By becoming more self-aware, you can identify situations where you need to be more assertive and recognize any patterns of passive or aggressive behavior.
3. Learn to Say "No"
One of the most challenging aspects of assertive communication for many people is learning to say "no." It's important to remember that you have the right to set boundaries and prioritize your own needs without feeling guilty.
4. Use "I" Statements
Using "I" statements helps you express your feelings and needs without sounding accusatory or aggressive. For example, instead of saying, "You never listen to me," try saying, "I feel unheard when you don't pay attention to what I'm saying."
5. Practice Active Listening
Assertive communication is not just about expressing your thoughts and opinions; it's also about listening to others. Practice active listening by giving the speaker your full attention, asking questions, and reflecting on what they've said. This demonstrates respect and fosters honest communication.
6. Maintain Eye Contact
Maintaining eye contact is an essential assertive body language technique. It shows that you're engaged in the conversation and confident in expressing your thoughts and feelings.
7. Use Assertive Body Language
In addition to eye contact, other assertive body language cues include standing tall, keeping your shoulders back, and using open gestures. These signals can help you project self-confidence and convey your message more effectively.
8. Stay Calm
When faced with aggressive people or challenging situations, it's essential to stay calm and avoid an aggressive response. Take deep breaths, and focus on speaking slowly and clearly. This will help you maintain control and avoid responding to aggressive behavior.
9. Be Assertive, Not Overly Aggressive
As mentioned earlier, there is a fine line between assertiveness and aggression. Ensure that you're assertive without adopting an aggressive style by respecting others' opinions and rights while expressing your own.
10. Practice, Practice, Practice
Developing assertiveness skills won't happen overnight. It takes time and effort, so be patient with yourself and practice consistently. Role-playing exercises with close friends or participating in assertiveness training programs can help you build and refine your skills.
Assertiveness Techniques for Everyday Life
Now that you have a better understanding of what assertiveness is and how to develop these skills let's explore some practical assertiveness techniques that you can apply in your everyday life.
Assertiveness at Work
The workplace can be a challenging environment for practicing assertiveness, particularly if you're in a leadership role. Here are some tips to help you communicate assertively at work:
Delegate tasks: As a leader, it's essential to delegate tasks and trust your team to handle their responsibilities. Assertive communication can help you clearly express your expectations and ensure that everyone is on the same page.
Address issues directly: When problems arise, address them directly and assertively. This helps maintain a healthy work environment and fosters a culture of open communication.
Negotiate effectively: Assertiveness skills can be invaluable during negotiations, as they allow you to express your needs and stand up for your interests while still being respectful of others.
Ask for feedback: Being open to feedback is an important aspect of assertive communication. Regularly ask your colleagues for their input and opinions, and be prepared to make changes if necessary.
Assertiveness in Relationships
Assertiveness is crucial for maintaining healthy, honest relationships with friends, family, and romantic partners. Here are some ways to practice assertiveness in your relationships:
Set boundaries: Communicate your limits and boundaries to ensure that your needs are respected.
Express your feelings: Openly share your feelings, both positive and negative, with your loved ones. This helps build trust and foster deeper connections.
Resolve conflicts: When conflicts arise, address them directly with an assertive response and work towards a mutually acceptable resolution.
Be supportive: Encourage your loved ones to express their thoughts and feelings, and practice active listening when they do. This promotes a supportive and nurturing environment.
Assertiveness for Mental Health
Assertiveness skills are essential for maintaining good mental health. Here are some ways to incorporate assertiveness into your self-care routine:
Practice self-compassion: Treat yourself with kindness and understanding, and remember that you deserve to have your needs met and your feelings acknowledged.
Develop a strong sense of self-worth: Cultivate a strong sense of self-worth by recognizing and celebrating your strengths and accomplishments.
Seek professional help if needed: If you struggle with assertiveness and it's affecting your mental health, don't hesitate to seek professional help. Therapists and counselors can provide valuable guidance and support as you work to develop your assertiveness skills.
Engage in self-reflection: Take time to regularly reflect on your thoughts, feelings, and behaviors. This self-awareness can help you identify areas where you need to be more assertive and recognize any patterns of passive or aggressive behavior.
Practice self-care: Prioritize self-care by setting aside time for activities that nourish and recharge you. Being assertive about your self-care needs is crucial for maintaining your mental and emotional well-being.
Overcoming Common Assertiveness Challenges
While developing assertiveness skills is a worthwhile endeavor, it's not without its challenges. Here are some common obstacles you may encounter along the way and tips for overcoming them:
Fear of Confrontation
Many people struggle with assertiveness because they fear confrontation or worry about upsetting others. To overcome this fear, remind yourself that being assertive is about standing up for your rights while still respecting the rights of others. By practicing assertive communication, you're fostering healthier and more honest relationships.
Guilt and Self-Doubt
Feeling guilty or doubting your rights can be a significant barrier to assertiveness. Work on building your self-esteem and self-worth by acknowledging your strengths and accomplishments. Remember that you have the right to express your thoughts, feelings, and needs, just like everyone else.
Difficulty Recognizing Your Needs
To be assertive, you need to know what you want and need. Take the time to reflect on your desires and priorities, and don't be afraid to ask for what you need.
Cultural or Societal Expectations
In some cultures or social groups, assertive behavior may be discouraged or frowned upon. It's essential to recognize these societal influences and remember that assertive communication is about mutual respect and understanding.
Related: Verbal Communication Skills
In Conclusion
Assertiveness is an invaluable communication skill that can improve your self-confidence, decision-making, mental health, and relationships. Developing assertiveness skills takes time, practice, and self-awareness, but the benefits are well worth the effort.
By incorporating the techniques and tips provided in this article, you can begin to cultivate your assertiveness skills and experience the positive change it can bring to your personal and professional life.
FAQs
What is the difference between assertiveness and aggression?
Assertiveness is a communication style that involves expressing your thoughts, feelings and needs in a direct, honest, and respectful way. Aggression, on the other hand, is forceful and can violate the rights of others. Assertiveness strikes a balance between passive behavior and aggression.
How can I practice being more assertive?
To practice assertiveness, start by developing self-awareness, setting boundaries, using "I" statements, and practicing active listening. Additionally, work on maintaining eye contact, using assertive body language, staying calm in challenging situations, and practicing consistently.
Can assertiveness training help me improve my communication skills?
Yes, assertiveness training programs can be a valuable resource for improving your communication skills. These programs often include workshops, role-playing exercises, and expert guidance to help you build and refine your assertiveness skills.
How can I be assertive without coming across as rude or aggressive?
To be assertive without being rude or aggressive, focus on expressing your thoughts and feelings in a respectful, honest, and direct manner. Use "I" statements, practice active listening, and maintain assertive body language to convey your message effectively without coming across as forceful or hostile.