Disclaimer: We sometimes use affiliate links in our content. For more information, visit our Disclaimer Page. 
In today's fast-paced world, the importance of effective communication and strong interpersonal skills cannot be overstated. Whether in our personal lives or at the workplace, it's crucial to avoid negative interpersonal behaviors to ensure successful communication and build lasting relationships.
In this article, we'll explore various examples of negative interpersonal behavior, the consequences of these behaviors, and strategies to communicate effectively.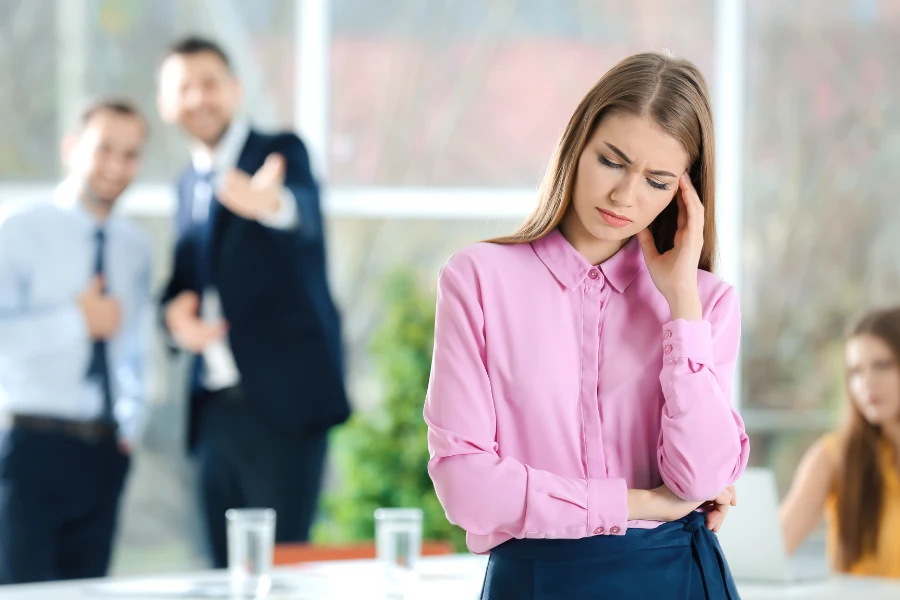 The Impact of Negative Interpersonal Behavior
Negative interpersonal behavior can have far-reaching consequences on our relationships, self-esteem, and emotional well-being. Research on interpersonal workplace conflict has shown that negative behavior can lead to workplace bullying, low morale, and decreased productivity.
Confirmatory factor analysis and structural equation modeling, for example, have been used in numerous studies to better understand the prevalence and impact of workplace negative behavior.
Emotional Reactions and Personal Attacks
Negative behaviors, such as verbal aggression and personal attacks, can elicit strong emotional reactions in those affected. Emotional reactions reported in the international journal on interpersonal behavior range from feelings of anger and sadness to anxiety and fear. This further emphasizes the importance of avoiding negative behavior types and fostering a positive environment for effective communication.
Types of Negative Interpersonal Behavior
To better understand the negative interpersonal behaviors we should avoid, let's delve into some common examples:
1. Verbal Abuse
Verbal abuse is a form of negative behavior that includes name-calling, belittling, and humiliation. It can lead to a decline in self-esteem, emotional distress, and negative effects on mental health.
2. Social Manipulation
Social manipulation is a type of negative behavior that involves deceit, trickery, or coercion to control or influence others. This behavior can cause a breakdown in trust and damage relationships.
3. Withholding Information
Intentionally withholding information that others need to make informed decisions or perform their tasks effectively can be considered a form of negative interpersonal behavior. This behavior can create unnecessary barriers, foster distrust, and hinder effective communication.
4. Task Attack
A task attack is a form of negative behavior in which an individual criticizes or undermines someone's work or ability to complete a task. This can lead to feelings of inadequacy, low self-esteem, and decreased motivation.
Strategies for Effective Communication
Now that we've discussed the negative interpersonal behaviors to avoid, let's explore some strategies for effective communication:
Active Listening: Pay attention to the speaker, make eye contact, and ask clarifying questions to demonstrate your understanding and interest.
Empathy: Put yourself in the other person's shoes and try to understand their feelings and perspectives.
Assertiveness: Communicate your thoughts, feelings, and needs clearly and respectfully, without being aggressive or passive.
Respect: Treat others with kindness and respect, even when you disagree or have a conflict.
Conflict Resolution: Address conflicts head-on and work collaboratively to find a mutually agreeable solution.
Overcoming Negative Behavior Patterns
If you find yourself engaging in negative interpersonal behavior, it's crucial to recognize these patterns and take steps to overcome them. Here are some suggestions:
Self-awareness: Be honest with yourself about your behavior and the impact it has on others. Reflect on your actions and consider how they might be perceived by others.
Seek Feedback: Ask for constructive feedback from trusted friends, family, or colleagues to gain insight into how your behavior affects those around you.
Self-improvement: Develop a plan to address your negative behavior patterns, focusing on building your interpersonal skills and emotional intelligence.
Apologize and Make Amends: If you've engaged in negative behavior, express regret and take steps to repair the damage done to your relationships.
The Role of Workplace Culture in Interpersonal Behavior
Workplace culture plays a significant role in shaping interpersonal behavior among employees. A positive workplace culture encourages open communication, collaboration, and mutual respect, which can help reduce the occurrence of negative interpersonal behavior.
On the other hand, a toxic workplace culture can breed hostility, mistrust, and negative behavior patterns, leading to increased interpersonal conflicts and workplace bullying.
Recognizing and Addressing Workplace Bullying
Workplace bullying is a pervasive issue that can have severe consequences for both individuals and organizations. Bullying behaviors may include verbal attacks, social manipulation, withholding information, and task attacks. To combat workplace bullying, it's essential to recognize the signs and take proactive measures to create a safe and inclusive environment.
Promoting a Positive Workplace Environment
Organizations can take several steps to foster a positive workplace culture and discourage negative interpersonal behavior:
Clear Policies: Establish clear policies outlining acceptable and unacceptable behavior, and ensure that all employees are familiar with these expectations.
Training: Provide training to employees on interpersonal communication, conflict resolution, and diversity and inclusion. This will help equip employees with the skills they need to navigate interpersonal relationships in the workplace effectively.
Open Communication: Encourage open and honest communication among employees, and create channels for employees to share their concerns and provide feedback.
Support: Offer resources and support for employees who may be experiencing negative interpersonal behavior or workplace bullyings, such as access to counseling services or an employee assistance program.
Accountability: Hold employees accountable for their behavior and take appropriate action when negative interpersonal behavior is identified.
The Importance of Emotional Intelligence in Interpersonal Communication
Emotional intelligence is a critical aspect of effective interpersonal communication. It encompasses the ability to recognize, understand, and manage our emotions and those of others. By developing our emotional intelligence, we can better navigate interpersonal relationships and avoid negative behavior patterns.
Strategies for Developing Emotional Intelligence
Here are some strategies to help develop emotional intelligence and enhance interpersonal communication:
Self-awareness: Practice recognizing and understanding your emotions and their impact on your behavior and relationships.
Self-regulation: Learn to manage your emotions, particularly negative ones, and respond to situations in a more constructive and controlled manner.
Motivation: Cultivate a positive attitude and maintain a high level of motivation to achieve personal and professional goals.
Empathy: Develop the ability to understand and share the emotions of others, which will help you connect with them on a deeper level.
Social skills: Build strong interpersonal skills by practicing active listening, assertiveness, and conflict resolution.
By honing these emotional intelligence skills, we can become more adept at navigating interpersonal relationships and avoiding negative behavior patterns that can damage our connections with others.
The Role of Self-esteem in Interpersonal Behavior
Self-esteem plays a significant role in shaping our interpersonal behavior. Individuals with high self-esteem are more likely to engage in positive interpersonal behavior, while those with low self-esteem may be more prone to negative behavior patterns, such as verbal attacks or social manipulation.
Boosting Self-esteem to Improve Interpersonal Skills
Improving self-esteem can lead to more positive interpersonal behavior and stronger relationships. Here are some strategies for boosting self-esteem:
Positive self-talk: Replace negative thoughts and self-criticism with positive affirmations and encouragement.
Set realistic goals: Establish achievable goals for personal and professional growth, and celebrate your accomplishments along the way.
Develop resilience: Learn to cope with setbacks and challenges, and use them as opportunities for growth and self-improvement.
Surround yourself with positivity: Cultivate a positive social network and engage in activities that bring you joy and satisfaction.
Practice self-compassion: Treat yourself with kindness and understanding, and recognize that everyone makes mistakes and has areas for improvement.
The Power of Nonverbal Communication in Interpersonal Relationships
Nonverbal communication plays a vital role in interpersonal relationships, as it helps convey our emotions, attitudes, and intentions without the use of words. By being mindful of our nonverbal cues, we can enhance our interpersonal communication and avoid negative behavior patterns that may arise from misinterpretations.
Tips for Improving Nonverbal Communication
To improve nonverbal communication and foster stronger interpersonal relationships, consider the following tips:
Maintain eye contact: Eye contact conveys interest, attentiveness, and confidence. Maintain appropriate eye contact during conversations to build rapport and trust.
Be aware of facial expressions: Our facial expressions can communicate a range of emotions, from happiness and surprise to anger and sadness. Be mindful of your expressions and how they may be perceived by others.
Monitor body language: Posture, gestures, and movements can convey confidence, openness, and friendliness, or they can signal defensiveness, aggression, or disinterest. Ensure your body language aligns with the message you want to communicate.
Manage personal space: Be respectful of others' personal space and avoid standing too close or too far away during conversations.
Practice active listening: Nodding, leaning in, and providing verbal and nonverbal feedback during conversations can demonstrate that you are engaged and genuinely interested in what the other person is saying.
In Conclusion
Avoiding negative interpersonal behavior is crucial for fostering successful communication and building strong relationships. By understanding the various types of negative behavior, developing emotional intelligence, enhancing self-esteem, and improving nonverbal communication, we can create a positive environment for interpersonal interactions, both in our personal lives and at the workplace.
FAQs
What is negative interpersonal behavior?
Negative interpersonal behavior refers to actions or communication patterns that harm or damage relationships with others. Examples include verbal abuse, social manipulation, withholding information, and task attacks.
How can I improve my interpersonal skills?
Improving interpersonal skills involves developing emotional intelligence, enhancing self-esteem, practicing active listening, building empathy, and improving nonverbal communication.
What role does workplace culture play in interpersonal behavior?
Workplace culture has a significant impact on shaping interpersonal behavior among employees. A positive workplace culture promotes open communication, collaboration, and mutual respect, which can reduce negative behavior patterns. In contrast, a toxic workplace culture can breed hostility, mistrust, and negativity, leading to increased interpersonal conflicts and workplace bullying.
How can I address negative behavior patterns in myself?
Recognize and acknowledge your negative behavior patterns, seek constructive feedback from others, develop a plan for self-improvement, and apologize and make amends for any harm your behavior may have caused.
Why is emotional intelligence important in interpersonal communication?
Emotional intelligence is critical for effective interpersonal communication because it enables us to recognize, understand, and manage our emotions and those of others. By developing emotional intelligence, we can better navigate interpersonal relationships and avoid negative behavior