Disclaimer: We sometimes use affiliate links in our content. For more information, visit our Disclaimer Page. 
Effective communication is a vital aspect of personal and professional success. Assertive communication, in particular, can help individuals achieve their goals while maintaining healthy relationships. Assertive communication allows one to express their thoughts, feelings, and needs clearly, honestly, and respectfully. It involves standing up for oneself and others in a non-aggressive way while considering the feelings and perspectives of others.
This article will explore 12 assertive communication examples to help you. We will discuss how to communicate assertively in different contexts, such as the workplace and personal relationships, and provide practical exercises to help you develop assertiveness. By the end of this article, you will better understand the power of assertive communication and how to apply it in your life.
Key Takeaways:
Assertive communication is essential for personal and professional success.
Assertive communication involves expressing oneself clearly, honestly, and respectfully.
This article will explore 12 assertive communication examples and techniques.
We will discuss how to communicate assertively in different contexts and provide practical exercises to develop assertiveness.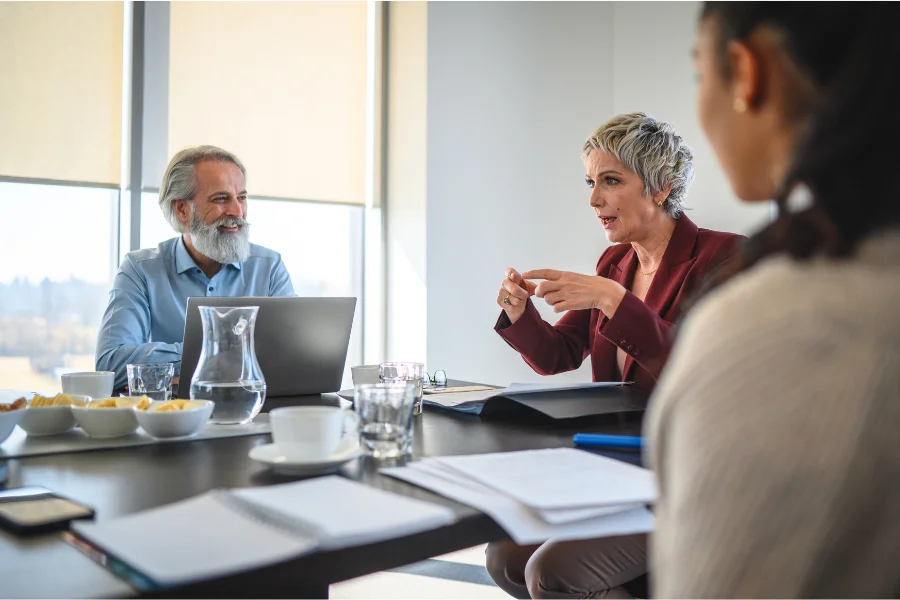 Understanding Assertive Communication
Assertive communication is expressing your thoughts, feelings, and needs clearly, directly, and respectfully. It involves advocating for yourself while also considering the perspective of others. Assertive communication is critical in any context, from interpersonal relationships to the workplace.
To communicate assertively, it's important to be confident and self-assured. You need to believe in the validity of your opinions and feelings and express them authentically and appropriately. It's a delicate balance between being assertive without being aggressive or disrespectful.
Why Assertive Communication is Important
Assertive communication is vital for a healthy and productive work environment. When people are not assertive, they may become passive and fail to express their needs effectively, leading to misunderstandings and frustration. On the other hand, people who are too aggressive in their communication can create conflict and damage relationships.
Assertive communication can also help in personal relationships. When you communicate assertively, you can express your needs and boundaries clearly and effectively, helping to maintain healthy and respectful relationships.
How to Communicate Assertively
Here are some tips to help you communicate assertively:
Use "I" statements to express your feelings and thoughts.
Be clear and specific about what you are asking for or expressing.
Listen actively and show interest in the other person's perspective.
Stay calm and in control of your emotions.
To improve your assertiveness skills, you can also participate in assertiveness training. This training can help you develop communication skills and techniques to express yourself more effectively.
Assertive Communication Techniques
Assertive communication requires a balance between being clear about your needs and respecting the needs of others. The following techniques can help you effectively communicate assertively:
| Technique | Description |
| --- | --- |
| Use "I" statements | State your thoughts and feelings using "I" statements to avoid blaming or accusing the other person. |
| Be specific | Clearly state what you want or need, using specific examples or details to help the other person understand. |
| Active listening | Listen actively to the other person's perspective, acknowledging their feelings and repeating their message to show understanding. |
| Sandwich method | Start with a positive statement, state your concern or problem, and end with a positive statement or solution. |
| Set boundaries | Clearly communicate your boundaries and say "no" when necessary to ensure your needs are respected. |
| Use confident body language | Make eye contact, stand/sit up straight, use a confident tone of voice, and avoid fidgeting or crossing your arms. |
Becoming comfortable with these techniques may take practice, but they can greatly improve your assertiveness skills and help you communicate effectively.
Example:
"I feel frustrated when you interrupt me during meetings. I spend a lot of time preparing for these presentations and want the opportunity to share my ideas. Can we agree that I will have the floor during my portion of the meeting, and you can share your thoughts after I'm done?"
Using the "sandwich method", this assertive communication example acknowledges the colleague's perspective while expressing a clear boundary and solution.
Assertive Communication at Work
Assertive communication is essential for success in the workplace. It allows you to assert your needs, opinions, and boundaries clearly and confidently while also respecting the needs and rights of others. Here are some tips for effectively communicating assertively in a professional setting:
1. Be clear and concise
When communicating assertively, it's important to be clear and to the point. State your message concisely and straightforwardly, avoiding any unnecessary details or ambiguity. This helps prevent misunderstandings and ensures your message is received as intended.
2. Use "I" statements
Using "I" statements can help you assert your own needs and feelings while also showing respect for others. For example, instead of saying, "You never listen to me," try saying, "I feel unheard when you interrupt me." This approach focuses on your experience and avoids blaming or attacking the other person.
3. Practice active listening
Active listening is an important aspect of assertive communication. It involves fully engaging in the conversation and demonstrating an interest in the other person's perspective. This can help to build trust and understanding, making it easier to communicate effectively.
4. Use confident body language
Your body language can communicate just as much as your words. When communicating assertively, use confident body language such as making eye contact, standing up straight, and using an assertive tone of voice. This can help you appear more confident and assertive, even if you feel nervous.
5. Practice saying "no"
Saying "no" can be difficult, but asserting your boundaries and priorities is important. Practice saying "no" calmly, assertively, and briefly explaining why you're declining. This can help you to build confidence in your ability to assert yourself in the workplace.
6. Seek out assertiveness training
Finally, consider seeking out assertiveness training to help you develop your skills further. This can include workshops, classes, or coaching sessions focused on building assertiveness and effective communication skills. By investing in your own development, you can unlock greater success in your career.
Assertive Communication in Relationships
Assertive communication is an essential skill for building and maintaining healthy relationships. It allows individuals to express their needs, boundaries, and feelings clearly and respectfully while also respecting the needs and boundaries of others. Here are some examples of how assertive communication can improve your relationships:
Ask for what you need: Instead of expecting your partner or friend to guess what you want or need, express it directly. For example, "I would appreciate it if you could help me with the dishes tonight."
Set boundaries: It is important to set boundaries in any relationship to avoid feeling overwhelmed or taken advantage of. Use "I" statements to express what you are comfortable with and are not. For example, "I feel uncomfortable discussing personal topics at work."
Express your feelings: Be honest without blaming or attacking the other person. Use "I" statements to express your emotions. For example, "I feel hurt when you cancel plans at the last minute."
Listen actively: Active listening involves hearing what the other person is saying and showing that you understand and respect their point of view. Ask clarifying questions and summarize their perspective back to them. For example, "I hear you saying you feel overwhelmed with work right now."
Remember that assertive communication is a two-way street. It is also important to respect the other person's boundaries and needs. Relationships can become more meaningful and authentic when both parties practice assertive communication.
Assertiveness Exercises
Developing assertiveness skills takes practice and effort. The following exercises can help you enhance your assertiveness and communicate more effectively:
1. Role-Playing
Practice assertive communication by role-playing various scenarios with a friend or colleague. You can simulate situations where you must say no, ask for what you need, or assert your boundaries. Pay attention to your tone of voice, body language, and choice of words.
2. Writing Exercises
Write down situations where you wished you had communicated more assertively. Then, rewrite the scenario using assertive language and practice saying it out loud. This exercise can help you gain confidence in assertive communication.
3. Self-Reflection
Take some time to reflect on your communication style. Identify instances where you tended to be passive or aggressive and think about how you could have communicated assertively instead. Being aware of your communication patterns can help you make meaningful changes in your behavior.
4. Assertive Body Language
Assertiveness is not just about what you say but how you say it. Practice assertive body language by standing tall, maintaining eye contact, and speaking clearly and confidently. This can help you convey your message more effectively and assertively.
Remember, developing assertiveness takes time and patience. Be kind to yourself and commit to practicing these exercises regularly to improve your assertive communication skills.
The Power of Assertiveness for Women
Assertiveness is a crucial skill for anyone who wants to achieve success in their personal and professional lives. However, assertiveness can be particularly challenging for women due to societal expectations and gender biases. Fortunately, cultivating assertiveness skills can help women overcome these challenges and confidently achieve their goals.
Research has shown that assertive communication can lead to better negotiation outcomes, increased self-esteem, and improved relationships. By expressing their needs and wants clearly and confidently, women can break free from gender stereotypes and improve their well-being.
Challenges Faced by Women in Assertive Communication
Despite the benefits of assertiveness, women often face unique challenges that make it difficult to communicate assertively. These challenges include:
Gender Stereotypes: Women are often expected to be nurturing and accommodating, leading others to view assertiveness as aggressive or unfeminine.
Backlash: Women who speak up and assert themselves may face criticism or backlash from those around them, which can be discouraging.
Fear of Damaging Relationships: Women may worry that being assertive will damage their relationships with others or lead to conflict.
Despite these challenges, women must remember that assertiveness is a valuable skill that can benefit them in many ways.
Empowering Examples
Many inspiring examples of women have used assertiveness to achieve success in various fields. Some of these include:
"I've learned that you shouldn't go through life with a catcher's mitt on both hands; you need to be able to throw something back." – Maya Angelou
Maya Angelou was a powerful advocate for civil rights and women's equality. Her assertiveness and willingness to speak out against injustice inspired generations of women.
"I am not afraid of storms, for I am learning how to sail my ship." – Louisa May Alcott
Louisa May Alcott was an author who defied gender expectations by writing novels that were popular with both men and women. Her assertiveness and determination helped her succeed in a male-dominated field.
Cultivating Assertiveness Skills
There are many strategies that women can use to cultivate assertiveness skills and overcome the challenges they may face. These include:
Setting Boundaries: Clearly communicating and sticking to boundaries can help women feel confident and in control.
Practicing Self-Care: Taking care of oneself can help women feel more confident and empowered in their interactions with others.
Speaking Up: Women should speak up when they have something to say, even if it feels uncomfortable or goes against societal norms.
By practicing these strategies and others, women can improve their assertiveness skills and achieve success on their own terms.
12 Assertive Communication Examples to Help You
Assertive communication is essential for success in many aspects of life, from personal relationships to professional situations. Here are some real-life examples of assertive communication in action:
| Scenario | Assertive Communication Example | Outcome |
| --- | --- | --- |
| Negotiating a raise | "I've been performing above expectations and would like to discuss a raise. Based on my contributions, I believe a salary increase of 10% would be fair." | The employer agreed to a 7% raise, which was still a significant improvement for the employee's salary. |
| Resolving conflicts with a coworker | "I understand that we have different opinions, but I feel disrespected when you interrupt me during meetings. Can we find a way to collaborate more effectively and respectfully?" | The coworker apologized and agreed to work on active listening skills to improve communication. |
| Giving feedback to a team member | "Your work has been consistently late, and it's affecting the team's productivity. Can we discuss ways to improve your time management skills?" | The team member acknowledged the issue and worked with the supervisor to create a plan for improving deadlines and productivity. |
These examples showcase how assertive communication can lead to positive outcomes and highlight the importance of this skill in various situations. By practicing assertive communication techniques, individuals can effectively express their thoughts and feelings while maintaining respectful and productive interactions.
Conclusion
Assertive communication is an essential skill that can unlock success in various aspects of life. By being assertive, you can express your thoughts and feelings confidently and effectively while also respecting the needs and feelings of others.
Throughout this article, we have explored various aspects of assertive communication, including techniques, exercises, and real-life examples. We have also discussed the importance of assertiveness skills in the workplace, relationships, and for women specifically.
Developing assertive communication skills may take time and practice, but the benefits are well worth it. Being assertive can improve your relationships, enhance professional success, and boost self-confidence.
Remember that assertive communication is not about being aggressive or confrontational but rather about communicating your needs and opinions clearly and respectfully. So, take the time to practice assertiveness techniques regularly, and don't be afraid to use your newfound skills to achieve your goals and unlock your personal and professional potential.
FAQs
What is assertive communication 10 real-life examples?
Politely declining additional work when your schedule is already full.
Asking for clarification when you don't understand something.
Expressing your opinions without belittling others' views.
Setting personal boundaries and saying "no" when necessary.
Requesting feedback to improve your performance.
Standing up for yourself in a calm and composed manner.
Negotiating a compromise during a disagreement.
Addressing issues directly instead of gossiping.
Expressing your needs in a relationship without blaming. 10. Making requests with confidence while considering others' needs.
What are 4 examples of assertive communication?
Expressing Opinions: Sharing your thoughts and viewpoints while respecting others' perspectives.
Making Requests: Politely asking for what you need or want.
Setting Boundaries: Clearly define your personal limits and values.
Saying "No": Declining requests or offers respectfully and firmly.
How can assertive communication help you?
It improves your self-esteem and confidence.
It enhances your relationships by fostering open and respectful dialogue.
It reduces misunderstandings and conflicts by promoting clear communication.
It allows you to express your needs and opinions without feeling guilty.
It helps you stand up for yourself while considering others' feelings.
What is a good example of assertiveness?
A good example of assertiveness is confidently expressing your needs and boundaries without infringing on others' rights. For instance, if a colleague consistently interrupts you during meetings, you could calmly address the situation by saying, "I appreciate your input, but I'd like to finish my point before we move on."
How can I improve my assertive communication skills?
Practice using "I" statements to express your feelings and opinions.
Learn to say "no" when necessary while remaining respectful.
Maintain a calm and composed tone even during challenging conversations.
Practice active listening to understand others' viewpoints.
Role-play scenarios to develop your assertiveness in various situations.