Disclaimer: We sometimes use affiliate links in our content. For more information, visit our Disclaimer Page. 
Acing your marketing interview can be the stepping stone to advancing your career in this competitive field. With a wide range of skills and knowledge required, it's essential to be well-prepared for the questions recruiters may throw at you.
Our comprehensive guide on "Top 21 Marketing Interview Questions Answers" will help you navigate through these challenging interviews with confidence.
Key Takeaways
To ace a marketing interview, be prepared to discuss your practical experience and theoretical education related to the field.
A strong understanding of digital marketing tools and platforms is essential in today's market. Highlighting proficiency with these technologies can set you apart from other candidates.
Identifying key metrics for measuring success, staying up-to-date with industry trends, balancing creativity with data-driven insights, and prioritizing data privacy compliance are all crucial skills that potential employers will seek during interviews.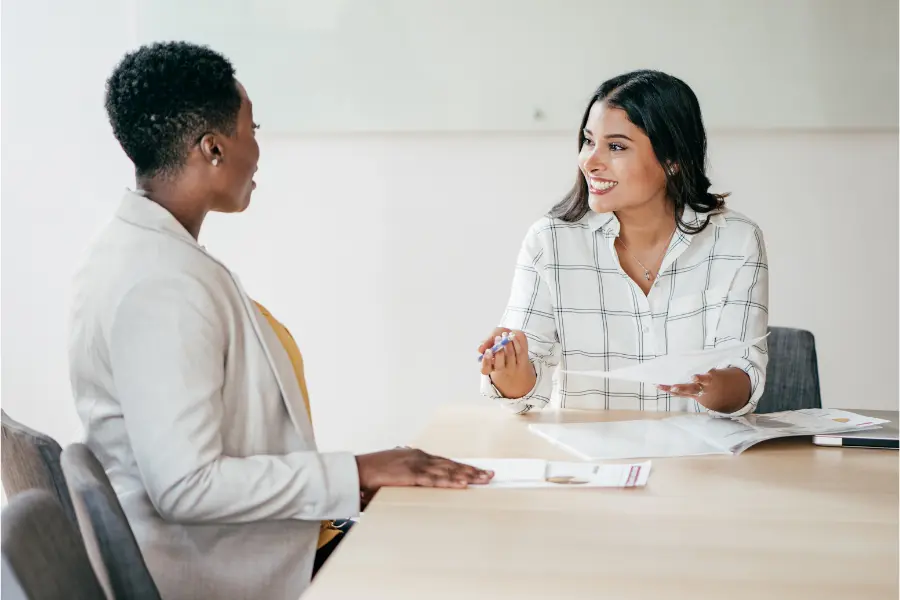 Top 21 Marketing Interview Questions And Answers
The article lists 21 common marketing interview questions and their corresponding answers covering a wide range of topics, including the candidate's skills, experience, and problem-solving abilities.
Tell Us About Your Marketing Experience And Education
One of the most common questions asked during a marketing interview is regarding your marketing experience and educational background. Interviewers want to gain insight into how well-equipped you are for the role by understanding your hands-on experience in previous jobs or internships, as well as the theoretical knowledge gained at school or through certifications.
For example, if your marketing experience involved working on content creation and social media campaigns for various clients, be prepared to share examples of successful projects that showcased creativity and generated significant engagement.
Similarly, when discussing your education, mention any relevant degrees or certifications such as a bachelor's degree in Marketing or Business Administration along with industry-specific courses like Google AdWords certification courses that have helped enhance your skills further.
What Is Your Approach To Creating A Marketing Strategy?
My approach to creating a marketing strategy involves understanding the target audience, setting specific and measurable goals, and identifying key metrics for success.
I start by researching and analyzing market trends and customer behavior to identify any gaps or opportunities.
To ensure that my marketing strategy is effective, I establish clear objectives with specific timelines and budgets. Using data-driven insights, I continuously monitor key metrics such as conversion rates, cost per acquisition, and return on investment.
For example, in a previous role, I developed a content marketing plan aimed at increasing website traffic and lead generation.
How Do You Measure The Success Of A Marketing Campaign?
Measuring the success of a marketing campaign is essential to determine its impact and value. A candidate must be able to demonstrate their understanding of metrics, analytics, and data-driven decision-making.
One way to measure success is by setting specific objectives at the start of the campaign, such as increasing website traffic or sales revenue. Then track progress by using key performance indicators (KPIs) like click-through rates (CTR), conversion rates, engagement rates, and return on investment (ROI).
For example, if a company's objective is to increase brand awareness through social media, it can measure success by evaluating impressions or reach. Alternatively, if they aim to generate leads from an email marketing campaign or PPC ads, the conversion rate would be an important metric to track closely.
What Is Your Experience With Digital Marketing Tools And Platforms?
Digital marketing has become an integral part of any marketer's arsenal and expertise with digital marketing tools and platforms is highly sought after. The interviewer may ask about your experience in this area to understand how comfortable you are working with a variety of digital marketing tools such as Google Ads, Facebook Ads, SEO software, email automation platforms, and analytics tools.
It's important to highlight your proficiency in using these technologies to create targeted campaigns that drive engagement and conversions. For example, you could talk about how you have used social media advertising to boost brand awareness or used SEO tactics to increase organic traffic on a website.
A great way to showcase your technical skills would be by discussing the specific metrics that you track through reporting dashboards and how they impact overall campaign performance.
How Do You Stay Up-to-date With Industry Trends?
Staying up-to-date with industry trends is essential for any marketer. It shows your passion for the field and your willingness to adapt to changing market conditions. To stay current, I subscribe to various marketing newsletters, blogs, and podcasts that provide valuable insights on emerging trends and best practices.
I also attend industry conferences and webinars where top marketers share their expertise on a particular topic or strategy. Conferences like Marketing United by Emma are particularly useful as they not only offer informative sessions but also facilitate networking opportunities with other professionals in the field.
Moreover,I participate in online forums such as Reddit's r/marketing which provides me access to a community of fellow marketers who openly exchange ideas on new techniques & approaches being implemented by companies from varied backgrounds.
What Is Your Experience With Branding?
Branding is an essential aspect of marketing, and companies rely on branding to differentiate themselves from their competitors. During a marketing interview, it is common for the interviewer to ask about your experience with branding.
Your response should highlight your ability to create and implement branding strategies that align with the company's goals and values.
For example, you can talk about how you helped a previous employer establish a strong brand identity by creating consistent visual elements such as logos and color schemes across all marketing channels.
Additionally, you could share how you conducted market research to determine the target audience's perception of the brand and identify any areas for improvement or growth opportunities.
How Do You Handle Data Privacy And Compliance In Your Marketing Efforts?
Data privacy and compliance are critical aspects of any marketing effort. As a marketer, it is your responsibility to ensure that you are collecting, handling, and using customer data in accordance with all relevant laws and regulations.
One way to handle this is by implementing a robust data privacy policy that outlines how you collect and use customer data.
For example, when sending promotional emails or newsletters, make sure to include an opt-out option so customers can easily unsubscribe if they wish to do so. In addition, when collecting any personal information from customers such as email addresses or phone numbers for marketing purposes always ask for explicit consent before doing so.
How Do You Balance Creativity And Data In Marketing?
Balancing creativity and data is critical in effective marketing projects. Too much focus on either one could result in an ineffective campaign. It's essential to leverage both creativity and data for successful results, combining the art of storytelling with science-based insights that cater to the target audience.
For instance, when launching a social media campaign, it's crucial to strike a balance between creative content and measurable metrics such as engagement rates. By using analytics tools like Google Analytics or Facebook Insights, marketers can analyze user behavior patterns and tailor their approach accordingly without sacrificing creative flair.
Can You Give An Example Of A Successful Marketing Campaign You Worked On?
One successful marketing campaign I worked on was for a startup company that needed to increase its online presence and generate more leads. Our team created an integrated digital marketing strategy that included SEO, social media advertising, email marketing, and content creation.
We also utilized data analysis tools to measure the success of the campaign in real time.
This example showcases my ability to create an effective multi-channel marketing plan while utilizing data-driven tactics to ensure its success.
How Do You Approach Social Media Marketing?
When it comes to social media marketing, it's important to have a clear strategy in place. As a candidate, you should start by understanding the brand and its target audience.
From there, you can determine which platforms are most appropriate for reaching that audience and creating engaging content that aligns with the brand's values and messaging.
A successful social media campaign also requires constant monitoring and adjustments based on analytics data to ensure maximum engagement.
To show your strengths in this area during an interview, share examples of past successes using specific metrics such as increases in followers or engagement rates.
What Is Your Experience With Email Marketing?
Email marketing is a vital component of any successful marketing strategy, and my experience in this area includes creating effective email campaigns that drive engagement and conversions.
In my previous role as a digital marketer for XYZ Company, I was responsible for developing email content, executing campaigns using industry-leading tools like Mailchimp and Constant Contact, analyzing campaign results, and implementing improvements based on performance data.
For example, by A/B testing subject lines and calls-to-action in our emails, we were able to increase the open rates by 20% and click-through rates by 15%. I also have experience segmenting email lists based on customer behaviors or preferences to ensure relevant messaging that resonates with audiences.
Describe A Time When You Had To Handle A Difficult Client Or Situation In Marketing
In the midst of a marketing campaign, mishaps can arise, sometimes from an unexpected source- clients. There was one instance where I had to handle a tough customer who wasn't happy with our services.
The client was unhappy with some aspects of the campaign and requested that we make additional adjustments even after numerous revisions.
I decided to approach this by responding calmly and professionally as I listened patiently to understand their concerns. After gaining insights into what they were looking for in our services, we came up with multiple solutions which were both beneficial for them and effective in achieving our objectives.
What Is Your Experience With Content Marketing?
When answering the question "What is your experience with content marketing?" during a marketing interview, it's important to focus on your understanding of this crucial area of marketing.
You should highlight any specific examples of successful content campaigns you've worked on and explain how you approach developing and implementing a content strategy.
For instance, you could mention that in your previous role as a Content Marketing Manager for a B2B software company, you developed an editorial calendar based on keyword research and data analysis to ensure that all pieces aligned with business goals.
Furthermore, you can discuss how each piece was optimized for SEO rankings by following best practices such as title tags & meta descriptions optimization and URL hierarchy among others.
Additionally, by describing key performance indicators (KPIs) such as organic traffic growth and lead generation from gated assets could show how these efforts translated directly into positive results for the organization.
Describe A Time When You Had To Pivot A Marketing Strategy
One common marketing interview question is "Describe a time when you had to pivot a marketing strategy." This question assesses the candidate's ability to be flexible and adapt their approach when faced with challenges.
A good answer might include an example of a past project where the initial strategy was not yielding desired results. The candidate could describe how they analyzed the data, identified areas for improvement, and adjusted the campaign accordingly.
For instance, during my previous role as a social media specialist for an e-commerce company, we were launching a new product line targeting younger demographics. Our initial strategy focused on influencer partnerships and Instagram ads.
However, after monitoring our analytics closely we discovered that Facebook was driving more traffic and engagement than Instagram. We quickly pivoted towards creating more Facebook content while cutting back on influencer spending.
What Is Your Experience With Event Marketing?
Event marketing plays a vital role in promoting products and services to a broad audience. Therefore, hiring managers often ask about the candidate's experience with event marketing.
The interviewer wants to know if the candidate has experience planning events that can help increase brand awareness or generate leads. A good way to answer this question is by providing examples of successful events you have organized and highlighting what made them stand out.
It is also important to discuss how you measured the success of these events using metrics such as attendance rates, social media reach, and ROI.
What Is Your Approach To Market Research?
In marketing, market research provides valuable insights into customer preferences and behavior. As such, an interviewer may ask about your approach to performing this type of research.
It is important to note that the best approach to market research will depend on factors such as the company's resources, target audience, and industry.
One example of an effective approach is using both quantitative and qualitative research methods where appropriate. For instance, quantitative methods can help you gather large amounts of data related to demographics or purchasing behaviors while qualitative methods may provide more in-depth feedback from customers regarding their experiences with products/services offered by the company.
What Is Your Experience With Marketing Automation?
Marketing automation is a key tool for streamlining marketing campaigns and workflows. My experience with marketing automation includes implementing and managing various software solutions such as HubSpot, Marketo, and Pardot to automate tasks like lead generation, email campaigns, social media posts scheduling, and website tracking.
I also have experience setting up automated workflows that trigger targeted communications based on customer behaviors or stage in the buying journey. One notable example of my expertise in this area was when I used marketing automation tools to reduce our sales cycle by 20% through personalized lead nurturing campaigns tailored to their specific interests and needs.
What Are Your Future Goals In Marketing?
When asked about their future goals in marketing, candidates should communicate a clear vision of their career aspirations and how those plans align with the company's objectives.
A candidate might mention specific areas they would like to focus on, such as digital marketing or branding. It is also important for candidates to demonstrate their willingness to learn new skills and stay up-to-date with industry trends.
Moreover, it is vital for candidates to highlight their desire to grow within the company and take on leadership roles if possible. Showing enthusiasm for the position and a willingness to help achieve company goals will make an excellent impression on interviewers.
Additionally, discussing personal strengths that are relevant in the field of marketing can add credibility to your answer, such as creativity or analytical thinking abilities.
How Do You Incorporate Customer Feedback Into Your Marketing Strategy?
Incorporating customer feedback into the marketing strategy is crucial because it helps companies understand their customers better and tailor their messaging accordingly.
To effectively incorporate customer feedback, marketers should start by gathering data from various sources such as surveys, social media comments, and reviews.
This information can help identify areas for improvement or opportunities to highlight in future campaigns.
For example, if a company receives negative reviews about a specific feature of its product or service repeatedly, they may decide to address the problem in the next iteration of that offering while highlighting other features customers appreciate more in their marketing messages.
How Do You Work With Cross-functional Teams?
Working with cross-functional teams is essential in marketing, as it involves collaborating and communicating with individuals from various departments. The interviewer may ask this question to understand how well a candidate can work with team members who have different backgrounds, goals, and objectives.
One way to answer this question is by giving examples of how you have worked with cross-functional teams before. Perhaps you've led a project where you had to collaborate closely with salespeople or designers across multiple locations.
You could explain how you made sure everyone was aligned on objectives by setting clear timelines, establishing regular check-ins, and creating shared documents for tracking progress.
What Are The Latest Marketing Trends You Are Following?
Staying up-to-date with the latest marketing trends is crucial for success in the industry. Some of the newest trends include voice search optimization, personalized and interactive content, and artificial intelligence-driven marketing automation.
Voice assistants like Alexa and Google Home are becoming increasingly popular, so brands are optimizing their websites to perform well in voice searches. Personalized content allows companies to tailor messaging based on customer interests or behaviors, while interactive content creates a two-way conversation between brand and consumer.
Finally, AI-driven marketing automation streamlines complex tasks like lead generation and email campaigns while providing valuable data insights that improve overall performance.
Tips For Acing Your Marketing Interview
Research the company and industry beforehand. Prepare specific examples and results from your past experiences. Practice common interview questions with a friend or mentor.
Show your enthusiasm and passion for the position.
Research The Company And Industry Beforehand
Researching the company and industry beforehand is crucial to acing your marketing interview. It shows that you're interested, engaged, and have taken the time to get to know the organization.
Start by visiting their website, social media channels and blog so that you can quickly understand what they do, who their customers are, and how they position themselves in the market.
Additionally, research the industry trends such as emerging technologies or changes in consumer behavior that may impact the company's marketing strategy.
For example: "Before my last job interview at XYZ Corporation, I researched their website and social media profiles to gain a better understanding of their products/services offered and target audience.
Prepare Specific Examples And Results From Your Past Experiences
One of the most critical things you can do to ace your marketing interview is to prepare specific examples and results from your past experiences. The interviewer wants to see evidence of how you have applied your marketing skills in real-world situations, and they want specific details about how you achieved success.
Therefore, before the interview, review your resume and think about the projects or campaigns that best demonstrate your marketing expertise. Be ready to share data-driven results, including metrics such as click-through rates, conversion rates, and engagement rates.
For instance, if you were responsible for an email campaign that generated a high open rate or led to increased sales revenue for a company's product launch – bring along specific numbers or stats that help paint a clearer picture of what role YOU played in the overall strategy's success.
Practice Common Interview Questions With A Friend Or Mentor
One of the best ways to prepare for a marketing job interview is to practice common interview questions with someone you trust, such as a friend or mentor.
This will help you build confidence and refine your answers before the actual interview. You can ask them to give feedback on your responses, body language, and overall presentation style.
For example, if the interviewer asks about your experience in content marketing, you could use a specific project from your past work history as an example. Then have your friend or mentor ask more detailed questions about that project to ensure that you understand it thoroughly and can answer any related questions confidently during the real interview.
Show Your Enthusiasm And Passion For The Position
One of the most important things you can do in a marketing interview is to show your enthusiasm and passion for the position. Interviewers want to see that you are excited about the job and that you have a genuine interest in marketing.
For instance, if you talk about how much you love creating content for social media platforms such as Instagram or TikTok and how your personal interests align with that specific niche, it shows that not only are passionate but also knowledgeable.
By expressing your eagerness for learning new skills or tactics related to digital marketing during an ongoing project or campaign shows proactive ingenuity which any organization looks forward to.
Ask Thoughtful Questions To Show Your Interest And Curiosity
Asking thoughtful questions during a marketing interview is not only an opportunity to demonstrate your interest and curiosity in the company, but it also provides insight into your problem-solving skills.
Before the interview, research the company's recent marketing campaigns and ask about how they measure success or their approach to market research.
For example, asking about their future plans for digital marketing or how they are incorporating customer feedback into their strategy showcases a willingness to learn from best practices while still remaining up-to-date on industry trends.
Avoid generic questions that could easily be answered by looking at their website or social media platforms instead focusing on understanding what makes this company unique in its approach and culture.
Common Interview Mistakes To Avoid
Avoid common interview mistakes by being well-prepared, showing enthusiasm and passion for the position, asking thoughtful questions, and avoiding casual or informal behavior.
Not Being Prepared Or Arriving Late
One of the most common mistakes candidates make during a marketing interview is failing to adequately prepare. This includes researching the company, understanding its mission and values, and reviewing the job description.
Without proper preparation, you may struggle to answer questions or appear disinterested in the role. In addition, arriving late for an interview can also be a major problem that leaves a negative impression on your potential employer.
Being punctual demonstrates professionalism and respect for others' time, which are valuable traits in any workplace.
Focusing Too Much On Yourself And Not Enough On The Company's Needs
One common mistake to avoid during a marketing interview is focusing too much on yourself and not enough on the company's needs.
While it's important to highlight your skills, experience, and accomplishments, you should also demonstrate how you can add value to the company.
For example, instead of only talking about your past successes in social media marketing campaigns, explain how those experiences can benefit the company you're interviewing for.
Show that you've researched their current social media presence and suggest some strategies that could improve their overall results.
Lacking Enthusiasm Or Passion For The Position
One of the common interview mistakes to avoid is lacking enthusiasm or passion for the position. A lack of interest can be interpreted as a lack of motivation and dedication.
To avoid this mistake, it's important to research the company and industry beforehand to show that you're genuinely interested in working there. During the interview, demonstrate your excitement for the role and how it fits into your career goals.
For example, when asked about why you want to work at their company, provide specific reasons such as their innovative marketing campaigns or their commitment to social responsibility.
Being Too Casual Or Informal
A common interview mistake to avoid is being too casual or informal. While it may be tempting to try and relate to the interviewer on a personal level, it's important to remember that this is still a professional setting.
Showing up in overly casual clothing or using inappropriate language can make you come across as unprofessional and lacking seriousness about the job.
It's also important to maintain appropriate body language, such as avoiding slouching in your seat or fidgeting excessively.
Not Demonstrating Your Marketing Skills And Knowledge
One of the most common mistakes candidates make in a marketing interview is not demonstrating their marketing skills and knowledge effectively. It's important to be specific about your past experiences and how they relate to the company's needs.
Make sure you provide concrete examples of successful marketing campaigns you have worked on, including metrics that demonstrate the success of those campaigns.
For instance, if you're asked about your experience with digital marketing tools and platforms, don't just mention your familiarity with popular tools like Google Analytics or HubSpot without providing context on how you've used them before.
Instead, talk about specific strategies or tactics you've used while working with these tools and explain why they were effective.
Conclusion
Acing your marketing interview requires thorough preparation and a solid understanding of the industry. By researching the company, practicing your answers, and showcasing your enthusiasm for the role, you can increase your chances of success.
Remember to highlight your marketing skills and experience while also demonstrating your willingness to learn and collaborate with others. With these top 21 questions and answers in mind, you can confidently navigate any marketing job interview that comes your way.
FAQs:
What are some common marketing interview questions and how should I prepare for them?
Common marketing interview questions include "What is your experience in creating successful marketing campaigns?" and "How do you stay current with industry trends?". To prepare, research the company and its products/services, review your own experiences and accomplishments in relation to the position requirements, practice answering potential questions out loud, and be prepared to provide examples of successful projects or initiatives.
How can I showcase my creativity during a marketing interview?
One way to showcase your creativity during a marketing interview is by providing unique solutions to hypothetical scenarios posed by the interviewer. Additionally, bringing examples of creative campaigns or projects you have worked on in the past can show your ability to think outside of the box.
How important is data analysis in modern marketing roles?
Data analysis plays a crucial role in modern marketing as it allows businesses to make informed decisions based on customer behavior patterns and preferences. Understanding how to collect, analyze, and interpret data is therefore an essential skill for any marketer.
How can I demonstrate my ability to work well within a team during a marketing interview?
To demonstrate your ability to work well within a team during a marketing interview, describe specific instances where you collaborated effectively with others on past projects while highlighting key contributions made towards project success. Highlighting personal qualities such as good communication skills or leadership abilities that helped facilitate teamwork can also be effective.