Disclaimer: We sometimes use affiliate links in our content. For more information, visit our Disclaimer Page. 
Navigating the process of resigning from a job can be challenging, but a well-crafted one-month notice resignation letter helps pave the way for a smooth departure.
By adhering to professional etiquette and guidelines, you maintain your reputation and set the stage for potential opportunities. In this comprehensive guide, we'll outline the importance of providing a one month notice resignation letter and walk you through each step of drafting an effective resignation letter.
You'll also find sample letters tailored for various work settings to serve as inspiration.
Key Takeaways
Writing a professional one-month notice resignation letter is crucial for maintaining professionalism, following company policy, ensuring a smooth transition, and preserving positive relationships.
Address the appropriate person, provide an apparent resignation and effective date statement, offer assistance with transitioning duties, express gratitude towards the employer, and close positively.
Giving too much information or negative feedback about the company or colleagues could damage your reputation and future job prospects. It's best to focus on positive reasons for leaving, such as personal growth or seeking new challenges.
Utilizing sample letters can help craft an effective one-month notice resignation letter tailored to different types of jobs like professional corporate environments, personalized/creative settings, high turnover rate industries, and sensitive work environments.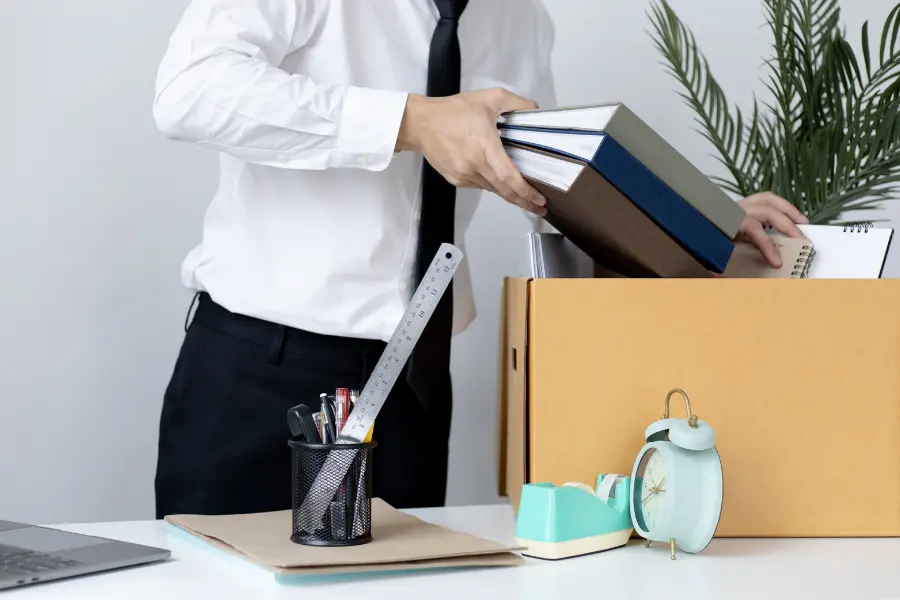 Understanding The Importance Of One Month Notice Resignation Letter
Crafting and submitting a one-month notice resignation letter is essential to maintaining professionalism, ensuring a smooth transition for the company, following standard company policy, and preserving positive relationships with colleagues and superiors.
Maintaining Professionalism
Maintaining professionalism in the resignation process is crucial for preserving your reputation and leaving a positive impression on your employer and colleagues. By crafting a well-written one-month notice resignation letter, you demonstrate respect towards your current organization and its members.
For example, imagine an employee quitting a job abruptly without providing adequate notice or explanation. This individual may damage their professional image within the industry, making it challenging to secure future opportunities.
On the other hand, an employee who follows proper protocol by submitting a thoughtful resignation letter with ample notice exhibits a strong work ethic and consideration for others.
This approach leads to potentially receiving valuable references from past employers and fostering long-lasting connections beneficial to one's career growth.
Ensuring A Smooth Transition
Giving a one-month notice period before resigning can ensure a smooth transition for both the employee and the employer. This period allows enough time for the employer to find a replacement and train them if necessary, minimizing disruptions to daily operations.
During this transition period, it is essential to maintain open lines of communication with your employer and work together to tie up any loose ends. You may assist in training your replacement or organizing your workload so tasks are completed before you leave.
Following Company Policy
It is crucial to follow the company policy when resigning from a job. This ensures you leave on good terms and maintain a positive relationship with your employer. Every company has its policies regarding the notice period, resignation letter format, and other necessary procedures to be followed during a resignation process.
Follow these policies to avoid legal or financial consequences for the employee. By following the guidelines provided by your company's HR department, you show respect towards the organization and its rules.
It also helps ensure that all obligations are met before leaving, such as completing projects and handing over responsibilities to another colleague.
Examples of following company policy may include informing supervisors first before colleagues about resignation intentions or arranging an exit interview through HR before the last day at work.
Preserving Positive Relationships
Maintaining positive relationships with colleagues and superiors is crucial when resigning from a job. Your resignation letter should reflect your gratitude towards the organization for providing you with opportunities to learn, grow, and contribute.
Preserving positive relationships also entails helping the organization transition smoothly after you leave. Consider offering assistance to train a replacement or complete pending projects before leaving.
Ultimately, preserving positive relationships can benefit both parties in the long run. Cultivating connections within an industry could lead to future career prospects or references if needed.
Step-by-Step Guide To Crafting A Professional One-Month Notice Resignation Letter
This section provides a practical guide on how to write a professional resignation letter with one month's notice, including addressing the appropriate person, expressing gratitude, and assisting with the transition.
Addressing The Appropriate Person
When crafting a one-month notice resignation letter, it is crucial to address the appropriate person. This could be your direct supervisor, HR manager, or anyone specified in your company's policies.
The salutation should be formal and include the person's name preceded by their title (e.g., Dear Mr. Smith).
Addressing the right person will ensure your resignation is handled professionally and efficiently. It shows respect for your employer and demonstrates that you take this matter seriously.
For example: "Dear Mr.
Clear Statement Of Resignation And Effective Date
One of the most crucial parts of a one-month notice resignation letter is the clear statement of resignation and effective date. This section clearly states that you are resigning from your position and the date when your resignation becomes effective.
For example, your statement could read: "Please accept this letter as formal notice of my resignation from my position as [Position] at [Company Name].
Brief Explanation (Optional)
If you need to provide a reason for your resignation, keep it brief and professional. It can be as simple as "I have decided to pursue other opportunities." However, it's important to note that giving too much information or negative feedback about the company or colleagues could burn bridges and damage future job prospects.
Remember that this letter will be added to your employment file and may impact future references for years to come. If you do decide to explain why you are leaving, focus on positive reasons, such as personal growth or wanting new challenges, rather than any negative experiences or conflicts.
Expression Of Gratitude
One important aspect of crafting a professional one-month notice resignation letter is expressing gratitude towards the employer. Showing appreciation for the opportunities, training, and experience gained during the employment period is crucial.
For example, you could thank your supervisor or colleagues for their mentorship or support throughout your tenure in the company. Acknowledging how much you have learned from working with your team or handling specific projects can demonstrate that you value your time in the position.
Assistance With Transition
One crucial aspect of crafting a professional one-month notice resignation letter is offering assistance with the transition. The tone of your resignation letter should convey that you are committed to making the handover process as seamless and efficient as possible.
For instance, consider providing detailed notes or instructions if you have specific tasks or projects you were working on before resigning.
Your employer will appreciate this gesture, showing you care about ensuring a smooth transition even after leaving the organization.
Closing With A Positive Tone
You must end your resignation letter positively, expressing gratitude for the opportunities and experiences you gained at the company. Thanking your colleagues, managers, and mentors for their support and guidance can leave a lasting impression on them.
For example: "Thank you again for allowing me to be part of such an incredible team. I am grateful for all the opportunities, growth, and learning experiences. This position has provided me over the past few years."
Sample One Month Notice Resignation Letters
This section of the article provides four sample resignation letters for different types of jobs, including professional, personalized, or creative, with high turnover rates and a sensitive work environment.
Sample 1: For Professional Jobs
Sample 1 is designed for professionals in formal corporate environments such as law firms, finance companies, or healthcare organizations.
The letter should be concise and straightforward, with minimal personal details and explanations. It should focus on the effective date of resignation, expressing gratitude to the employer for the opportunity given, and offering assistance during the transition period.
Sample 1 is an excellent reference for anyone wanting to resign from their job while maintaining a professional relationship with their employer. It highlights the importance of being direct but diplomatic in delivering terrible news through written communication.
Sample 2: For Personalized Or Creative Jobs
In personalized or creative jobs, resignation letters should reflect the individuality and creativity of the employee. It is essential to remember that these types of jobs are often based on building relationships with clients, colleagues, and stakeholders.
Therefore, employees should express their gratitude towards the company uniquely and personally. The resignation letter for this type of job should emphasize how much employees have valued their time at the company and how they have contributed to its success.
Additionally, it's important not to get too personal in detailing why you're leaving but to stay professional while expressing gratitude for any learning experiences you received from your current position.
Sample 3: For Jobs With a High Turnover Rate
A resignation letter for a job with a high turnover rate should be written with extra care and consideration. It is essential to acknowledge the challenges of the job but emphasize that leaving is a personal decision, not a reflection of dissatisfaction with the company or its management.
For example, in a high-turnover position such as customer service representative (CSR), an effective resignation letter could acknowledge the challenging nature of dealing with upset customers regularly and express gratitude for learning valuable communication and problem-solving skills.
The letter can also express willingness to assist in recruiting or training new hires before departing.
Sample 4: For Jobs With Sensitive Work Environment
In jobs with sensitive work environments, it is essential to be extra careful when submitting your resignation letter. This sample resignation letter should indicate your desire to resign from the job, highlight any achievements or contributions you made during your tenure, and express gratitude towards the company.
Additionally, in these jobs, it is crucial not to disclose confidential information or policies that could potentially harm the company. Finally, if appropriate and allowed by the employer's policy, you may offer to assist with finding a replacement or train them before leaving.
Final Tips For A Successful Resignation Process
To ensure a successful resignation process, it's vital to keep the following tips in mind. Firstly, be honest with your employer about your reasons for leaving but avoid being overly critical or negative.
Secondly, prepare yourself mentally and emotionally for the period after your resignation announcement.
Thirdly, offer assistance transitioning responsibilities to others who will take over from you.
Finally, remember to network and keep in touch with former colleagues as they could provide valuable references or job leads in the future.
Following these tips, you can navigate the resignation process professionally while ensuring you leave on good terms with colleagues and employers.
Conclusion
A professional one-month notice resignation letter is essential to the job transition process. Giving sufficient notice and writing a polite, concise, and grateful letter can help maintain positive relationships with employers and colleagues.
By following this step-by-step guide and utilizing sample letters for reference, you can ensure that your resignation process goes smoothly while preserving professionalism in the workplace.
FAQs:
What should be included in a one-month notice resignation letter?
A professional one-month notice letter should include the employee's intention to resign, their last day at work, and a brief explanation for leaving. Expressing gratitude towards the company and colleagues for the opportunities and experiences gained there is also essential.
How far in advance should a one-month notice resignation letter be given?
Employees are generally expected to give their employer at least 30 days' notice before departure. This allows sufficient time for the company to find replacements or make necessary adjustments during the transition period.
Is it necessary to give a reason for resigning in a one-month notice letter?
While it is not mandatory, a brief explanation can help convey respect and consideration towards your employer by giving them insight into why you have decided to leave and how best they can prepare for your replacement.
Are sample templates available for crafting professional one-month notice resignation letters?
Many online resources provide samples or templates that employees can use as guidance when crafting their resignation letters. These sample templates often include basic formatting guidelines and suggestions on what information may need to be included to communicate effectively with management during this critical stage of transitioning out of employment within an organization.