Disclaimer: We sometimes use affiliate links in our content. For more information, visit our Disclaimer Page. 
In today's dynamic work environment, it's crucial to have clear distinctions between the roles of team leaders and managers for efficient operations and employee satisfaction.
Although both positions are essential to achieving organizational success, they come with specific responsibilities and levels of authority that set them apart.
This blog post aims to shed light on these differences by comparing team lead vs. manager in the workplace, leadership styles, and how choosing the proper role can impact your business.
Key Takeaways
Team leads and managers have different focuses and responsibilities within an organization, with team leads providing coaching and guidance to their teams. In contrast, managers are involved in planning and decision-making at a higher level.
The leadership styles of team leaders vs. managers differ, with team leaders being more hands-on, while managers tend to delegate tasks and make high-level decisions.
Choosing the proper role for your business requires assessing your needs, organizational culture, project complexity, level of supervision needed, and specific goals you want to achieve through this position.
Effective team leads possess communication skills, performance management expertise, conflict resolution abilities, and strategic thinking capabilities; effective managers need excellent data analysis skills alongside solid leadership traits.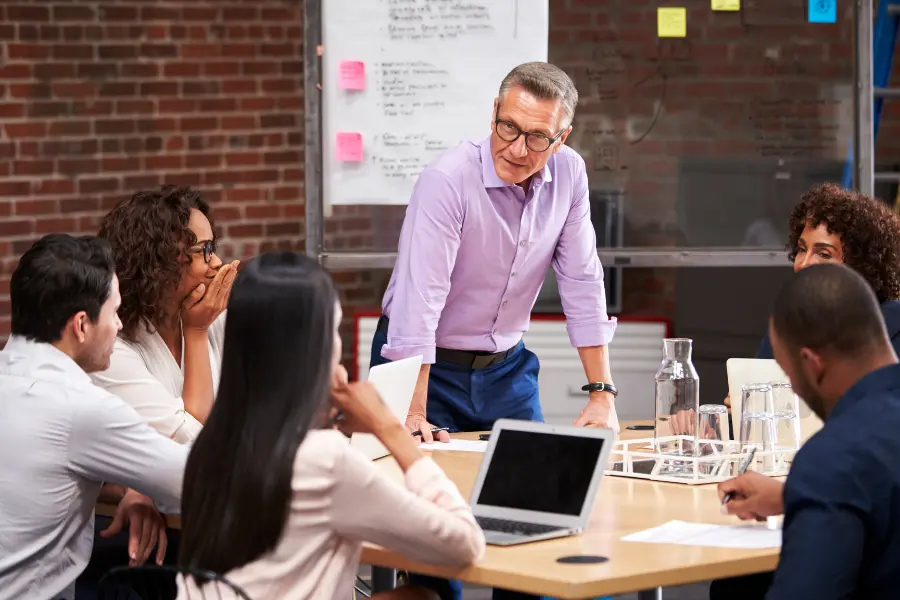 Understanding The Roles: Team Lead Vs. Manager
Team leads, and managers have different focuses and responsibilities, with team leads providing coaching and guidance while managers are involved in planning and decision-making.
Differences In Focus And Responsibility
One of the key differences between a team leader and a manager lies in their focus and responsibility within an organization. A team lead typically concentrates on specific projects or tasks, working alongside their team members to ensure goals are met efficiently.
They provide guidance, training, and mentorship while directly overseeing day-to-day activities on the ground level.
On the other hand, managers hold higher levels of authority and take more extensive responsibilities for multiple aspects of an organization. They are involved in long-term planning and decision-making that shapes the overall direction of their teams or departments.
Managers handle resource allocation while keeping track of performance metrics and employee satisfaction – duties requiring them to simultaneously assess immediate results and long-term outcomes.
Differences In Leadership Style And Authority
One of the key differences between a team lead and a manager is their leadership style and level of authority. A team lead mentors and guides their team members, providing coaching and support to help them achieve set goals.
They typically have a more hands-on approach to leadership, working closely with their team members on daily tasks and projects. In contrast, managers often focus on planning, setting objectives, delegating tasks, and making high-level decisions that impact the entire organization.
The level of authority also differs between these two roles. While both positions involve some degree of decision-making power, managers are generally more responsible for overall organizational performance than team leads.
For instance, they may oversee budgets or significant strategic initiatives affecting the company's direction.
Responsibilities Of A Team Lead Vs Manager
Team leads are responsible for coaching and guiding their team members toward achieving objectives, while managers focus on planning and decision-making.
Team Lead: Coaching And Guidance
The role of a team lead involves coaching and guidance, providing employees with the necessary support to achieve their goals while fostering a positive working environment.
Effective team leads offer regular feedback, listen to employee concerns and feedback, and address issues promptly.
For example, suppose you are leading a marketing team in an organization. In that case, your primary responsibility as a team lead is to ensure that all members understand the organization's marketing strategy while coaching them on how best to execute it.
Strong leadership skills ultimately enable team leads to help workers feel more engaged with the organization by fostering positive relationships between management and employees.
Manager: Planning And Decision-making
Managers play a crucial role in the workplace by overseeing the planning and decision-making processes. They are responsible for analyzing data, assessing risks, setting goals, and creating strategies aligning with the organization's objectives.
One aspect of a manager's role is making tough decisions that impact the company's growth and success. This can involve deciding on budgets, allocating resources, prioritizing projects or clients, or determining whether to hire or terminate employees.
To make informed decisions, managers must have access to accurate data and be able to analyze it effectively.
To summarize these manager responsibilities – planning requires technical expertise in a particular domain; leaders may engage directly with teams but might work more closely with top-level executives tasked with directing an entire company toward its overarching objectives.
Overlap Between Roles
While there are distinct differences between the roles of a team lead and manager, their responsibilities can also overlap. For example, both may have to make decisions that impact their team or project.
Both may need to provide mentorship and guidance to team members as they work towards achieving set objectives.
One key area of overlap is in performance management. While a manager might oversee the entire process, a team leader can play an essential role by providing feedback and coaching to individual team members based on day-to-day observations.
This helps ensure that each member is working at optimal levels for the overall success of the project or organization as a whole.
Choosing The Right Role For Your Business
To determine whether a team lead or manager is the best fit for your business, it's essential to assess your needs and goals while also considering organizational culture; read on to understand how each role can impact employee satisfaction, technical knowledge, project management, and more.
Assessment Of Business Needs And Goals
Assessing your business needs and goals is essential before hiring a team lead or manager. Here are some factors to consider:
The size of your organization: If you have a minor operation, a team lead may be more appropriate, while larger organizations may require the oversight of a manager.
The complexity of your projects: Projects that require more technical knowledge and experience may need a manager to make higher-level decisions, while less complex projects may only need a team lead.
Your organizational culture: Consider the values and mission of your company when deciding on the role. A highly collaborative and employee-focused culture may benefit from having a team leader who can provide more guidance and coaching.
The level of supervision needed: Managers typically have more authority and responsibility over their teams than team leads. If there is a greater need for supervision and direction within your organization, then hiring a manager may be the best fit.
Your business objectives: Consider what specific goals you want to achieve through this position. Do you need someone to manage resources and oversee multiple teams? Or do you need someone who can guide and mentor individual employees?
By carefully assessing these factors, you can determine which role will best align with your business needs and help steer your organization toward success.
Consideration Of Organizational Culture
A crucial factor to consider when choosing between a team lead or manager role is the organizational culture. Companies have different values, attitudes, communication styles, and ways of doing things.
For instance, an organization with a highly collaborative culture may benefit from a team leader who fosters teamwork and encourages open communication among team members.
In conclusion, understanding your organizational culture can help you determine which type of leader will be most effective in driving success for your business.
Finding The Right Fit For Your Skills And Experience
Identifying the proper role for your skills and experience is critical for workplace success. Here are some factors to consider:
Assessment of Business Needs and Goals: Evaluate the specific requirements of the business and the goals that need to be accomplished. Determine whether you possess the necessary skills for a team lead or manager role.
Consideration of Organizational Culture: Research and understand the company culture, work environment, and management style. Ensure that your working style aligns with the organization's values.
Matching Skills with Job Requirements: Analyze your skill set, knowledge, and experience, comparing them with job requirements. Find a role that best matches your capabilities while challenging you to grow.
Evaluating Career Aspirations: Identify your long-term career aspirations. If you seek greater responsibility and want to take up more leadership roles in the future, opting for a managerial position can be beneficial.
Understanding these factors can help you find the most suitable role based on your skills, experience, career aspirations, and organizational needs. It is important to remember that both roles require unique strengths and abilities – where team leads focus on coaching employees toward meeting specific objectives. At the same time, managers oversee multiple teams and plan organizational strategies.
Qualities Of Effective Team Leads And Managers
Effective team leads and managers possess strong communication and interpersonal skills, strategic thinking abilities, and good conflict resolution and performance management expertise.
Communication And Interpersonal Skills
Effective communication and interpersonal skills are crucial for both team leads and managers. They must clearly articulate their expectations, provide feedback, and motivate their team members.
For example, a team leader who communicates well can support their team by regularly checking project progress and answering any questions they may have.
In addition, conflict resolution is another important aspect of effective communication for both roles.
Overall, excellent communication and interpersonal skills are essential for creating a positive work culture that fosters collaboration, innovation, and continual growth within the organization.
Strategic Thinking And Decision-making Abilities
Effective team leads and managers possess strategic solid thinking skills, which enable them to look beyond day-to-day tasks and focus on long-term goals.
Strategic thinking involves analyzing data, assessing risks and opportunities, and identifying trends impacting the organization's success.
Managers are responsible for making decisions on behalf of their team members to ensure optimal performance and productivity. They consider the business goals, requirements, timeline, budget, and other factors affecting it before deciding.
For example, A sales manager may need to decide whether to allocate more resources toward marketing or hire additional sales personnel from specific territories. In contrast, a project lead may have to decide how best to allocate time and resources across different areas of development when working within tight deadlines.
The ability of both Team Leader & Manager alike to provide decision-making strategies shows effective leadership in driving an environment conducive to growth while developing innovative approaches designed to support objectives around employee satisfaction, technical knowledge transfer/utilization, project management efficacy, etc.
Conflict Resolution And Performance Management Skills
Effective conflict resolution and performance management skills are crucial for team leaders and managers. To maintain a positive work environment, it is essential to address conflicts between coworkers or team members quickly and efficiently.
Similarly, managers must have strong performance management skills to ensure their employees meet expected quality, productivity, and efficiency levels. This involves setting clear expectations from the outset and providing feedback regularly throughout the project or task.
It may also involve creating individual development plans to help employees improve their skills over time.
Conclusion
Understanding the differences between a team lead and a manager is crucial for creating a thriving workplace. While both roles involve leadership and supervision, there are distinct differences in their focus, responsibilities, and authority within the organization.
Choosing the proper role for your business requires an assessment of your needs and goals and considering organizational culture. Effective team leads, and managers possess communication skills, strategic thinking abilities, conflict resolution expertise, performance management skills, and more.
FAQs:
What are the differences between a team lead and a manager in the workplace?
A team lead oversees a small group of employees and coordinates their daily tasks. At the same time, a manager has broader responsibilities, including managing budgets, setting goals, and making decisions affecting the entire organization.
Can someone be both a team lead and a manager?
Yes, it is possible to hold both roles depending on the size and structure of an organization. In some companies, managers oversee several teams, with individual team leads reporting to them.
How can I become an effective team lead or manager?
Effective leadership requires strong communication skills, problem-solving abilities, adaptability, delegation skills, and empathy toward coworkers/employees. Utilizing training programs & seeking out mentorship/advice from more experienced leaders within your company can help develop these qualities over time.
What are some familiar workplace challenges team leads/managers face?
Common challenges in leadership positions may include navigating interpersonal conflicts amongst subordinates; staying up-to-date with project deadlines & organizational goals; maintaining morale/motivation among staff members during busy periods or amid changes instituted by upper management seeking feedback regularly from your subordinates so you know how they perceive their work experience overall (i.e., what's working/what can improve).