Disclaimer: We sometimes use affiliate links in our content. For more information, visit our Disclaimer Page. 
Do you want to take your career to the next level? Are you looking for ways to unlock your full potential in the professional world? One of the most effective ways to do so is by setting career development goals. These goals provide you with a sense of direction and purpose, allowing you to focus your efforts and achieve long-term success.
This article will explore various career development goals examples that can help you unlock your full potential. We will also discuss the importance of goal setting for career development and the role of professional and networking relationships in achieving these goals.
Key Takeaways
Setting career development goals is essential for unlocking your full potential and achieving long-term success.
Career development goals can be long-term or short-term and involve improving skills, gaining knowledge, or achieving specific positions.
Developing emotional intelligence, fostering creativity, and enhancing self-awareness are crucial aspects of career development.
Building professional and networking relationships is essential for gaining mentorship, guidance, and career growth opportunities.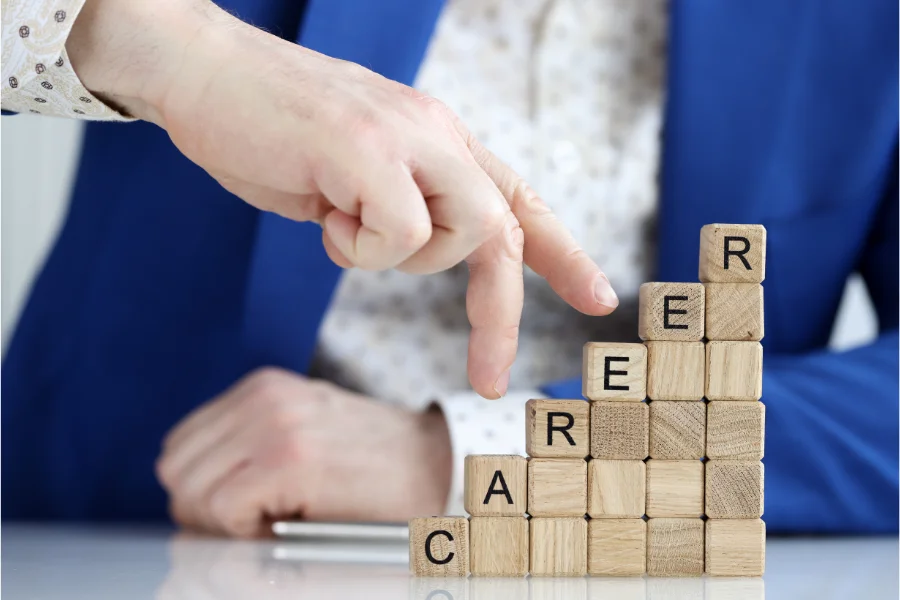 What Are Career Development Goals Examples?
Setting long-term career goals is crucial for achieving career success. These goals give you a sense of direction and purpose in your professional life. Examples of long-term career goals include becoming a senior manager in your field, starting your own business, or achieving a leadership position in a specific industry.
When setting long-term goals, it's important to remember that they require careful planning and dedication to achieve. To set effective long-term career goals, consider the following:
Think about your goals in the next 5-10 years. This can help you identify long-term goals that align with your personal and professional aspirations.
Break down your long-term goals into manageable steps. This can help you track progress and stay motivated. For example, if your long-term goal is to become a senior manager, your steps may include gaining more experience in your field or obtaining a relevant certification.
Consider the skills and resources you'll need to achieve your goals. This can help you identify areas where you may need time and effort to succeed.
Stay flexible and be open to adjusting your goals as needed. As your career develops and your priorities change, it may be necessary to revise your long-term goals to reflect your new direction.
By setting meaningful long-term career goals, you can provide yourself with the motivation and direction needed to achieve career success and unlock your full potential.
Setting Short-Term Career Goals
Short-term career goals are essential for achieving long-term success in your professional life. These goals give you a sense of direction and purpose and keep you motivated as you work towards your ultimate objective.
Examples of short-term career goals can include completing a specific training program or certification, attending a professional networking event, or taking on a new project at work. You can gain valuable experience, build new skills, and develop a stronger professional network by achieving these goals.
Setting short-term career goals is important to be specific and realistic. Identify what you want to achieve and when, and create a plan to make it happen. Break down larger goals into smaller, more manageable tasks, and track your progress along the way.
Remember, short-term career goals should be aligned with your long-term career objectives. By achieving these smaller goals, you can move closer to realizing your bigger aspirations and unlock your full potential.
Improving Time Management Skills
Effective time management is essential for career development. Being able to prioritize tasks, manage deadlines, and make the most of your time can greatly enhance your productivity and efficiency. By improving your time management skills, you can become more organized, reduce stress, and progress significantly toward your career goals.
Various techniques and strategies can help you improve your time management skills:
| Technique | Description |
| --- | --- |
| Create to-do lists | Writing down all your tasks and prioritizing them can help you stay focused and on track. |
| Set realistic deadlines | Be realistic when setting deadlines to avoid feeling overwhelmed and to ensure that you have enough time to complete tasks. |
| Utilize productivity tools | Using tools such as calendars, apps, and time trackers can help you stay organized and manage your time effectively. |
Improving your time management skills requires practice and dedication, but the benefits are well worth the effort. With better time management skills, you can focus on your goals, reduce stress, and achieve the success you desire.
Developing Emotional Intelligence
Emotional intelligence is a critical skill that can significantly impact your career development. It pertains to your ability to recognize and regulate your emotions, as well as accurately perceive and respond to others' emotions.
Improving your emotional intelligence can help you become a more effective communicator, a better team player, and a more competent leader. One effective way to enhance your emotional intelligence is through self-reflection. Take the time to understand your emotional triggers and how they affect your behavior.
Empathy is another crucial aspect of emotional intelligence. Putting yourself in others' shoes can help you understand their perspective and respond appropriately. You can also practice effective communication skills, such as active listening and clear expression of your thoughts and feelings, to improve your emotional intelligence.
Fostering Creativity
Creativity is a highly valued skill in the professional world, and fostering it can lead to increased job satisfaction, career growth, and opportunities for professional advancement. Embracing a growth mindset, engaging in creative activities, and seeking inspiration from various sources are key strategies for unlocking your creative potential.
One way to foster creativity is to make time for creative activities outside of work. This could be anything from painting to writing to dancing. Engaging in these activities gives your brain a break from work-related tasks and allows you to think more freely and creatively.
Another strategy is to seek inspiration from a variety of sources. This could include reading books on different topics, attending cultural events, or simply exploring new neighborhoods in your city. Exposing yourself to new experiences and perspectives can help spark fresh ideas and approaches to problem-solving.
Finally, embracing a growth mindset is essential for fostering creativity. This means being open to new ideas, taking risks, and learning from successes and failures. By approaching challenges with a mindset of curiosity and experimentation, you can unlock your full creative potential and achieve your career development goals.
Enhancing Self-Awareness
Self-awareness is the ability to recognize and understand your own thoughts, emotions, strengths, and weaknesses. It's a crucial component of career development, as it allows you to make informed decisions, capitalize on your strengths, and identify areas for improvement. In today's fast-paced work environment, self-awareness is more important than ever.
To enhance self-awareness, start with self-reflection. Set aside time to think about what motivates you and what you value most in your career. Consider your successes and failures and how they have shaped you. Seek feedback from mentors, colleagues, or trusted friends, and don't be afraid to ask for constructive criticism.
Engaging in personal development activities such as journaling or meditation can also help enhance self-awareness. By reflecting on your thoughts and emotions, you can better understand yourself and how you can improve in your professional life.
Building Professional and Networking Relationships
Creating strong professional and networking relationships is critical to achieving your career goals. Building and maintaining these relationships takes time and effort but can result in mentorship, growth, and career advancement opportunities.
One of the most effective ways to build professional relationships is by actively participating in professional organizations and attending industry events. These events provide a platform to meet, connect, and build relationships with like-minded individuals in your industry.
Networking through online platforms can also be a valuable tool for building relationships. LinkedIn, for example, is a great tool for connecting with other professionals in your field, sharing your professional achievements, and discovering new job opportunities.
Mentorship is another aspect of building professional relationships that can be extremely valuable. A mentor can provide guidance, support, and insights into your industry. Seek out individuals who have achieved the career goals you're aiming for and ask them for guidance and mentorship. This can help you develop new skills and achieve your career goals more efficiently.
Networking Tips
Here are some additional tips for building your professional network:
Attend conferences and events related to your industry
Join online professional groups and forums
Volunteer for projects at work that will put you in contact with professionals from other departments or organizations
Stay in touch with former colleagues and classmates through social media
Remember that building professional relationships takes time and effort, but the benefits can be significant. By investing in your professional network, you're also investing in your career growth.
Conclusion
Setting career development goals is crucial to unlocking your full potential and achieving long-term success. By setting meaningful goals and implementing strategies to achieve them, you can take your career to new heights and create a fulfilling professional life.
Whether setting long-term or short-term goals, improving time management skills, developing emotional intelligence, fostering creativity, enhancing self-awareness, or building professional and networking relationships, each aspect is vital to your career growth.
Remember, your career is a journey, and it's important to approach it with a growth mindset and a willingness to learn and evolve. With the right mindset, motivation, and determination, you can achieve anything you set your mind to. So, start setting your career development goals today and take the first step towards a brighter future!
FAQs
What are good examples of career goals?
Achieving a specific job title or position.
Earning a professional certification or degree.
Developing leadership skills.
Increasing productivity or efficiency.
Expanding your professional network.
Changing careers or industries.
Enhancing specific technical or soft skills.
Becoming a subject matter expert.
Starting a business or entrepreneurial venture.
Achieving work-life balance.
What are career development examples?
Completing a professional certification or degree.
Finding a mentor to provide guidance.
Applying for internships to gain experience.
Pursuing additional training or workshops.
Setting clear career goals and objectives.
Taking on leadership roles or responsibilities.
Improving networking and relationship-building skills.
Enhancing time management and productivity.
Exploring opportunities for job promotions.
Navigating career transitions effectively.
How do you write a career development goal?
Identify Your Objective: Clearly define what you want to achieve in your career.
Make It Specific: Ensure your goal is precise and measurable.
Set a Timeline: Establish a deadline for achieving the goal.
Break It Down: Divide the goal into smaller, manageable steps.
List Actions: Identify the actions you need to take to reach your goal.
Measure Progress: Determine how you'll track and measure your success.
Stay Committed: Stay focused and committed to your goal.
What is the best answer for career goals?
The best answer for career goals varies depending on your individual aspirations and circumstances. However, a strong response to this question typically includes specific and realistic career objectives. An effective answer should also align with the position you're applying for or your current career path. It's important to demonstrate how your career goals align with the organization's mission and values.
What are career development goals examples for employees?
Completing job-related training or certifications.
Expanding job responsibilities and taking on leadership roles.
Improving communication and teamwork skills.
Pursuing higher education or advanced degrees.
Achieving performance metrics or sales targets.
Enhancing time management and productivity.
Gaining cross-functional experience by working in different departments.
Building a professional network through industry events and conferences.
Mentoring or coaching junior team members.
Preparing for future promotions within the organization.
Credits
Featured Image: Credits marekuliasz via Canva.com
In-article Image: Credits Alexander's Images via Canva