Disclaimer: We sometimes use affiliate links in our content. For more information, visit our Disclaimer Page. 
Welcome to our comprehensive guide on career planning and development. In today's fast-paced world, having a well-defined career path and a plan for professional growth is crucial. Career planning and development provide individuals with a roadmap to success, helping them identify their strengths, weaknesses, and opportunities for growth. Investing in your career development can lead to higher job satisfaction, better earnings, and increased job security.
In this article, we will explore the different stages involved in creating a career development plan, discuss effective strategies for fostering career growth and advancement, and highlight the role of career counseling services in providing guidance and support. We will also delve into the importance of developing technical and soft skills and provide insights into effective job search strategies.
Key Takeaways:
Having a well-defined career path is crucial for professional success
Career planning and development provide a roadmap to success
Investing in your career development can lead to higher job satisfaction, better earnings, and increased job security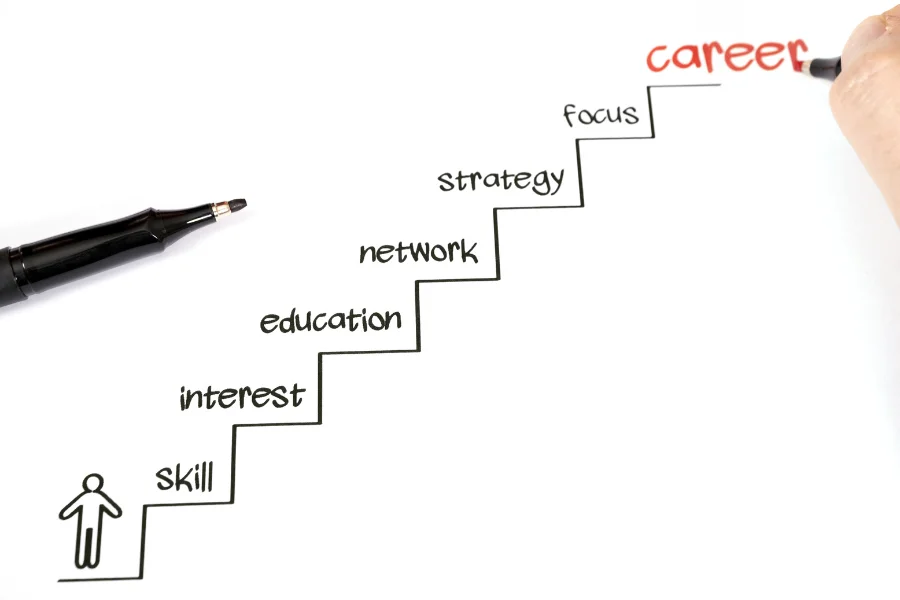 Understanding What Career Planning and Development Is?
Career planning and development is a process of creating a roadmap for your professional growth and success. It involves assessing your strengths, interests, and values and aligning them with your career objectives to build a fulfilling and satisfying career.
The career planning process usually involves several stages. Firstly, you should assess your current skills, knowledge, and experience and identify areas for improvement. This will help you set clear career objectives and develop a career development plan that outlines the steps necessary to achieve your goals.
Pro Tip: A career development plan should include short-term and long-term goals, specific action steps, and a timeline for completion.
The next stage in career planning and development is to explore different career paths and identify the ones that align with your skills and aspirations. You should research different industries and job roles, network with professionals in your desired field, and seek guidance from career experts to make an informed decision.
Pro Tip: A well-defined career path can help you stay motivated and focused on your goals and increase your chances of achieving success.
Importance of Setting Clear Career Objectives
Setting clear career objectives is a crucial step in career planning and development. Without well-defined goals, making informed decisions about your career path and taking the necessary steps to achieve success can be difficult.
Clear career objectives help you stay focused and motivated and provide a sense of direction in your professional life. By identifying what you want to achieve, you can develop a plan to get there and measure your progress along the way.
Pro Tip: When setting career objectives, ensure they are SMART (Specific, Measurable, Achievable, Relevant, and Time-bound). This will help you create realistic goals that are within your reach and aligned with your career aspirations.
Career Growth Strategies
Developing a successful career requires more than just hard work and dedication. Individuals who want to achieve long-term professional growth must continuously evaluate their skills and knowledge, identify areas for improvement, and seek out new opportunities for development. This section will explore effective career growth strategies to help you achieve your career objectives.
Continuous Learning
Pursuing continuous learning is one of the most important strategies for fostering career growth. This involves seeking new knowledge and skills to help you stay relevant and competitive in your field. Whether attending industry conferences, taking online courses, or pursuing an advanced degree, investing in your education can open up new opportunities for career advancement.
Acquiring New Skills
Another key strategy for achieving career growth is acquiring new skills. This could involve learning new software programs, developing leadership abilities, or acquiring technical certifications. As industries evolve and new technologies emerge, staying up-to-date with your field's latest trends and tools is essential. By staying current, you can position yourself as a valuable asset to your organization and increase your earning potential.
Professional Development Opportunities
In addition to pursuing education and acquiring new skills, seeking out professional development opportunities can also help foster career growth.
This could involve attending workshops or seminars, participating in mentoring programs, or seeking out opportunities to work on cross-functional teams. By taking on new challenges and expanding your skillset, you can demonstrate your value to your organization and position yourself for future growth opportunities.
By incorporating these career growth strategies into your professional development plan, you can take control of your career trajectory and position yourself for long-term success. Investing in yourself is the key to achieving your career goals and reaching your full potential.
Career Path Guidance and Counseling Services
Choosing the right career path can be challenging, and it is not uncommon to feel confused or lost. That's where career path guidance and counseling services can be incredibly helpful. These services offer personalized support to individuals looking to clarify their career goals and make informed decisions.
Professional career counselors are trained to help clients identify their strengths, interests, and values and translate them into potential career paths. They can help individuals explore various career options and provide valuable insights into different industries and job markets.
Career counseling services can also assist with job search strategies, such as resume writing, interviewing, and networking. They can also provide guidance on education and training programs that align with an individual's career goals.
Overall, seeking professional guidance for career decision-making can significantly increase the chances of achieving long-term career success and fulfillment.
Career Growth Strategies
Effective career growth strategies are essential to advance your career and achieve your professional aspirations. Continuous learning and skill development play a crucial role in fostering career growth. As industries continue to evolve, keeping up with the latest trends and acquiring new skills to stay relevant is important.
Networking is another important career growth strategy. Building connections with others in your field can lead to valuable opportunities and provide insight into industry trends and best practices. Attending industry events, joining professional organizations, and engaging with others on social media can all help expand your network.
Seeking out professional development opportunities is also key to career growth. This can include attending conferences, workshops, and training programs. These opportunities can provide new skills, knowledge, and perspectives that can help propel your career forward.
Personal and Professional Growth
Personal and professional growth are intertwined in shaping one's career path. While acquiring technical skills is essential, soft skills like communication, teamwork, and adaptability are equally important. These skills can help individuals enhance their employability and work towards career progression.
Effective networking is also crucial for career growth. Building professional relationships with peers, mentors, and industry experts can provide valuable insights into the latest industry trends and job opportunities. Attending conferences, workshops, and seminars can help individuals expand their knowledge and skills.
Developing Technical Skills
Technical skills are vital in today's competitive job market. Employers seek candidates with the necessary technical expertise to perform their duties effectively. Individuals can identify in-demand skills by reviewing job postings and industry reports.
One way to acquire new technical skills is through online courses or certifications. Platforms like Coursera, Udemy, and LinkedIn Learning offer a wide range of courses on various technical topics. Professional certifications like Project Management Professional (PMP), Certified Information Systems Security Professional (CISSP), and Certified Public Accountant (CPA) can also enhance one's technical skillset and credibility.
Soft Skill Development
Soft skills can help individuals stand out in the workplace and advance their careers. Effective communication, leadership, teamwork, and adaptability are some of the essential soft skills that employers value. Individuals can develop these skills by seeking feedback, attending workshops, and taking on leadership roles in team projects.
Active listening is also an essential soft skill that can improve communication and collaboration in the workplace. Individuals can enhance their listening skills by maintaining eye contact, asking clarifying questions, and summarizing key points.
Seeking Feedback
Feedback is critical in identifying areas for improvement. Individuals can seek feedback from their supervisors, peers, or mentors. Constructive criticism can help individuals identify blind spots and work towards enhancing their skills.
Self-assessment tools like the Myers-Briggs Type Indicator (MBTI) and StrengthsFinder can help individuals identify their strengths and weaknesses. These tools can provide valuable insights into one's personality traits and work style, enabling individuals to leverage their strengths and work on their weaknesses.
Job Search Strategies
When searching for a job, it is important to have a strategy in place to increase your chances of success. Here are some effective job search strategies to consider:
Customize your resume: Tailor your resume to fit the specific job you are applying for by highlighting relevant skills and experiences.
Network: Reach out to your professional network and attend job fairs to gain exposure to potential job opportunities.
Apply online: Use job boards and company websites to apply for job postings.
Once you've landed an interview, it's important to be prepared. Here are some tips for succeeding in a job interview:
Research the company: Learn as much as you can about the company before the interview to show your interest and knowledge.
Prepare for common interview questions: Practice answering frequently asked interview questions to feel more confident and articulate.
Dress professionally: Dress appropriately for the job and company culture to make a positive first impression.
Finally, don't forget to leverage online platforms to showcase your skills and experience. LinkedIn, for example, is a great resource to highlight your professional accomplishments and connect with potential employers.
Skills Development Planning
Creating a skills development plan is crucial for staying competitive in the ever-evolving job market. By identifying and acquiring in-demand skills, you can enhance your career prospects and stay relevant in your field.
Start by conducting a self-assessment to identify your current skills and areas for improvement. Consider seeking feedback from colleagues or supervisors to understand your strengths and weaknesses comprehensively.
Steps to Develop a Skills Development Plan:
1. Identify the skills you need: Research your industry and identify the skills that are in high demand. Focus on skills that align with your career goals and aspirations.
2. Set achievable goals: Break down your overall skill development plan into smaller, achievable goals. This will help you stay motivated and track your progress.
3. Develop a learning plan: Once you've identified the skills you need and set your goals, create a learning plan that outlines the steps you need to take to acquire those skills. This may include taking courses, attending workshops, or seeking mentorship.
Remember to evaluate and update your skills development plan as needed regularly. By continually learning and developing new skills, you can position yourself for success and achieve your career goals.
Setting Career Objectives and Goals
Setting clear career objectives and goals is crucial for achieving professional success. It provides a sense of direction and purpose, helping individuals stay focused and motivated in their career journeys.
Start by reflecting on your personal aspirations and values. What do you want to achieve in your career? What kind of work aligns with your strengths and passions? Use this self-reflection to set specific and measurable career goals that are realistic and achievable.
It's important to create a roadmap for achieving your career goals, breaking them down into smaller, actionable steps. This will help you stay on track and measure your progress along the way.
Revise and revise your career objectives and goals regularly, as your aspirations and circumstances may change over time. By setting clear career objectives and goals, you can take proactive steps toward achieving your professional aspirations and fulfilling your potential.
Conclusion
Career planning and development are crucial for achieving professional success and personal fulfillment. By understanding the career planning process, setting clear career objectives, and adopting effective career growth strategies, individuals can progress in their careers and reach their full potential. Seeking guidance and counseling services, developing personal and professional skills, and creating a skills development plan can also help stay relevant and competitive in the job market.
It is important to remember that personal and professional growth go hand in hand. Individuals can enhance their career prospects and achieve their goals by developing technical and soft skills.
Individuals can identify and pursue exciting opportunities in their chosen fields by leveraging effective job search strategies and showcasing relevant skills and experiences. Setting career objectives and goals and creating a roadmap for success is also important in aligning personal aspirations with professional ambitions.
FAQs
What is the importance of career planning and development?
Career planning and development are crucial because they help individuals assess their skills, learning, and progress towards career goals. It ensures that you are on the right path to achieving your desired career objectives.
What do you mean by career planning?
Career planning refers to the process of setting career goals and outlining the steps and actions needed to achieve those goals. It involves assessing your skills, interests, and aspirations to make informed decisions about your career path.
What is career planning and development in HRM (Human Resource Management) short note?
In HRM, career planning and development involve creating opportunities for employees to grow within the organization. It includes assessing their capabilities and providing training and support to help them advance in their careers.
What are the benefits of career planning and development?
Career planning and development benefits include better career progression, increased job satisfaction, improved skills, and the ability to adapt to changing industry demands. It also enhances an individual's employability.
What are some examples of a career development plan?
Examples of a career development plan may include setting short-term and long-term career goals, identifying required skills and training, seeking mentorship, networking, and regularly reviewing and adjusting the plan to stay aligned with career aspirations.
Credits
Featured Image: Credits ilkercelik via Canva.com
In-article Image: Credits atakan via Canva