Disclaimer: We sometimes use affiliate links in our content. For more information, visit our Disclaimer Page. 
Are you looking to develop your interpersonal skills and make a lasting impression on those around you? Look no further! In this article, we'll explore the most important personality traits that can influence your interpersonal communication skills and learn how to develop them. With this knowledge, you'll be better equipped to navigate personal and professional relationships with ease.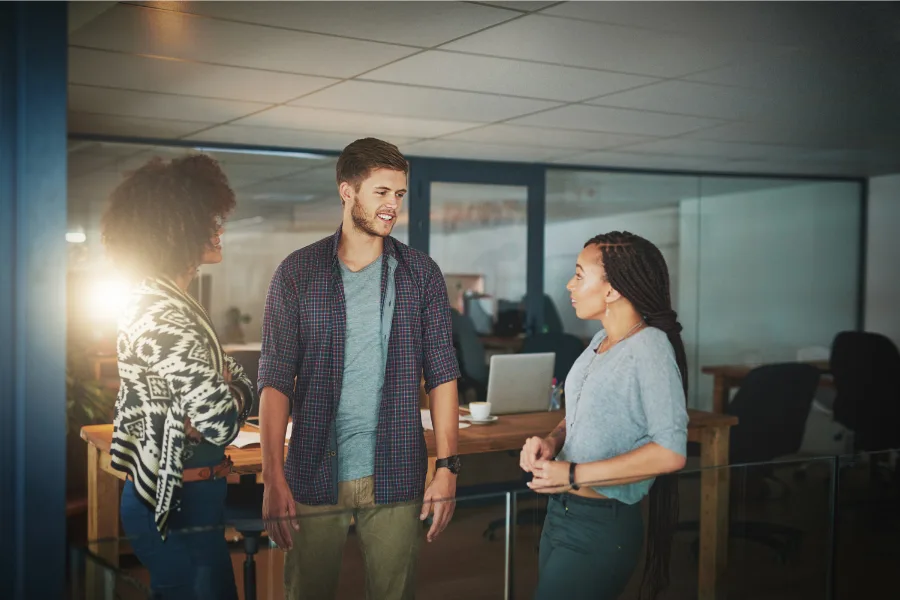 Why Interpersonal Skills Matter
Interpersonal skills are crucial in today's world, as they help us communicate effectively, resolve conflicts, and collaborate with others. These skills are often referred to as "soft skills" and are highly valued by hiring managers, as they are essential for success in most jobs. So let's dive into the key interpersonal skills that can make a difference in your personal and professional life.
Emotional Intelligence
Emotional intelligence is the ability to recognize, understand, and manage our emotions and the emotions of others. This skill is vital for effective communication and building strong relationships. People with high emotional intelligence are better equipped to handle difficult situations, empathize with others, and communicate effectively. Some ways to improve your emotional intelligence include:
Practicing self-awareness by reflecting on your emotions and their triggers
Developing empathy by trying to understand others' emotions and perspectives
Practicing active listening and validating others' feelings
Managing your emotions and avoiding impulsive reactions
Active Listening
Active listening is the ability to give your full attention to the speaker and truly understand their message. This is an essential component of effective communication, as it helps to build trust and foster positive interactions. Some ways to become a better active listener include:
Maintaining eye contact with the speaker
Nodding and using verbal cues to show understanding
Avoiding interrupting the speaker
Asking clarifying questions and summarizing key points
Problem-Solving and Creative Thinking
The ability to solve problems and think creatively is another important interpersonal skill. This skill allows you to generate new ideas, find solutions to challenges, and adapt to changing circumstances. Some strategies to improve your problem-solving and creative thinking abilities include:
Brainstorming and considering multiple solutions
Encouraging open-mindedness and valuing other people's ideas
Embracing constructive criticism and learning from feedback
Practicing patience and perseverance when faced with obstacles
Positive Attitude and Adaptability
A positive attitude and adaptability are essential for maintaining good interpersonal relationships. People with a positive outlook are more approachable and easier to work with, while adaptability allows you to respond effectively to change and embrace new challenges. To develop a positive attitude and adaptability:
Cultivate a growth mindset by embracing challenges and learning from setbacks
Practice gratitude and focus on the positives in your life
Develop resilience by coping with stress and overcoming obstacles
Be open to change and embrace new experiences
Communication Skills
Effective communication is at the heart of strong interpersonal skills. This involves both verbal and nonverbal communication, including body language, tone of voice, and facial expressions. Some tips for improving your communication skills include:
Being mindful of your body language and maintaining open, confident postures
Choosing words carefully and being concise in your message
Practicing active listening and being receptive to feedback
Being mindful of cultural differences and adjusting your communication style accordingly
How to Showcase Your Interpersonal Skills on Job Applications
Now that you understand the importance of interpersonal skills, it's time to learn how to showcase them during the job application process. Here are some tips to help you stand out to hiring managers:
Cover Letter
Your cover letter is an excellent opportunity to demonstrate your interpersonal skills. Use this space to share anecdotes and examples of how you've used these skills to achieve success in previous roles. Be sure to highlight your problem-solving abilities, communication skills, and teamwork experiences.
Resume
Your resume should include a skills section where you can list your key interpersonal skills. Be specific about the skills you possess and consider using action verbs to demonstrate your abilities. For example, instead of writing "good communication skills," you might write "effectively communicated project updates to cross-functional teams."
Job Interview
During job interviews, you can provide examples of interpersonal skills in action by discussing specific situations where you've demonstrated these abilities.
Use the STAR method (Situation, Task, Action, Result) to structure your response and highlight the impact of your interpersonal skills on the outcome. Prepare several anecdotes in advance so that you can provide examples of various skills such as active listening, problem-solving, and emotional intelligence.
Tips for Developing Interpersonal Skills
Improving your interpersonal skills is an ongoing process. Here are some strategies to help you develop and refine these essential abilities, and improve interpersonal skills:
Observe and learn from others: Identify people in your life who possess strong interpersonal skills and observe their behavior. Take note of how they communicate, handle conflicts, and empathize with others. Try to emulate their behaviors and learn from their successes and failures.
Practice active listening: Make a conscious effort to practice active listening and improve your listening skills in your daily interactions. Focus on the speaker, avoid interrupting, and ask clarifying questions to ensure you understand their message. This will help you build stronger connections and foster positive interactions.
Seek feedback: Request feedback from trusted friends, family members, or colleagues on your interpersonal skills to help you improve your interpersonal skills. Be open to constructive criticism and use it as an opportunity to learn and grow.
Engage in self-reflection: Regularly reflect on your behavior and interactions with others. Consider what went well and where you might improve. Use this information to set personal development goals and track your progress over time.
Attend workshops and training: Participate in workshops or training sessions focused on developing interpersonal skills. This can provide valuable insights and opportunities to practice your skills in a supportive environment.
The Impact of Interpersonal Skills on Your Career
Developing strong interpersonal skills or people skills can have a profound impact on your career. Here are some benefits of honing these essential abilities:
Improved Job Performance
Employees with good interpersonal skills are more likely to be effective communicators, strong team players, and creative problem solvers. These qualities can lead to better job performance, increased productivity, and a positive work environment.
Enhanced Leadership Abilities
Leadership skills are closely tied to interpersonal abilities. Effective leaders can communicate, empathize with their team members, and inspire others to achieve their goals. By developing your interpersonal skills and other interpersonal skills, you'll be better equipped to take on leadership roles and guide others to success.
Increased Job Opportunities
Hiring managers often prioritize candidates with strong interpersonal skills, as they are more likely to succeed in a collaborative work environment. By showcasing your interpersonal abilities on your job applications and during interviews, you can increase your chances of securing a new job or advancing in your current position.
Better Networking Opportunities
Networking is an essential aspect of career growth, and strong interpersonal skills can help you forge valuable connections. By developing your communication and relationship-building abilities, you'll be better equipped to network with industry professionals and expand your professional network.
Common Challenges and How to Overcome Them
Developing interpersonal skills is not always easy, and you may encounter challenges along the way. Here are some common obstacles and strategies to overcome them:
Overcoming Shyness and Social Anxiety
Shyness and social anxiety can make it difficult to engage with others and develop strong interpersonal skills. To overcome these challenges, try the following strategies:
Practice deep breathing and mindfulness techniques to calm your nerves in social situations
Set small, achievable goals for social interactions, such as initiating a conversation or attending a networking event
Seek support from friends, family, or a mental health professional to help you build confidence and overcome your fears
Addressing Cultural Differences
Cultural differences can sometimes create barriers to effective communication and interpersonal relationships. To address these differences, consider the following tips:
Educate yourself about different cultural norms and practices to better understand and appreciate diverse perspectives
Be mindful of your assumptions and biases, and be open to learning from others
Practice active listening and empathy to help bridge cultural gaps and foster positive interactions
Balancing Technical and Interpersonal Skills
While interpersonal skills are essential, it's important not to neglect your technical skills, as these are also crucial for success in many roles. Striking the right balance between interpersonal and technical skills can be challenging but is essential for well-rounded professional development. To achieve this balance:
Continuously invest in your technical skills by attending workshops, taking online courses, and staying up-to-date with industry trends
Allocate time for developing interpersonal skills, such as attending communication workshops or practicing active listening in your daily interactions
Seek feedback from colleagues and supervisors to identify areas of improvement in both your technical and interpersonal abilities.
Related: Verbal Communication Skills
FAQs
Can interpersonal skills be learned, or are they innate personality traits?
While some people may be naturally more inclined to possess strong interpersonal skills, these abilities can be learned and developed through practice, self-reflection, and training.
Are interpersonal skills more important than technical skills?
Both interpersonal and technical skills are important for success in the workplace. The balance between the two may vary depending on your role, industry, and specific job requirements. It's essential to cultivate both sets of skills to achieve well-rounded professional development.
How can I demonstrate my interpersonal skills during a job interview?
During a job interview, you can showcase your interpersonal skills by providing specific examples and anecdotes of how you've used these abilities in previous roles. Use the STAR method (Situation, Task, Action, Result) to structure your response and highlight the impact of your interpersonal skills on the outcome.
How do interpersonal skills relate to emotional intelligence?
Emotional intelligence is a key component of interpersonal skills. It refers to the ability to recognize, understand, and manage our emotions and the emotions of others. Developing emotional intelligence can significantly improve your interpersonal abilities, such as communication, empathy, and conflict resolution.
What are some common barriers to developing strong interpersonal skills, and how can I overcome them?
Some common barriers to developing interpersonal skills include shyness, social anxiety, and cultural differences. To overcome poor interpersonal skills and related challenges, practice deep breathing and mindfulness techniques, set small goals for social interactions, educate yourself about different cultures, and be open to learning from others.