Disclaimer: We sometimes use affiliate links in our content. For more information, visit our Disclaimer Page. 
Nonprofits need to keep track of their finances but often don't have the money to hire an accountant. It can be challenging to make sound decisions about allocating your resources without accurate financial records. You may also be at risk of violating IRS regulations.
Fortunately, there are many free accounting programs out there that are specifically designed for nonprofits and their accounting needs. Each software offers different features and capabilities, so it is essential to find one that best meets your organization's needs. 
We will explore some of the most popular programs and explain how they can be a good fit for your organization. So let's dive right in!
What is Non profit Accounting Software Free Option?
Nonprofit accounting software free is a type of accounting software specifically designed to meet the needs of nonprofit organizations. This type of software typically includes fund accounting, donor management, and grant management features. In addition, nonprofit accounting software free options often provide reporting tools to help nonprofits track their progress and impact.
Related: Best Free Invoicing Software
Best Nonprofit Accounting Software Companies
Zoho Books: Best automation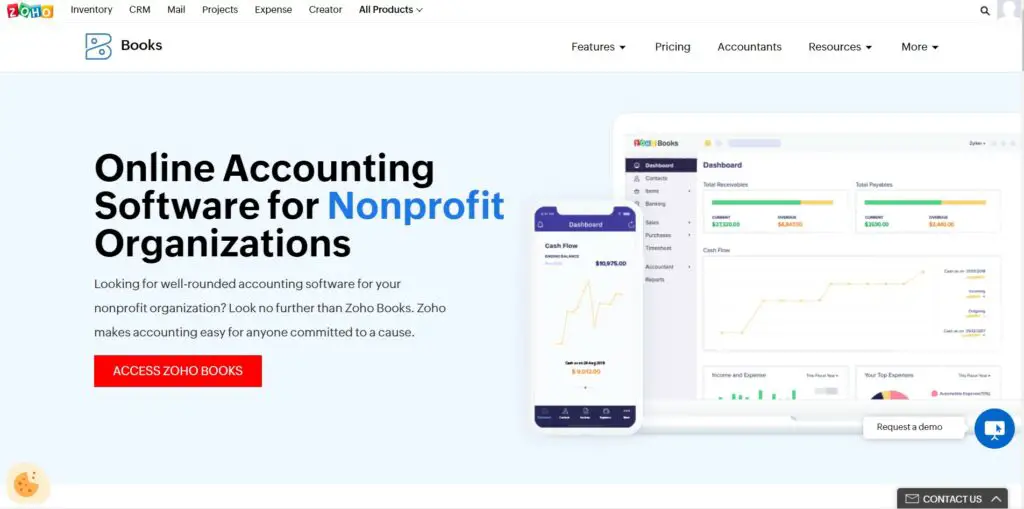 Zoho Books is comprehensive, cloud-based software that is perfect for non-profits. The cloud-based program offers donor management, grant application, and compliance with tax laws. With Zoho Books, it's easy to generate reports necessary to manage your organization effectively: all you have to do is upload or add an expense or income receipt, and Zoho will do the rest. Zoho's project management features can also keep track of your goals and progress. Overall, Zoho Books is an excellent choice for an all-in-one accounting solution.
Key Features:
Banking and Cash Management
One of the most critical features of any accounting software is its ability to reconcile bank transactions. This ensures that all your transactions are accounted for and helps to prevent errors. Zoho Books has an advanced banking module that makes reconciling bank transactions quick and easy. The module includes several accounting features that make it easy to track your transactions and reconcile them with your bank statements.
Project Accounting
Zoho Books offers a Project Accounting feature to help you keep track of your estimates and projects. When creating an estimate, you can add items like inventory, labor, and sales taxes. You can then associate the forecast with a project using the Project module found on the Time Tracking menu. This feature helps keep track of estimated costs and actual costs. It can also help you identify areas where you may have overspent or underspent.
Assisted Bookkeeping Options
The Zoho Books Advisors program offers a wide range of bookkeeping services to help businesses keep track of their finances. Advisors are available to answer questions about the program, provide training on using it, and offer support for companies new to the program. The advisors also provide a wide range of bookkeeping services, including bookkeeping for businesses, reconciling accounts, preparing financial statements, and filing taxes. In addition, the advisors can also assist with setting up new businesses, accounting systems, and choosing accounting software.
Pricing:
Zoho Books offers a free plan for businesses with 1 user and 1 accountant. The free plan includes client management, invoicing, a client portal, online/offline payments, and up to 1,000 invoices per annum. With Zoho Books, businesses can manage their finances quickly and efficiently without worrying about hardware or software costs. In addition, Zoho Books offers 24/7 customer support and a 30-day money-back guarantee, making it a risk-free option for businesses looking for an affordable accounting solution.
The Standard plan for Zoho Books pricing gives you access to all of the essential features to manage your finances, including invoicing, recurring expenses, bank feeds, and project tracking. This plan is perfect for small businesses that need to stay on top of their finances without overspending. With this plan, you can connect up to 5,000 invoices and manage them all in one place. You can also set up recurring expenses to never worry about forgetting to pay a bill again.
The Professional plan from Zoho Books is an affordable way to manage your business finances. The plan includes features such as recurring bills, sales orders, purchase orders, and purchase approval. It also offers multi-currency handling, automatic exchange rates, and currency adjustments. This makes it an excellent choice for businesses that need to track their finances in multiple currencies. A Professional plan is also a good option for companies that want to use Zoho's advanced features, such as project tracking and time tracking.
The Premium plan from Zoho Books pricing is ideal for businesses that need a comprehensive set of features to manage their finances. The plan includes all of the features of the Professional plan, plus validation rules, related lists, web tabs, workflow rules (up to 200), custom reports, and ten custom modules. With this plan, businesses have everything they need to manage their finances in one place. This makes it easy to keep track of spending, invoicing, and other financial data. In addition, businesses can customize the reports and modules to fit their specific needs.
Product Quality Score: 9.4 (Excellent)
Features: 9.7
Ease to use: 9
Pricing: 9.5
Customer support: 9.5
Pros
Multiple payment gateways
Document management
Feature-rich free plan
Generous support options
Integrated CRM & ERP (enterprise resource planning) features
Cons
Limitation on the number of invoices you can send
Cannot track fixed assets
QuickBooks Online for Nonprofits: Best UX & UI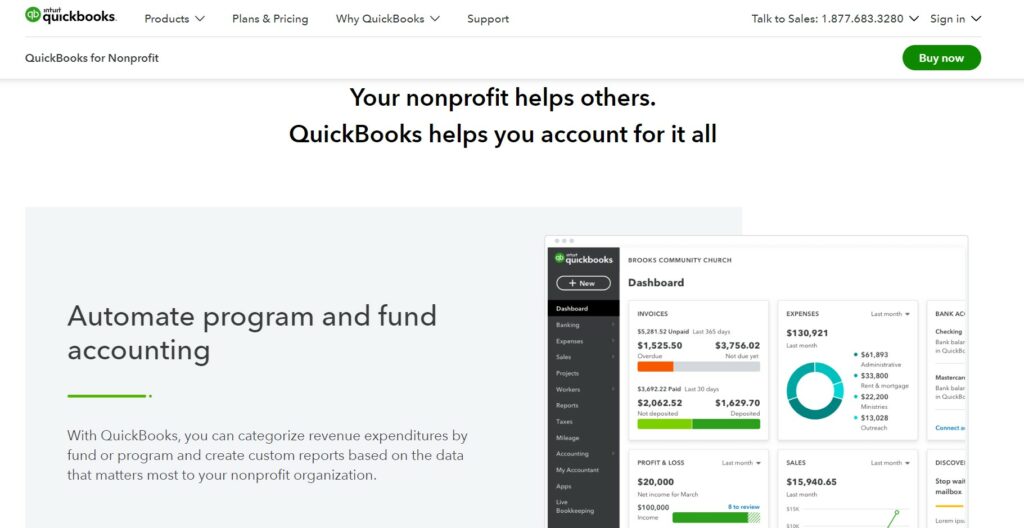 Intuit's QuickBooks Online for Nonprofits is a complete accounting solution explicitly geared toward organizations working in the nonprofit sector. It offers all of the features and functionality you'd expect from QuickBooks but with some added enhancements that are particularly beneficial to nonprofits. These include unlimited user licenses, tailored reports specific to the nonprofit industry, and popular grant management software integration. Best of all, QuickBooks Online for Nonprofits is offered at a significantly discounted rate compared to the standard QuickBooks Online subscription.
Key Features:
Accounts Payable
QuickBooks Online features many tools for keeping track of your creditors. For example, you can create recurring expenses to you don't have to enter the same information multiple times. You can also convert orders into bills, saving time and hassle. Plus, QuickBooks Online lets you create service items, making it easy to keep track of all the different services you need to pay for.
Accounts Receivable
The Accounts Receivable module in QuickBooks Online Premier is a powerful tool for tracking invoices and payments. With QuickBooks Online, you can create customized invoices tailored to your specific needs. This allows you to keep track of payments and invoices in one central location. In addition, the Accounts Receivable module provides tools for managing payment schedules and issuing refunds.
Inventory
QuickBooks also has a nifty feature that allows you to track inventory quantities and the average cost of inventory items. This is extremely useful for businesses that need to keep track of stock levels, as it can help you avoid over-ordering or under-ordering. In addition, the inventory management features are fully integrated into the A/R and A/P modules, making it easy to add inventory items to invoices and bills. This level of integration is one of the things that makes QuickBooks such a powerful tool for managing a business's finances.
Reports
QuickBooks Online reports are a great way to keep track of your nonprofit's financial health. With just a few clicks, you can generate statements of financial position, activities, functional income and expense, and cash flow. You can also tailor your reports to include only the information you need. For example, if you want to see your fundraising efforts progress, you can generate a report showing only donations.
Pricing:
QuickBooks Online offers a free 30-day trial for nonprofit organizations. After signing up for the trial, users will access all of the software's features. This accounting software includes tools for tracking income and expenses, creating financial reports, and managing donors and grants.
The Plus Plan is an affordable way to manage your finances and get the most out of your tax deductions. The Plus Plan allows you to track your income and expenses, invoice and accept payments, run comprehensive reports, and capture and organize receipts. With the Plus Plan, you'll also be able to maximize your tax deductions by taking advantage of all the features QuickBooks Online offers.
The Advanced Plan from QuickBooks Online is designed to help small businesses manage their finances and stay organized. Users get access to features like cash flow tracking, sales, and sales tax tracking, estimate management, and 1099 contractor management for a monthly fee. The Advanced Plan also includes support for up to 5 users, making it a good option for businesses with a small team.
Enterprise Nonprofit – $130
The Enterprise Plan includes a nonprofit chart of accounts, online backup data storage, advanced reporting, and U.S.-based customer support. It also scales from 1 to 30 individual users and features automatic QuickBooks product updates. This makes it an ideal solution for nonprofits of all sizes. Moreover, the Enterprise Nonprofit Plan is backed by a 100% satisfaction guarantee, ensuring you get the best value for your money.
Product Quality Score: 9.2 (Good)
Features: 10
Ease to use: 9.5
Pricing: 8.5
Customer support: 9
Pros
Customizable accounting software
Multiple program services
200+ integrations
Supports up to 30 users
Suitable for large organizations
Cons
The steep learning curve for new accountants
Aplos: Best accounting software for nonprofits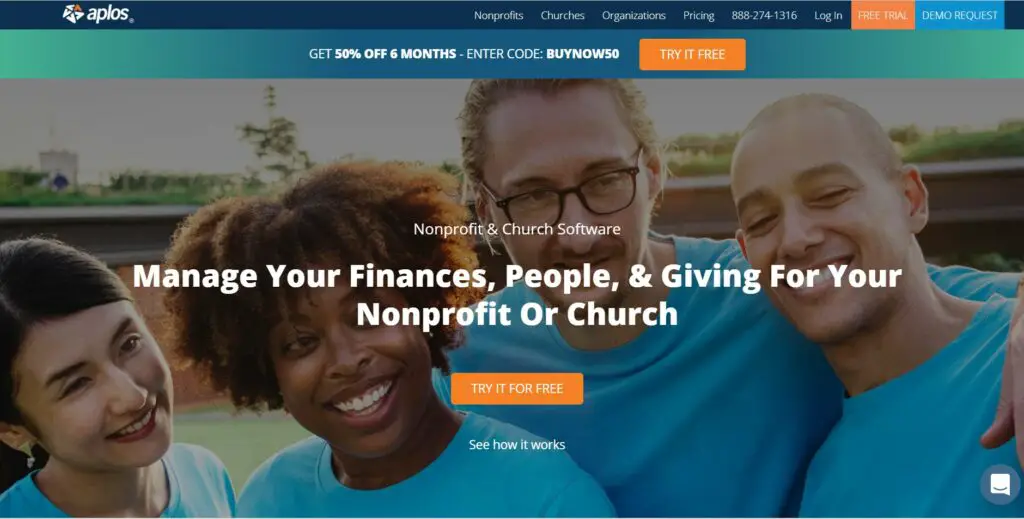 Aplos is an award-winning fund accounting software that makes it easy to manage your finances. It offers all the features you need to track donations, expenses, and pledges. Additionally, it provides you with insightful reports that help you make data-driven decisions about your organization's financial health. Aplos is explicitly designed for nonprofits, making it user-friendly and easy to navigate. Plus, it's free to use! If you are looking for a comprehensive yet affordable accounting solution for your nonprofit, Aplos is the perfect fit.
Key Features:
Fundraising Tools
Aplos' fundraising tools make collecting and tracking money donated for a specific purpose easily. For example, you can link it with an income account and corresponding fund when you create a purpose. This way, all of the money donated will go into the same place. You can also set up recurring donations so that members can give regularly. Moreover, Aplos provides reporting tools to see how much money has been raised and where it is going.
Reporting
Aplos' reporting is top-notch, especially for churches and nonprofits. It offers over 70 different reports, covering everything from income statements and balance sheets to specific reports designed for churches and nonprofits. These reports are critical in helping organizations track their progress and make informed decisions about the future. Additionally, users can create their custom reports using the built-in report writer. This flexibility ensures that users have the data they need at their fingertips, whether they are looking for an overview of the organization's finances or more specific information about a particular area.
People Management
Aplos offers a comprehensive people management solution that enables you to keep track of detailed information for each organization member. For instance, you can store contact information, relationships, contributions, transactions, and event attendance records for each individual. This allows you to have a complete picture of your membership base and their interactions with your organization. Additionally, Aplos provides tools for managing communication and interaction between members. For example, you can send email blasts, set up automated reminders, and track RSVPs for events.
Pricing:
Aplos offers a free 15-day trial of their all-in-one software for nonprofit organizations. The free account lets you manage donations, track finances, launch events, and work with your board to achieve your mission. During the free trial, you'll have full access to all of Aplos' features to see firsthand how they can help your organization succeed.
Aplos Lite Plan is an excellent value for small churches and nonprofits looking for quality software to manage their finances and donations. The Lite Plan includes all the essential features of Aplos, including fund accounting, donation tracking, online giving forms, and financial reports. While the Lite Plan doesn't have some of the more advanced features of Aplos, it still provides a great deal of functionality at a very reasonable price.
The Aplos core plan is designed for small to mid-sized nonprofits and includes budgeting, accounts payable and receivable, recurring transactions, pledge tracking, and partner integrations. The Aplos core plan is priced at $39.50 per month, with discounts available for annual plans.
APLOS CORE + Advanced Accounting – Custom
The Aplos Core Plus Plan offers a comprehensive suite of features to help nonprofits manage their finances and operations. For example, nonprofits can track their income and expenses by budgeting by fund, project, campaign, or department and ensuring their spending aligns with their mission. Also, fixed asset allocations help nonprofits keep track of their valuable assets, and income and expense tracking helps distribute their resources effectively. The Aplos Core Plus Plan is a great choice for nonprofits looking for an accounting solution that meets their needs with all of these features.
Product Quality Score: 9.3 (Good)
Features: 10
Ease to use: 9.5
Pricing: 8.5
Customer support: 9
Pros
Bank integrations make it easy to import transactions
End-to-end solutions for donor and event management
Optimizes Cash Flow Visibility in the Nonprofit Sector
Implement Financial Forecasting and Manage Budgets Intelligently
Cons
It does not offer facility management functionality
Zipbooks: Best Cloud-Based Solution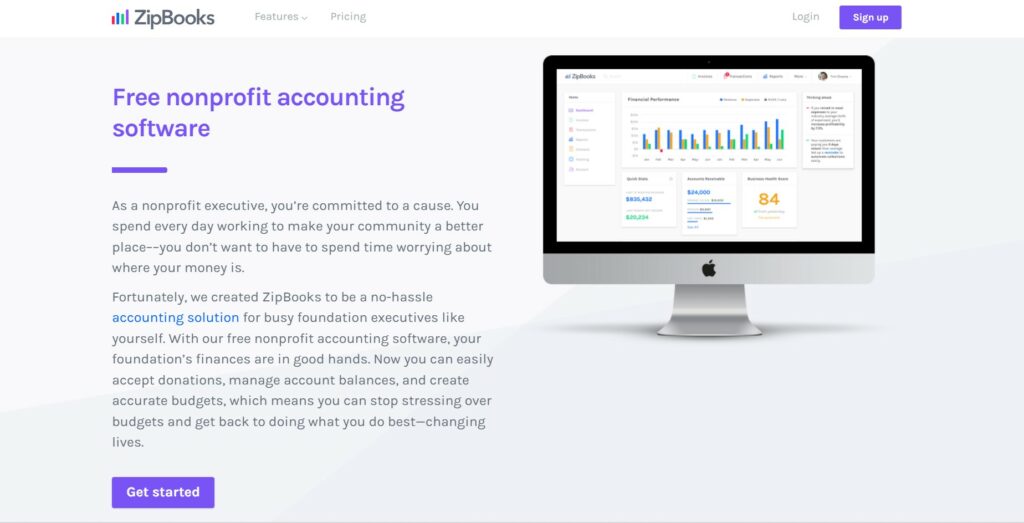 ZipBooks is a cloud-based accounting software solution that allows small to medium-sized businesses and nonprofit organizations of any size to manage their accounting records in one place. Also, ZipBook's attention to detail helps reduce the human error that leads business owners into unexpected or costly mistakes.
It simplifies financials, automates bookkeeping, improves cash flow forecast accuracy through integrated invoicing and payments, and provides real-time insights into business performance. ZipBooks also offers free phone and email support to answer business owners' questions about their finances.
Key Features:
Banking and Cash Management
Once you've turned on reconciliation in your account settings, ZoomBooks presents your bank reconciliation differently from what we see in other accounting software products. The account settings tab will now show a new reconciliation option. Here, you can see all of the transactions that have been imported from your bank.
You can also see any outstanding reconciled items. The reconcile button will allow you to reconcile your checking account in ZipBooks. After selecting the reconcile button, a message will pop up asking if you want to reconcile your entire checking account or just selected items.
If you select to reconcile your entire checking account, a new page will open up that shows all of the transactions that have been imported from your bank. You can reconcile each item by selecting the checkbox next to it and then clicking on the reconcile button at the bottom of the page. Reconciling your checking account in ZipBooks is a quick and easy way to keep track of your finances.
Project Accounting
ZipBooks' project accounting feature is convenient and easy to manage your income and expenses. You can create projects, assign a contractor, and tag income and costs to the project. This makes it easy to track your progress and see where your money is going.
Integrations
One of the most powerful features of ZipBooks is its ability to integrate with a wide variety of other tools and platforms. The software includes built-in integration with both Salesforce and Avatax and allows you to integrate as many different tools as your business requires using their APIs and SDKs.
This flexibility ensures that you can always get the most out of your investment by integrating ZipBooks with the tools that you already use. Additionally, ZipBook's robust APIs and SDKs make it easy to develop custom integrations if none exist for the tools you need to use. With all these features, ZipBooks is an incredibly versatile and flexible platform that can be customized to meet the specific needs of your business.
Pricing:
The Starter plan from Zipbooks is perfect for non-profit businesses just getting started. With the starter plan, you can send unlimited invoices, manage unlimited vendors & customers, accept digital payments (Square or PayPal), view basic reports, and connect 1 bank account.
A starter plan is an excellent option for businesses that need to manage their finances and get paid online but don't need all of the bells and whistles of the premium plans. If you decide that you need more features down the road, you can always upgrade to one of the other plans.
With the Smarter plan from Zipbooks, you can schedule recurring invoices and automate reminders, so you always get paid on time. You can also save invoice line items, so you don't have to keep re-entering them. And with the ability to connect multiple bank accounts, you can track all your finances in one place.
Plus, push notifications to keep you updated on your account activity, so you always know what's going on. Furthermore, you can see how much time you spend on each task with the time tracking feature. Finally, the Smarter plan from Zipbooks gives you everything you need to run your business more efficiently.
Zipbooks' Sophisticated plan is designed for small businesses that need more powerful bookkeeping features. For example, companies can keep track of their books by location, project, and custom categories with smart tagging. This makes it easy to find the information you need when you need it. The Sophisticated plan also includes the ability to reconcile every account quickly and easily. This ensures that your books are always accurate and up-to-date. Additionally, the Sophisticated plan allows you to lock completed books to ensure that everything is in order.
ZipBooks offers a comprehensive accountant plan that gives users the ability to text clients directly, track time across client accounts, export financial packages, and edit transactions in bulk. The plan also allows users to cobrand their firm on client accounts. This is ideal for accountants who need a robust accounting solution to scale their business.
Product Quality Score: 9 (Good)
Features: 9
Ease to use: 9.5
Pricing: 9.5
Customer support: 8
Pros
Offers a free version
Impressive UX
Can switch between cash and accrual accounting
Assisted Bookkeeping
Cons
No android version
Only a few add-ons are available (Payroll not included)
NonProfit Plus: Best for Large Organizations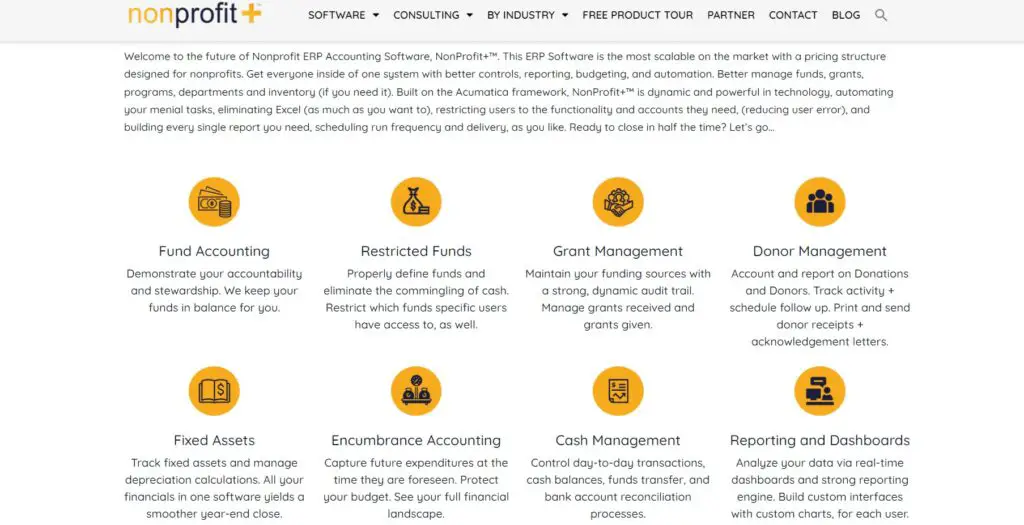 NonprofitPlus is the most comprehensive and scalable non-profit accounting software available. It was designed in collaboration with experts in the non-profit sector to help organizations manage their finances more effectively. The software is easy to use yet powerful enough to handle even the most complex financial reporting needs. NonProfitPlus makes it easy to track donations, expenses, and income from grants and other sources. It also includes tools for managing payroll, budgeting, and fundraising.
Key Features:
Accounting Suite
The NonProfitPlus software suite is designed specifically for nonprofit organizations. It features fund accounting, grant management, restricted fund management, and volunteer management. With this software, you can manage your finances efficiently and ensure compliance with state and federal regulations. The software also features a built-in encumbrance system that helps you avoid overspending on projects.
Financial Management Suite
The NonProfitPlus Financial Management Suite is a comprehensive set of tools designed to help businesses improve their overall financial management. The suite includes a general ledger, A/R, A/P, cash management, currency management, and fixed asset management.
Each of these modules is fully integrated with the others, providing a seamless experience for users. In addition, the software is easy to use and offers various features to simplify financial management.
Dashboard and Reporting
NonProfitPlus software offers a detailed view of your organization's performance with the help of its Dashboard & Reporting features. The Dashboard gives you an overview of your industry, products, customers, etc. You can also see how your company is doing compared to others in your field.
Additionally, the advanced reporting allows you to generate customizable reports based on different criteria such as department, product, or any particular business unit. This way, you can analyze your organization's performance and identify areas that need improvement. With NonProfitPlus, you have all the tools you need to manage your organization effectively.
Pricing:
NonProfitPlus paid plan – Custom
The Basic Plan for NonProfitPlus starts at 675.00 per month for a 5-user system. The Unlimited user system is available for fees based on the number of users. The features included in the Basic Plan are Grant Management, Fund Accounting, and Restricted Funds Management.
NonProfitPlus provides a hassle-free way to manage your finances, saving you time and money. With NonProfitPlus, you can be confident that your organization is compliant with all the latest regulations.
Product Quality Score: 8.6 (Good)
Features: 9.5
Ease to use: 9
Pricing: 7
Customer support: 9
Pros
It supports an unlimited number of users
Robust accounting system with an extensive list of features
Strong restricted funds management feature
It eliminates the need for manual data entry
Cons
Expensive for small nonprofits
Pricing & Plans aren't clearly defined
GnuCash: Best for Volunteer-Led Organizations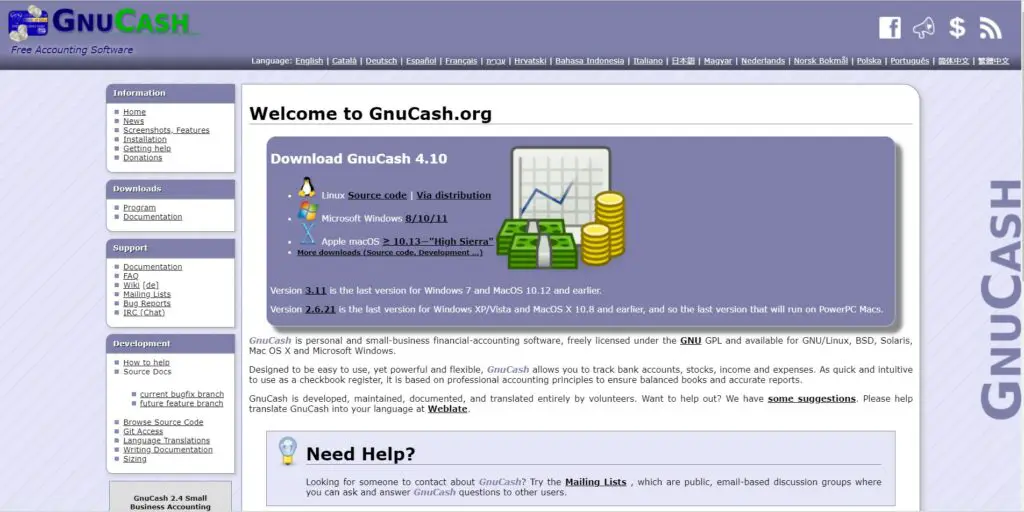 GnuCash is a free, open-source personal and small business accounting software. One tool allows you to track bank accounts, stocks, income, expenses, and their values in different currencies worldwide. Furthermore, the interface includes banks from around the world that provide real-time balance updates when transactions take place.
GnuCash can connect to online banking sites to download transactions and stock prices. It also supports multiple languages, making it a great tool for people from all over the globe. GnuCash is licensed under the GNU GPL license, free to use and distribute. Also, the source code is available for anyone to view and contribute to.
Key Features:
Graphs and reporting
The GnuCash software allows users to present financial data in several ways, including bar graphs, pie charts, and scatter plots. In addition, the software provides a full suite of reports that can be used to track various aspects of a person's or business's finances.
The reports available through GnuCash include standard options, such as profit and loss statements and balance sheets, and customizable reports that allow users to track their specific financial goals. The ability to view data in several different formats and generate detailed reports makes GnuCash invaluable for anyone who needs to manage their finances.
Mobile app
The GnuCash mobile app is a great way to keep track of your finances on the go. With this app, you can record transactions anywhere and then import them into the desktop version when you're back at your computer. The app supports all of the features as the desktop version, so you can keep track of your income and expenses, create budgets, and manage your investments. And because it's synchronized with the desktop version, you can ensure that your data is always up-to-date.
Budgeting
GnuCash is a powerful budgeting tool that can help you stay on top of your finances. One of its key features is creating a yearly budget for any or all of your accounts. This can be a great way to streamline expenses and ensure that you are not spending more than you can afford. You can also use GnuCash to create a budget for a specific project or goal and then copy those numbers to a new budget if desired. This flexibility makes GnuCash a good choice for non-profit companies looking to manage their finances.
Pricing:
GnuCash is a powerful financial management tool that is available for free. It offers a wide range of features to help you track your expenses, manage your vendor relationships, and maintain control of your finances. With GnuCash, you can quickly generate profit/loss statements and expense reports.
You can also use it to manage your vendor contracts and payments. In addition, GnuCash provides tools to help you monitor your financial performance and identify areas where you can improve your bottom line. Overall, GnuCash is an incredible tool for small businesses and individuals who need a robust financial management solution available at no cost.
Product Quality Score: 8.5 (Good)
Features: 8.5
Ease to use: 8.5
Pricing: 10
Customer support: 7
Pros
Double-entry accounting
Completely Free accounting software
Simple to use
Offers both personal and small business functionality
Cons
No add-ons available
Limited report customizations
Related: Best Free Scheduling App for Employees
Final Thoughts
Choosing the right accounting software for your non-profit organization is a critical decision. It's essential to choose one that is specifically designed for that purpose. Non-profit accounting software includes features such as fund accounting, which allows you to track donations and expenditures separately. It can also produce detailed reports required for tax purposes.
Each program has its strengths and weaknesses, so it's important to take the time to evaluate your specific business needs before making a decision. Then, whichever program you choose, make sure that it will help you efficiently manage your finances.
Related: Best Free Bookkeeping Software