Disclaimer: We sometimes use affiliate links in our content. For more information, visit our Disclaimer Page. 
A cashless society may seem futuristic, but it's becoming a reality in many countries worldwide. Due to the rise of e-commerce and digital payments, more businesses prefer to accept payments via credit card or other digital means rather than cash or coins.
While there is no genuinely cashless society, many countries are moving in that direction. Sweden is one such country, with only 1% of transactions using cash. Denmark, Norway, and Switzerland all have similar rates of cashless transactions.
This blog post will take a closer look at cashless payments and discuss why they are becoming increasingly popular. We will also explore the potential implications of a cashless society.
Stay tuned – the future may be cashless, after all!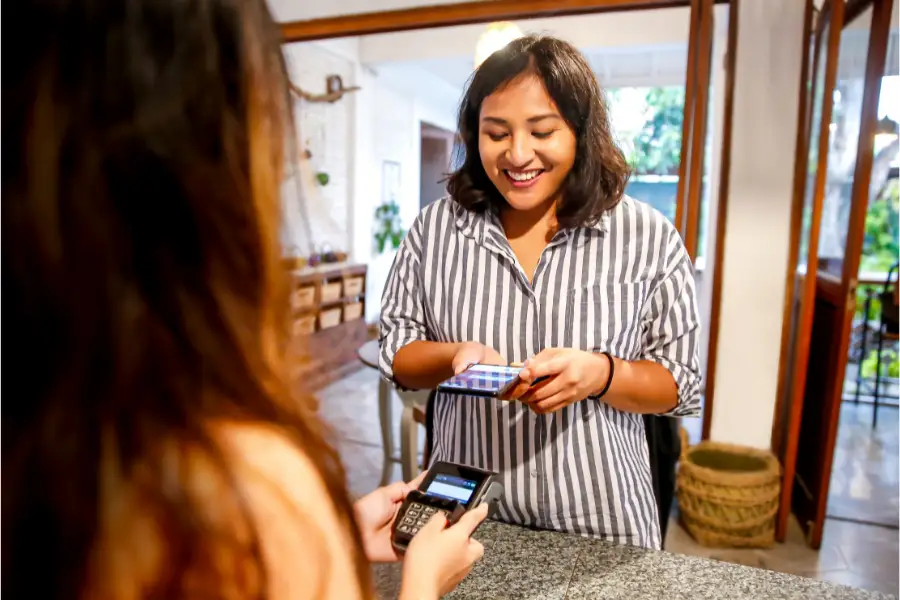 What is a cashless society?
A cashless society is one in which cash or coins are no longer used for transactions. Instead, all transactions are conducted electronically – via credit card, debit card, mobile payment services, or other digital means. This economy has already begun in countries like Sweden and Denmark, where cashless payments account for most transactions.
There are many reasons why cashless societies are becoming popular. One reason is that cash is becoming less and less common. In many countries, cash usage is declining as more people switch to digital payments. This is partly because digital payments are more convenient than cash. They are faster and more secure and can be used for a broader range of transactions.
Another reason for the rise of cashless societies is the growth of free eCommerce website builders. These platforms allow businesses to set up online stores without paying any fees. This has made it easier for companies to sell products and services online, boosting eCommerce's popularity. As more people buy things online, the need for cashless payment methods will continue to grow.
How close are we to moving towards a cashless society?
The rise of digital payments and the decline of cash are inevitable. Businesses can now operate entirely online without having to have a physical location. This means that customers can make purchases from the comfort of their own homes with just a few clicks.
With every day that passes, we are moving closer and closer to a cashless society. Many experts believe we will be completely cashless within the next few years.
There are several reasons for this shift. For one, digital payments are more convenient than cash. According to a recent study from card issuing platform Marqeta, 60% of people would feel comfortable leaving the house with just their phone and not their wallet. This suggests that consumer confidence in mobile payments and digital wallets is high. [1]
Another reason a cashless society is on the horizon is the rise of new technologies like blockchain. Blockchain is a distributed ledger system that allows for secure and efficient digital transactions. Some businesses are already using this technology, and its popularity is only growing.
As more businesses adopt blockchain and other technologies, the move towards a cashless society will continue.
How might a cashless society evolve?
A cashless society is one in which payments are made electronically, without using paper or coins. The logistics are still developing, but it's not hard to imagine how a cashless society might evolve using some digital payment methods.
Credit and debit cards: Cards are convenient cash alternatives that have become increasingly popular in recent years. Cards are now used for more cash transactions than cash itself. 
Mobile payments: Mobile payment apps like Apple Pay, Google Pay, and Samsung Pay are slowly gaining traction as convenient ways to pay for purchases without using cash. These apps use near-field communication (NFC) to transmit payment information wirelessly from your phone to the merchant's terminal. As a result, you only need your smartphone and your fingerprint (or a PIN) to complete a purchase.
Mobile wallet apps: Mobile wallet applications provide a fast, convenient, and secure way to conduct financial transactions. Users can add or store money in their wallets by simply linking a bank account. Similarly, a user can send money to anyone by entering a phone number, email ID, or unique ID or scanning a QR code. In addition, users can also make payments to merchants and pay utility bills directly from the mobile wallet app, such as water bills, electricity bills, mobile recharges, and many more. 
Virtual currencies: Cryptocurrency is already becoming part of the mainstream discussion. Crypto, short for cryptocurrency, is a digital asset that uses cryptography to secure transactions and control the creation of new units. They are decentralized and not subject to government or financial institution control.
Gift Cards or vouchers: While a cashless society may seem like a far-off future, it's not that difficult to imagine how it might come about. Gift cards or vouchers could play a significant role in the transition. For example, instead of giving cash as a gift, people could give each other prepaid cards that can be used to make purchases at a wide range of retailers. Alternatively, employers could provide employees with vouchers that can be used to buy lunch or cover other work-related expenses.
QR Codes: QR codes are becoming increasingly popular for electronic payments. All you need is a smartphone with a camera, and you can scan the QR code of the merchant to complete the transaction. This is a quick and convenient way to pay for goods and services and eliminates the need for cash or credit cards.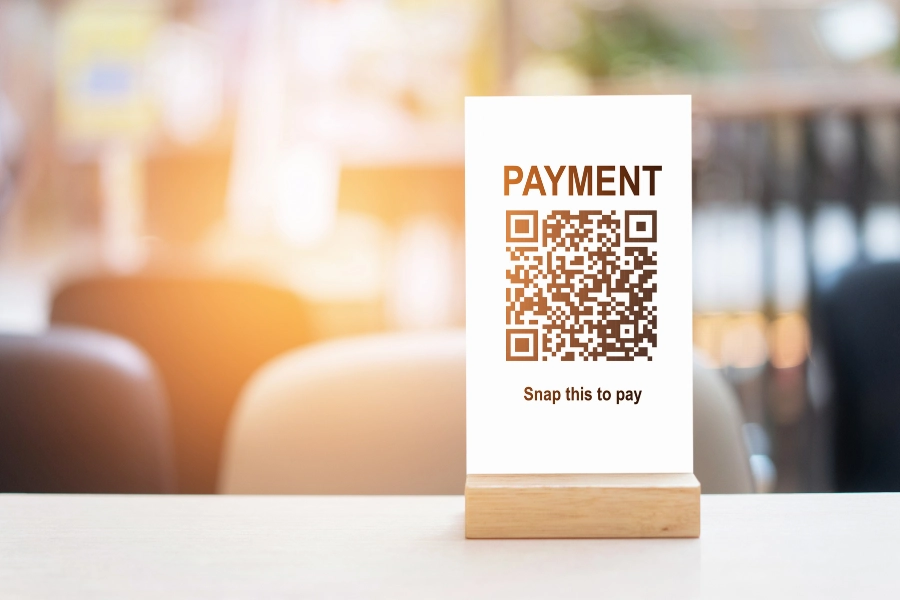 Advantages of a Cashless Society
Those with the technological ability to take advantage of a cashless society will likely find it more convenient. You can instantly access all your cash holdings with your card or phone. However, convenience isn't the only benefit. Here are some other cashless system advantages.
→ The crime rate is lower
Instead, people rely on electronic payment methods, such as credit cards, debit cards, and mobile apps. There are many benefits of a cashless society, including lower crime rates. In addition, when no cash is involved in transactions, there is no incentive for criminals to commit robbery or theft.
According to a study done by American and German researchers, crime rates in Missouri fell significantly by 9.8% once the state replaced its cash welfare benefits with Electronic Benefit Transfer (EBT) cards. [2]
→ Recorded financial transactions
Illegal transactions, such as unlawful gambling or drug operations, typically use cash, so there isn't a trade record, and the money is easier to launder. However, money laundering becomes much more complicated if all transactions are electronic and easily traced.
In a cashless society, all financial transactions would be recorded and traceable, making it much harder for criminals to operate without being detected.
→ Management of cash costs money
A cashless future could mean significant changes for businesses and consumers alike. For businesses, it could mean reduced costs associated with printing bills and minting coins, storing cash, and transporting it safely.
For consumers, it could mean more convenience and flexibility in paying for goods and services. Banks would likely need to reduce their security teams to protect against physical bank robberies in a cashless future. 
→ Easier International Payments
One of the best things about cashless transactions is that you don't need to worry about withdrawing local currency when you travel. Instead, you need your mobile device, and you're good to go. So digital transactions make it easy to tap and go, whether you're paying for a meal, a souvenir, or a taxi ride. 
→ Virus transmission and hygiene
Since the outbreak of COVID-19, many businesses have prohibited cash payments or encouraged customers to use e-payments instead. The virus can survive for up to two days on paper money and coins, making them a potential source of infection transmission. Using a credit card to pay decreases the danger of information. This was not considered until 2020, but it could be relevant for a long time. 
→ Transactions that are faster and more convenient
Paying for items with cash wastes time and increases the length of the process when you use cash to spend. On the other hand, electronic payments often take seconds, which can speed up transactions and make the overall process more efficient.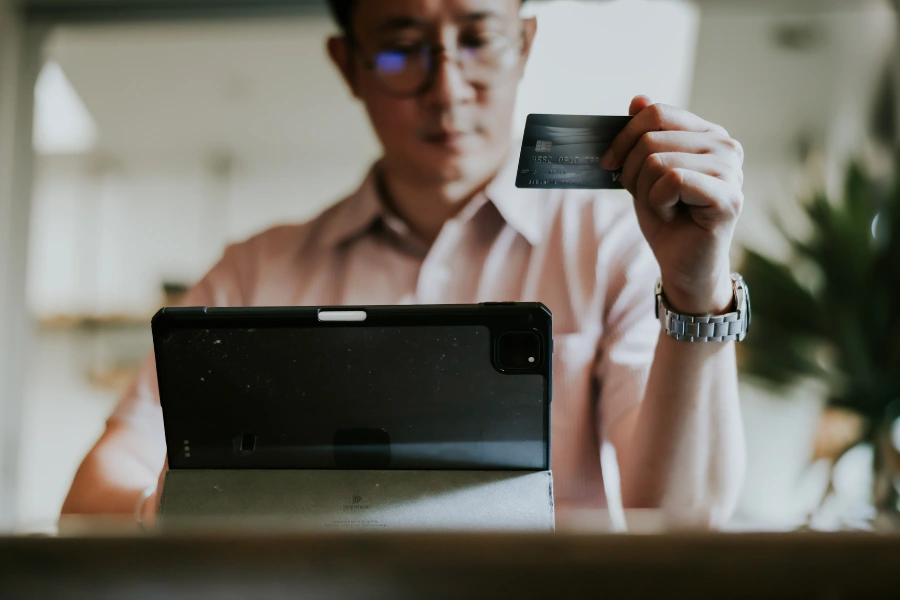 Disadvantages of a Cashless Society
You might find going cashless more problematic than beneficial, depending on your perspective. Cashless financial systems have some serious downsides.
→ Privacy is sacrificed in digital transactions
Despite their growing popularity, electronic payments are not as secure as cash. When you use cash, only you and the person you're giving it know about the transaction. With digital payments, your personal information is attached to the purchase. This gives businesses and financial institutions access to data about your spending habits. This information can sometimes be used to target ads and even influence our behavior.
→ Hackers can exploit cashless transactions
The hacker is the equivalent of the bank robbery or mugging that happens in the physical world. There is a higher risk of hackers attacking you in a cashless society. You can be left with no alternative ways to spend money if you are targeted, and your account gets drained.
If a breach of your financial standing occurs, then the process of restoring your financial situation will be inconvenient and even confusing.
→ Providers could charge fees for payments
As long as society is forced to choose from only a few payment methods, or if just one payment app becomes the default app for payments, then it is unlikely that the companies that develop these services will be able to offer them for free.
There is a possibility that payment processors will take advantage of the high volumes of transactions by imposing fees, resulting in fewer savings as a result of less cash handling on their end.
→ Overspending may be more tempting
When you spend with cash, you have to physically hand over the money, which can make you more aware of how much you're spending. However, electronic payments make it easy to swipe or click without noticing how much you're spending. This can lead to overspending and financial problems.
→ Customers may pay negative interest rates
With the advent of electronic banking, physical cash has become less common. This shift could have a profound impact on the way that negative interest rates are implemented.
In countries where negative interest rates have been experimented with, like Denmark, Japan, and Switzerland, customers can still withdraw cash from the bank and avoid paying the negative interest rate.
However, customers may no longer have this option if all money becomes electronic. Instead, they would be forced to either accept the negative interest rate or close their account and withdraw their money in physical form. 
How to Start Using Cashless Solutions for Your Business
There are many ways to start using cashless solutions for your business. One way is to create a free website through Wix.com.
Wix provides an easy-to-use platform that makes it simple to create a website from scratch in minutes without having to learn coding or design skills. Plus, it offers a wide range of templates and designs, so you can create a website that best represents your business.
To get started, simply visit Wix.com and sign up for a free account. Then, use the easy drag-and-drop editor to add text, images, and videos to your website pages. You can also choose from various widgets and apps to add features and functionality to your sites, such as a contact form, map, or online chat.
Once you've created your website, promote it on social media and other online channels to reach your target audience. You can also use paid advertising on Google, Facebook, and other platforms to drive traffic to your site.
By using cashless solutions like Wix.com, you can make it easier for customers to find and purchase your products or services online. In addition, you can save time and money by eliminating the need to process payments manually. So why not start using cashless solutions today? It's easy and could help you boost sales and grow your business.
Related: How To Promote Your Business Locally
Conclusion
The trend towards a cashless society is only going to continue. While there is no truly cashless society, many countries are moving in that direction. 
There are many benefits to this shift – increased efficiency, security, and convenience among them. However, some potential implications are worth considering as we move into a cashless future.
In the comment section below, we would love to hear your thoughts on the matter. What do you think about a world without cash?
FAQs
Is the US moving to a cashless society?
There is no doubt that the US is moving towards a more cashless society. Many other developed countries are also moving in this direction.
What is meant by digital currency?
Digital currency is a type of currency that is available in digital form. Cryptocurrencies, such as Bitcoin and Ethereum, are examples of digital currencies. Unlike traditional fiat currencies, which central banks issue, digital currencies are not subject to centralized control. Instead, they are decentralized and generated through a process known as mining.
What is the best free eCommerce website development tool?
Wix is one of the best free eCommerce website builders available online. It is very easy to use and has many features and templates. You'll be able to create a website that looks great and functions perfectly for your business.
What is electronic money?
Electronic money is a digital representation of value that can be exchanged for goods and services. It is generally issued by governments or central banks and used by consumers to purchase goods and services over the Internet.
What are the effects of cashless transactions?
There are several effects of cashless transactions. Some of the primary benefits include:
• Increased security
• Convenience
• Efficiency
• Increased spending