Disclaimer: We sometimes use affiliate links in our content. For more information, visit our Disclaimer Page. 
Management isn't an easy ride. It requires more than just technical know-how and industry experience. To be successful in a management position, you must foster a range of leadership and conceptual skills and learn to navigate the complex dynamics of the modern work environment.
In this post, we'll explore these skills in detail, laying out a comprehensive roadmap for professional development and success in a management role.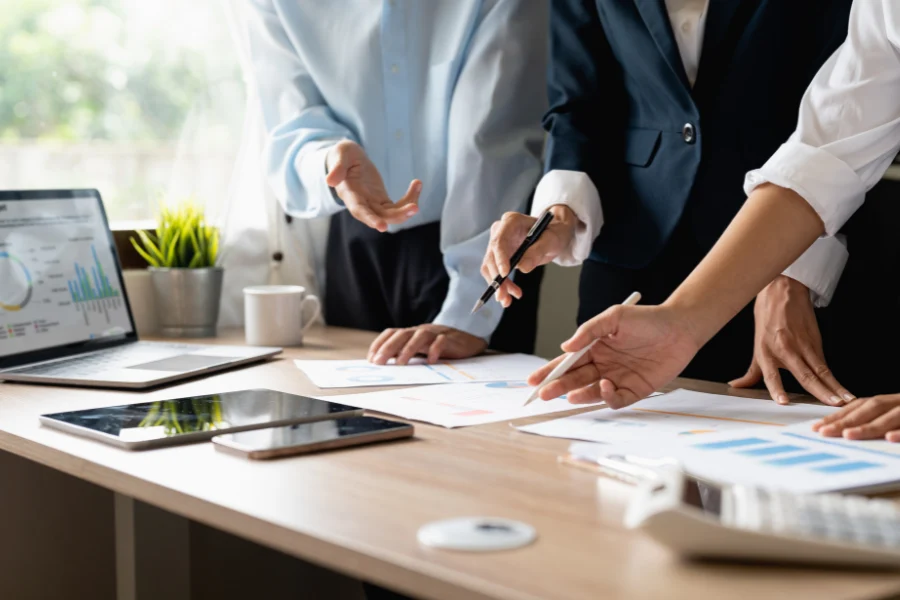 The Heart of Management: Key Skills for Success
Before diving into specifics, let's establish our understanding of the term skills needed to be a successful manager. Management skills are an amalgamation of abilities that facilitate effective guidance, direction, and control in an organization. They enable a manager to strategize, coordinate, and lead their team toward achieving organizational goals.
Leadership Skills
The heart of a manager's role lies in leadership abilities. Great leaders inspire trust, respect, and collaboration among their team members. This is often achieved through demonstrating competence, integrity, empathy, and vision. But what does leadership look like in practice? Key qualities of strong leaders include:
Vision: A manager must guide their team towards a collective goal. They do this by establishing a clear vision and effectively communicating it, ensuring that everyone understands their role in achieving it.
Motivation: Good managers can inspire their employees, nurturing a drive within them to exceed their own expectations. This involves understanding what motivates each team member and creating an environment that fuels their drive.
Delegation: Delegating tasks effectively is a sign of trust in a team's strengths. It not only lessens the manager's workload but also empowers employees, helping them develop their skills and gain confidence.
Interpersonal Skills
Interpersonal skills play a pivotal role in the life of a manager. These soft skills foster a healthy work environment where individuals feel heard, valued, and motivated. They include effective communication, active listening, conflict resolution, and empathy.
Emotional Intelligence
Emotional intelligence is the ability to understand, use, and manage one's own emotions in positive ways. In a managerial role, this skill set aids in relieving stress, communicating effectively, empathizing with others, overcoming challenges, and defusing conflicts. Managers with high emotional intelligence foster a more engaged and productive team.
Strategic Thinking
An essential skill for every manager is strategic thinking. Strategic thinkers can look at the bigger picture, predict potential challenges, and prepare accordingly. They think beyond the status quo, encouraging innovation and improvement in the organization.
Technical Skills
Though often overshadowed by leadership and soft skills, technical skills remain vital for managers. A good manager should possess a strong understanding of the field in which they work. This not only establishes their credibility but also aids in decision-making and problem-solving.
Deep Dive into Management Skills: What Makes a Manager Effective?
Let's delve further into some of these skills to understand why they're indispensable for an effective manager.
Leadership Abilities
Leadership is at the core of effective management. A leader isn't just someone who gives orders but someone who guides their team to success. They build leadership skills by understanding their team's goals and aligning them with the organization's objectives.
Decision Making
One of the important leadership skills is decision-making. Managers are required to make a multitude of decisions, some straightforward, others complex. Decision-making involves choosing a course of action from various alternatives to solve a problem or steer the organization in the right direction.
Time Management
Time is a resource, and like all resources, it must be well-managed. Effective managers possess excellent time management skills. They plan, prioritize, delegate, and make judicious use of their time and their team's time.
Communication Skills
Communication is the lifeblood of a successful team. As a manager, mastering both verbal and non-verbal communication skills is crucial. But being an effective communicator extends beyond just speaking or writing well. It also involves listening actively and understanding the subtext of what is being communicated. Good managers establish an open-door policy, encouraging clear, candid, and respectful communication among their team.
Active Listening
Active listening is an important skill that goes hand in hand with effective communication. It involves giving one's full attention to the speaker and providing feedback that shows understanding and consideration. Managers who actively listen foster an environment of mutual respect, leading to better employee engagement and improved performance.
Emotional Intelligence
Emotional intelligence (EQ) is a critical soft skill that can set great leaders apart. Managers with high EQ are self-aware, understand the emotions of those around them, and use this knowledge to manage interactions successfully.
Self-Awareness
Self-awareness is a key component of EQ. Managers who possess a high degree of self-awareness understand their own emotions, strengths, weaknesses, and values, and recognize their impact on others. This understanding aids them in controlling their reactions, making informed decisions, and building stronger relationships with their team members.
Strategic Thinking
To be a successful manager, one must think strategically. Strategic thinkers possess a holistic understanding of their organization, considering a variety of factors and potential outcomes before making decisions.
Problem-Solving
Problem-solving, a key element of strategic thinking, is an essential skill for managers. It involves identifying and analyzing problems, generating potential solutions, and deciding on the most appropriate course of action. Successful managers are adept problem solvers, taking a proactive approach to anticipate and mitigate potential issues.
Technical Skills
A successful manager also needs a solid foundation of technical skills relevant to their field. This could include industry-specific knowledge, familiarity with company products or services, or understanding of relevant tools and technologies.
The Managerial Role: Putting Skills into Action
We've discussed the skills needed for a successful manager, but how do these translate into action? Here, we'll break down some of the common tasks a manager may face in their role, and how they can use their skills to tackle them effectively.
Aligning Team Goals with Organizational Goals
A manager's responsibility isn't just to lead their team but to align the team's efforts with the company's goals. This involves clear communication, strategic thinking, and leadership. Managers must ensure that each team member understands the organization's objectives and how their work contributes to these goals.
Delegating Tasks Effectively
Delegation is not just about offloading tasks. It's about identifying the right tasks for the right team members, considering their strengths and areas of interest. Effective delegation can lead to increased productivity, professional growth for team members, and more efficient use of resources.
Managing Conflicts
In any group dynamic, conflicts are inevitable. An effective manager must have strong conflict resolution skills to manage and resolve conflicts in a way that respects everyone involved, maintains relationships, and minimizes disruption to the team's work.
Driving Employee Engagement
Employee engagement is vital for productivity and job satisfaction. A great manager can drive engagement by fostering a positive work environment, recognizing and rewarding hard work, and providing opportunities for professional development.
Developing a Positive Company Culture
Great leaders understand that the culture within an organization plays a critical role in its success. They strive to cultivate an environment that encourages open communication, collaboration, and mutual respect.
Promoting Transparency
A culture of transparency can drastically improve trust within a team. Managers who are transparent about their processes and decisions help employees understand their reasoning and feel valued and respected. This doesn't just involve sharing positive news; it's equally important to communicate challenges and setbacks.
Fostering Collaboration and Teamwork
Collaboration is a cornerstone of a positive work environment. Managers can foster collaboration by encouraging team members to share their ideas and expertise, creating opportunities for collaborative projects, and promoting a sense of camaraderie. A team that works well together can accomplish great things.
Recognizing and Rewarding Hard Work
Recognition is a powerful motivator. A simple acknowledgment of a job well done can boost an employee's morale, increase job satisfaction, and enhance motivation. As a manager, it's important to celebrate successes, whether they're small wins or significant achievements.
Creating a Safe and Inclusive Environment
In today's workforce, diversity and inclusion are more important than ever. Managers have a responsibility to create a safe and inclusive work environment where everyone feels valued and respected. This includes promoting diversity, addressing bias, and ensuring equal opportunities for all team members.
By fostering a positive company culture, managers not only improve their team's performance but also contribute to the organization's overall success. It's another way that good leaders distinguish themselves, by understanding that they're not just managing people – they're cultivating a community.
Related: Managerial Skills: Key Strategies for Better Leadership
Conclusion
Becoming a successful manager is a journey that involves continuous learning and growth. By nurturing your leadership and conceptual skills, improving your communication, developing your emotional intelligence, honing your strategic thinking, and refining your technical skills, you'll be well on your way to becoming effective in a management position.
FAQs
What skills are needed for a successful manager?
A successful manager should possess a combination of leadership skills, interpersonal skills, emotional intelligence, strategic thinking abilities, and technical skills. Communication, problem-solving, decision-making, and time management are also critical skills for a manager.
What are the five key managerial skills?
The five key managerial skills are:
1. Leadership: Leading the team toward achieving organizational goals.
2. Communication: Ensuring clear and effective communication within the team.
3. Problem-solving: Addressing and resolving issues efficiently.
4. Strategic thinking: Looking at the bigger picture and planning for the future.
5. Technical skills: Having expertise in the specific domain of the organization.
What are the 4 skills of a manager?
The four essential skills of a manager include planning, organizing, leading, and controlling. These are often considered the fundamental functions of a manager.
How do I develop my managerial skills?
Developing managerial skills involves continuous learning and practice. This can include seeking feedback, attending relevant training programs, learning from mentors, and staying updated with industry trends. Developing emotional intelligence, improving communication, and fostering good relationships within the team also contribute significantly to enhancing managerial skills.
How can a person develop managerial experience?
Managerial experience can be gained through various avenues like leading projects, mentoring peers, volunteering for leadership roles in professional or community organizations, and taking up management roles in a professional setting.