Disclaimer: We sometimes use affiliate links in our content. For more information, visit our Disclaimer Page. 
Giving a speech can be super nerve-wracking, and it is easy to let your nerves take over, but luckily, several rhetorical strategies can be used to make them more engaging and credible. 
Rhetorical strategies are a great way to keep people interested in what you have to say and help make your speeches more persuasive.
If public speaking isn't for you, don't worry! With the right rhetorical tools, any speech can be engaging and interesting while still being credible.
This article will discuss these rhetorical strategies to help you deliver an impactful message!
What are Rhetorical Strategies?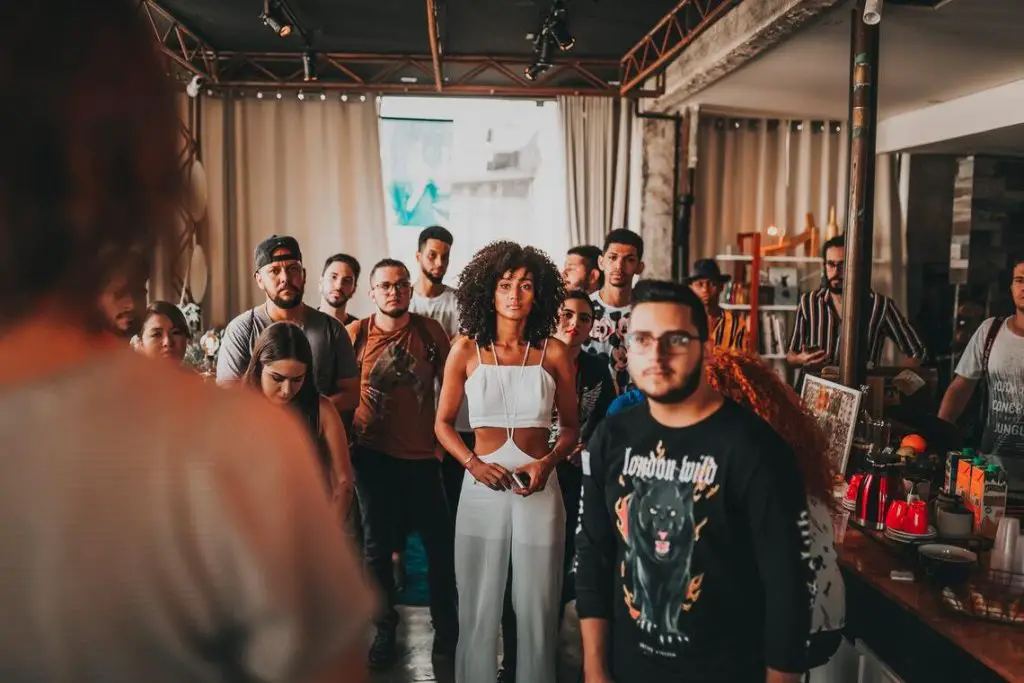 Rhetorical strategies are techniques that can be used to help make persuasive messages more convincing. It is important for people who need to give speeches or presentations, such as public speakers and teachers, but it's also important in everyday life.
Merriam-Webster Dictionary defines rhetoric as "the study of writing or speaking as a means of communication or persuasion." Another definition is "the study or practice of the art of rhetoric, especially regarding style and composition; a persuasive communication intended to influence emotions or behavior by making use of figures of speech and other techniques that depend on usage for effect."
Rhetorical strategies are techniques and devices that communicators use to make a point or persuade people.
These strategies can be classified into three categories: Ethos, Pathos, and Logos.
Ethos: refers to the credibility and authority of the speaker.
Pathos: refers to the appeal to the emotions of the audience.
Logos: refers to logic and evidence which supports the argument in an objective or factual manner.
One common rhetorical strategy is the combination of three elements, also known as the rhetorical triangle. These three categories work together to influence readers' beliefs and opinions.
For example, if you're trying to convince someone that your logo design is the best, you could use ethos by pointing to your experience and credentials as a designer. You could use logos by showing examples of work you've designed that have been successful for other businesses. And you could use pathos by showing how your logo design has helped businesses connect with their customers on an emotional level.
Rhetorical strategies are not always used to persuade. Sometimes, they are used simply to make a point or to convey information more effectively.
Let's explore them in more detail.
→ Ethos
Ethos is a persuasive technique used in writing or speaking that appeals to the audience's values and beliefs. It can often be seen as an effective strategy because it helps writers seem knowledgeable, trustworthy, authoritative, reliable–even "right." However, authors must present themselves as competent when using this rhetorical style with their audience in mind.
Many people think that Ethos is the best rhetorical strategy because it is the most natural way of convincing someone. In addition, Ethos is persuasive because it appeals to our moral values and convinces us that a speaker is worthy of trust.
A writer or speaker needs to be trustworthy, knowledgeable about the topic being discussed, and present themselves effectively for Ethos to succeed.
Appeal to Ethos – the author is an expert in this field, and we should trust their opinion because they know what they're talking about.
→ Pathos
One of the most popular tools in the rhetorical arsenal is an emotional appeal. Emotional appeals are designed to make an audience feel a certain way or to sway their opinion. This can be done by delivering emotionally charged messages or using metaphors and similes.
Pathos is one of the three rhetorical strategies that Aristotle developed in his Rhetoric. Its name comes from a Greek word meaning "emotion." Pathos, different from logos and Ethos, require arguments or logical reasoning instead of solely relying on emotion to sway an audience- usually sympathy for what they are saying.
An example of this strategy is shown in Martin Luther King Jr's speech "I Have a Dream." In this speech, he used Pathos through emotion to deliver the message that African Americans deserve equal rights and opportunities for education and employment.
Appeal to Pathos – emotions are powerful persuaders, and using emotional triggers will make your audience more likely to accept your argument.
→ Logos
Logos is Greek for "word," but it's not just about using words but also how you use them. Logos is a classical rhetorical device that appeals to the audience's reason and logic. It involves presenting logical arguments to persuade the audience. This could be done using compelling statistics, objective facts, figures, or persuasive analogies.
Some logos examples:
"The average human being can remember 10% of what they read."
"The SAT scores over every year have gotten higher."
"It's impossible to know with any degree of certainty whether it will rain tomorrow."
Appeal to Logos – using logical appeals with facts, data and statistics can be persuasive because people believe in numbers.
Using the Rhetorical Triangle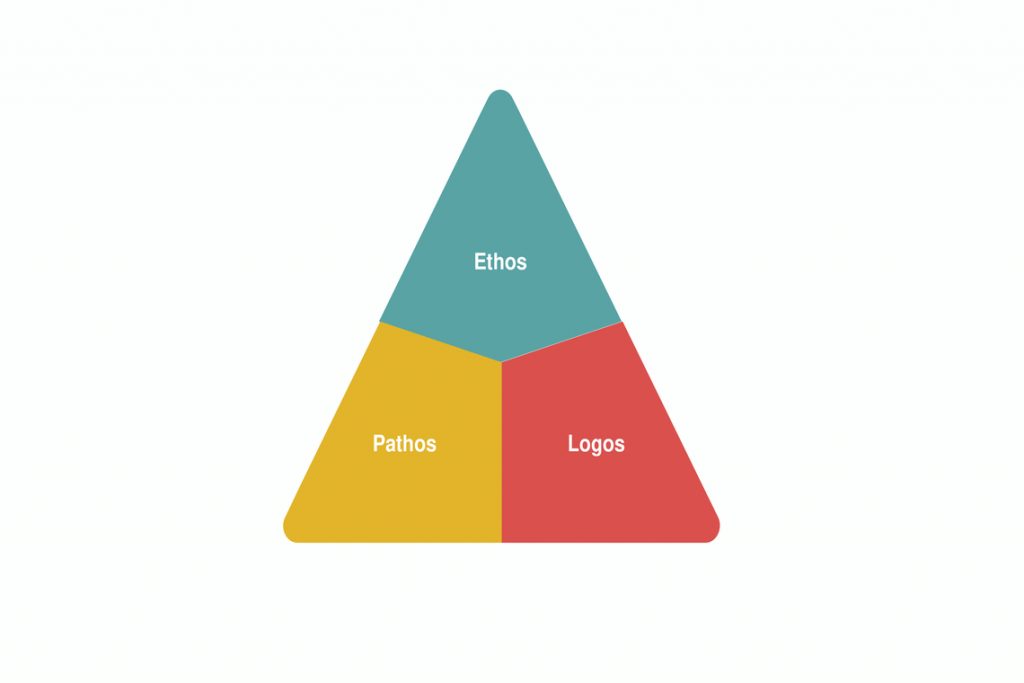 The Rhetorical Triangle is a rhetorical strategy formed by three points: logos, Ethos, and Pathos. Logos refers to logic within the triangle, Ethos relates to character, and Pathos refers to emotion.
The way someone constructs an argument impacts how people receive it. For example, an argument can be constructed so that its actual value is concealed from the audience, or it can be constructed so that the audience will more easily accept the message.
The rhetorical triangle is one of the most effective ways to structure arguments. It defines three forces – Ethos, Logos, and Pathos – combined in various creative ways to create an emotionally engaging argument or persuasive speech.
Related: Tactful Communication
Establish Your Credibility (Ethos)
The first step in using the rhetorical triangle is to establish your credibility.
This means you must gain your audience's trust and make sure they believe everything you say. This could be done through facts, expert opinions, or personal stories.
Some ways to establish credibility are as follows:
Providing a legitimate backstory that demonstrates experience by detailing relevant experience or qualifications.
Providing detailed information and evidence for your claims.
Presenting yourself as a knowledgeable, authoritative voice.
Promising value in what you have to say.
Appeal to the Audience's Emotions (Pathos)
For a message to be compelling, it has to have some emotional response. This response can be fear, anger, or joy.
The only way an audience will believe or understand your message is if they can relate to it. When you find this common ground, you can create a stronger connection with the viewer or reader, and they will be more apt to take any action you want.
There are many ways to evoke emotions from your audience in a speech. Some of these are:
Create suspense or anticipation.
Establish a shared experience.
Provoke anger.
Directly appeal for sympathy.
Create high drama or excitement.
Pathos is the appeal to emotions and is usually used to evoke an emotional response from the audience. It can be done in two ways:
1) Using emotional words
2) Drawing a mental picture for the audience 
Related: How Communication Competence is an Essential 
Consider the Context (Logos)
When delivering information, think about the context of your message and what channels you'll use. Then, remember how best to present that information with a solid logical appeal.
What type of reasoning should I use?
What will I use to support my position? Evidence? Observations?
What type of tone should I use?
What is the best way to deliver a message? Speech, email, blog?
When you consider the three corners of the rhetorical triangle, your points will be more easily understood by both your reader and listener.
Understanding basic rhetorical techniques will give your message more credibility, power, and impact.
Related: Communication Is Key
Conclusion
The next time you need to give a speech, try these rhetorical strategies. They'll help make your speeches more persuasive and engaging for the audience members listening to what you have to say.
Remember that it is important to use this advice when giving a speech and in everyday life! So make sure you subscribe and share with anyone who could benefit from reading our blog post today — we hope they find it helpful!