Disclaimer: We sometimes use affiliate links in our content, meaning, at no additional cost to you, we will earn a commission if you click through and make a purchase. For more information, visit our Disclaimer Page. 
If you're in the market for a CRM, then you've no doubt come across Pipedrive. It's one of the most popular options out there, and for a good reason—it's packed with features. But is it the right CRM for you? And what are your other options?
This Pipedrive CRM review will look at its pricing, features, and top alternatives. So whether you're already sold on Pipedrive or just starting to explore your options, read on for all the info you need.
What is Pipedrive?

Pipedrive is a CRM for small and midsize businesses that want to focus on Pipeline management. Pipedrive has everything you need to organize your deals and leads, delegate tasks, follow up with potential customers, send personalized emails based on what they have viewed, close their loop of communication with possible prospects, and much more. With robust reporting and integrations to other software, Pipedrive is essential for sales teams.
Related: CRM Benefits
Pipedrive CRM review: Pros & Cons
If you're looking for a CRM that is easy to use and helps you keep track of your sales pipeline, Pipedrive may be the perfect solution. Here are some of the pros and cons to consider before deciding.
Pros:
2. Visual representation
Pipedrive is a CRM that offers a visual pipeline view to help you track your progress and goals. This makes it easy to see how close you are to closing a deal and how much progress you've made on other projects.
You can also use Pipedrive to keep track of your contacts and interactions with them. The software includes helpful features like email tracking, task management, and complex marketing automation.
2. Customizable fields
Pipedrive's customizable fields and views make it easy to track the most important data to you. For example, you can track how many leads you have, how much money they've spent, what stage of the sales process they are in, and more.
This information is easy to access and helps you decide where to focus your efforts. In addition, the customizable views let you see your data in the way that makes the most sense to you.
You can filter and sort your data to get a clear picture of what is happening with your sales process.
3. Activity reminders
Pipedrive's activity reminders are a great way to keep you on top of your sales tasks. You can set up a reminder for any task, and the system will email you or pop-up notification when it's time to get started. This ensures that you never forget about a vital step in the sales process and always stay on top of your sales pipeline.
The activity reminders are customizable to choose the frequency and time best for you. You can also set up different reminders for each stage of the sales process, ensuring that you're always prepared when it's time to make a sale.
4. Variety of reports & charts
Pipedrive is a sales CRM that offers a variety of reports and charts to help you understand your sales performance. This allows you to make more informed decisions about how to improve your sales process.
With Pipedrive, you can track leads, opportunities, and deals and measure the effectiveness of your marketing efforts. You can also see which sales activities are most effective in closing deals.
Pipedrive's reporting and charting features are one of the main reasons it's such a popular CRM among small businesses. The ability to see which sales activities are most effective in closing deals is especially beneficial.
Cons
1. No separation between lists of new leads and contacts
One of the biggest drawbacks of Pipedrive CRM is that it doesn't offer any separation between lists of new leads and contacts. This can make it difficult to track your progress and keep organized, as you may have many duplicate entries.
Additionally, there is no built-in feature for importing or exporting data, making it difficult to transfer your data to another program. However, Pipedrive does offer a wide variety of features and is very easy to use CRM, so these drawbacks may not be a big deal for some users.
Who is Pipedrive for?

Pipedrive is a CRM system primarily aimed at small businesses and sales teams. It offers a straightforward, intuitive interface and an affordable price tag, making it a popular choice for companies just starting with CRM software.
In addition to basic contact management features, Pipedrive also includes tools for sales management, activity tracking, and email integration. It's a fairly comprehensive CRM system, and it's definitely worth considering if you're looking for an affordable option.
Pipedrive Plans & Pricing
Essential
Get organized and set up simple sales processes
---
Lead, deal, calendar, and pipeline management
Simple data import and easy customization
24/7 support and 275+ integrations
$12.50 per user per month billed annually
Advanced
Scale quickly using easy-to-use email and automation
---
Essential Plan +
Full email sync with templates and scheduling
Group emailing plus open and click tracking
Workflow builder with triggered automation
$24.90 per user per month, billed annually
Professional
Everything you need to boost performance and revenue
---
Advanced Plan +
One-click calling and call tracking
Create, manage, and eSign documents and contracts
Revenue projections, forecasts, and enhanced custom reporting
$49.90 per user per month, billed annually
Enterprise
Customize without limits and access unrivaled support
---
Professional Plan +
Unlimited user permission and visibility settings
Additional and heightened security preferences
Implementation program and phone support
No feature usage limits
$99.00 per user per month, billed annually
Pipedrive cost is tailored to fit the needs of small businesses and enterprise-level organizations. A free trial is available to test out all of the features before deciding which plan is best for your company.
Pipedrive offers four pricing options to take advantage of:
Essential: $12.50 per user/month (annual) or $15 per user/month (month-to month)
Advanced: $24.90 per user/month (annual) or $29 per user/month (month-to month)
Professional: $49.90 per user/month (annual) or $59.90 per user/month (month-to month)
Enterprise: $99 per user/month (annual) or $119 per user/month (month-to month)
Pipedrive Essential is the most basic plan recommended for small teams or businesses just starting to use a CRM. This plan includes most of the basic features you would expect from a CRM, such as contact and deal management, data import and export, and custom fields.
Pipedrive Advanced is the next step up and includes features designed to help you close more deals, such as workflow automation, smart contact data, and customizable email templates. This plan is best for teams looking to take their sales to the next level.
Pipedrive Professional plan includes everything from the Essential and Advanced plans, plus even more features to help boost your sales, such as custom fields and reports, team goals, and unlimited visual dashboards. This plan is best for larger teams or businesses heavily reliant on their CRM.
Pipedrive Enterprise is the enterprise-level plan which can be customized to fit the needs of your business. This plan includes all of the features from the other plans, plus additional features such as security alerts, an implementation team to streamline your Pipedrive setup, and priority support. This plan is best for businesses that need a tailored CRM solution.
Pipedrive features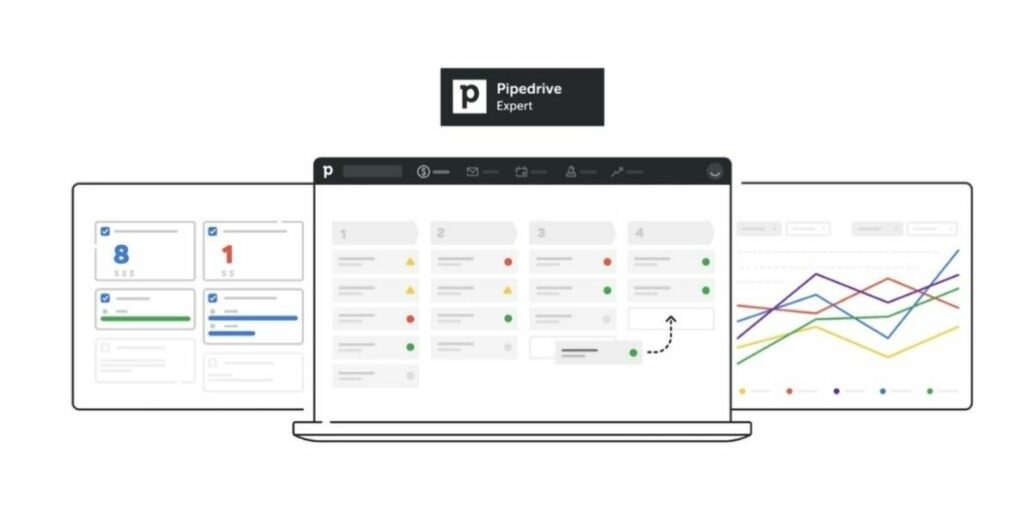 Pipeline management
Pipedrive's Pipeline management tool is an easy way to keep track of your sales process and the progress of each sale. You can create a visual pipeline of the steps in your process and add notes and tasks to each step.
This makes it easy for you and your team to stay on top of every sale. The Pipeline view also shows you the estimated close date for each sale so that you can prioritize your deals. Pipedrive's Pipeline management tool is a great way to keep track of your sales process and the progress of each sale.
Email integration
Businesses often fail to integrate email into their CRM because they're unsure how. Pipedrive offers an easy solution: every interaction in the CRM is automatically archived as a closed case or contact in your inbox, so you know exactly where it's at and when you can follow up.
You know if someone opened your email and clicked on any link
Email templates save you time so you can focus on more important things
Automatically follow-up emails to make sure no potential customer slips through the cracks.
Email integration is an essential part of any CRM, and Pipedrive makes it easy to get started. With its intuitive interface and variety of features, email becomes an asset instead of a chore.
Activities and Goals
Activities and goals make Pipedrive unique among CRMs. An activity is anything you do with a prospect or customer, such as sending an email, making a call, or writing a note.
You can create activities from scratch or automatically generate them from emails and phone calls. Every activity has its own page where you can see the details and add notes. You can also set a due date and assign it to someone on your team.
Goals are what you want to achieve with your activities. For example, you might have a goal of "Sign up five new customers" or "Make 100 sales calls." Pipedrive will automatically track your progress toward these goals and give you a visual representation of how close you are to achieving them. You can also create your own goals or import them from other software such as Salesforce.
Activities and goals make Pipedrive a powerful tool for the sales department. They allow you to track every interaction with a prospect or customer, see how it contributes to your overall goals, and make sure nothing falls through the cracks.
Lead Generation
Pipedrive offers a comprehensive suite of features developed to make the hard task of sales and lead generation easier, whether you're a small business or an enterprise. For example, the Pipedrive CRM automatically generates insightful reports that can track your progress and see where you should focus next. Lead generation has never been this easy before with Pipedrive.
Sales Reporting
Pipedrive's Sales reporting is super-easy to read/ use – you can get as detailed or broad an overview as you like, meaning that you can quickly see which deals are stuck and where your sales team might need help.
The reporting functionality is one of the things that sets Pipedrive apart from other CRMs on the market – it's user-friendly but still provides a lot of data that can help you understand your sales process and make changes where necessary.
You can get reports on various things, such as how many deals you've won/lost in a given period, the value of your closed deals, and how long it took to close different types of deals. This data can help you understand what's working well for your sales process and where you might need to make changes.
Sales Forecasting
Pipedrive features Sales Forecasting that can be used to view pipeline and forecast deals based on their stage.
The time remaining for an opportunity, the probability for a deal to convert into an actual sale, predicted revenue in terms of potential profits – all these metrics are available with Pipedrive. Another way of calculating ROI is to use this feature to keep an eye on the progress of deals and forecast future sales.
This feature is also helpful for Sales Managers who need to see how a particular deal might affect their team's quota. Pipedrive's Forecasting capabilities make it one of the most comprehensive CRMs in terms of features.
Mobile App
The Pipedrive mobile app is a great way to keep track of your sales pipeline while on the go. You can quickly make updates or add new contacts on the go and keep track of your sales pipeline no matter where you are. The app is available for both Android and iOS devices.
Document Management/Sharing
Pipedrive's document management/sharing feature allows you to keep your team organized and efficient. Documents can be easily shared with other users, and they can be quickly accessed through the Pipedrive interface. This makes it easy to keep all your important files centrally and easily accessible.
Additionally, the document management/sharing feature allows you to track the changes that have been made to your documents, so you always have a clear understanding of who made which changes and when. This is an extremely valuable tool for any team that needs to maintain a high organization and efficiency.
Related: Types of CRM Software
Pipedrive Alternatives
If you're looking for a CRM (customer relationship management) system, Pipedrive is one of the most popular options. But it's not the only one. Here are some alternatives to consider.
Zoho CRM software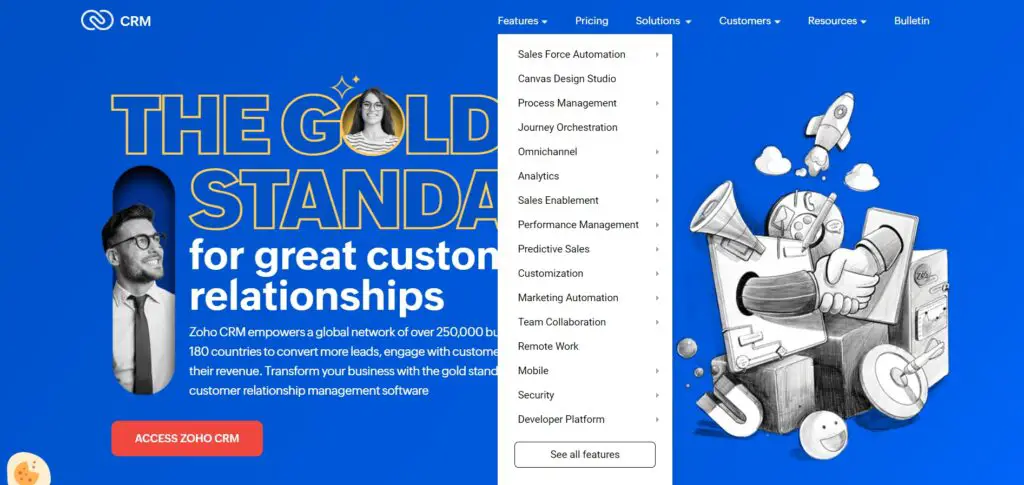 Zoho CRM is a Customer Relationship Management tool with sales, marketing, and operations features. An appealing feature of Zoho CRM is the comprehensive partner network so businesses can connect with other companies in their industry.
The Zoho CRM help center blog provides articles on how to use the software, whether its integration into google apps or an explanation of features. In addition, Zoho CRM offers a free trial so businesses can explore what the software has to offer and decide if it meets their needs.
Pricing for Zoho CRM starts at $12 per month when billed annually or $15 per month when billed monthly. The price increases with the number of users and add-ons such as Zoho Desk (customer support software) or Zoho Campaigns (email marketing).
Related: Zoho CRM Review
Insightly CRM software
Insightly CRM is a comprehensive solution for SMEs needing to manage customer relations. It offers a wide variety of features, including contact management, project management, sales, and workflow automation.
Insightly also integrates with many other applications, making it easy to keep all your data in one place. This makes Insightly an ideal solution for businesses that need a simple, effective way to manage customer relations.
Sugar CRM software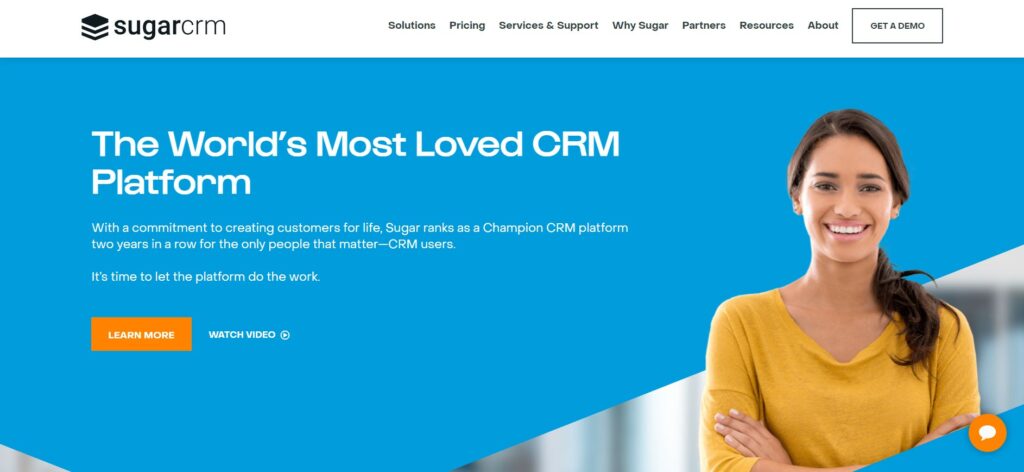 Sugar CRM is an affordable solution for small business owners. It has all the essential features to be successful, such as contact management, sending emails, and calendars.
The free starter edition of sugar's software accommodates any organization regardless of style or industry. For example, if your company does not have a marketing team, this program can even help you create and track marketing campaigns.
Final Verdict
Pipedrive is an excellent CRM that offers comprehensive features and tools to help businesses effectively manage their sales pipelines. It's easy to use and can be customized to fit your organization's specific needs. Additionally, Pipedrive integrates with a wide range of third-party applications and services, making it a versatile tool that can be used for various purposes.
It has all the features you need to manage your sales pipeline and close more deals. And because it's so user-friendly, you'll be able to get up and running quickly even if you're not tech-savvy. So if you're ready to take your sales game up a notch, Pipedrive is definitely the CRM.