Disclaimer: We sometimes use affiliate links in our content. For more information, visit our Disclaimer Page. 
In most cases, if you run a business, you likely have a help desk. This is where your customers or employees can get help with technical issues or problems they are experiencing. Consider investing in a help desk if you do not already have one. The question is, which help desk system should you choose among so many options available on the market?
In this blog post, let's look at seven of the best help desk software solutions and discuss their features, prices, and pros and cons. So let's get started, and we'll walk you through choosing the right help desk software for your business.
Best Help Desk Software for your Business
Take a look at our list below, and you will be able to find the best help desk solution on the market that will meet your business needs.
1. Freshdesk
Freshdesk is an innovative cloud-based customer service platform that facilitates businesses and teams in effectively managing their customers' inquiries. With a range of customization options, Freshdesk helps increase customer satisfaction by streamlining the process of handling support requests—allowing your team to tailor it precisely to meet your unique needs.
Features include agent roles, ticket forms, portals, and many more, enabling you to scale up or down based on your business requirements. For businesses with field staff, Freshdesk's field service modules are invaluable.
They offer omnichannel customer interaction, rapid query resolution, and automatic appointment management—all of which can be managed in real-time via a map view from Android and iOS-powered devices! This makes planning, monitoring, and tracking appointments streamlined for your business.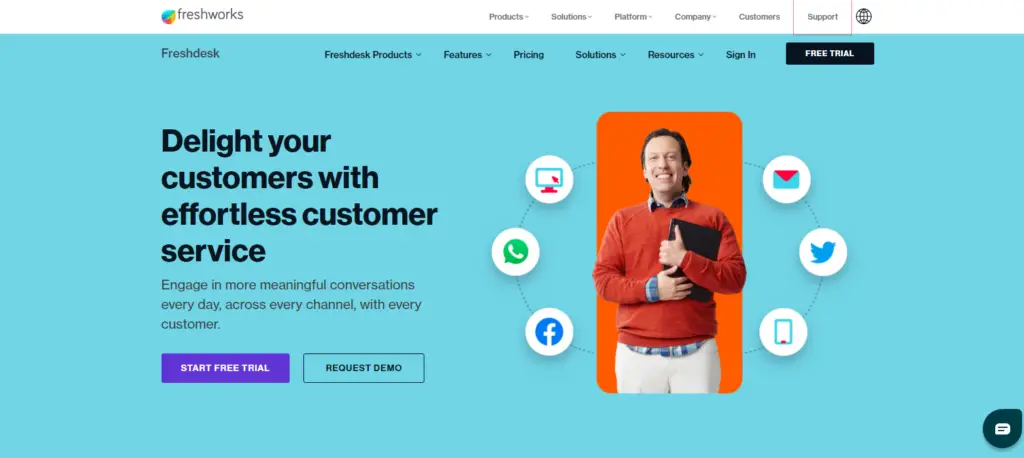 Reviews ⭐4.5 ✍️ 8,256
Freshdesk has received 4.5 out of 5 on G2, SoftwareAdvice, and Capterra with impressive numbers of reviews, including 2697 on G2, 2782 on Software Advice, and 2777 on Capterra.
Key Features
Ticketing Management: Collaborative ticketing improves customer service by converting issues from different channels into resolvable issues.
Omnichannel: It is essential to consolidate channels for customer support teams such as email, phone, chat, website, WhatsApp, and Facebook to provide seamless customer service and faster query resolution.
Service Management: Manage field operations by creating service tasks and field technician groups based on location, priority, and other factors. 
Reporting and Analytics: Use a variety of chart styles and visualizations to gain actionable insights from data. Schedule reports at regular intervals and customize them according to different requirements. 
Customization: Workflows, customer portals, and agents can be customized to meet specific business needs.
Automation: Notify agents and customers when tickets are updated. Automate maintenance activities and actions based on the time since the last event. 
Identity and Access Management: Use I.P. to allow listing and a VPN to allow and restrict agents and customers from logging in to their accounts.
Customer Self-Service: Convert critical issues in the community into resolvable tickets and automate suggestion pop-ups to enable efficient self-service for customers
Support:
Their support is available via email and phone, among others. To reach email support, send an email to [email protected], while for telephone support, dial +1 (866) 832-3090 from the U.S., +91 (44) 6667 8040 from India, +44 (800) 808 5790 from the U.K. or +61 2 8188 4692 from Australia. This way, customers can get assistance quickly and efficiently regardless of the most convenient support channel.
Pricing: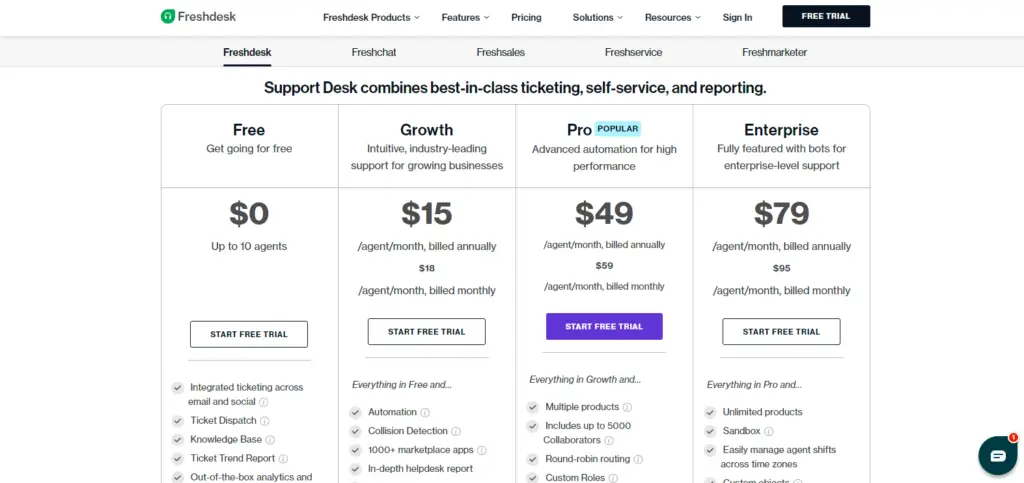 Free: You can sign up for the free plan to access integrated ticketing across email and social media, as well as to Ticket Dispatch, Knowledge Base, and Ticket Trend Reports.
Growth: Starts at $15/month and includes automation, collision detection, 1000+ marketplace apps, in-depth helpdesk reports, and more.
Pro: For $49/month, you get Multiple products, Including up to 5000 collaborators, Round-robin routing, Custom Roles, Round-robin routing
Enterprise: The Enterprise plan costs $79/month and includes unlimited products, sandboxes, the ability to manage shifts across different time zones in an easy-to-use way, and much more.
Pros and Cons of Using Freshdesk
Easy to set up, use, and get started
Web-based, eliminating the need for server maintenance
Customizable integration and functionality.
Quick assistance from vendor representatives.
Plenty of information, including FAQs, available for new users
Room for improvement in the reporting module.
Overall, Freshdesk provides businesses with a centralized customer support system that allows them to track all customer interactions and respond to them in a timely and organized manner, which results in more efficient service.
2. Zoho Desk
With Zoho Desk, companies can completely revolutionize their customer service operations by providing seamless support across multiple communication channels. The goal is to maximize customer satisfaction with features that make it simple and easy to handle any incoming requests.
Companies will be able to provide outstanding service due to the sophisticated tools available in this comprehensive software solution. Zoho Desk's AI-powered tools are a game changer for businesses. Not only do they help to comprehend customer demands, but they also allow organizations to anticipate their customers' next move and deliver outstanding service in return.
Additionally, they have designed an effortless ticketing management system that facilitates entrepreneurs with organizing and tracking customer support inquiries from one central location.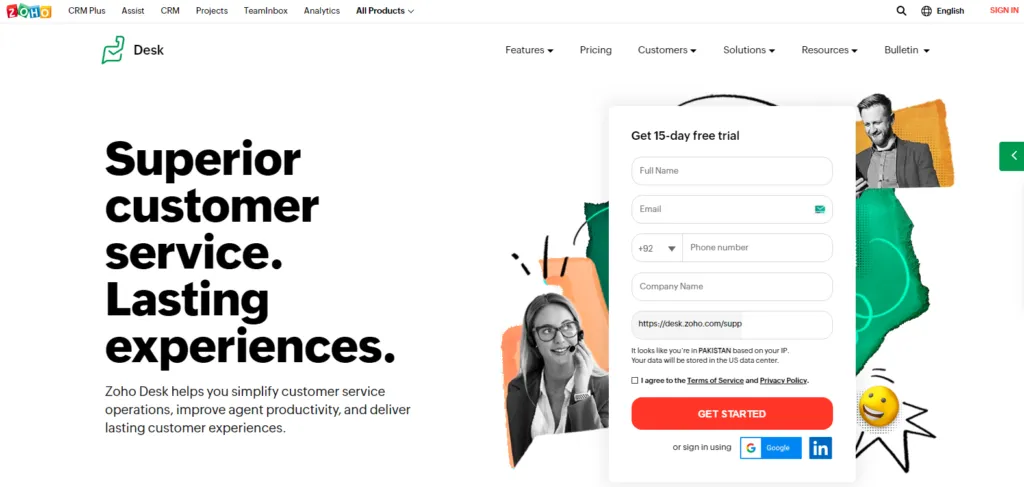 Reviews ⭐ 4.4 ✍️ 8,096
The software has received positive reviews from a wide range of review platforms, including G2, SoftwareAdvice, and Capterra, and is currently rated 4.4 out of 5 on each of these review platforms. The software has received 4311, 1896, and 1889 reviews on each platform.
Key Features 
Ticket management: Using this software, businesses will be able to track, manage, and create customer support requests in one central location.
Automated workflows: Businesses can set up automatic triggers and actions based on specific events or conditions to automate business processes.
Knowledge base: This allows businesses to create a searchable database of articles and FAQs to help customers find answers to their questions by creating a searchable database of articles and FAQs.
Reporting and analytics: Analyze customer interactions and support metrics, such as response times and resolution rates, and provide business insights.
Zia: With Zia Voice, Ask Zia, Zia Notifications, Zia Dashboards, Zia Skill Builder, Reply Assistant, and Sentiment Analysis, customers can enhance their team productivity. 
Productivity: With work modes, you can organize open tickets proactively. You can quickly respond to tickets with a response editor, FAQs, and templates. 
Extensibility: Integrating help desk modules with other software and services depends on business requirements.
Insights and Impact: With Radar, you can be proactive and hands-on, and Headquarters provides a live dashboard with progress updates.
Customization: Customize the help desk workflow to match your brand's personality with the help center theme gallery.
Support: Ensure GDPR compliance and protect customer data by managing the organization's hierarchy and controlling data access.
Support:
Businesses can get help using Zoho Desk effectively thanks to the Zoho Desk customer support system. Support teams are available 24/7 to assist customers in more than nine countries with any questions or concerns. You can reach out to us at [email protected] or call +1 (844) 584-2497 for U.S. support.
Pricing: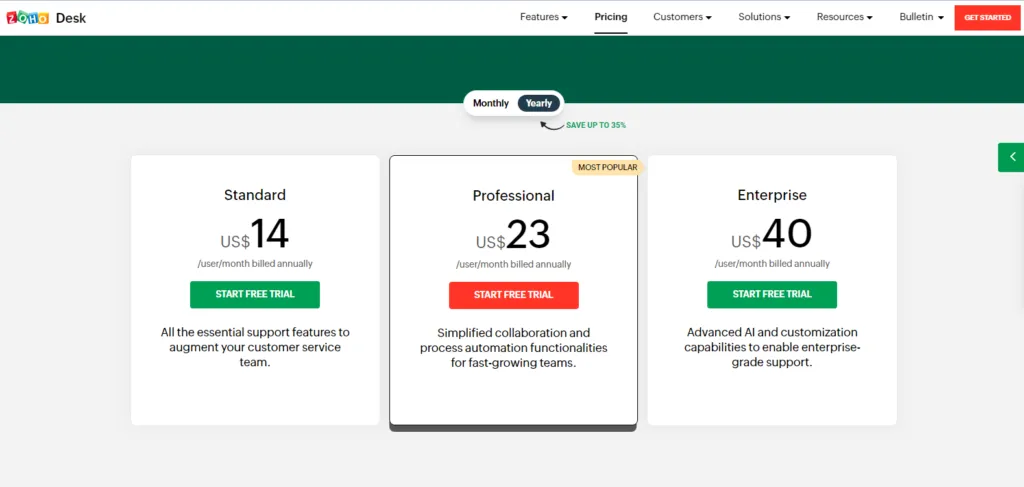 Standard: A monthly fee of $14 is charged for the service
Professional: This plan costs $23 per month
Enterprise: This plan is charged a monthly fee of $40 per month.
Pros and Cons of Using Zoho Desk
User-friendly for small teams.
User-friendly for small teams.
Integration with mail, CRM, booking, messaging (Cliq), and conferencing (Meeting).

Limited customization options for automation, workflow, and user interface.
Overall, Zoho Desk is a centralized platform that simplifies the processes and manages customer interactions daily. It gives businesses the ability to improve the quality of customer service while reducing costs and automating repetitive tasks, all while improving customer satisfaction.
3. Help Scout
Help Scout provides an efficient customer service platform to help businesses streamline interactions across all communication channels. With its wide range of features, such as email, phone calls, live chat, and a searchable knowledge base widget embedded in emails, Help Scout enables companies to quickly and efficiently address customers' needs.
This unified experience ensures that customers receive consistent results whenever they contact your business. Help Scout allows businesses to centralize their operations and streamline time-consuming tasks while maintaining continuous communications with automated and collaborative tools.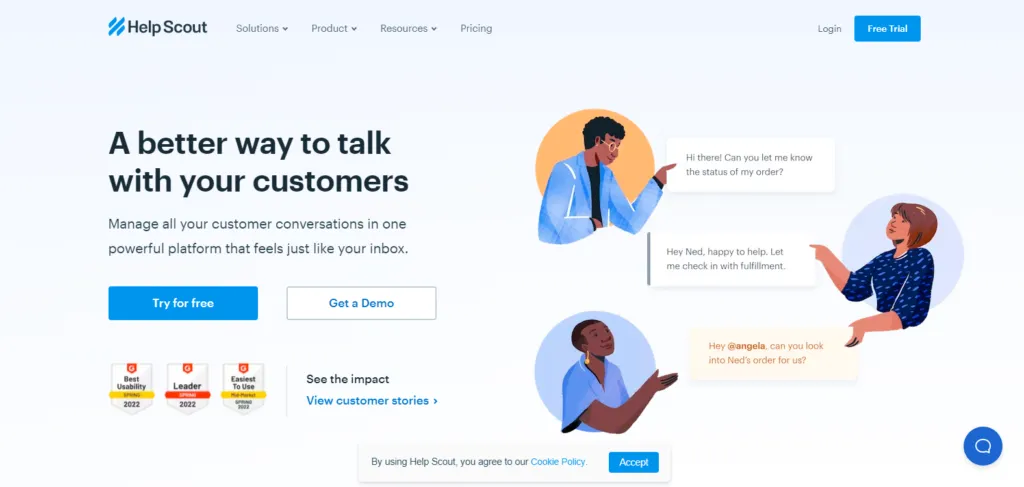 Reviews ⭐ 4.6 ✍️ 737
The Help Scout software has received positive reviews, with an average rating of 4.6 out of 5. According to G2, SoftwareAdvice, and Capterra, they all gave positive reviews, with 365 from G2, 186 from SoftwareAdvice, and 186 from Capterra.
Key Features:
Collision Detection: Using notes and @mentions, users can collaborate internally on notes. Using tagging to trigger automation and categorize conversations, users can save common answers with just a few clicks. Automating every action, creating custom folders, and sending bulk replies were possible.  
Reports and Analytics: With Snap Engage and Olarkto, you can integrate your help desk platform with your help desk and keep track of your team's performance, customer satisfaction, and issues without using Excel spreadsheets. The chats are automatically stored in the customer's profile when they happen.  
Shared Inbox: You'll be able to stay productive and provide world-class support with all the collaboration features you need, including multichannel support, notifications, advanced search, mobile apps, satisfaction ratings, and developer tools.
Knowledge Base: To customize SEO details, you can add text, hyperlinks, images, tables, and videos to articles. Select categories and add related units.  
Messages: For proactive support, engagement, and onboarding, you can send SMS from your blog, website, store, or app installed with Beacon.
Customer Management: Based on customer data, app activity, and previous conversations, we offer personalized and faster support.
Live Chat: So clients don't have to spend time searching for answers, you can suggest resources based on their page views.
Support
There is no customer support for this product.
Pricing: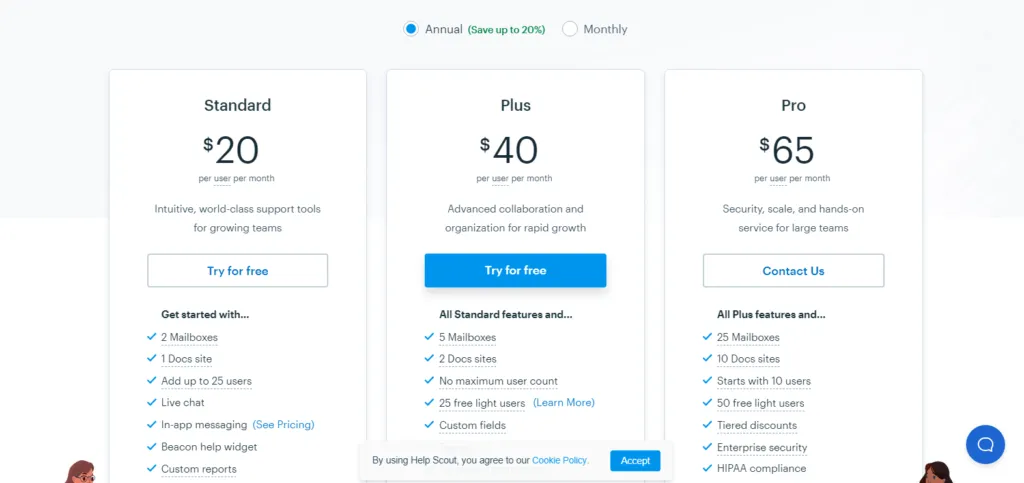 Standard: With this plan, you get 2 mailboxes, 1 document site, 25 users, and live chat support for $20/month.
Plus: In this plan, 25 free light users are included, along with 5 mailboxes, 2 document sites, and unlimited users starting at $40/month.
Pro: You can get 10 users for free, 50 light users, 25 mailboxes, and ten document sites for $65 a month
Pros and Cons of Using Help Scout
User-friendly interface
Automation capabilities
Integrations
Reporting and analytics
Limited customization options
Limited live chat capabilities
Overall, Help Scout is a powerful customer service software that can help businesses of all sizes improve customer interactions. For businesses seeking to streamline their customer service operations, it offers a wide array of features, a simple-to-use interface, and a very affordable price, making it a great option.
4. Tidio
Tidio is the perfect communications platform for businesses that want to keep their customers' inquiries efficient and immediate. Its integration with multiple websites and its live typing feature that allows agents to view messages before sending them out make it an ideal tool for improving customer satisfaction.
With Tidio providing real-time chat widgets and easy messaging capabilities, your business can take advantage of boosted communication quality in no time. Companies of any size or sector can take advantage of the convenience and efficiency that Tidio brings to communication with customers – enhancing their overall customer experience.
This platform allows your business to engage in real-time dialogue with its clientele. With its comprehensive features and ease of use, Tidio is an optimal choice for all businesses.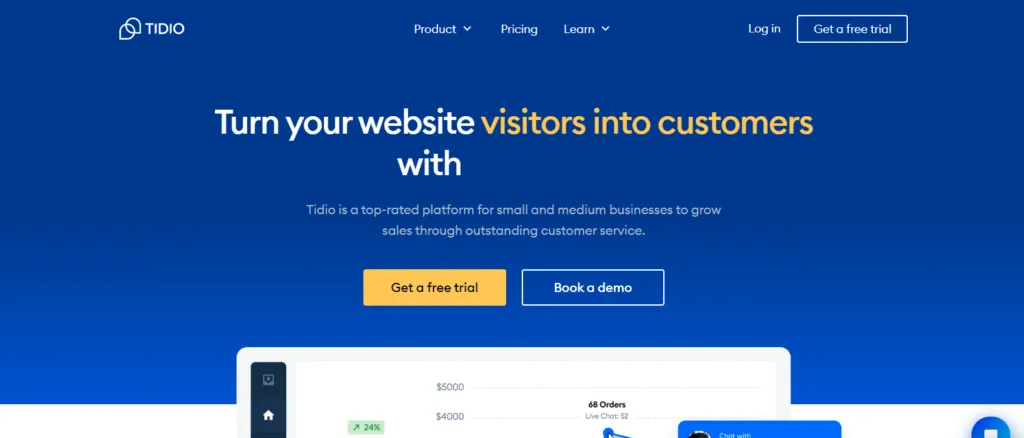 Reviews ⭐ 4.7 ✍️ 1,975
Tidio software has garnered praise from both industry professionals and casual users alike. It is no surprise that it has achieved such acclaim; with an average rating of 4.7 out of 5, over 1315 reviews on G2, 330 reviews on SoftwareAdvice, and 330 reviews on Capterra, Tidio software is a popular and successful piece of software. 
Key Features
Shared Inbox: Engage customers across multiple websites using a single platform. Access customer contact information, geographic information, past conversations, and visited pages to better serve them in the future.
Chatbots: It handles repetitive actions and informs operators about the intention of users. Build multiple sales chatbots using a visual editor. Drag-and-drop the visual editor to customize codeless chatbots. 
Email integration: If a business has an email service, Tidio can be integrated into it, making it possible to send emails to customers.
Multilingual support: The Tidio app can be used in multiple languages so that businesses can communicate with their customers in their preferred language.
Visitors List: With real-time tracking and monitoring, you can get the inside scoop on website visitors. Send personalized greetings based on each customer's location – efficiently segmenting them by browsing history and location – as they are instantly available in your sidebar. That's efficient marketing.
Live Chat: You can customize the chat widget according to website aesthetics, get offline notifications, and display live chat on specific web pages. Boost live chat with unlimited chatbots for marketing automation. Manage chat pages separately or multichannel. 
Integration: There is a seamless integration with popular eCommerce platforms, CRM systems, analytics tools, and CRM systems.
Support
If you have any questions or issues, contact the support department at Tidio by emailing [email protected]. This is an excellent way for businesses to ensure that the platform is used effectively by providing support to help customers set up, use, and troubleshoot the platform.
Pricing: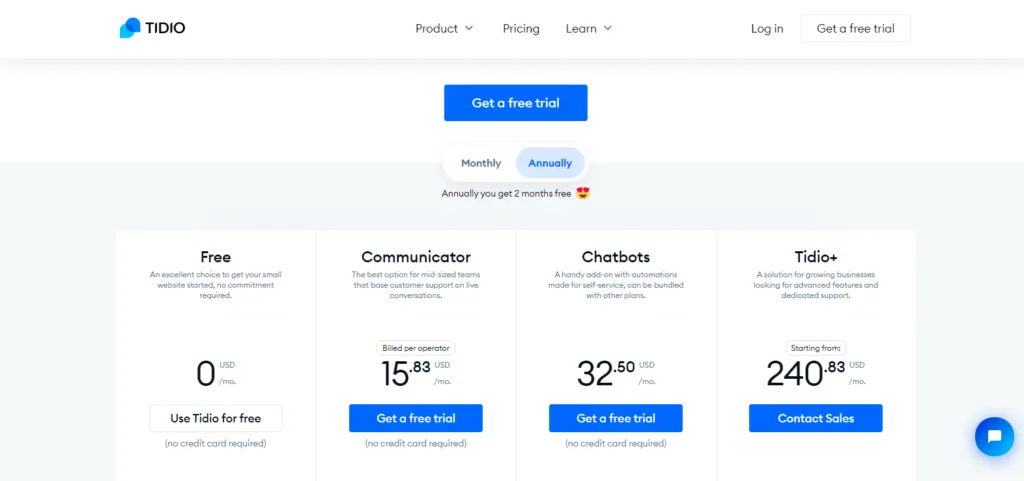 Free: With our Live Chat feature, you'll have the opportunity to chat with 50 other users, chat with 100 other users through our Chatbots, and receive email support from our team.
Communicator: You can enjoy unlimited Live Chat conversations for $15.83 per month in addition to email support, up to 5 operators, and live support 24 hours a day, 7 days a week.
Chatbots: You can use these bots with up to 40,000 users, obtain an email address, and get live chat support 24 hours a day, 7 days a week. This plan starts at $32.50.
Todio+: The plan costs $240.83 and includes Live Chat – unlimited conversations, Chatbots – a custom number of engagements, Email, 24/5 Live Chat, and 24/7 emergency phone support.
Pros and Cons of Using Tidio
Easy to set up and use
Multiple communication channels
Integration with popular platforms
Automated chatbots
Affordable pricing plans
Provides valuable insights through customer behavior analysis
Limited customization options.
Limited chat history storage.
Overall, Tidio offers many useful features for businesses to communicate effectively with customers. It is easy to use, cost-effective and provides valuable insights into customers' behavior that businesses need to keep in touch with.
5. LiveChat 
LiveChat is the leading customer service and support software that allows businesses to connect with their website visitors in real-time through a convenient chat interface. This powerful solution offers various features designed to boost sales, provide knowledgeable customer interactions, and improve overall satisfaction.
It includes full-fledged chat capabilities, monitoring agents' performance, ticketing options for customers who need assistance, engagement tools to improve user experience on the site, e-commerce capabilities to promote products, and customer acquisitions. 
Companies can exponentially boost customer interaction and conversions by utilizing LiveChat across multiple web pages and devices, from mobile phones to desktops.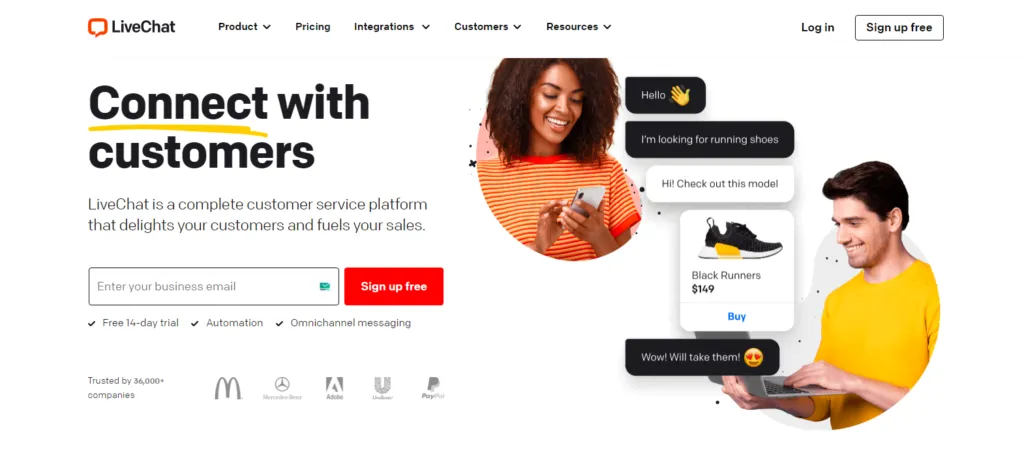 Reviews ⭐ 4.6 ✍️ 3,609
LiveChat generally gets positive user reviews on various review platforms, including G2, SoftwareAdvice, and Capterra. It has received an average rating of 4.6 out of 5 stars on these platforms. The software has received 745, 1432, and 1432 reviews on each platform.
Key Features:
Ticketing System: Email and chat tickets can be created, tagged, assigned, scheduled for automated follow-up, and tracked via a dashboard. After-hours messages can be saved as tickets to ensure no conversations go unresolved. 
Chat Routing: A customer service representative is assigned to a particular department (such as sales or customer service, for example). 
Reporting: Support efforts can be seen through various reporting and analysis tools. Staffing needs can be projected, agents can be tracked, tickets can be tracked, tags or groups can be drilled down, and high-level metrics can be viewed. 
Marketplace: More than 200 third-party tools are integrated into the system, including Slack, Calendly, Dropbox, Salesforce, Google Analytics, Facebook Messenger, ChatBot, and MailChimp.
Eye-Catcher: This tool helps increase engagement by adding visuals, such as images and GIFs, to chat widgets.
File Sharing: Besides sharing tutorials and marketing collateral, visitors can share files through this feature. 
Canned response: Frequently asked questions can be pre-written and saved by businesses, making customer support more efficient.
Chat Archives: Starter package users can retain 60 days of chat history. Chat history is included in all plans, but the Starter package limits it to 30 days. 
E-Commerce: The effectiveness of LiveChat can be measured by managers by tracking sales and setting goals.
Support
You will receive additional support and assistance with enterprise customers, including a dedicated account manager, legal assistance, and consulting services. Users can reach out to Live Chat Support by emailing [email protected] or using the live chat feature. Whenever your users open the chat window, they can type in a message, which will be sent to your support team.
Pricing: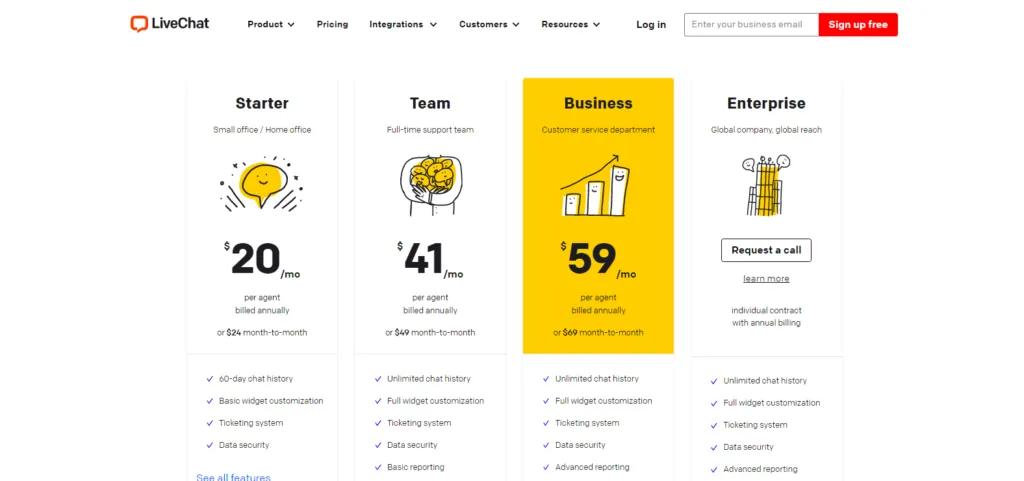 Starter: It starts at $20/month and includes 60-day chat history, basic widget customization, a ticketing system, data security, and basic analytics. You can cancel at any time.
Team: With $41/month, you get Unlimited chat history, Full widget customization, Ticketing, Data security, Basic reporting, and Full widget customization.
Business: With this plan, you get a complete chat history, full widget customization, a support ticketing system, data security, and advanced reporting for $59/per month.
Enterprise: You will need to contact them directly for enterprise plans
Pros and Cons of Using LiveChat
Effortless customization of chat widget themes
Automated ticket creation and lead collection by chatbots
User-friendly interface
Personalization in automated messaging
Over 200 integrations supported
Lack of automated spell check for agents.
Overall, LiveChat is a valuable tool for businesses trying to improve customer service and increase customer satisfaction. Its ability to interact with customers in real-time, automate repetitive tasks, and provide detailed reports and analytics can save businesses time and increase productivity. 
6. LiveAgent
LiveAgent is an all-in-one help desk solution that helps businesses provide excellent customer service. From its integrated live chat system to omnichannel customer engagement and ticket management, LiveAgent has everything you need to ensure your customers are happy.
LiveAgent offers businesses a reliable and effective way to supply customer support on various channels, such as email, phone calls, or social media. Moreover, it comes with an efficient ticket assignment system that can route inquiries straight to the most appropriate representative based on their qualifications and availability.
It also provides customization capabilities, such as custom forms and portals, and allows agents to set up varied roles and permissions.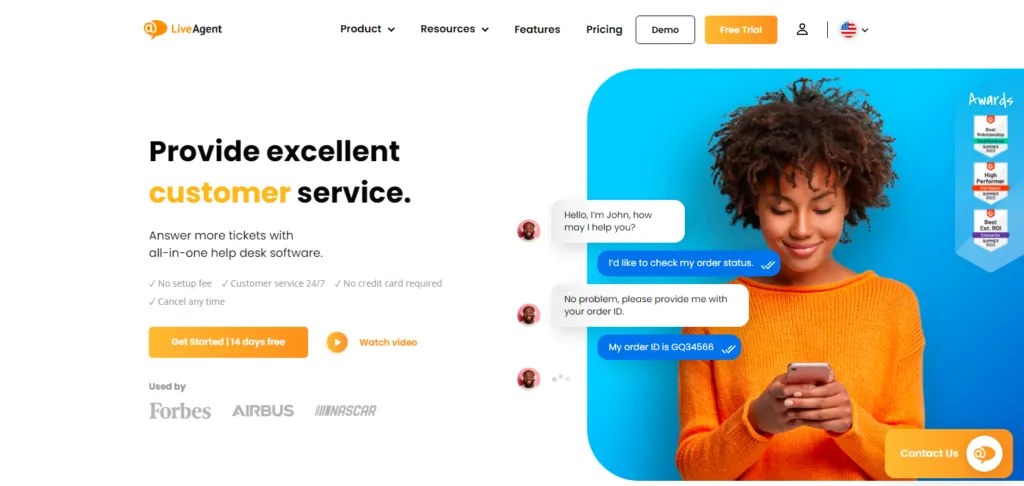 Reviews ⭐ 4.6 ✍️ 3,910
LiveAgent has received positive comments and high ratings of 4.6 from many review platforms, such as G2, SoftwareAdvice, and Capterra. It has received 1426, 1246, and 1238 reviews on these platforms.
Key Features:
Ticketing System: Enhance customer service efficiency by utilizing a single inbox to manage all inquiries, update tickets quickly and accurately, and distribute cases efficiently.
Reporting and analytics: Provide businesses with the ability to track and analyze customer service metrics such as response time, resolution time, and customer satisfaction in real-time.
Customizable ticket forms: Ticket forms are customizable so that businesses can capture the information they need from customers through the forms.
Call Center: Streamline customer calls with a unified platform by connecting devices, assigning agents, and adding call buttons to your website.
Analytics and Reports: Gain insights into team performance, agent rankings, usage statistics, customer satisfaction ratings, SLA metrics, and support channels to improve business practices, products, and services.
Data Protection: You can improve safety standards and ensure the security of customer data by offering a help desk feature. This will give your customers peace of mind knowing their information is protected.
Gamification: Utilize the latest technological advances to capture your customers' attention and keep them returning for a long time.
Customer Portal: To help customers find self-service content and onboarding support as quickly and efficiently as possible, it is critical to create customized product and brand categories based on customer needs.
Automated Replies: Utilize predefined actions to automate ticket management. Transfer tickets to departments and add tags to reduce support costs, improve response times, and organize tickets effectively. 
Support:
Support for LiveAgent is available via email at [email protected] or by phone at (421) 233 456 826 in the European Union and worldwide. In addition to the 24/7 live chat widget, users can reach out to the support team with any questions or issues through the support system.
Pricing: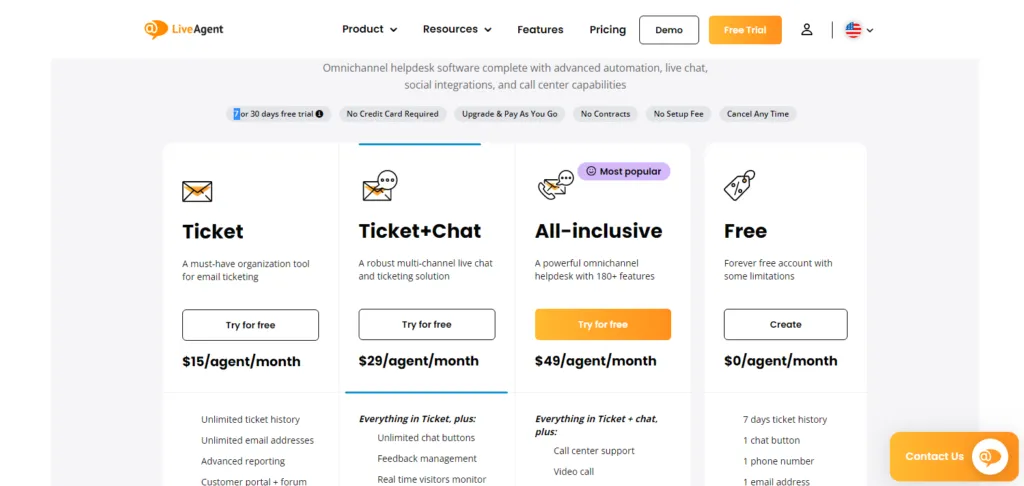 Ticket: To use unlimited ticket history, email addresses, and API integrations, you must pay $15 per month.
Ticket+Chat: Starting from $29/agent/month, you'll get unlimited chat buttons, feedback management, live visitor monitoring, and proactive chat invitations to all your agents
All-inclusive: Prices start at $49 per agent per month and include call center support, video calls, and interactive voice response (IVR) services
Free: This plan offers 7 days of ticket history, one chat button, 1 phone number, and 1 email address for you to keep track of your tickets
Pros and Cons of Using LiveAgent
Automation of repetitive tasks
Multiple channels of communication
Reporting and analytics for improved customer service
Learning curve for set-up and usage
Expensive for small businesses.
Overall, LiveAgent can be an excellent tool for businesses looking to improve customer service and increase customer satisfaction. Integrating multiple communication channels and automating repetitive tasks allows businesses to save time and increase efficiency. 
7. HubSpot Service Hub
Companies can easily manage desk systems with HubSpot Service Hub, a comprehensive customer service software program. It provides businesses with the tools to quickly and accurately respond to clients' needs, allowing for personalized assistance that results in high customer satisfaction ratings.
Plus, desk systems are automated and integrated seamlessly into service requests using this software, providing more efficient support and problem resolution. The software includes conversational tools, knowledge base integration, desk automation, reports, and feedback surveys so businesses can track customer interactions at every step.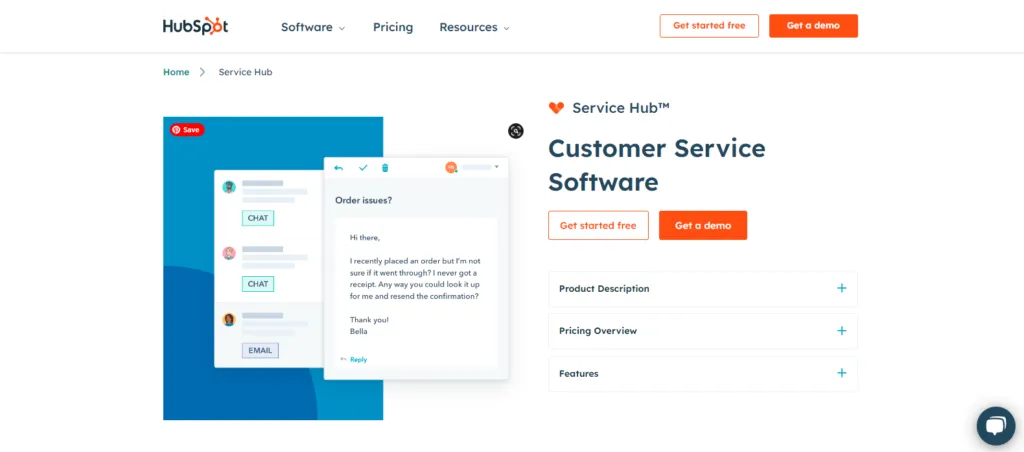 Reviews ⭐ 4.4 ✍️ 1,929
Many positive reviews about HubSpot Service Hub have been on many review platforms, including G2, SoftwareAdvice, and Capterra. This has resulted in an average rating of 4.4 out of 5 stars on these platforms. It has received 1665 positive reviews on G2, 132 on SoftwareAdvice, and 132 on Capterra.
Key features:
Live Chat: When you route customers in real-time to the right team members, you can build better customer relationships and strengthen customer loyalty.
Customer Portal: With a secure and safe portal that empowers clients to get control over their experiences, you can track and resolve tickets quickly by keeping agents and customers in the loop. 
VOIP Calling: Utilize HubSpot's VoIP software to make crystal-clear customer calls, log your calls, and track your analytics as you go.
Video Messaging: Use the chat or video attachments in emails or support tickets to improve customer service.
Shared Inbox: It allows all team members to see and manage conversations in one place, whether they communicate via live chat, email, Facebook Messenger, or any other method.
Team Management: Ensure everyone can access appropriate applications and assets by managing and viewing agent status, permissions, and availability. 
CRM Integration: It is essential to provide context to help customers succeed. Manage client interactions and details in one central location to make things easier. 
Customer Feedback Surveys: With NPS, CES, CSAT, and custom surveys, you can gather feedback to build better experiences.
Conversation Intelligence: Automatically capture call details and analyze team performance with AI-powered insights.
Forecasting: With comprehensive forecasts, you can track upgrades and renewals and better visualize the anticipated performance of your infrastructure.
Support
HubSpot Service Hub offers a variety of training resources so that users can learn how to use the product better. HubSpot Academy allows users to watch videos and become certified in the software by watching video training. Users can also contact the support team by phone at (888) 893-7922 as an essential part of the support system.
Pricing: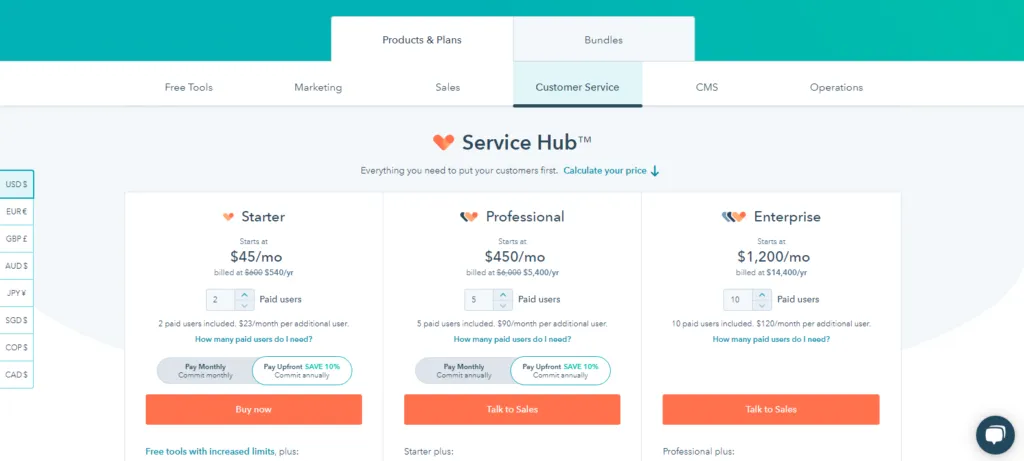 Starter: The starting price of this plan is $45/month, and two paid users are included in the price.
Professional: The price of the service starts at $450/month, with 5 paid users included in the price
Enterprise: Starting at $1200 per month, this service includes a maximum of 10 users.
Pros and Cons of Using HubSpot Service Hub
Easy-to-use interface for managing business contacts.
All-in-one functionality.
Measuring and tracking key customer service metrics.
Advanced features like a chatbot that enhances customer service.
Limited social media integrations in the free plan
Rapid increase in pricing plan costs.
Overall, it can increase customer satisfaction since the company can provide personalized and efficient support. In addition, it can increase the amount of loyalty among customers because the company can currently provide customers with a self-service portal to answer many common questions.
Related: Best Live Chat Software
Conclusion
Investing in the right help desk software is a must for any business, regardless of size. It can significantly impact your customer service and support capabilities, allowing you to offer higher-quality assistance.
To make it easier for you to find the help desk solutions that suit your needs, we've carefully evaluated seven of today's top solutions and laid out their pros/cons, prices, and features in this blog post. If you have experience with any of these programs or others not listed here, tell us why they're your favorites in the comment section below!
Related: Best CRM Software
FAQ
What is help desk software?
Help desk software is a computer program that allows businesses to manage customer support operations. It typically includes ticket tracking, managing staff assignments, and creating reports.
No, Helpdesk is not a CRM. A CRM (customer relationship management system) is software that helps businesses manage customer relationships. It typically includes customer contact information, customer service history, and reporting.
Does Microsoft have a HelpDesk application?
Yes. Office 365 has a help desk. The help desk can be reached by phone, email, or chat.
Why is it important for small businesses to have help desk software?
Help desk software allows small businesses to efficiently and effectively handle customer support requests, resulting in improved customer satisfaction and retention.
What key features to look for in help desk software?
Some key features to look for in help desk software include ticket tracking, automated responses, multi-channel support, and reporting and analytics.
How do I know which help desk software is the best for my small business?
It depends on the specific needs and requirements of your business. It is important to research and compares different software options to find the best fit for your business needs and budget.
What are some of the top help desk software for small businesses in 2023?
Some of the top help desk software for small businesses in 2023 include Freshdesk, Zendesk, Groove, Help Scout, LiveAgent, TeamSupport, and HappyFox.