Are you searching for the most suitable CRM software to optimize customer relationships and boost sales? Selecting from hundreds of options is a daunting task. However, choosing the perfect CRM platform is crucial in guaranteeing your business runs like clockwork. This comprehensive guide to CRM software has narrowed down your possibilities to just 14 top-notch solutions explicitly tailored for success.
Our comprehensive research on the 14 best CRM software solutions will provide helpful insight into features, pricing models, deployment abilities, and more – so you can decide which one is right for your organization. Read on to learn more!
14 Best CRM Software for Businesses
Here is a list of some of the best CRM solutions for small businesses that you can consider visiting the site.
1. Salesflare
As an AI-driven and cloud-based software suite, Salesflare is designed to offer a complete solution for small businesses and startups to streamline sales processes. It allows users to easily collect and track customer data, track customer interactions, and stay organized without requiring manual input. 
Users can save time and become more productive with Salesflare's automated data inputs and interaction tracking. Users can access this hassle-free Software from any mobile device, desktop computer, or even their email sidebar – so it is convenient for them.
Reviews ⭐4.8 I ✍️ 484
Salesflare has received high ratings and positive reviews across various review platforms. On G2, it has an average rating of 4.8 out of 5 based on 218 reviews. On SoftwareAdvice, it has a rating of 4.7 out of 5 based on 133 reviews. Similarly, Capterra has received a 4.7 out of 5 based on 133 reviews. Overall, Salesflare has received a significant number of positive reviews across all platforms, which indicates its popularity and effectiveness among its users.
Key features: 
Data Input Automation:  All customer and lead information, such as phone numbers, email addresses, and mailing addresses, is automatically collected, stored, and organized by Salesflare.
Contact Management: All contacts – leads, prospects, and existing customers – are managed, along with contact details and interaction histories, for easy reference.
Document Management: Documents such as contacts, notes, discounts and offers, marketing assets, and collateral can be stored and shared with teammates.
Lead Management: Users are notified of pending actions for each lead to keep them actively engaged and to increase conversion rates by tracking the contact details, interaction history, and engagement rate. 
Predictive Lead Scoring: Users can gain insight into the probability of converting a lead by using Salesflare's predictive lead scoring based on the engagement rate of a lead. 
Sales Pipeline Management: A sales pipeline can be viewed with details like the number of leads at each stage of the buyer's journey, the win-loss ratio, etc.
Quota Management: It also allows managers to assign leads in a round-robin manner or use a rule-based engine that matches leads to the most suitable team member based on different parameters, allowing them to track progress in meeting sales quotas. 
Automated To-Do Lists: Calls, meetings, and scheduled communications are synced to the calendar so users can stay on top of their to-do lists. 
Email Marketing: Customer retention and loyalty are built through email marketing with customizable templates offered by Salesflare.
Website Tracking: By tracking key metrics such as time spent on websites, pages viewed, forms filled, and more, Salesflare helps users plan their marketing campaigns efficiently.
Support 
Users of Salesflare can get assistance via live chat and email between 9 a.m. and 6 p.m. Central European Time on weekdays. You can email Salesflare support experts or submit a support ticket through the chat support portal after you log in to your account. During business hours, all tickets are answered within a couple of hours.
Pricing:
Growth: Starts at $29 per user/month (billed annually), with automated CRM data input, tracking email, links, and site visits, a LinkedIn sidebar, an email sidebar, and a mobile app, as well as 25 email discovery credits.
Pro: For $49 per user/month (billed annually), you can send workflows of multiple emails, set user permissions, create custom dashboards (new! ), and find 500 emails 
Enterprise: This plan costs $99 a month per user (billed annually) and includes customer training, data migration, and unlimited email-finding credits 
Salesflare helps businesses automate their sales process and manage customer relationships more efficiently. Its easy-to-use interface and automation capabilities can help teams save time and focus on closing deals.
2. Monday sales CRM
The Monday Sales CRM is an integrated sales management platform that allows business owners and sales teams to manage all aspects of their sales cycle and customer data in one place. The monday.com Work O.S. is built into this powerful tool that helps companies improve customer engagement and streamline their sales process.
In addition to providing sales teams complete control over their sales pipeline, the platform enables them to keep track of deals throughout the sales process and manage contacts and accounts, including customer information and interactions.
Reviews ⭐ 4.7 I ✍️ 1245
Monday Sales CRM has received positive reviews and high ratings, with an average rating of 4.7-4.8 out of 5 on various review platforms such as G2, SoftwareAdvice, and Capterra. It has received significant reviews on these platforms, with 529 on G2, 358 on SoftwareAdvice, and 358 on Capterra.
Key Features:
Sales Pipeline Management: Monday Sales CRM empowers your sales teams to take charge of their pipelines and monitor deals swiftly as they progress through the cycle.
Contact and Account Management: The platform facilitates teams to manage customer interaction efficiently with account and contact information in one place. This ensures that critical data can be quickly accessed and accurately tracked for further analysis.
Post-sales Processes and Sales Enablement: This solution simplifies post-sales processes and enablement, making managing customer interactions and follow-up activities effortless.
Customizable Dashboards: The ability to build no-code customizable dashboards allows the users to easily see the whole picture, such as sales performance and customer engagement.
Integration: Seamlessly integrating with the most popular sales apps and tools, Proof allows teams to easily connect their other tools for automated tasks without the hassle of manual labor.
Account Alerts: This platform allows businesses to stay informed about their accounts by setting up customized alerts for status changes. By doing this, they can easily keep track of important events related to their accounts.
API: Monday Sales CRM offers an incredible API (Application Programming Interface) to permit companies to link the platform with other tools and systems, including marketing automation, project management, and data analysis. With this powerful integration tool readily available, you can optimize workflows throughout your business in no time.
Behavioral Analytics: The Software provides behavioral analytics to help businesses understand customer behavior and make data-driven decisions.
CRM: As a CRM platform, it allows businesses to manage all aspects of their customer relationships, including contact management, lead generation, and sales tracking.
Customer Database: The platform provides a centralized customer database to store all customer data, including contact information, interaction history, and account status.
Support:
With Monday sales CRM, users can take advantage of a comprehensive support system. The platform provides various support services to ensure users get the information and assistance they need to use it effectively. It is possible to get support by email, phone, chat, FAQ, and forum.
Pricing:
Individual CRM: Up to two seats are accessible for as long as you want.
Basic CRM: For only $10 a month, you can organize your team's leads, contacts, and deals.
Standard CRM: $14 per seat per month. Automate sales processes as well as streamline communication with your customers.
Pro CRM: Comes with 24 seats for $24 per month and gives you insight into your entire sales cycle and forecasting capabilities.
Enterprise CRM: You will have to contact them if you are interested in an enterprise plan.
Monday sales is a comprehensive CRM system that can streamline businesses' sales processes and improve customer engagement. A business looking to improve its sales performance can benefit from its ability to manage all aspects of the sales cycle and customer data, customizable dashboards, and integration capabilities.
3. Close 
Close is a CRM (customer relationship management) Software for small and medium-sized businesses (SMBs). The Software is designed to help SMBs turn more leads into revenue by providing various productivity tools such as task reminders and a Power Dialer. 
With these tools, teams can reach more leads, follow up more frequently, and close more deals. The Software also features a single timeline for ultimate team transparency and built-in call coaching to help sales leaders coach their reps to double their performance. 
It also allows managing emails, Calls, and Text to leads, all in one platform without the need for add-ons. It's a solution focused on the needs of SMBs and scaling teams, and they claim that their customer will always feel fully supported.
Reviews ⭐ 4.7 I ✍️ 639
This CRM software has received positive ratings and reviews, averaging 4.6 out of 5 on platforms such as G2, SoftwareAdvice, and Capterra. It has received many reviews on these platforms, with 340 on G2, 150 on SoftwareAdvice, and 149 on Capterra. This software can help streamline, automate, and improve your marketing team's performance.
Key features:
Lead management: Provides businesses with the ability to track and organize leads throughout the entire sales process
Contact management: It is essential to have a central location that stores and organizes all information related to customers and leads
Custom fields: There is the ability to create custom fields to store specific information that is important to the business, such as customer information
Multichannel inbox: In one place, you can manage a wide range of communication channels, such as emails, phone calls, and SMS messages
Pipeline management: Track the progress of deals through the sales process and forecast future sales
Task management: Assigning and tracking tasks related to specific deals or leads
Email tools: Includes email tracking and prewritten email templates
Phone call tools: Ability to log calls and notes in the contact record
SMS tools: Ability to log text messages
Analytics and reporting: Provide the sales team with a better understanding of their performance and make data-driven decisions.
Integrations: Allows integration with popular apps such as Google, Zapier, and Slack to streamline workflow and better connect with other tools.
Support:
Close Software provides a fast and efficient support system to help users with issues or questions. This support system is designed to manage multiple communication channels, including email, live chat, messaging, and self-service. This allows users to reach out for help in the way that is most convenient for them. 
Pricing:
Starter: Includes a monthly fee of $25 per user with all the core features you'll ever need, including Store Leads, Contacts, Opportunities, Email and SMS templates, Pipeline and activity reports, Zapier integrations, and API access to the Marketplace.
Basic: Starts at $59 Per user/month, billed annually with All Starter features, plus Unlimited Leads, Contacts, Opportunities, Custom Activities, Leaderboards, Roles, and Permissions for each user
Professional: Prices start at $89 per user per month, billed annually, and include all of the basic features, plus the following: Sales automation (sequences), multiple pipelines, bulk email, power dialler, and more
Business: Starting at $129 per user/month, billed annually, plus custom reporting (Explorer), custom objects (beta), Call coaching, predictive dialer, and voicemail drop.
Close is a sales automation software that helps businesses increase efficiency, manage customer relationships, and streamline sales processes. Close's automation capabilities and valuable insights can help businesses close deals faster, saving time.
4. ActiveCampaign 
ActiveCampaign is a powerful CRM software that can help businesses automate and streamline their marketing and sales efforts. As a result, sales and marketing teams can manage customer relationships efficiently. Businesses can improve their sales performance and increase revenue by leveraging their automation capabilities, machine learning, and consultant directory.
It also provides a wide range of capabilities, including automation, lead scoring, contact segmentation, and machine learning, as well as a consultant directory, which helps businesses find experts to help them optimize their marketing and sales efforts.
Reviews ⭐ 4.6 I ✍️ 13,646
With an average rating of 4.6 out of 5, ActiveCampaign receives positive ratings and reviews on G2, SoftwareAdvice, and Capterra, with 9683, 1951, and 2012 reviews, respectively, on these platforms.
Key features:
Dynamic Content: It is essential to keep your email content fresh and personal by automatically changing it based on the lead status.
Segmentation: Adding a specific group of contacts to your list of contacts will make your emails appear more personal and relevant to them.
CRM: The tool allows you to create tasks, update deals, and nurture leads automatically. You can score leads, pass highly qualified leads to sales, and integrate with popular email providers. 
Advanced Reporting: Among the platform's numerous features are custom KPIs, sales reporting, tag counts, and robust segmentation. Split testing can also be applied to achieve email opens, clicks, and purchases. 
Fast Training: The team has access to a series of powerful webinars and user documentation to assist them in getting up to speed with the training process.
Migration Services: There are several types of migration services available, including contact list and tag import, form recreation, workflow recreation, and email template recreation.
Robust Integrations: It is compatible with a wide range of applications, including PayPal, Stripe, Shopify, WooCommerce, BigCommerce, Facebook, and Google Analytics, among over 250 others.
Audience Segmentation: The tags can be applied to segments based on the purchase history of the segment, the geographic location, the time since the last purchase, and the segment's interest.
Geo-Tracking: You can track the location of your contacts automatically so that you can send geo-targeted emails to them.
Support
Businesses can get help from ActiveCampaign through managed email delivery and one-on-one chats. In addition to webinars, user support documentation, and one-on-one training for Plus, Professional, and Enterprise users, the company also provides phone support.
Pricing:
Lite plan:  Starting from $9/month, you'll have access to Drag & Drop Email Designer, Marketing Automation, 24/7 Chat Support, and 1 User with this service.
Plus plan:  For $49/month, you'll get Landing Pages, Facebook Custom Audiences & Lead Ads, Lead Scoring, and 3 users.
Professional plan: With this plan, you'll get Predictive Sending, Split Automations & Automation Map, Salesforce & Microsoft Dynamics 365 Integrations, and 5 Users.
ActiveCampaign is a powerful CRM software that helps businesses automate and streamline their marketing and sales efforts. Various features make managing customer relationships easy for sales and marketing teams. Businesses can improve sales performance and revenue with automation, machine learning, and a consultant directory.
5. Pipedrive 
Pipedrive is a customer relationship management (CRM) software explicitly focused on helping sales teams manage and optimize their sales process. The Software offers a range of features designed to help businesses close more deals and increase revenue.
With Pipedrive, businesses can organize and prioritize leads, get a clear picture of their sales pipeline and forecast future deals, automate repetitive tasks such as follow-ups and scheduling appointments, access analytics to monitor team performance, pipeline, and forecast future opportunities, use the mobile app to access the CRM while on-the-go.
Reviews ⭐ 4.5 I ✍️ 6840
With an average rating of 4.5 out of five, Pipedrive has received positive reviews from various review platforms. It has also received significant reviews, from G2 with 1594 reviews, SoftwareAdvice with 2625 reviews, and Capterra with 2621 reviews.
Key features:
Lead Management: It offers a product catalog, lead import tools, deal probability, and visual pipelines. A color-coded feature, rotting, identifies which leads need follow-up or are better pursued. 
Contact Management: Sync or import contacts from Microsoft or Google. A contact is stored as an organization or a person in the system. They can be attached to a deal. Keep track of interactions to clarify where things stand. Add Google Maps integration to view contact locations. 
Web Forms: Create leads embedded on a company's website or via emails and social media channels. Customize fields to capture personal details specific to your company. 
Leadbooster Chatbot: Streamline lead qualification. The route leads to custom destinations, such as stages or sales reps. Calendar syncing lets leads book meetings with sales reps. 
Activity Management: Premade list of activity types can be configured based on company needs and includes a scheduling tool and reminders.
Sales Forecasting: Manage open deals effectively by accessing and customizing different views: 
Integration: Integrations with dozens of other apps, including Asana, Zapier, Automate.io, LinkedIn, Zendesk, Mailchimp, Hubspot, Jira, Salesforce, Dropbox, and various G Suite tools. 
Marketplace: Thumbs-up/thumbs-down ratings and user reviews help gauge how an app performs. 
User Access Control: Manage user permissions and decide how users log in, whether they use two-factor authentication or a single sign-on (SSO) platform. Receive alerts when unrecognized devices log in. 
Support:
The support service is available to users at the following hours: in English and Portuguese, 24/7; in German and French, Monday through Friday, 7 a.m. to 5 p.m. UTC; and in Spanish, Monday through Friday, 9 a.m. to 10 p.m. UTC. Users can connect with the support service by email.
Pricing:
Essential Plan: Starting at $9.90 per month, this plan offers customizable pipelines, lead and deal management, data import/export, basic meeting scheduling, and a map of your contacts.
Advanced Plan: Starting at $19.90 per month, includes custom email templates and signatures, two-way email sync, group emailing and scheduling, and email open and click tracking.
Professional Plan: From $39.90 per month with custom fields and reports, revenue forecast reports, team management tools, and team goals.
Enterprise Plan: Plans start at $59.90 per month and come with unlimited team management, unlimited security dashboards, unlimited report limits (per user), and unlimited permissions per user.
Pipedrive is an excellent CRM solution for sales teams looking to streamline and manage their sales process. With its lead management, forecasting, and automation features, businesses can close more deals and increase revenue. However, other options may be more appropriate for businesses requiring more features and integrations in a CRM solution.
6. Freshsales 
As a CRM (customer relationship management) Software, Freshsales offers businesses of all sizes the ability to streamline their sales process with its sales optimization tools.
In addition to offering a variety of features to businesses to manage leads and deals effectively, it is also a sales management and customer engagement platform offered by Freshworks. Among them is an AI-based lead scoring system, which prioritizes leads based on their engagement level, a chronological timeline of customer interactions, and a built-in phone and video call feature. 
Reviews ⭐ 4.5 I ✍️ 2138
Freshsales has received positive ratings and reviews on G2, SoftwareAdvice, and Capterra, with 1024, 557, and 557 reviews on each of these platforms, with an average rating of 4.5 out of 5.
Key Features:
Smartforms: Create new leads based on social media profiles, photos, and website activity after a visitor signs up on a web form.
360-Degree Customer View: You can access customers' social profiles, products purchased, websites, interactions, and appointments from a single interface.
Velocity Reports: Find out how long it takes to convert qualified leads into customers and what stages sales reps get stuck in.
Revenue Analytics: Utilize detailed revenue metrics to identify top performers, successful campaigns, and leading territories.  
Custom Reports: Using custom reports with tables and charts, track sales managers' performance and sales figures—schedule reports to be delivered on specific dates. 
Auto Profile Enrichment: Adding photos, company details, and social profiles to leads, contacts, and accounts automatically.
Email Tracking: Marketing efforts can be optimized by getting real-time notifications of email opens and clicks.
Deal Status: Monitor deal value and the number of deals under review to better understand deal status.
Third-Party Integrations: Through Zapier, you can connect Freshsales to Google Sheets, MailChimp, and more. 
Mobile App: Apps for Android and iOS allow you to record voice notes, move leads through pipeline stages, check in at meetings, view calendars, and log calls.
Support:
Getting the most out of Freshsales is easy with its comprehensive support system. A dedicated support portal contains FAQs, videos, extensive help articles, webinars, and guides. For users with more complex or specific issues, they offer several channels of support. Support is available via email and phone. 
Pricing:
Free: Organize your sales team and engage leads fast by taking advantage of built-in chat, email, and phone communication tools.
Growth: Starting at $15 a month, this package offers powerful CRM automation to help growing sales teams avoid repetitive work and spend more time selling 
Pro: Starting at $39 per month, this package comes with everything you need to manage multiple sales teams and grow revenue like a pro
Enterprise: CRM your way, with advanced customization, governance, and controls starting at $69/month
Freshsales is a versatile CRM platform that can help businesses streamline their sales process. Features like lead scoring, sales tracking, and email integration make it easy to manage customer interactions and stay organized. Although the third-party integration could be better, its easy-to-use interface and customization options make it worth considering for businesses looking to improve their sales process.
7. HubSpot Sales Hub
HubSpot Sales is a software solution offered by HubSpot that helps businesses streamline and optimize their sales processes. It is built on the HubSpot CRM platform and is designed to help sales teams be more productive, efficient, and effective in their work. 
The Software can help businesses by providing them with a centralized place to manage their sales activities, allowing them to track where each lead is in the sales process and the next steps. It also helps to track open email rates, click-through rates, and reply rates, which can give businesses insight into what type of messaging resonates with their target audience.
Reviews ⭐ 4.4 I ✍️ 10,491
The HubSpot Sales Hub app has received positive reviews from various review platforms, with an average rating of 4.4 out of five. It has also received significant reviews, with 9774 on G2, 358 on SoftwareAdvice, and 359 on Capterra.
Key features:
Sales Automation: Using timed email templates and sequences, users can optimize results by sending automated follow-ups to prospects and customizing messages with contact details and company details. 
Email Tracking:  It alerts users when prospects click on links within an email or download essential documents like proposals. Email opens, booking meetings, answering calls, and sales will increase with personalized outreach for engaged prospects and automated outreach for prospects who don't engage. The team can also quickly see a lead's history and track which documents, emails, and links they have opened. 
Contact Insights: Users can send personalized, context-based messages based on detailed contact information by tracking prospects' recent emails. 
Prospect Management: With this feature, sales reps can focus on interested prospects rather than chasing down cold leads, using visitor and page view data. Email digests and revisit notifications keep users informed of new visits, geography, and company size with filters. 
Email Templates: Users can create templates for most repetitive sales emails through a library or create them from scratch. With real-time metrics like open and click rates, you can optimize emails and discover time-saving, high-performing templates based on customer behavior. 
Call Tracking: A user can use this feature to prioritize their calls and set up queues based on engagement and contact property data throughout the day. 
Email Scheduling: From Gmail's inbox, users can schedule emails to be delivered at the right time. Since drafts are automatically saved, users can cancel or make changes at any time. 
Customizable Pipelines: Sales dashboards provide visibility into progress toward monthly activities, quotas, and pipeline value and health, as well as tracking progress toward quotas. 
Meeting Scheduling: Prospects can automatically schedule 1:1 and group meetings with sales reps. The meetings sync to Google or Office 365 calendar, allowing prospects to see sales reps' availability. 
Conversations: Chats and Facebook Messenger can be customized with brand colors and connected to team emails so sales reps can connect with prospects and customers. Using filters, incoming emails can be assigned to a specific individual or distributed evenly. 
Chatbots: It helps qualify leads, book meetings, answer common support questions, and automate and scale conversations using chatbots. 
Support:
Hubspot's comprehensive support system aims to keep users successful in their marketing and sales efforts. It is possible to find solutions and tips in the community, use the knowledge base and reference documentation, collaborate with partners and participate in User Groups. Professional and Enterprise accounts can access phone and email support for more direct support. Besides video training, Hubspot offers courses, certifications, and training resources for users. 
Pricing:
Starter: The monthly subscription price for this package is $45 and includes two paid users
Professional: With this plan, you will receive 5 paid users, and the plan's cost starts at $450 per month.
Enterprise: This plan starts at $1,200/month with 10 paid users included in the price.
HubSpot's Sales solution can help businesses streamline and automate their sales processes, boost sales rep productivity, and gain valuable insights into customer behavior and sales performance. Instead of spending time on administrative tasks, sales teams can concentrate on selling and closing deals with this Software. 
8. Streak
Streak CRM is a tool that helps businesses manage their sales, customer relationships, and other business processes. It is integrated directly with Gmail, from which users can perform everyday sales tasks within Gmail. 
As the Software facilitates pipeline management, users can track leads, follow up, collaborate, and close deals, significantly increasing the productivity of salespeople and business owners who are always on the go. This makes it very convenient for salespeople and business owners who are always on the go, as they can manage their sales process from one place.
Reviews ⭐ 4.5 I ✍️ 1083
Streak has received positive reviews and high ratings, with an average rating of 4.5 out of 5 on various review platforms such as G2, SoftwareAdvice, and Capterra. It has received significant reviews on these platforms, with 200 on G2, 442 on SoftwareAdvice, and 441 on Capterra.
Key features:
Pipelines: The Professional and Enterprise plans of Streak CRM allow you to create unlimited pipelines and rows (called items) within each pipeline.
Customizable Workflows: Using the Software, you can add, delete, and move pipeline stages, and color-code them to make tracking easier. 
Alerts: A view tracking feature notifies you when a message has been read. In your Sent folder, you can sort emails based on whether they have been viewed. 
Mail Merge: This feature lets you personalize email elements like company info or recipient name through data pulled from your pipeline. It also offers a preview mode that you can use to check your emails before sending them. 
Send Later: Emails can be scheduled to be sent at a predetermined time and edited or canceled from the draft view.
Snippets: The feature allows you to create a library of the most-used emails you can reuse whenever necessary.
Reporting: You can generate reports based on the data in your pipelines with this feature, available on Professional and Enterprise plans. 
Permissions: Owners of Enterprise and Professional plans can control who views and edits information in the system. Owners act as administrators, editing roles, pipelines, and other settings. Members can only view pipelines and contacts and can't change team members or user roles. 
Support:
Users with Professional or Enterprise plans can access essential support through email, their primary communication method. Support team members can reach out to the support team by emailing the support team email address and receive assistance with any problems or issues they may encounter while using the Software. 
Pricing:
Free:  As part of the package, you will receive Basic CRM 500, Mail Merge 50, Email Tracking, and more
Solo: With $15, you can get Basic CRM 5000, Mail Merge 800, Link Tracking, and much more.
Pro: For $49, you will be able to get Advanced CRM, Mail Merge 1500, and Shared Pipelines all under one roof
Pro+: You'll receive Advanced reports, Automations, and the ability to archive users for only $69
Enterprise: For $129 per month, you'll get access to Custom roles, Data validation, Priority support, and more
Streak CRM software is a powerful tool that can help businesses streamline their sales and customer relationship management processes. It is a valuable asset for any business that wants to improve its customer relationships and sales process because it integrates easily with Gmail and has flexible pipeline management capabilities.
9. FreeAgent CRM
The FreeAgent CRM software is a customer relationship management tool. In addition to organizing customer information on one dashboard, CRM allows team leads and sales representatives to collaborate more effectively and achieve targets. It can also be used to track performance and workflows.
In addition to improving operations, marketing, project management, sales, and customer service, teams can use it to manage and work on MQLs, SQLs, new opportunities, to-dos, tasks at hand, reviews, and more.
Reviews ⭐ 4.5 I ✍️182
FreeAgent CRM has received positive reviews on various platforms. It has an average rating of 4.5 stars, 40 positive reviews on G2, 71 on SoftwareAdvice, and 71 on Capterra. Users praised its ease of use, functionality, ability to streamline sales processes, robust feature set, and user-friendly interface. However, it's important to note that this rating is based on 182 reviews, and the ratings may change over time.
Key Features:
Work Management: It captures all digital customer interactions across every channel and organizes that information for quick and easy access for users. 
Real-Time Integrations: Gmail, Office 365, Google and Office 365 calendar sync, Twilio for outbound call capturing, and two-way integration with Mailchimp makes it easy to use. 
Task Prioritization: Its personalization lets users easily track emails, calls, notes, and meetings in one dashboard. Prioritized action lists keep users focused on what is most important. 
Automation: You can customize rules and A.I. to prioritize actions, receive automated reminders on overdue actions, schedule meetings, and configure actions based on alerts.
Unified Dashboard: It automatically logs and organizes team emails, calls, and meetings, so users don't waste time doing tedious things. 
Activity Timeline: The platform records contacts, tasks, tickets, comments, and attachments so users and their teams can keep track of work in a fun, flexible, and rewarding way. The platform enables users to tag and assign tasks to team members so that they can stay on the same page. 
Mobile App: The app includes a customer activity timeline, quick links to records, and the ability to work from anywhere. 
Process Automation: Manage tasks with notifications, escalations, reminders, and assignments—set triggers, conditions, and rules to support multipath workflows. 
Pre-Built Workflow Templates: Optimize drip campaigns, ticket management, quote approvals, and I.T. service desk to address specific needs. 
Real-Time Workflow Monitoring: Inform stakeholders about work progress through critical milestones by monitoring visual workflow activities in real-time. 
Integration-Driven Workflows: Automate repeatable tasks and integrate data flow between systems to ensure business agility.
Support
Besides providing step-by-step instructions to beginners, FreeAgent CRM also offers technical support. To contact FreeAgent CRM's support team, users must log in using their registered I.D. Members can access the support team via a dedicated login. Here is a paragraph about FreeAgent CRM support. Write a paragraph about FreeAgent CRM's support system.
Pricing:
Starter: With this package, you will become a part of everything you need to run a successful business for only $35 per month per user, billed annually.
Professional: This package is ideal for teams who want more control and customization, with prices starting at $75 per user/month billed annually.
Enterprise: The enterprise version of this package costs $100 per user/month billed annually and provides enterprise-grade features with a completely extensible CRM.
FreeAgent CRM helps companies streamline their sales processes and manage their customer relationships more efficiently through its easy-to-use interface and automation capabilities.
10. Capsule CRM
Capsule CRM is a cloud-based customer relationship management software designed to help small to medium businesses foster customer relationships. It offers a range of features that allow businesses to manage and track customer interactions, sales activities, and customer data in one place. 
With the Software, businesses can enter contact information, pipelines, goals, and budgets and then build detailed, personalized pipelines with full customer details. With this Software, businesses comprehensively view their customer interactions, sales process, and customer data in one place.
In addition to email marketing, website personalization, social media service, and automated reminders, the Software offers several features that promote customer relationships.
Reviews ⭐ 4.4 I ✍️ 388
Capsule CRM has received positive reviews and high ratings, with an average rating of 4.4 out of 5 on various review platforms such as G2, SoftwareAdvice, and Capterra. It has received many reviews on these platforms, with 88 on G2, 150 on SoftwareAdvice, and 150 on Capterra.
Key features:
Contact Management: Stores and tracks information corresponding to all contacts, including opportunities, leads, vendors, and customers. Contact and communication information is shareable on a company-wide, team-wide, and individual level, making collaboration seamless. 
Document Management: Enables publishing, storing, editing, and sharing documents like agreements, proposals, and more via a central platform. 
Tasks and Calendar: Manages and tracks tasks and activities that get synced with the calendar to manage daily schedules. Routine tasks can be set on periodic repetition, and processes can be defined using interlinked tasks. 
Sales Pipeline: Provides a complete view of the pipeline and manages sales opportunities by tracking critical stages, values, and probabilities of closing a deal. 
Reports: Monitors every aspect of the sales cycle, from sales data to pipeline insights and activity stats, to aid data-driven decisions. Rule-based success factors support generating revenue forecasts. 
Teams & Roles: Allows creation of teams, lead assignments,s and new opportunities to designated sales representatives for project management. Managers can control access based on the user, user role, and groups. 
Customer Support and Case Management: Offers a dedicated customer support portal that tracks and resolves issues. Create and share a knowledge base to address common questions by customers and manage call center activities for faster response time and higher customer satisfaction.
Support:
Support for Capsule CRM is provided through a variety of channels. Email and tickets are the primary methods of support. Email support can be reached at support@capsulecrm.com, Monday through Friday, during business hours. The company also provides support guides at its Support Center in case of an issue. It contains documentation, tutorials, and FAQs that can help users resolve problems.
Pricing:
Enterprise: The cost of Enterprise starts from $54 per user per month and includes everything in Teams, 200,000 contacts, 40GB storage per user, and 500 email templates for each user
Teams: Starts at USD 36 / User per month and includes everything in Professional, 100,000 Contacts, and 20GB of storage for each user.
Professional: With 50,000 contacts and 10 GB of storage per user, it starts at just $18 per user per month.
Capsule CRM is an effective and user-friendly software solution for managing customer relationships. Companies of all sizes can use it to track and manage their sales and customer relationships. Such a wide range of features enables it to provide helpful insight into the sales process and customer interactions.
11. Zoho CRM
The Zoho CRM software helps organizations manage customer interactions and improve sales performance by helping them manage their customer relationships online. In addition to lead management, marketing automation, contact management, forecasting across multiple channels, and territory management, it also incorporates several other features.
With conversational A.I., the platform predicts lead and deal success, offers a voice assistant, and suggests activities that can be automated based on behavior analysis for users. The tools provided by this can help sales teams manage leads more effectively and efficiently, thus helping them close deals more efficiently.
Reviews ⭐4.3 I ✍️ 8387
There have been positive reviews and high ratings for Zoho CRM on various review platforms, including G2, SoftwareAdvice, and Capterra, with an average of 4.3 out of 5. G2 has received 2253 reviews, and Capterra reviews 6134 reviews.
Key features:
Sales Force Automation: Lead generation and lead routing, data entry, email notifications, field updates, and other tedious sales tasks can be automated with Zoho CRM.
Process Management: With the blueprint feature, you can log offline processes such as order management or deal closure, ensuring consistency across your sales team. 
Multichannel Support: Using the solution, you can send emails directly from the CRM, stay up-to-date on relevant conversations on social media, and automate lead generation. 
Sales Enablement: The sales reps can access a suite of tools. The app features financial tools like quotes and purchase orders (via Zoho's Finance Suite), a document library, integration with Zoho's presentations and document creation apps, and partner and vendor portals. 
Performance Management: You can monitor how a product, a team, or a region is performing with forecasting tools, while territory management lets you group customers based on common characteristics. Sales reps benefit from friendly competition through gamification elements.
Marketing Automation: Using Zoho CRM, marketing efforts can be automated. Segment customers based on criteria, automate lead nurturing, create code-free web forms, scan and upload business cards, and analyze campaign performance. 
Team Collaboration: You can integrate chat functionality to facilitate everyday tasks and automatically send real-time sales updates with the Feeds feature. 
Third-Party Integrations: Over 50 third-party apps allow Zoho CRM to connect with collaboration, document management, live chat, telephony, messaging, events, quotes, document signing, marketing automation, social media, storage, and more. G Suite, Office 365, Slack, Shopify, Mailchimp, Facebook Ads, QuickBooks, GoToWebinar, DocuSign, Dropbox, Zapier, and more. 
Security: Data is stored in secure vaults, you can choose where your data is stored (U.S. and E.U. data centers), and fields are encrypted. 
Support:
Live chat and toll-free calls are available for customer support with Zoho CRM. Despite 24-hour response times in the Basic plan, Enterprise plans include advanced features like product onboarding, technical account managers, and an hour-long response time. Customer support team and self-service options are available on the platform, as well as a searchable knowledge base of articles, user community, documentation, developer guides, FAQs, tutorials, webinars, and eBooks.
Pricing:
Standard: Yearly price starts at $14
Professional: Prices start at $23 per year
Enterprise: Pricing starts at $40 per year
Ultimate: The yearly price starts at $52
12. Thryv
With Thryv, small businesses can manage and streamline their operations efficiently and effectively. It offers all-in-one business management features that support appointment scheduling, client communication, and billing, making it a handy tool for startups and established businesses. 
Small businesses can easily schedule appointments, communicate with clients, and receive payments with Thryv, making it the perfect choice for meeting customer needs and scaling their operations. In addition to offering marketing tools to improve ROI and customer experience, the Software also includes management of online listings, review and rating evaluation, and social media relevance analysis.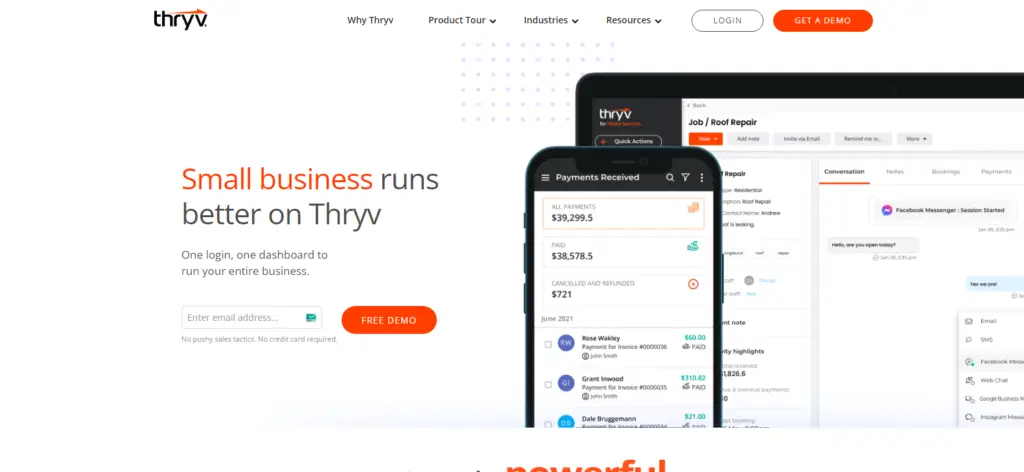 Reviews ⭐4.3 I ✍️ 1114
Thryv has received positive reviews and high ratings on various review platforms, including G2, SoftwareAdvice, and Capterra. G2 has received 224 reviews, SoftwareAdvice 445 reviews, and Capterra reviews 445 reviews.
Key features:
Customer Relationship Management: With the help of auto data enrichment, users can track leads, engage them, and provide personalized communication spaces to customers. 
Sales and Payments: Invoices can be processed, and payment reminders can be sent in quoted format to encourage on-time payments.
Customer Communication: Communication can be centralized, follow-up reminders can be set, and correspondence can be assigned to staff members.
Appointment Booking: Booking appointments, managing payments, and synchronizing contacts, dates, and projects are all features offered by the platform.
Reputation Management: One dashboard allows users to generate first-party reviews and manage their brand's online reputation by responding to reviews and inquiries.
Marketing Automation: By using templates, users can automate targeted marketing campaigns. Maintaining customer relations is streamlined and straightforward, with reminders, ready-to-send messages, and emails. 
Online Presence: It allows users to load listings across Google, Facebook, and over 55 other popular search engines, as well as create customizable video assets for businesses to increase awareness and engagement. 
Document Storage & Sharing: Document changes can be tracked, preventing the hassle of sending and receiving updated versions. Users can restrict access to sensitive information and documents. 
Social Media: Using over 525,000 prewritten posts derived from the competitor analysis, users can get inspired and clone the messages for their businesses. 
Support:
To resolve any issues that users may encounter while using Thryv, the company offers a variety of support options. The primary method of support is by email and telephone. You can reach out to Thryv's support team by filling out a support form on the website or emailing. Thryv also offers a 24/7 customer service hotline.
Pricing:
You will have to get a demo.
Thryv is a powerful software solution that can help small businesses streamline their operations and improve their productivity. In addition to automating many routine tasks, it offers valuable insights into a business's financial health. However, some advanced features may require additional fees, and larger companies may need help to afford them.
13. Keap 
Keap automates and streamlines small businesses' sales and marketing activities through customer relationship management (CRM) and marketing automation software. Businesses can use various tools to capture, manage, and nurture leads and track customer interactions and data throughout their entire customer lifecycle.
In addition to its marketing automation capabilities, Keap helps businesses engage and convert more prospects by automating repetitive tasks. Business owners can use this product to automate lead nurturing and segment their customers. In addition, Keap integrates with email marketing platforms such as Mailchimp and Constant Contact.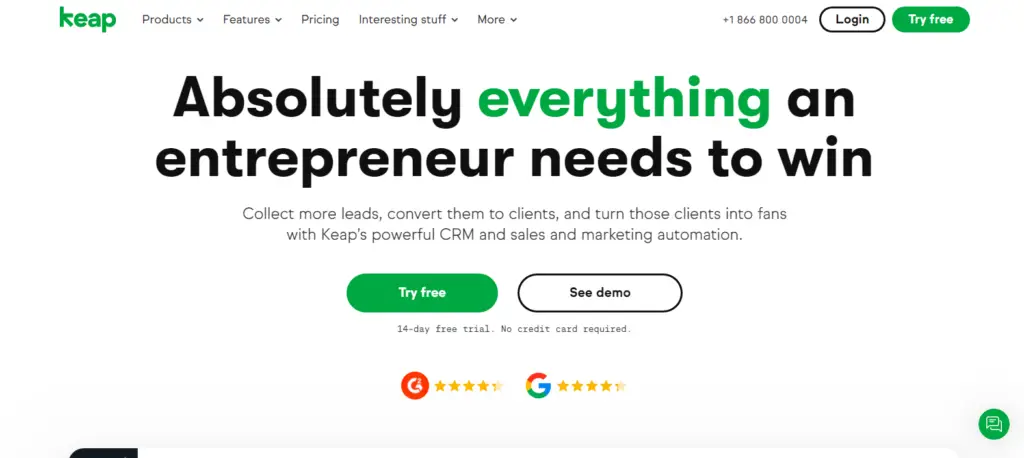 Reviews ⭐4.2 I ✍️ 3745
Known for its campaign management, email marketing, and lead management features, Keap is a popular business automation tool praised for streamlining processes. Keap has earned a strong reputation as a practical productivity booster with an average rating of 4.2/5 on G2, 4.0/5 on SoftwareAdvice, and 4.2/5 on GetApp.
Key features:
Appointment Scheduling: In addition to setting up calendars, sharing links, and accessing customer data, you can also change schedules on the fly and receive reminders on the go.
Lead capture and management: Leads can be captured, managed, and nurtured in this tool using various sources, such as web forms, landing pages, and social media.
Marketing automation: Lead nurturing, and customer segmentation workflows are among the automation tools offered by the platform to help businesses automate repetitive tasks.
Email marketing: Businesses can manage and track their email campaigns using popular email marketing platforms like Mailchimp and Constant Contact.
CRM: This CRM solution manages to lead and contact management, tasks and deals, and sales forecasting.
Mobile app: Mobile apps allow businesses to access and manage their accounts on the go.
Automated Payment: Update expired cards and choose a frequency that works for you – daily, weekly, monthly, or yearly. 
Customizable Dashboard: Organize and track leads and existing clients with the dashboard, which provides accurate and complete data.
Integrations: Syncs contact records with every message sent and received. Integrates with Zapier, BigCommerce, WordPress, AppointmentCore, and more.
Support
This company offers support options, including an online user community, a help center, 24/7 chat, phone support, and workshops and webinars. Keap also may provide an email and a ticketing system.
Pricing:
Pro: There is a plan starting at $129/month in which you will get 1500 contacts and 2 users for free
Max: The price for this plan starts from $199/month, which will provide you with 2500 contacts and 3 users.
Businesses can use Keap to save time and money and manage and track all their marketing and sales activities in one place, enabling them to save time and money by automating repetitive tasks. Some of the features of Keap will facilitate this process by automating repetitive tasks.
14. 20NINE
20NINE is an indispensable tool for small businesses, providing them with the capacity to streamline their operations through a plethora of powerful modules. From CRM and doc management to e-signatures, marketing automation tools, communication tracking software, recruitment services, and customer support – 20NINE has it all!
Its integrations with Office365 & Google Workspace and popular apps such as WordPress, Fortnox, dropbox, Mailchimp & Teams make this service even more attractive and convenient. 20NINE's mission is to offer small businesses a one-stop shop for optimizing their workflow.
Their unified platform provides an array of tools that can help streamline processes and maximize productivity, giving companies the power to handle all operations from just one place. With 20NINE, it has never been easier – or more efficient – for businesses to get everything done in less time.
Reviews ⭐ 4.9 I ✍️ 82
20NINE CRM has received high ratings in its reviews on various platforms, with an average rating of 4.9 stars on Capterra, G2, and Software Advice. The reviews have been highly positive, praising the software's functionality and ease of use.
Despite the high ratings, it is important to note that the number of reviews is relatively low, with only 82 total reviews on these platforms. Therefore, it is still too early to consider 20NINE as the best CRM in the market, as more reviews and user feedback are needed to confirm its performance.
Key features:
Lead Management: A lead management system empowers businesses to quickly import and manage leads, monitor interactions and activities, and easily convert leads into sales.
Pipeline tracking: Discover hidden opportunities and monitor the progress of sales deals with visibility into the entire selling process.
Email tracking: Uncover valuable insight into your customer's communication patterns and preferences by tracking email interactions. Monitor lead and customer engagement through every step of the sales cycle for a more informed approach to connecting with them.
Automated Workflow: Companies can optimize their operations and simplify arduous, repetitive processes with automated workflows. This will streamline workflow management while enhancing efficiency.
Customizable: The Software can be customized to meet the specific requirements of the business to meet its requirements.
Mobile access: Mobile access is a mobile application that enables businesses to manage their sales processes anywhere, anytime.
Contact Database: Utilizing this platform, users can conveniently store and organize contacts' information, such as names, addresses, phone numbers, and emails of both present and prospective customers, in a single location.
Contact Management: This platform offers practical tools to effectively manage interactions and conversations with customers, including task control, scheduling capabilities, and taking notes.
Drag & Drop: Offers an intuitive and user-friendly interface that allows users to move and organize information by dragging and dropping it quickly.
Email Management: Let users easily manage and monitor their email correspondence with contacts – from sending to receiving to tracking emails.
Lead Generation: Allows users to identify and capture potential sales leads with tools to classify and prioritize leads.
Sales Reports: Provides a range of predefined and customizable sales reports that allow users to track and analyze sales data and performance.
Support
A variety of support options are available for users at 20NINE to deal with any issues they may encounter. To get help with any issues or problems, customers can reach out to the support team via email. Customers can find answers to common questions and issues related to 20NINE on the website's frequently asked questions (FAQ) section. 
Pricing:
29: The package includes: Company & contact directories, Meetings & reminders, Call lists, Pipelines, Reports & diagrams, Categorisations, and several other features, all for €2,90 /month.
29 for consultants: With this package, you can access CVs for consultants, recruiting pipelines, Accrual reports, contacts lists, meetings & Reminders, Call lists, Pipelines, Reports & Diagrams, and more for just €2,90/month.
29 ONE: This package includes: Office 365, LinkedIn LeadClipper, Document templates, Google Workspace, OneDrive/GoogleDrive/Dropbox, WordPress forms, and Google Workspace for 12,90 € per month.
E-signing: In 29:ONE, you will be able to e-sign your templates for €1,90/month, and e-signing of PDFs is included in all packages with a fee applied after the document has been signed electronically.
The goal of 20NINE is to provide small businesses with an all-in-one system that will enable them to manage their operations more efficiently and increase their productivity by integrating a wide range of tools under a single platform. By streamlining processes and consolidating resources, 20NINE can help small businesses manage their business faster and more efficiently.
Related: Best Free CRM Software
Conclusion
The bottom line is that the annual price of a CRM should be considered an investment in your company's future. As with any critical business decision, you must take the time to evaluate all available options before settling on a particular solution.
With this guide, we hope to have given you valuable insights into making that decision. We'd love to hear about which CRM software you ultimately decided on and how it worked out for you, so please feel free to drop us a comment below!
Related: Best CRMS for Startups
FAQ