Disclaimer: We sometimes use affiliate links in our content. For more information, visit our Disclaimer Page. 
If you're a small business owner, you know that keeping track of your sales is essential to your success. You need to know what's selling, what's not selling, and how you can improve your sales process. That's why it's essential to use sales tracking software.
This blog post will discuss small businesses' four best sales tracking software. These programs will help you keep track of your sales data and make better decisions about your business!
What is Sales Tracking Software?
Sales tracking software is a type of software that helps businesses keep track of their sales data. This type of software can be used to track things like the total amount of sales made, the amount of money made from each sale, and the time it took to make each sale.
This information can be helpful for businesses in several ways. For example, it can help them see which products are selling well and which aren't, it can help them identify areas where they could improve their sales process, and it can help them understand how long it takes for them to make a sale on average.
Sales tracking software is often used in conjunction with other types of business software, such as accounting software or customer relationship management (CRM) software.
Why is Sales Tracking Important for Small Businesses?
Sales tracking is important for small businesses because it allows business owners to understand their sales performance and trends clearly. This information can help business owners make data-driven decisions about allocating resources to grow their businesses.
Sales tracking also enables business owners to measure the effectiveness of their marketing campaigns and makes it easier to determine which marketing channels are generating the most sales leads. Overall, sales tracking provides insights that can help small businesses optimize their sales processes and improve their bottom line.
The Four Best Sales Tracking Software for Small Businesses
There are a lot of sales tracking software programs on the market, but not all of them are created equal. That's why we've put together a list of the four best sales tracking software for small businesses based on features, price, pros, and cons.
#HubSpot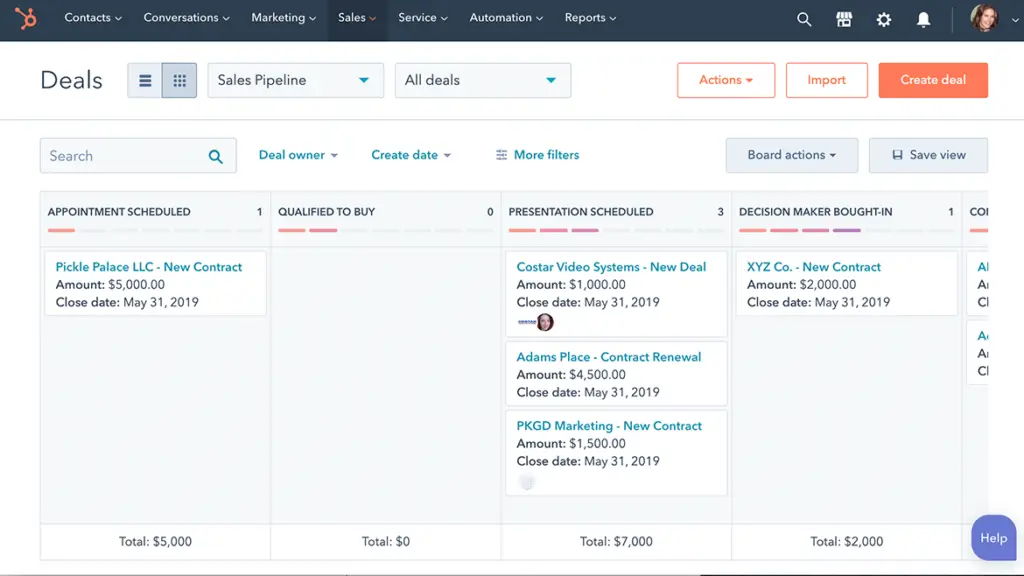 HubSpot is an inbound marketing and sales platform that helps small businesses attract, convert, and close more customers.
HubSpot offers a free CRM (customer relationship management), which allows small businesses to track their sales pipeline and manage their customer relationships in one place.
HubSpot's sales tracking software is designed to help small businesses close more deals by providing them with the data to make informed decisions about their sales strategy.
Features
Contact Organization and Management: Contact management is one of the most important features of HubSpot's sales tracking software. With HubSpot, small businesses can easily track their contacts and keep their information organized and up-to-date. This makes it easier to follow up with leads and close more deals.
Sales Pipeline Data: Sales Pipeline Data represents the data collected and organized in a sales pipeline. The data usually means the stages of a sale, such as "new lead," "qualified lead," "lost deal," and "won deal." In addition, the data can be used to track a sale's progress and a salesperson's or team's performance.
Over 300 Integrations: HubSpot offers over 300 integrations with other software to help small businesses automate their workflows. This includes integrations with CRMs (Zoho CRM), email marketing platforms, eCommerce platforms, etc.
Live Chat and Chatbots: Chatbots and Live Chat both give small businesses a way to connect with their customers in real time. This is especially helpful for those who want personalized interactions, as the chatbot can offer them precisely what they need without having an employee on hand!
Email and Lead Nurturing: Email and lead nurturing are essential features of HubSpot's sales tracking software. With email and lead nurturing, you can keep track of all the leads that come in through your website and automatically send them targeted emails that will help them convert into customers. This feature is handy for small businesses that don't have the time or resources to manually send emails to every lead.
Pricing

→ Starter plan – $45
The Starter plan is HubSpot's most affordable option, and it includes all the features you need to start tracking your sales nurturing your leads conversation routing.
It's perfect for small businesses that are just getting started with sales tracking or larger companies that want to add this functionality to their existing CRM software.
→ Professional plan – $450
The Professional plan for HubSpot Sales gives you access to powerful sales automation features that can help close deals faster. It includes features like marketing automation, record customization, and custom reporting. Plus, you'll get access to advanced support from the HubSpot team. So if you need help using the software or have any questions, they'll be there to assist you.
→ Enterprise plan – $1200
The HubSpot Enterprise plan is designed for businesses that need more advanced permissions and custom objects. With the Enterprise plan, companies can create hierarchical teams, making it easier to manage large customer or client lists. In addition, the Enterprise plan includes unlimited storage for customer data and activity history.
This makes it easy to track customer interactions and sales progress over time. HubSpot Enterprise is the most comprehensive sales tracking solution. It offers a complete suite of features to help businesses manage and grow their sales pipelines.
Pros
Free email marketing and list segmentation
Integrated with their sales and marketing suites
Team email and conversations inbox
HubSpot CRM offers free plans
Workflow automation to keep your sales process organized
Ability to add meeting scheduler and video conferencing into emails
It gives you the option to work in the cloud or on-premise
Cons
Filters on databases are still in the early stages of development
It gets expensive at higher pricing tiers
---
#Close CRM
Close CRM is a perfect solution if you want to manage your sales process in a straightforward app. Close CRM integrates seamlessly with all of the major accounting, inventory, and eCommerce apps on the market so that you don't have to spend time copying data between various programs.
The design is intuitive, so even those new to business can pick it up quickly, and the support team is always on hand to help with any problems you might have.
Features
Advanced Lead Filtering: Close CRM's lead filtering allows you to quickly and easily find the leads you're looking for. You can narrow down your leads by source, contact status, deal stage, and more with advanced filters. This makes it easy to focus on the leads most likely to convert into sales.
Opportunity management: Opportunity management is a critical feature of any sales tracking software. Close CRM offers powerful opportunity management tools that allow you to track every stage of the sales process, from lead to close. With Close CRM, you can easily see which opportunities are most likely to close and prioritize your efforts accordingly.
Team leaderboard: A leaderboard can be an excellent way to motivate your sales team. Seeing how they rank against their teammates, they can be encouraged to do their best and sell more products. Close CRM's team leaderboard feature allows you to see how each member of your team is performing. You can also see which members sell the most products and generate the most revenue. This information can encourage your team and help them improve their sales skills. Using Close CRM's team leaderboard feature lets you ensure that your sales team performs at its best.
Real-time sales activity reporting: Sales activity reporting is an integral part of any business. By tracking sales data, you can see what's selling and what's not, identify trends, and make better decisions about what products to stock and what promotions to run.
Pricing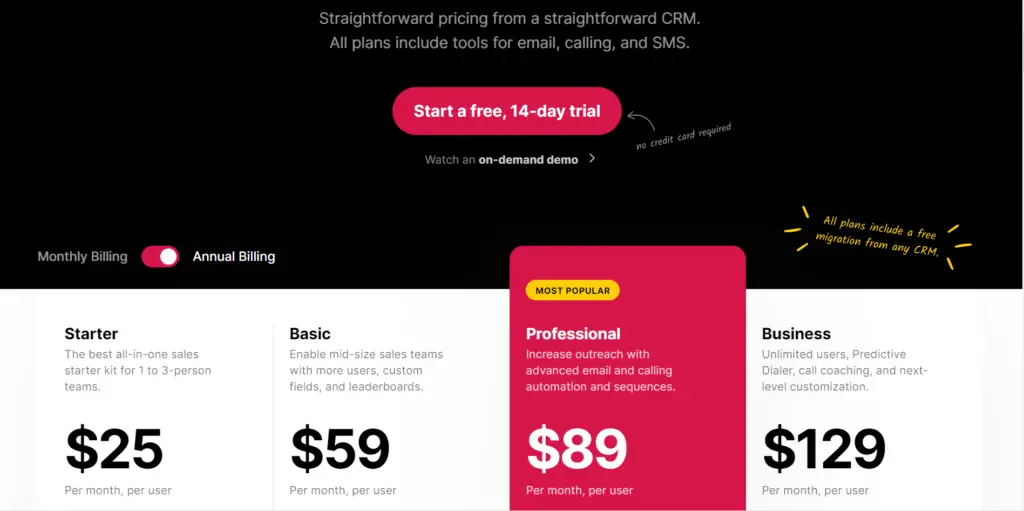 → Starter plan – $29
The Close CRM Starter plan is perfect for small businesses just starting. The plan includes lead, contact, opportunity storage, and 2-way email sync and templates. Up to three users can use the plan, making it perfect for businesses with a small team.
→ Basic plan – $69
Track your sales pipeline with Close CRM Basic. You'll have the power to record information about contacts, opportunities, and deals to see which are the most lucrative for you. In addition, the Basic plan gives you a sales leaderboard to see who's performing well and where they are in their pipeline. Up to 30 users can be given access to the Close CRM system, and call forwarding features are also included. As a result, you'll be able to manage your sales process more effectively with this powerful software solution.
→ Professional plan – $99
With the Professional plan, you'll have everything you need to keep your sales process running smoothly. The plan comes with several features that make it easy to keep track of your leads, opportunities, and deals. You can also send bulk emails, filter your email and domain traffic, and create email sequences. Moreover, you can add up to 100 users to your account.
→ Business plan – $149
Close CRM Business plan is the perfect solution for small business owners who need a centralized sales tracking tool to track their company's interactions with customers and prospects. It offers unlimited users, custom roles and permissions, reporting graphs, and a dedicated account manager. In addition, the Close CRM team will provide support and training to help you get the most out of the software.
Pros
Strong customizations and features
Easy-to-use dashboard with custom fields
Flexible API
Numerous integrations
The interface is intuitive and user friendly
Offers a 14-day trial for every plan
Cons
No free Basic plan
SMS texts cost about 0.01 USD per outgoing message
---
#Salesflare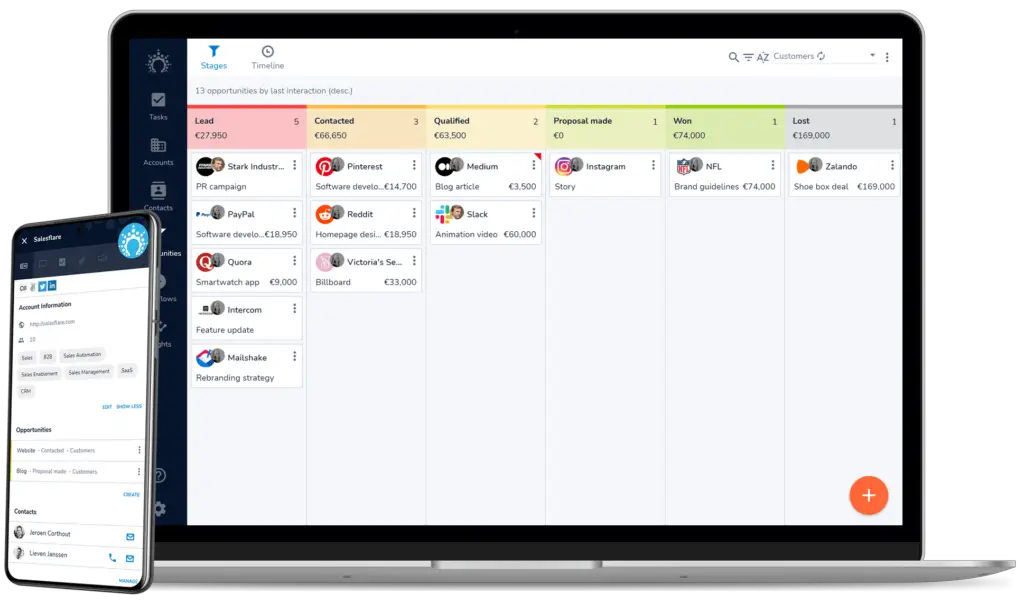 Salesflare is a sales tracking software designed to help small businesses track their sales pipeline and increase conversion rates. The software provides users with various features, including the ability to track leads and opportunities, create custom pipelines, and monitor the progress of each sale.
Salesflare also offers reporting tools that give business owners an overview of their sales activity and the ability to generate custom reports.
Features
Email templates & workflows: Email templates allow you to create pre-defined messages that you can use in conversations with clients. Workflows allow you to automate specific actions, such as adding a new contact to a list or sending a follow-up email based on a user's activities. These features can save you time and help you stay organized to focus on selling.
Visual, drag-and-drop sales pipelines: Visual, drag-and-drop sales pipelines make it easy to see how your sales processes are progressing at a glance. You can quickly move deals along the pipeline and track how much progress you've made towards closing each deal. This makes it easy to spot potential bottlenecks in your sales process and take steps to correct them.
Automatically enriched contact data: Salesflare automatically enriches your company and contact data with rich information from the web. This means you'll have a more accurate view of your customers, no matter where they're located. With Salesflare, you'll always have the most up-to-date information on your customers to make the best decisions for your business.
Automated reminders: Salesflare's automated reminders ensure you never forget to follow up on a lead again. You can set up reminders for any stage of the sales process, and the system will automatically remind you when it's time to take action.
Email signature sync: The email signature sync is a great way to make sure that your contact information is always up-to-date. Plus, it's a great way to promote yourself and your business. Potential customers will see your name, title, and company every time you send them an email. Salesflare's email signature sync automatically adds your contact information to the bottom of each email you send out.
Pricing

→ Growth plan – $29
The Growth plan of Salesflare is a great way to automate your CRM data input. You can track emails, links, website visits, and a fully-featured email sidebar and mobile app. This makes it easy to keep up with your sales pipeline and close more deals. A free trial is available to try out the software before you commit to it.
→ Pro plan – $49
Salesflare's Pro plan is perfect for small businesses that want to send workflows of multiple emails, set user permissions, and create custom dashboards. The Pro plan also comes with 500 email-finding credits, making it easy to find the correct email addresses for your business contacts. In addition, the Salesflare team is always available to help you get the most out of your account.
→ Enterprise plan – $99
You'll receive custom training, data migration, and a dedicated account manager with the Enterprise Plan. You'll also have unlimited email-finding credits to easily find and connect with potential customers.
Pros
Fully automated contact data management system that eliminates duplicate data entry
A complete view of every customer interaction, including emails, phone calls, and meeting notes
Advanced features such as lead management, project management, pipeline tracking, and lead scoring to help sales reps close more deals
Along with sales tracking tools, Salesflare also integrates with popular productivity tools such as Gmail, Outlook, and Calendar
Cons
Lacks some features that are important to larger businesses, such as territory management and multiple language support
It may be too simple for companies with complex sales processes
The interface can be confusing to navigate for first-time users
---
#Zendesk Sell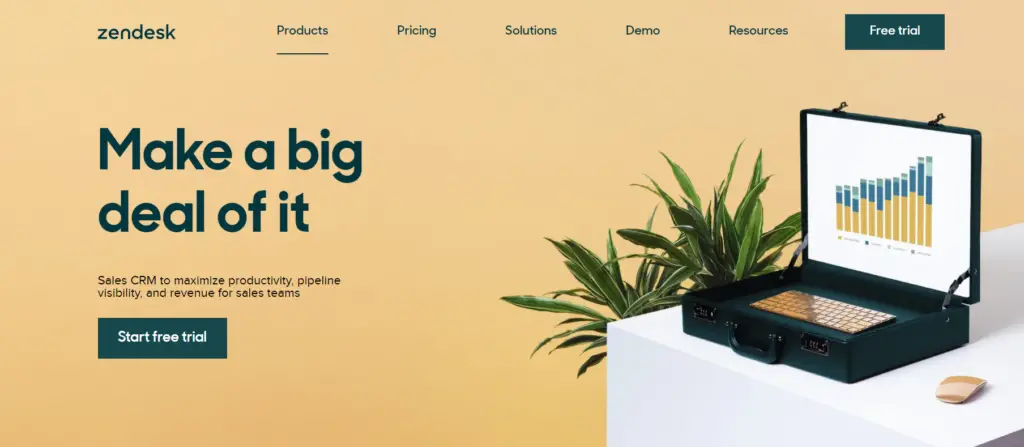 Zendesk Sell is the ultimate sales CRM for small businesses looking to grow their business. With Zendesk Sell, you can quickly and securely track contact information for your leads. Schedule meetings with one touch of the phone number or browser plugin – it's all in an app!
Get insights into which marketing channels lead to more deals by using reports showing the sales pipeline and conversion rate.
Features
Advanced Call Analytics: Zendesk's Advanced Call Analytics allows you to track the success of your sales calls. You can see which leads were contacted, what was said on the call, and how long the call lasted. This information helps you optimize your sales process and improve your close rate.
Activity Reports: Activity Reports help you keep track of your sales activity and progress over time. The report shows a summary of all the activity in your account, including:
The number of new leads created
The number of opportunities created
The value of the deals closed
The amount of money spent on marketing
This report is excellent for helping you keep track of your progress and ensuring that you are on track to hit your sales goals.
Additionally, it can help you identify areas where you may need to make changes or adjustments in your sales process.
Sales Forecasting: Sales forecasting is one of the essential features of any sales tracking software. With accurate forecasting, small businesses can better manage their sales pipeline and make more informed decisions about allocating resources. With Zendesk Sell, you can easily see which deals are most likely to close and when, so you can prioritize your time and energy accordingly. This gives you an edge in achieving your sales goals.
Individual and Team-Based Goals: Sales teams work best when held accountable to specific goals. Zendesk Sell lets you set individual and team-based goals, so you can track your progress and ensure everyone is on the same page. You can also create custom reports to see how your team is performing.
Pricing

→ Sell Team – $19
The Team plan is perfect for small businesses that want to manage their sales pipeline and track their progress. It includes email integration, built-in click-to-dial & call recording, and up to 3 paid users.
→ Sell Professional plan – $49
The Professional plan is perfect for businesses that need to track their sales pipeline and performance. It features advanced call analytics, unlimited paid users, and unlimited custom fields. With the Professional plan, you can also create unlimited email templates.
→ Sell Enterprise plan – $99
Zendesk Enterprise plan is designed for businesses that want to track their sales and activity reports. It has advanced features like Customized notifications, Lead and deal scoring, and Task automation. In addition, this plan allows businesses to create two sales pipelines and set permissions for different users.
Pros
The mobile version is great for on-the-go salespeople
Customizable reports make it easy to track progress
Third-party Integrations allow managing all sales data in one place
A free trial ensures it's risk-free to try out the software
Simple interface & easy to learn for everyone on your team
Cons
Limited support for sales pipelines
Reports can be slow and cumbersome to generate
Related: Best Contact Management Software
What Do a Good Sales Tracking Software Platform Include?
Sales tracking software platforms can include several features and benefits. Here are some key features to look for when choosing a sales tracking software for your small business:
1. New Lead Tracking
One of the essential features of a good sales tracking software platform is tracking new leads. This is important because it lets you track your potential leads and determine which ones are worth pursuing. It also makes it easier to track the progress of your sales funnel.
2. Sales Forecasting
Sales forecasting is the ability to predict future sales based on historical data and current market trends. This is an important feature for any sales tracking software platform, as it allows businesses to plan for future growth and ensure they have the necessary resources to meet demand.
3. Activity Reports
Activity Reports are an essential feature for any sales tracking software platform. They provide a way for businesses to see what actions have been taken by their sales representatives and how successful they have been in reaching their targets.
By tracking this data, businesses can make better decisions about allocating their resources and how to best support their sales team.
Sales tracking software platforms that offer activity reports typically allow businesses to see various data points, including the number of calls made, emails sent, meetings held, and deals closed.
This information can be filtered by date, sales representative, or product. Activity reports can also spot trends over time, such as an increase in calls being made to a particular type of customer.
4. Loss Reports
Loss reports are important because they allow business owners to track and monitor losses over a specific period. This information is vital for making informed business decisions and improving profitability.
5. Funnel Reports
Funnel reports are simple yet insightful ways to track the effectiveness of your marketing and sales efforts. For example, they allow you to see how many customers entered a specific conversion event or goal and corresponding data on target market segmentation.
The information gathered from this report can help improve future business decisions by helping determine which conversions provide the greatest return relative to investment.
6. Average Sale Price
The average sale price is an important metric to track for any business. It can help you determine whether you make more or less money on each transaction. In addition, you can use this information to decide what products to stock, what prices to charge, and what promotions to run.
Related: Monitoring Sales
Closing Thoughts
Sales tracking software can be an invaluable tool for any business. By monitoring customer interactions and sales data, companies can better understand what is and isn't working in their sales process.
This information can then be used to make necessary changes and improve overall sales productivity.
When looking for a sales tracking software solution, it's essential to consider the needs of your specific business.