Disclaimer: We sometimes use affiliate links in our content. For more information, visit our Disclaimer Page. 
Costco is a multinational corporation that runs discount retail outlets. Consumers have recently placed more pressure on merchants to offer low-cost items, which has fueled competition in this market.
Consumers are looking for quality at a low price, which is Costco's specialty. Costco keeps prices low by using simple merchandising displays and controlling inventory at a minimum to reduce operating costs.
While Costco has many similarities to other warehouse clubs like Sam's Club and BJ's Wholesale Club, it also has some key differences. In this blog post, we'll compare the top Costco competitors!
Costco Wholesale Corporation
The Costco company was founded by James Sinegal and Jeffrey Brotman in 1983. The first store was opened in Seattle, Washington. The company is now the world's largest membership-only wholesale retailer. It offers a wide selection of merchandise, including fresh produce, meats, consumer electronics, clothing, and more. Members also have access to rental services, pharmacies, and gas stations in many locations.
Costco has developed a robust business model that they stick to, including buying directly from manufacturers, using an in-house Kirkland brand, and taking a limited selection of goods that can stand up against competitors' prices.
Financial Position
Costco Wholesale is the world's biggest membership warehouse club, with a market share of around 10%. It generated over $192 billion in revenue in 2021. The company has more than 500 locations worldwide and employs more than 236,000 people.
The Costco company is publicly traded on the NASDAQ stock exchange. It reported total revenue of $229 billion in 2019, up from $215 billion in 2018. The company's net income was $3.7 billion in 2019, down from $4.2 billion in 2018. Costco's total assets were $51.5 billion as of 2019, up from $47.5 billion as of 2018. The company's long-term debt was $6.9 billion as of 2019, up from $5.5 billion as of 2018.
Business model
Costco doesn't try to profit from the items it sells; instead, it profits by charging its member's annual fees. This allows Costco to offer its members lower prices than other retailers. Costco also has a minimal product selection, enabling it to focus on selling high-quality items at low prices.
Members must pay an annual membership fee to join the free Costco Warehouse. However, there are no limits on the number of times a member can visit each year; this makes shopping at Costco more convenient than shopping at other warehouse clubs.
Costco SWOT Analysis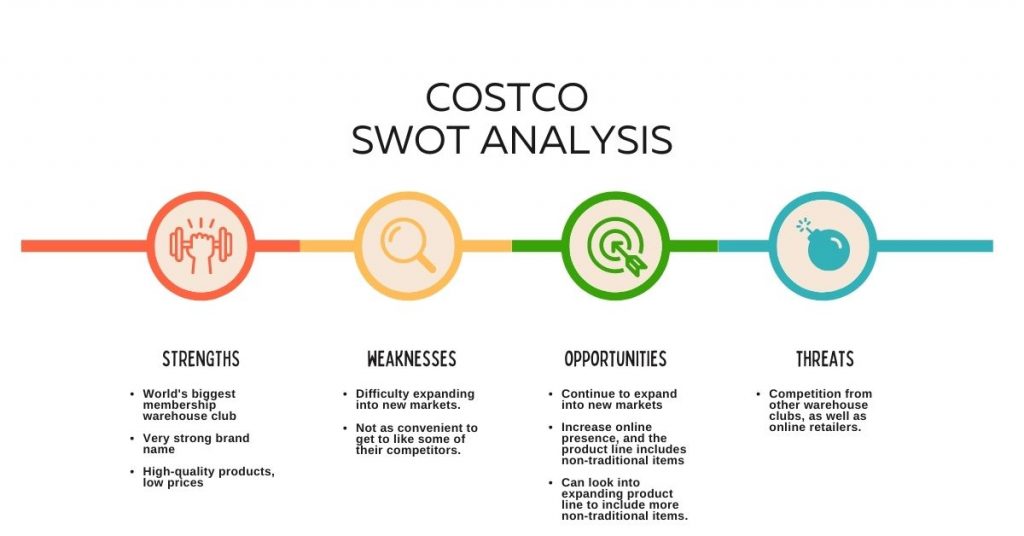 When it comes to Costco's strengths, they are many. First, they are the world's biggest membership warehouse club, which gives them a large pool of customers to draw from.
Strengths:
World's biggest membership warehouse club.
Very strong brand name.
High-quality products, low prices.
Weaknesses:
Difficulty expanding into new markets.
Not as convenient to get to like some of their competitors.
Opportunities:
Continue to expand into new markets.
Increase online presence, and the product line includes non-traditional items.
Can look into expanding product line to include more non-traditional items.
Threats:
Competition from other warehouse clubs, as well as online retailers.
List of Top Costco's Competitors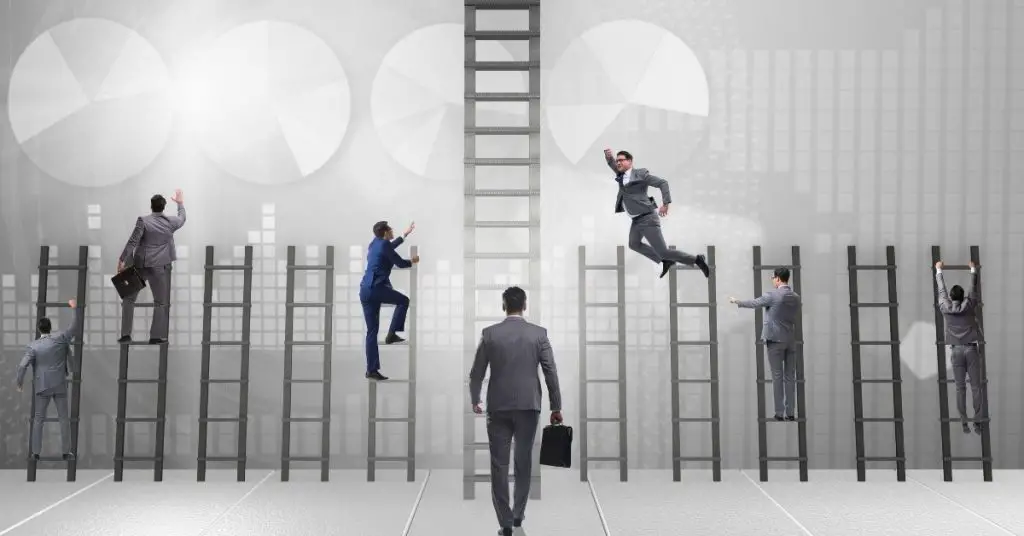 1. Walmart
Founded in 1962 by Sam Walton, Walmart is one of America's largest retailers. The company's first discount store was located in Rogers, Arkansas, and it started as a small family business with only 18 items on its shelves. Still, after over 50 years, it grew to be one of the world's largest corporations.
It has retail operations in 28 countries. There are over 11,000 convenience stores worldwide. The most significant number of these are in the US with 3,412 Walmart stores, followed by Mexico with 1,424 and Canada with 587. In addition, it has 217 stores in Brazil and 181 in Argentina.
This is the ultimate destination for all things-from household essentials to electronics and much more. It also offers various services, such as pharmacy, optical, and tire and battery services.
It further offers financial services, including shopping at any time with 24/7 customer service, easy reordering, and constant discounts on every order.
Financial Position
Walmart has been the world's largest retailer since 2015. In the United States, Walmart had a 29.4% market share of sales in 2017, and in 2021, its market share was estimated to be 27.2%. According to Euromonitor International estimates, it is projected to have a market share of 28.1% in 2027.
2. Target
Target was founded as the Dayton Dry Goods Company in 1902 by George Draper and his partners. They opened their first retail store on May 1, 1902, at 1004 West Third Street in downtown Minneapolis. The company sold women's clothing and had a small section for men's goods. In 1912, they became known as the Dayton Company and eventually changed to the name we know today: Target Corporation. Target is now one of the largest companies in the United States, with over 2,000 stores worldwide!
Target's market share was at 1.4% in 2006, but it rose to 2.2% by 2009. They are the 8th largest retailer globally and are ranked among Fortune Magazines. While the company is facing some financial difficulties, Target remains a top Costco competitor, with their market share currently at 15% in the US. The company has 1,805 locations worldwide as of January 31, 2021.
Most of those are located in the United States, but there are still about 350 stores outside the country. In addition, target operates in 13 countries.
With changing consumer trends and a focus on more fashionable apparel, Target has seen its fair share of improvements-including the opening of their first stand-alone women's store in over twenty years. This retailer is doing all they can to keep up with the times, especially if they want to stay competitive in the retail industry!
They have something for everyone's needs, from clothes to housewares without breaking the bank. They even offer a wedding registry service – perfect for those expecting soon or are newly engaged- as well as super fresh groceries, which are just some of the many things that set them apart from other retailers.
3. Home Depot
Founded in 1978 by Arthur Blank, Bernie Marcus, and Ken Langone, Home Depot is a large chain of retail stores operating throughout America. From their humble beginnings in Atlanta to the more than 2,000 locations across the United States, they have provided customers with a great shopping experience for decades.
There are over 2,000 Home Depots around the world! The first retail store opened in 1979, and you can find one nearby or online.
Home Depot has gone through some changes in the past decade, but it is still America's second-largest retailer chain of home improvement and construction products.
This store provides a wide variety of home improvement and construction supplies. You can find everything from building materials such as lumber, metal studs, insulation, and drywall to painting, lighting, and kitchen appliances.
Financial Position
Home Depot is a US-based retail company that specializes in home improvement products. The company is headquartered in Atlanta, Georgia.
According to their latest filing on October 31, 2017, they had revenues of $95 billion for 2016 and a profit of $4.5 billion. The retail chain employs approximately 400,000 people worldwide.
4. Kroger Company
This company was set up in 1883 and was initially called "King American Company" after the company's founder, Barney Kroger. It is the country's third-largest pharmacy retailer, with 869 pharmacies throughout its stores!
Not only does Kroger offer groceries, but they also offer clothing items, jewelry accessories, electronics, and home décor, to name a few.
Kroger's market share has been on the rise in recent years. One of Kroger's most recent acquisitions is Harris Teeter, which will only help to increase its revenue and profits for the foreseeable future.
It was recently reported that it had surpassed Walmart as America's largest grocery chain, with an estimated annual revenue of $115 billion. It operates around 2,800 retail outlets in the United States and 3,400 stores in 35 countries.
They have a broad selection of food and non-food items for customers of all ages. In addition, Kroger company presents a standard grocery store experience tailored to the needs of their customers.
5. Amazon
Amazon was founded in 1994 by Jeff Bezos. Initially, it sold books and other products on the internet. Today, they are the world's largest online retailer with more than 300 million active customers worldwide.
Amazon is one of the largest online retailers globally, with a market share of more than half. It has over 100 million products and annual sales surpassing $100 billion.
Financial Position
In 2020, Amazon reported a net income of $1.98 billion on revenues of $232.9 billion. In 2019, Amazon reported a net income of $3.03 billion on revenues of $230.7 billion.
Amazon has the largest selection of products globally, ranging from books to electrical appliances. This led them to sell products directly on their website instead of other retailers. Furthermore, they are constantly innovating and improving their services by investing in new technologies.
6. Best Buy
Best Buy operates over 1,000 discount department stores worldwide. Established in 1966 by two high school friends, the company began as a humble electronics outlet that sold stereo equipment. However, they grew to be much more than just an electronics store, including laptops, digital cameras, and TVs. So if you're looking for some fantastic deals on technology, there's no better place to go than Best Buy!
The company's target market includes customers looking for products in various categories such as home theater, computers, and televisions. They also offer Geek Squad and same-day delivery on some products.
In the past three years, Best Buy experienced a five percent growth in market share. In particular, the company improved its digital strategy and targeted customers with higher disposable income.
With 1,800 store locations in 17 countries and territories, Best Buy is becoming a global retailer.
7. Tesco
The company was founded in 1919 by Jack Cohen, who opened his first store in Burnt Oak, London. Cohen eventually sold to his brother (and silent partner) Richard. Tesco expanded rapidly during the 1970s and 1980s, acquiring many other grocery retailers, including Allied Suppliers in 1979, William Low in 1981, and Presto & Wilko in 1985.
Tesco is a multinational chain of grocery stores with headquarters in London, England. It operates in 13 countries and delivers to over 150 countries with 2,700 stores. It has more than 100,000 employees worldwide, and its market share was around 4%. The company had sales exceeding £67 billion in 2013.
It operates online through tesco.com, with home delivery available throughout the UK, with international deliveries lasting up to 10 days depending on your location. The company sells groceries, alcohol, clothing, toys, general merchandise, and electronics.
Financial Position
Tesco's financial data in 2022 is likely to be in the range of 3.5-4.5 billion pounds. This does not include any potential takeover costs resulting from the Unilever deal, which would bring their total losses to 18 billion pounds in less than two years!
8. BJ's Wholesale Club
BJ's Wholesale Club was founded in 1984 by brothers Jim and John Sinegal. They opened the first club in Westborough, Massachusetts. The company is headquartered in Natick, Massachusetts. BJ's offers a variety of merchandise, including groceries, health and beauty products, apparel, and electronics. The company also operates gas stations at many of its locations.
BJ's donates to various charities, including St. Jude Children's Research Hospital, the Make-A-Wish Foundation, and the American Diabetes Association.
The company has over 200 locations nationwide, including Puerto Rico. It is the fifth-largest wholesale club in the United States. BJ's competes with other retailers like Sam's Club, Costco Wholesale, and Walmart.
Financial Position
BJ's Wholesale Club is a general merchandise retailer similar to Costco. It has a market share of approximately 5.5%. The company has maintained its market share by offering discounts on merchandise and providing excellent customer service. Its financial conditions are also strong, with a debt-to-equity ratio of 0.48 and an operating margin of 4.02%.
9. Carrefour
The Carrefour Foundation was created in 2002 due to the merger between two supermarket chains, Carrefour and Promodes. Carrefour is a multinational retailer that is based in France. The company operates a chain of hypermarkets and supermarkets. As a result, Carrefour has maintained a leadership position in the retail sector.
The company has also been able to grow its market share. Carrefour has also been able to expand its operations to new markets.
The market capitalization of Carrefour is $18.8 billion. The company has a product line that includes clothing, food, health, home improvement, and personal care products.
Financial Position
The company's revenue increased by 5% compared to the previous fiscal year. However, this increase was not enough to offset the higher operating costs. In addition, the company had a positive free cash flow during this period. This helped to boost the company's liquidity.
10. CVS
CVS was initially founded in Lowell, MA, by the Goldstein brothers back in 1963. The company began as a small store that sold health products for discounted prices. CVS has over 7,800 stores and ten distribution centers located throughout the United States.
CVS Health is a pharmacy services company that provides prescription drugs and other health products to customers in the United States. The company also makes vaccinations, medical equipment, and skincare products available to patients.
Financial Position
CVS Health is a publicly-traded company listed on the New York Stock Exchange. The company's ticker symbol is CVS. The company's revenue has grown steadily over the past few years. In 2016, CVS generated more than $184 billion in sales. The company's net income was $2.5 billion in 2016, and its earnings per share were $5.05. CVS Health has a current market share of 9.5%.
Final Thoughts
So, what are the secrets to Costco's success? Well, it might be that they know their customers. And with consumers looking for quality at a low price, this store is doing something right.
Competition is fierce when you're competing against other retailers like Walmart or Target, trying to offer consumers quality at a lower price point than what they would typically spend at your store!
This makes it even more critical that you consider implementing some of these cost-cutting strategies into your business plan so that you can keep up with this trend.