Disclaimer: We sometimes use affiliate links in our content. For more information, visit our Disclaimer Page. 
Investing in consumer packaged goods stocks can be a great way to secure your financial future. This is because these types of stocks tend to be very stable, and they offer investors a high level of security.
This blog post will discuss 5 of the best consumer packaged goods stocks to invest in right now. We will also provide you with information on each company to decide which one is right for you!
What are Consumer Packaged Goods Stocks?
The packaged food industry is worth trillions of dollars and continues to grow every year. Average consumers use daily consumer packaged goods (CPG) that require routine replacement or replenishment, such as food, beverages, clothes, tobacco, makeup, and household products.
While consumer demand for CPGs largely remains constant, this is a highly competitive sector due to high market saturation and low switching costs. As a result, consumers can quickly and cheaply switch their brand loyalties.
Packaged food companies must continuously innovate and adapt their product offerings to meet changing consumer preferences to succeed in this market.
What is the size of the Consumer Packaged Market?
The pandemic has changed the way people shop for consumer packaged goods (CPG). More people are buying online, and they are looking for products that are convenient and easy to use. As a result, the global consumer packaged food market size is expected to grow from USD 205 billion in 2021 to USD 250 billion by 2028, at a compound annual growth rate (CAGR) of 2.9%. This growth will be driven by increased demand for convenient, easy-to-use products that can be delivered quickly and efficiently.
The rise in e-commerce sales is also playing a role in the growth of the CPG market, as more people are turning to online shopping for their CPG needs. In addition, the pandemic has created new opportunities for CPG companies, as consumers seek out products that meet their changing needs. Thus, Companies must focus on delivering innovative products that appeal to consumers' evolving preferences to stay ahead of the competition in this rapidly growing market.
What are the benefits of investing in Consumer packaged goods?
Consumer packaged goods (CPG) have long been a staple of the average American household. CPGs are an essential part of our everyday lives, from cereal and shampoo to toothpaste and laundry detergent. And while we may not think about it often, the companies that produce these products play a vital role in the economy.
CPGs are generally known for their stability and longevity. Unlike companies in other sectors that are susceptible to economic downturns, CPGs tend to perform well under any market condition. People will always need to buy everyday household items, no matter the economy's state. This makes CPGs an attractive investment for those looking for stability in their portfolio.
In addition to being stable, CPG companies also offer strong dividend yields. Companies in this sector tend to have high-profit margins and generate a lot of cash flow, which they then use to pay dividends to shareholders. As a result, CPG stocks can be a great way to boost your dividend income for income-seeking investors.
So if you're looking for an investment that offers stability, high dividend income, and long-term potential, consumer packaged goods may be worth considering.
What are the risks of investing in Consumer Staple Goods?
Many investors view consumer packaged goods stocks as a haven during tough economic times. Products in this sector, such as food, beverages, and personal care items, are considered essential, and demand is relatively stable even when consumers cut back on other discretionary purchases.
However, there are also some risks to consider before investing in this sector. One risk is that these stocks tend to be low-margin, slow-growth companies. This means that they may not perform as well as other sectors in periods of strong economic growth. Additionally, some consumer packaged goods brands are vulnerable to disruption by new e-commerce players.
While the sector may be relatively stable, individual stocks can still experience volatility. Therefore, it is essential to do your research before investing in consumer packaged goods stocks, as with any investment.
Top 5 Best Consumer Packaged Goods Stocks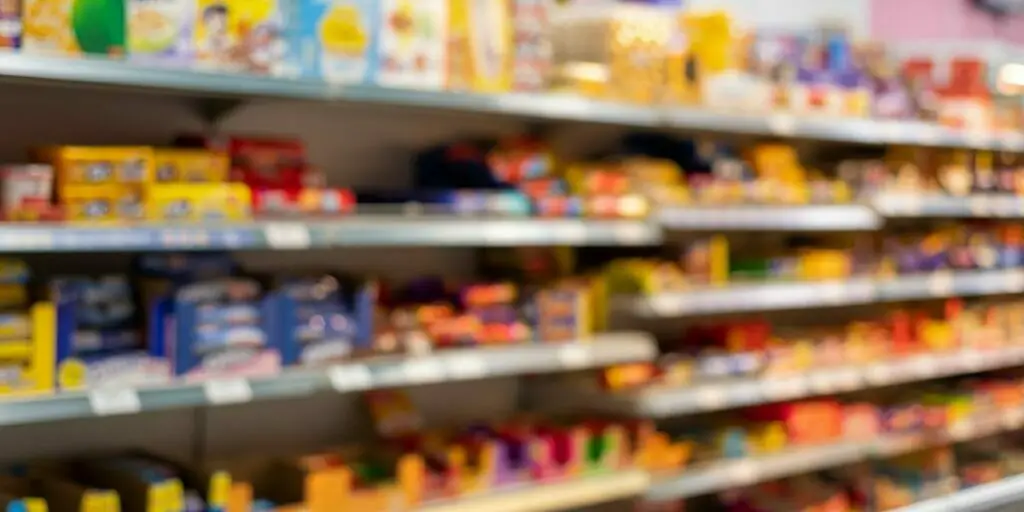 Now that we have a better understanding of consumer packaged goods let's look at the top stocks in this sector.
1. Procter & Gamble (PG)
Procter & Gamble is a company with a long history of innovation. Founded in 1837, the company has developed many household products that have become essential for millions of people worldwide. Today, P&G continues to innovate, developing new products that meet the changing needs of consumers. As a result, the company's portfolio of brands is unmatched in terms of both breadth and depth, and its products are widely recognized for their quality and value.
The company's success can be attributed to its strong response to the recent pandemic. As a result, organic sales increased by 6% during their fiscal year ending June 30, 2021, and core earnings per share rose 11%.
They are most successful with fabric care products which grew 12%, followed closely behind homecare outfits that experienced an even more substantial 13% rise over this same period (both figures excluding currency exchanges). For 2022 however, management forecasts 3%-6% growth based on current expectations according to FOOL.
P&G is also committed to shareholder value, and its status as a Dividend Aristocrat reflects this commitment. In addition to its impressive financial track record, P&G is also a company with a strong social conscience.
It is a leader in sustainable sourcing and manufacturing, and it is constantly looking for ways to reduce its environmental impact. P&G is a company that investors can trust to deliver financial and social returns.
2. PepsiCo
As one of the world's largest food and beverage products companies, PepsiCo (NASDAQ: PEP) offers a diverse portfolio of products that includes 22 brands that generate more than $1 billion each in annual retail sales. In addition to its namesake Pepsi sodas, its portfolio comprises Frito-Lay chips, Gatorade sports drinks, Quaker oatmeal, and Tropicana juices.
While PepsiCo generates about 60% of its revenue from snacks, it maintains a nearly equal split between its beverage and food businesses when looked at on a global basis. The company has achieved this level of diversification by acquiring many popular brands over the years.
For example, PepsiCo acquired Frito-Lay in 1965, Gatorade in 1983, and Tropicana in 1998. As a result of these acquisitions and organic growth, PepsiCo today is a much different company than a few decades ago. While it still faces many challenges, such as declining soda consumption in developed markets, PepsiCo is positioned well for long-term growth thanks to its scale, brand portfolio, and global reach.
3. Costco Wholesale
Costco Wholesale is a membership club that sells groceries and household items in bulk. Costco has several advantages over its retail peers, mainly because its membership model creates a reliable customer base with a retention rate of around 90%.
It also earns most of its profits from membership fees, offering rock-bottom prices on merchandise, giving it a competitive advantage. Under its Kirkland brand, it sells a wide range of products in food, electronics, and home goods. Costco also has a gas station and a tire center at most locations. In addition to its physical stores, Costco operates an online store that sells similar merchandise. Costco's focus on selling quality products at low prices has made it one of the largest retailers in the world.
After the coronavirus pandemic, it's clear that Costco has a long history of offering good value. During the epidemic, while other businesses have suffered from inflation and declining sales, Costco has thrived, posting double-digit comparable sales growth and e-commerce sales that have risen dramatically.
Costco's financial performance is projected to improve in the years ahead due to its reputation for low prices and its capacity to pass on price hikes to consumers. In addition, Costco's development initiatives are also proceeding at full speed, with the firm adding new locations and increasing existing ones. This growth gives Costco a strong foothold in the retail market, and it is poised to continue prospering in the years to come.
4. Walmart Inc.
Walmart Inc. is the world's largest retailer, the world's most profitable firm by revenue, and the world's largest employer, with over 2.2 million personnel as of 2020. Walmart, the world's largest company, has more than 260 million customer visits each year. Sam Walton, a pioneer in value retailing, founded the firm in Bentonville, Arkansas. The business is still based in Arkansas, but it now operates throughout the United States and in 24 nations around the world.
Walmart Inc. (NYSE: WMT) is a top consumer staple stock to buy now for several reasons. First, the company reported market-beating earnings for the fiscal fourth quarter of 2022. Second, Walmart Inc. (NYSE: WMT) registered an EPS of $1.53 for the quarter, beating estimates by $0.03. This is a strong indication of the company's financial health and momentum.
Second, Walmart's revenues came in at $151.53 billion and outperformed the market consensus by $1.49 billion. This is a very impressive feat, and it shows that the company is continuing to grow at a rapid pace. Lastly, as of April 22, the stock has gained 13.20% over the past year.
This is yet another sign that Walmart is a strong investment right now. When you consider all of these factors, it's clear that Walmart is a top stock to buy now.
5. Nestle
Swiss multinational Nestle is known for its chocolate, but this packaged food company also produces various food and beverages. It started as a condensed milk company, and milk chocolate was one of its first products. Nestle operates in nearly 200 countries, employs over 330,000 people, and operates over 400 factories.
In 2017, Nestle had more than $70.3 billion in sales. The following year, it was ranked the world's most valuable brand by Brand Finance. Nestle's most popular brands include Nespresso, Nescafe, KitKat, Smarties, and Vittel.
The company has a long history committed to sustainable development and corporate social responsibility. In 2015, it launched Creating Shared Value, a plan to impact society while also creating value for shareholders positively. Nestle set goals to improve nutrition, conserve natural resources, and create shared economic growth as part of this plan.
Consumer Packaged Goods vs. Durable Goods
Consumer packaged goods (CPG) and durable goods (DGs) are two main categories of consumer products. CPGs are consumables that are not typically replaced until used up or expire, while DGs are designed to be longer-lasting and generally need to be replaced less frequently.
Because CPGs have a shorter lifespan, they tend to be less expensive than DGs. However, CPGs also generally have a lower margin because of the need to produce and replenish stock. On the other hand, DGs usually carry a higher price tag and have higher margins since they don't need to be replaced as often. Ultimately, whether a consumer chooses a CPG or a DG will depend on their budget and needs.
Related: Inferior Goods
Final Thoughts
These are just a few of the best consumer packaged goods stocks. As you can see, each of these companies has solid fundamentals and is well-positioned for continued growth. When choosing stocks, it's essential to do your research and consult with a financial advisor to make sure they fit your investment goals.
But if you're looking for some top consumer packaged goods stocks to buy now, these five should be on your radar.
What are your thoughts? Do you have any other favorite consumer packaged goods stocks? Let us know in the comments below!
Happy investing!
FAQs (Frequently Asked Questions)
What is the global packaged food market?
The packaged food market growth is outstanding as consumers increasingly opt for packaged foods over unpackaged options. This trend is being driven by factors, including that packaged foods are generally perceived as higher quality and more convenient than unpackaged alternatives.
In addition, packaged foods often have a longer shelf life than their unpackaged counterparts, making them more appealing to busy consumers who do not have time to cook meals from scratch daily. As the packaged food market report expands, we will likely see an increase in new and innovative products being launched. So, if you're looking for an exciting and growing market to invest in, the packaged food industry is worth considering.
What is meant by market cap?
Market capitalization usually referred to as "market cap," is the total value of a company's outstanding shares of stock. It is calculated by multiplying the current share price by the number of shares outstanding. For example, if a company has 10 million shares outstanding and the current share price is $100, the market cap would be $1 billion. Market cap is one way to gauge the size of a company.
It can also be used to compare companies within the same industry. For example, a company with a market cap of $1 billion would be considered small, while a company with a market cap of $10 billion would be regarded as large. Generally, companies with a large market cap are more stable and have more resources than companies with a small market cap.
Is Hormel foods corporation Consumer Packaged Goods?
Yes, Hormel Foods Corporation is a consumer-branded meat and food, product producer. The company was founded in 1891 by George Hormel, and today it is one of the largest food companies in the world. Hormel's best-known products include SPAM, canned luncheon meat, Dinty Moore stews, and other meat-based products.
In addition to meat products, Hormel also produces a wide range of other food items, including soups, sauces, and snacks. The company's products are sold in more than 100 countries worldwide, and it has a strong presence in the south and north America, Canada, and Mexico. Hormel is a publicly-traded company listed on the New York Stock Exchange.
What are food consumption patterns?
Food consumption patterns are the repeated arrangements of what and how much we eat. They vary by individual, culture, and context. Meals are generally a combination of food items, and dishes within a meal are often standardized by culture. Evidence shows that food consumption patterns are changing globally, likely due to economic development, urbanization, and increased trade and travel.
These changes may have positive or negative impacts on diet-related health outcomes. For example, greater access to processed and fast foods may contribute to increased rates of obesity, while increased diversity in food choices may lead to a more varied and nutrient-rich diet. Ultimately, understanding food consumption patterns is vital for developing strategies to improve diet-related health at the population level.
Are Kraft Heinz Company Consumer Packaged Goods?
The Kraft Heinz Company is one of the world's largest food and beverage manufacturers, with products spanning more than 200 countries. Its brands include some of the most recognizable names, such as Heinz, Kraft, Oscar Mayer, and Planters.
The company has a long history of delivering delicious foods with the highest quality and nutrition standards. Today, Kraft Heinz continues to innovate, bringing new products to market that appeal to consumers' ever-changing tastes.
From ketchup and mustard to peanut butter and pasta sauce, the company's products are an essential part of life for millions of people around the globe. There is no doubt that The Kraft Heinz Company is a leader in the consumer packaged goods industry.
What are branded consumer foods?
Branded consumer foods are produced by a specific company and sold under that company's brand name. Branded consumer foods are typically mass-produced to keep costs low and reach as many consumers as possible.
Some of the most popular branded consumer foods include snacks, beverages, and noodles. Branded consumer foods often have strong name recognition and are generally well-liked by consumers. URC is one of the largest branded consumer food companies globally, with many well-known and loved brands.