Disclaimer: We sometimes use affiliate links in our content. For more information, visit our Disclaimer Page. 
Whether online or offline, almost any business can benefit from key performance indicators (KPIs). In the context of digital marketing, KPIs are metrics that help you measure the success of your campaigns and strategies. Without accurate measurement, you will not be able to determine what works and doesn't.
In this article, we will discuss the main categories of KPIs and provide examples of 36 specific KPIs within each category. We will also explain how to measure them and how to improve them.
What are Key Performance Indicators for Digital Marketing?
There are several key performance indicators (KPIs) that businesses can use to measure the success of their digital marketing campaigns. Some common KPIs include website traffic, leads generated, conversion rate, and social media engagement. By tracking these metrics, businesses can better understand what is working well and where they need to make improvements.
Digital marketing KPIs can vary depending on the goals of a campaign. For example, a business looking to increase brand awareness might track metrics like web traffic and social media impressions. On the other hand, if a company is focused on generating leads, it might track the number of form submissions or phone calls generated from its website. Ultimately, a business's KPIs should be aligned with its overall goals.
Related: Best Marketing Undergraduate Programs
What are the main marketing KPI categories?
There are five main categories of marketing KPIs that can be categorized into:
Lead generation
Metrics about the website and traffic
Search engine optimization
Paid advertising
Tracking of social media
Lead generation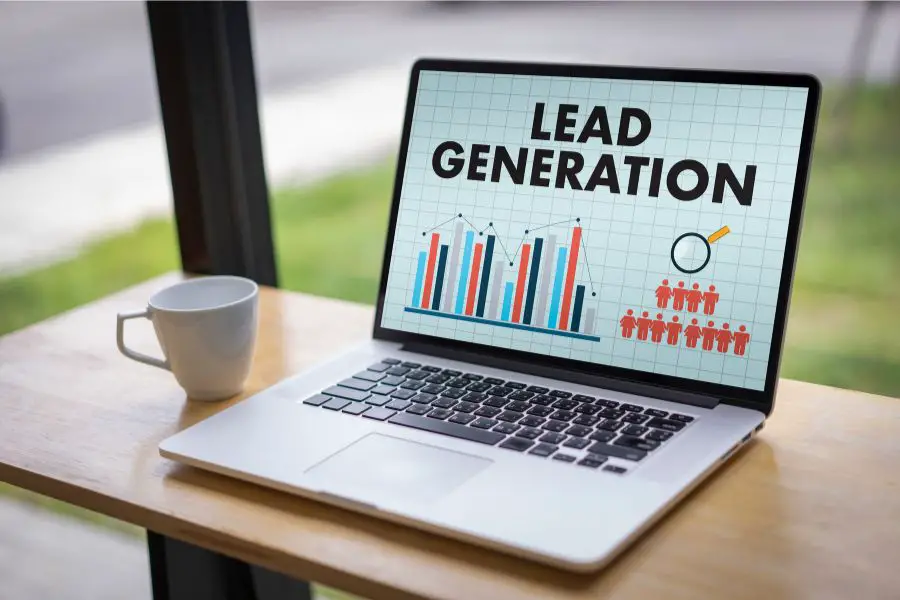 During the lead generation process, you should audit whether your tactics are working and monitor the cost-effectiveness of your lead generation channels and customer acquisitions.
→ Monthly new leads/prospects
The number of new leads acquired in the past month is a widely used metric to track the success of online businesses. The term "new lead" can describe anyone who has signed up for a free trial or created an account on a retail website. This metric is important because it indicates how well a company is doing in acquiring new customers. 
How can you measure: If you want to know how many new leads came in during a specific period, you can use CRM software to collect the latest information.
How can you improve: Test new temporary discount offers to see if they work, develop more budget-friendly CPC campaigns, and create SEO-optimized content that can be found through search engines.
→ Qualified leads per month
Any marketing campaign, whether it's online or offline, should have the goal of generating leads that have the potential to convert into paying customers. But simply developing traffic isn't enough – you must ensure that your marketing campaigns focus on targeted information. Otherwise, you're just wasting time and resources. One way to measure the effectiveness of your marketing campaigns is to monitor the number of qualified leads they generate. Qualified leads fit your target customer profile and have a genuine interest in your product or service. 
Customers who have the potential to become paying customers can be divided into three categories:
Marketing qualified leads (MQL) – These are leads that the marketing team decides to forward to the sales team for further action.
Sales-accepted leads (SAL) – Leads that have been accepted by the sales team and will be followed up on by them.
Sales qualified leads (SQL) – These are leads considered to be prospective customers. Therefore, they get focused attention and are moved on to the next phase of the sales process.
How you can measure: Using CRM software, you can identify qualified leads by categorizing them based on tags and dates.
How can you improve: An excellent way to improve is to create campaigns that target the right audience to reach them.
→ Cost-per-lead generated
f you're running a business, keeping track of your marketing expenses and whether they result in new leads is essential. That's where the cost-per-lead metric comes in. First, CPL shows you how much it costs to acquire a new prospect. Then, once you have determined the cost-per-conversion for various marketing activities, you will be able to analyze whether they are profitable or not.
How can you measure: One way to measure is, to sum up all the time, resources, and money you spend on marketing activities and compare the results to how many leads you receive each month.
How can you improve: Besides creating quality content on social media to get (almost) free web traffic and leads, you can improve it by seeing what types of free and paid campaigns work for you.
→ Cost per conversion
Any digital marketing strategy worth it's salt will have a detailed plan to generate leads and convert them into paying customers. However, simply having a high volume of leads is not enough – you also need to ensure that your cost-per-conversion is low enough to make a profit.
Otherwise, you could waste valuable resources on advertising campaigns that don't generate any ROI.
How can you measure: Calculating your lead conversion rate is relatively easy. First, you'll need to determine the monthly cost of time and resources spent on a lead generation campaign. This could include Google Ads, social media management, blog content, etc. Next, you'll need to see how many of that month's leads have converted into paying customers. Finally, divide the monthly cost by the number of conversions to get your lead conversion rate.
How can you improve:
Your marketing campaign has to be highly targeted.
The user experience needed to be improved.
Help material can be provided.
You can also assist with the setup process.
→ Average time of conversion 
An excellent way to measure the effectiveness of your sales process is to monitor the time it takes for leads to become paying customers.
By taking too long to convert, you may lose your prospects to your competition, who may be more interested in your competitors' offerings.
How can you measure: Your CRM tool can help you calculate how long it takes for a lead to become a paying customer, so you can collect data about when a leader is acquired.
How you can improve: You can improve your results by offering time-sensitive discounts and providing helpful guidance throughout the buying process.
→ Retention rate
The client retention rate is a key performance indicator (KPI) that every business should track. It shows the percentage of customers who continue using your product or service over an extended period and make repeat purchases. Monitoring the retention rate allows you to see how well-engaged your customers are and identify areas where they may struggle. 
How can you measure it: The retention rate can be calculated with this formula: Retention Rate = ((CE-CN)/CS) x 100
CE = Total number of customers after some time
CN = Customer number acquired during a period
CS = Clients at the beginning of a period
How can you improve: If you make sure the user experience is excellent, as well as the packaging and design of your products, you can make improvements.
→ Attrition rate
Among the most critical metrics for any business is the attrition rate, which represents the percentage of customers who have stopped buying from you. A high attrition rate can signify poor user experience, sluggish service performance, or simply a lack of compelling features. Whatever the reason, it's essential to keep an eye on your attrition rate and work to reduce it.
How can you measure: The attrition rate of your clients can be calculated by tracking how many of them stopped ordering or paying for your services.
How can you improve: It is possible to reduce your attrition rate compared with a high retention rate. You can do so by providing your customers with high-quality service.
→ Net promoter score
Net Promoter Score (NPS) is a digital marketing metric that measures customer loyalty. It's a valuable tool for digital marketers because it can help you understand how likely your customers are to recommend your product or service to a friend.
How can you measure: Customers can be surveyed and interviewed using ten-point scales to gauge their satisfaction after purchasing or subscribing.
How can you improve: To improve it, you can provide your customers with benefits and information they didn't even expect.
Metrics about the website and traffic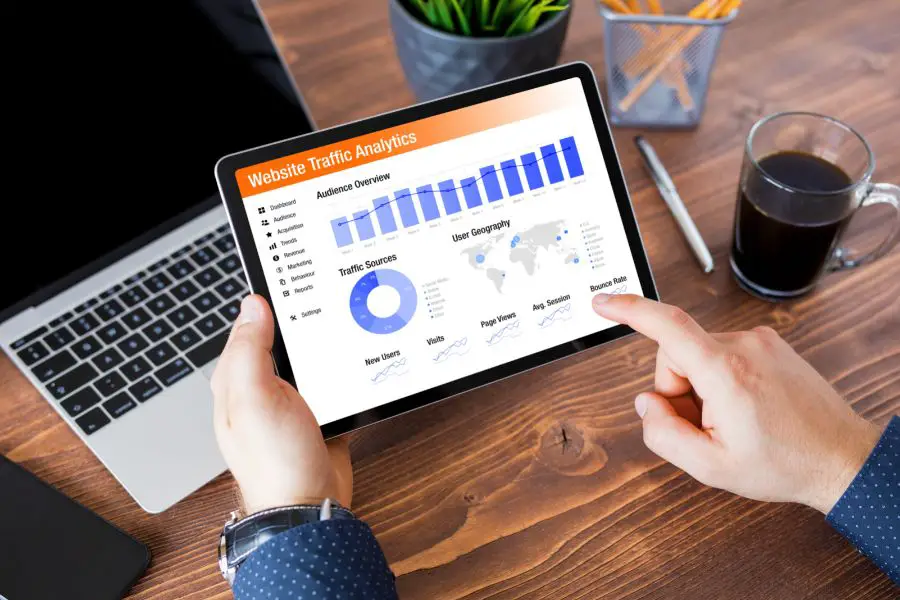 Traffic and Website KPIs evaluate the effectiveness of your website in attracting, keeping, and providing visitors with the information they seek. A few KPIs to consider are: whether people find the site at all and how much time they spend interacting with your content.
→ Monthly website traffic
Monitoring your homepage, pricing page, blog, landing page, and other pages, and overall traffic is essential. Determine which pages on your website have the highest conversion rates and apply those best practices to other pages.
How can you measure: The best way is to use an analytics tool, such as Google Analytics, to measure your marketing efforts.
How you can improve: Depending on your website traffic goals, you may want to increase it through paid advertising, or you may wish to increase it organically by creating SEO-optimized content that will attract visitors on its own.
→ Returning vs. new visitors
When you measure the return rate of people who revisit your site, you can know whether the content is engaging enough to keep visitors returning.
How can you measure: Google Analytics is a great tool to see and calculate the visitors to your website.
How can you improve: Providing helpful information on your blog and landing pages and utilizing remarketing ads are the best ways to improve your website.
→ Visits per channel
The number of visitors and leads generated by a paid ad campaign will help you assess its success. In addition, knowing your traffic sources will help determine which marketing channels are most profitable for your business.
Organic search, which involves visitors finding your website via search engines such as Google or Bing, is the most common source of website traffic. 
How can you measure: Referral codes can be set up for pay-per-click campaigns so you can know precisely how much traffic has been generated from them.
How can you improve: To increase organic traffic, interlink your website's pages and provide helpful content.
→ Average time on page
Your website's average time on site is significant for organic search traffic because Google ranks pages based on relevance. Therefore, the higher your website's average time, the higher your chances of ranking well on search results and converting more visitors.
How can you measure: Again, you can use Google Analytics to measure the average time on your website page.
How can you improve: Your landing pages will be more compelling and valuable if you use colorful images.
→ Website conversion rate
Although the page may receive thousands of visits, if it does not convert, it does not make sense to direct paid traffic to it.
How can you measure: You can measure conversion rates on every page using Google Analytics.
How can you improve: To improve, make sure you test out things that might increase the conversion rate of your landing pages – for example, changing the CTA, adding images, or altering the text.
→ Conversion rate for call-to-action content
To generate traffic to certain pages, pay-per-click campaigns are beneficial. You should measure the conversion rate when your content contains a clear call to action. When evaluating whether your CTA content is sustainable, you should compare its price per conversion with its customer lifetime value.
How can you measure: Using Google Analytics, you can track every time your CTAs or content is clicked.
How can you improve: To ensure your call-to-action messages are compelling, add more CTAs to your content and pages and test various call-to-action messages.
→ Click-through rate (CTR) on web pages
You can measure how effectively your site's call-to-actions attract traffic and convert them to customers.
How can you measure: Use the Google Analytics Behavior Flow tool or a heat mapping tool.
How you can improve: Creating CTA messages that engage people is essential to link landing pages, blog articles, and case studies.
→ Pages per visit
Your site's call-to-action must be compelling and logically arranged based on this marketing KPI.
How can you measure: Track the number of pages a visitor looks at per session using the Google Analytics Behavior tool.
How you can improve: You can improve your website by making it as easy to navigate as possible.
Search engine optimization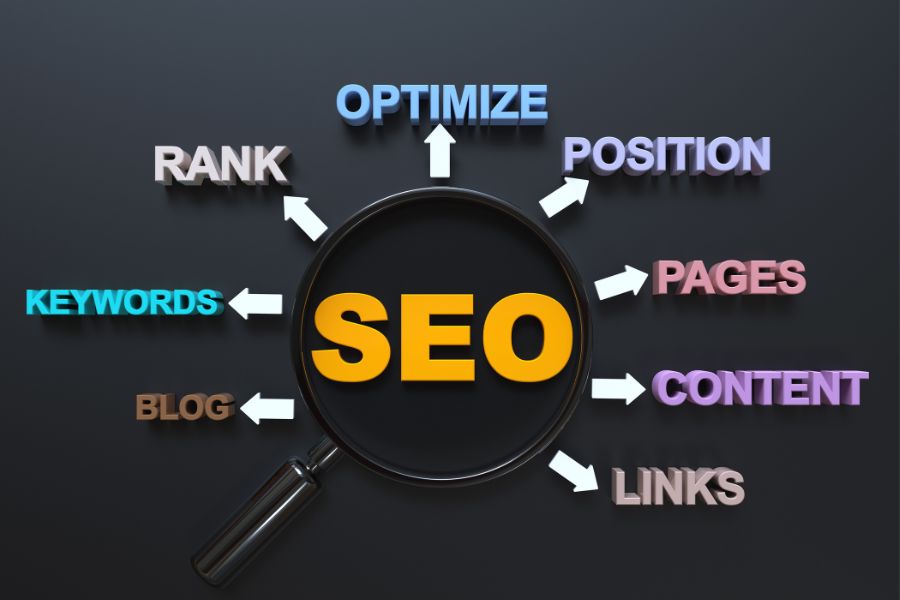 SEO metrics focus on traffic from search engines to acquire highly targeted leads. This is because organic traffic from search engines represents one of the digital marketers' most lucrative lead sources.
→ Inbound links to a website
A high page ranking reveals how well your content is shared on other websites and can indicate whether you're regarded as an industry expert in a particular area. In addition, you can measure the quality of those inbound links only from pages with high page rankings.
How can you measure: Your website's inbound links can be seen with tools like Moz, Alexa, or SEMrush.
How can you improve: Establish yourself as an industry expert to get featured in articles, news, and reports.
→ Traffic from organic search
Search engine traffic is measured by the number of monthly website visits from search engines such as Google, Bing, and Yahoo.
How can you measure: You can use the Google search console to find traffic from organic searches.
How can you improve: Make your content more search engine-friendly to rank higher on SERPs. 
→ New leads from organic search
To indicate how valuable organic search is to your sales and profits, track the number of new leads you find through search engine queries.
How can you measure: Track how many leads came from organic sources using marketing analytics tools.
How can you improve: Create an SEO strategy and publish content to support your keyword ranking goals to rank high.
→ Conversions from organic search
A conversion is a completed goal, such as a purchase, sign-up, or download. You can track conversions from organic search traffic with Google Analytics.
How can you measure: Track goals and conversions in Google Analytics.
How can you improve: Ensure your website is SEO-friendly and ranks high for highly targeted keywords. Secondly, ensure your lead-to-customer strategy is efficient and encourages people to order.
→ Page authority
Page authority is a score (on a 100-point scale) developed by Moz that predicts how well a website will rank on search engines. It is based on factors such as the age of the domain, the number of inbound links, and the quality of those links.
How can you measure: You can easily view the authority of every single page by using Moz's browser extension.
How you can improve: Many factors contribute to a high page authority score, but some of the most important include generating high-quality content and building links from other high-authority websites.
→ Google PageRank
Based on the quality and quantity of links pointing to a page, Google calculates the importance of web pages using various algorithms.
How can you measure: Check your page rank with a page rank checker.
How you can improve: You should increase the number of inbound links to your brand by publishing a guest blog and pitching your brand to journalists to get more inbound links.
→ Keywords in the top 10 SERP Positions
The number of keywords that your website ranks in the top 10 positions on SERPs can give you an idea of your website's visibility and traffic potential. The average click-through rate for position #1 is 32.5%, whereas position #11 has a click-through rate of 1.0%.
How can you measure: Use keyword research tools like SEMrush and Moz to track your website's SERP rankings.
How can you improve: Publish high-quality content and optimize your website for the keywords you want to rank for.
→ Rank increase of target keywords
You can determine the success of your SEO strategy by tracking the number of keywords that increased or decreased at the end of each month.
How can you measure: SEO tools report your keyword ranking weekly and monthly.
How can you improve: Based on your competitors' top-ranking keywords, look for ways to get new links from high-authority websites.
→ Conversion rate per keyword
Nothing is more valuable than finding a keyword with many paying customers. This means the keyword is attracting a highly targeted audience. In addition, you can create content that ranks high in SERPs if a keyword has a high conversion rate.
How can you measure: Using Google Analytics, you can track customers from organic leads and see how they discovered your site. To do this, you need to connect your marketing and CRM tools.
How you can improve: Provide additional information and quality images on every keyword landing page to enhance the user experience.
→ Number of unique keywords that drive traffic
A higher ranking for a keyword increases traffic to your site, so monitor this SEO metric on a month-to-month basis to see if your newest keywords are bringing more traffic.
How can you measure: You receive a weekly report on the search traffic by keyword from SEO tools.
How can you improve: Create new SEO-optimized content using many keywords, and use them in your linked text.
→ The volume of traffic from video content
Using video in digital marketing is increasing and should be included in your SEO strategy. Video is 50 times more likely than standard search engine results to appear on the first page.
How can you measure: Include a "video" tag in all video links so that report results can be filtered quickly.
How you can improve: Create a sitemap and upload videos directly to YouTube.
Paid Advertising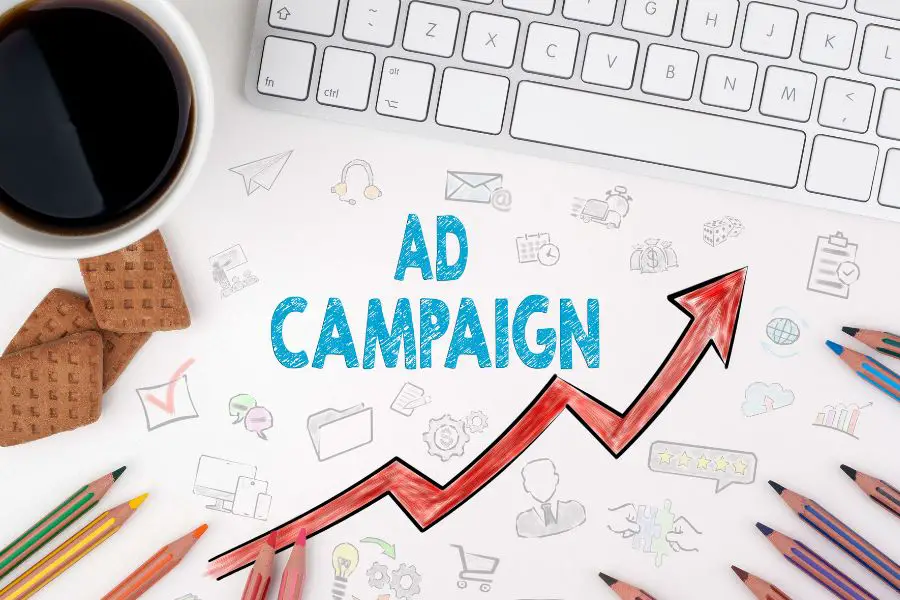 To improve your ads and save resources, consider adding advertising KPIs to your monthly marketing overview to evaluate your ROI (return on investment).
→ Leads & conversions from paid advertising
Your non-paid marketing performance can be seen by comparing the number of monthly leads and conversions from cost-per-click advertising to overall results.
How can you measure: In Google Ads, your results are shown in your Google Analytics account. Set up ref codes for each campaign so that Google Analytics can track them.
How can you improve: Writing good ad copy and using highly relevant keywords to your unique selling proposition is essential.
→ Cost per acquisition (CPA) & cost per conversion
Buying leads and customers through CPC advertising can be expensive, so you should monitor the ROI. This metric may even be included among other financial KPIs you track. Cost-per-acquisition can also be observed, but paid campaigns should be measured by cost-per-conversion to ensure long-term profitability.
How can you measure: Taking into account the fact that leads need time to convert, this digital marketing KPI should be calculated two months after the money, time, and resources spent on paid advertising campaigns have expired.
How can you improve: Optimize your landing pages and offer helpful sales materials/customer support to less competitive target keywords.
→ Click-through rate on PPC advertising
The CTR is a measure of how well your pay-per-click campaigns are performing. A low CTR indicates that your ads aren't compelling enough to make people click.
How can you measure: Calculate your average by using all advertising tools.
How you can improve: Your Facebook ads shouldn't always look the same, have the exact copy, and have the same call-to-action text.
Tracking of Social Media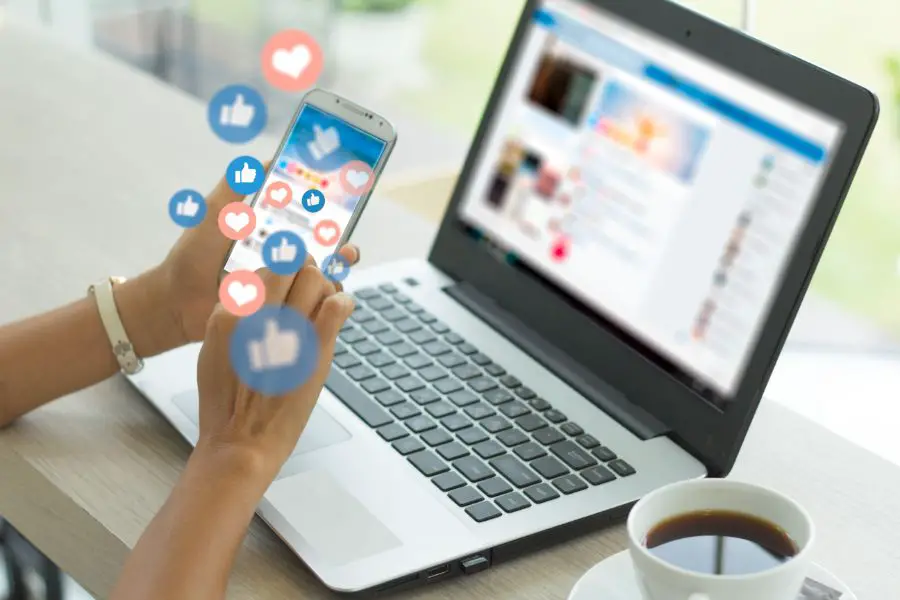 Build an engaged community and convert them into customers with your social media efforts.
→ Traffic from social media
When you take a closer look at this social media KPI as a percentage of all visits to your site, you will better understand how various critical channels are to the success of your website.
How can you measure: You can view your website's traffic sources using Google Analytics reports.
How you can improve: Get a large following, share interesting posts, and engage in social media campaigns to increase awareness.
→ Leads and conversions from social media
You can assess your social media marketing efforts by tracking monthly leads and conversions to measure the effectiveness of this channel.
How can you measure: Track leads generated by "social media" with your CRM system.
How you can improve: You can use paid campaigns to get leads on social media.
→ Conversion rate
Your social media marketing ROI can be determined by tracking the number of leads that become paying customers.
How can you measure it: The conversion rate can be calculated by dividing leads by conversions from social media.
How you can improve: You should optimize your sales process, improve your social media posts, and conduct A/B tests on copy and design of your ads, as well as on call-to-actions.
→ Managed audience size
It is essential to keep in mind that your social media posts will attract attention and engage new people over time if your following grows month after month.
How can you measure: Track your social media channel engagement or use a marketing tool.
How can you improve:
Start a social media campaign.
Share engaging content on your social media accounts.
Invite your friends to follow your account when you start a social media campaign.
→ Engagement rate
You can calculate the percentage of your total number of followers based on the number of active engagements with your posts (shares, likes, clicks, etc.).
How can you measure: Analyze engagement using tools such as Moz, Hubspot, Buzzsumo, and the like. Calculate concentration using the number of total followers.
How can you improve: Use CoSchedule's 21 tactics to increase social media engagement.
→ Social media ROI
Anyone who's been involved in social media for more than, say, five minutes has probably been asked to justify its ROI. And it's a valid question – after all, businesses need to know that their marketing efforts are paying off. Luckily, there are ways to measure social media ROI.
How can you measure: Taking into account the many advantages of social media, you should assess your return on investment according to the goals you have set for your social media marketing efforts.
How you can improve: Choose the social media channels that will produce the most ROI from your marketing.
Related: Best Ways to Market Your Small Business
Conclusion
As you can see, you can track various KPIs to measure the success of your digital marketing campaigns. While some may be more relevant to your specific business, it is essential to follow as many as possible so that you have a comprehensive understanding of how your marketing efforts are performing.
We would love to hear about which KPIs work best for you and how you measure them. Please share your thoughts in the comment section below.
FAQ
What are the digital KPIs?
Some common KPIs that could be used to measure the success of a digital marketing campaign include website traffic, click-through rates, conversions (sales or leads), and email open and click-through rates.
How do you measure digital marketing performance?
Here are a few things you should keep in mind when trying to measure the performance of your digital marketing campaigns:
• How would you like to achieve your goals?
• Who is your target audience?
• Which platforms are you using?
What are ROI and KPI in digital marketing?
ROI is "return on investment," and KPI is a "key performance indicator." Both of these are important metrics to track in digital marketing, as they can help you measure the effectiveness of your campaigns and determine whether or not your efforts are generating a positive return.
What is KPI in lead generation?
In lead generation, a KPI could be the number of leads generated per month or the percentage of leads that result in closed deals.