Disclaimer: We sometimes use affiliate links in our content. For more information, visit our Disclaimer Page. 
Choosing the right marketing undergraduate program is an important decision. After all, you will be spending a lot of time and money on your education, so it's essential to find a school that offers a quality curriculum and prepares you for a successful career in marketing.
This article will discuss the best marketing undergraduate programs. We'll also talk about why getting a marketing degree is such an intelligent investment and some benefits you can expect to enjoy once you graduate from one of the top marketing schools.
Is a marketing degree right for you?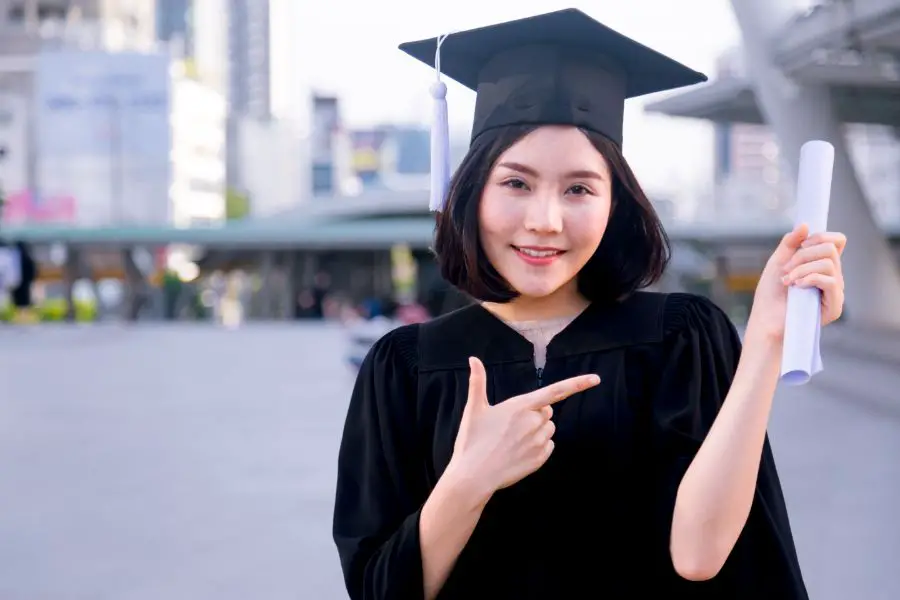 As digital and technological advancements continue to transform consumer behavior and the opportunities available in marketing continue to increase, marketing is an exciting field.
The data suggest that the time is right for you to dive into marketing and advertising now. For example, according to the Bureau of Labor, management jobs in marketing and advertising are projected to increase over the next decade. As someone interested in the management career path, it would be a good idea to have a degree behind them while they get started in the field and grow into a management position.
It is expected that the growth of technology will be a significant driver of the rise in marketing jobs. Market analysts will be in high demand, especially if technology continues to grow. It is possible to find a career in marketing research and analysis with a degree in this field, combined with technical education and experience on the numbers side.
Often, the marketing field can be regarded as one of those fields that combine a wide range of pursuits, bringing together creative, right-brained individuals with analytical, left-brained individuals.
Related: How To Get Into Digital Marketing Without a Degree
The Benefits of Working With Marketing Experts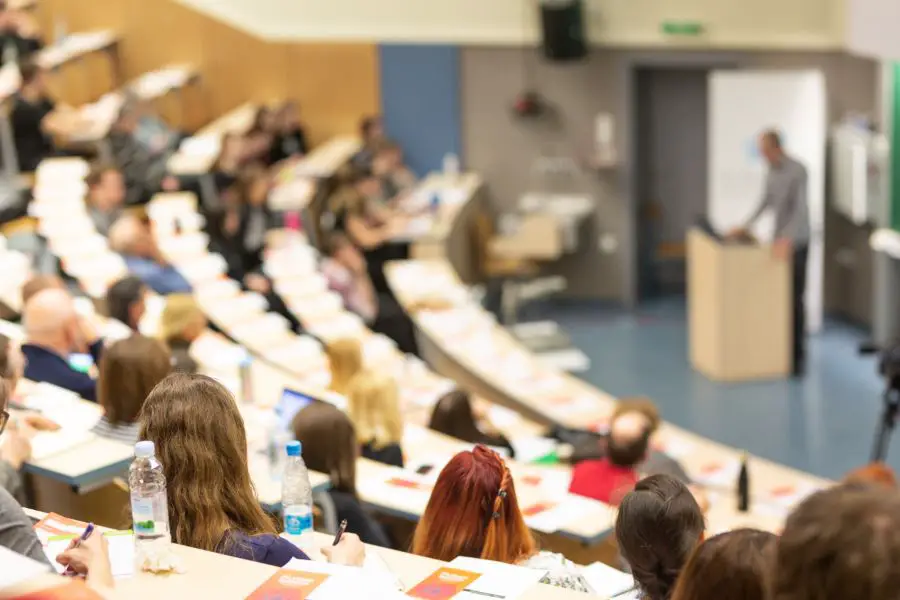 It is essential to consider several factors before selecting a school and a marketing degree. Marketing experts trained at the top U.S. marketing schools can help you make the most of your marketing efforts. They can help you learn more about:
→ Marketing Overview or Introduction
As any marketing major knows, marketing 101 is an introductory class for those on the marketing degree track. This class provides an excellent overview of the field, introducing students to the basic concepts and principles of marketing. In addition, it helps students develop critical thinking and analytical skills essential for success in the marketing field.
→ Advertisement
A typical course for marketing degrees, this course explores the tactics and history of campaigns, including what works, what doesn't, and why.
→ Communication with the public
It is often a different degree or area of concentration from marketing, but public relations is sometimes offered as part of the marketing degree track because they are interconnected. You will be able to learn more about how people perceive brands and how to keep this image alive.
→ Research and quantitative data
Marketing is about collecting and analyzing data from your target market and competitors. You'll gain a deeper understanding of the data you can achieve and how to use it by taking courses like this. Collecting and translating this data into meaningful information is crucial to developing campaigns.
→ Behavior of consumers
Along with business and data, a consumer behavior course explains how to reach your target market and, ultimately, drive sales. These types of methods empower you with that end-user information. They explain how people respond, why they buy, and more.
→ Communications
As a marketer, you must be able to communicate effectively. Therefore, finding out how communication works, channels, and new platforms is critical to a marketing degree.
→ The principles of economics
You need a bigger-picture view of marketing to position your products or services with foresight. These courses can give you a better understanding of the economy, including supply and demand basics, as well as more global perspectives such as financial markets and their impact on consumers.
→ Branding
It is common for marketing degrees to include a course on branding, which provides an overview of what makes up a brand. Unfortunately, we tend to overlook all brand details when it becomes a household name. Branding courses can help you see how powerful a brand can be by breaking it down.
Moreover, you can take classes on specific marketing topics, such as tactics, campaigns, or modern marketing channels. Among them are retail principles, digital marketing, graphic design, copywriting, content marketing, social media, event promotion, and more.
Best marketing undergraduate programs
Marketing is a broad and exciting field that offers creative and ambitious undergraduates many opportunities. The best marketing programs will give students the skills and knowledge they need to succeed in this competitive industry.
Here are the twenty best marketing undergraduate programs:
1. University of Pennsylvania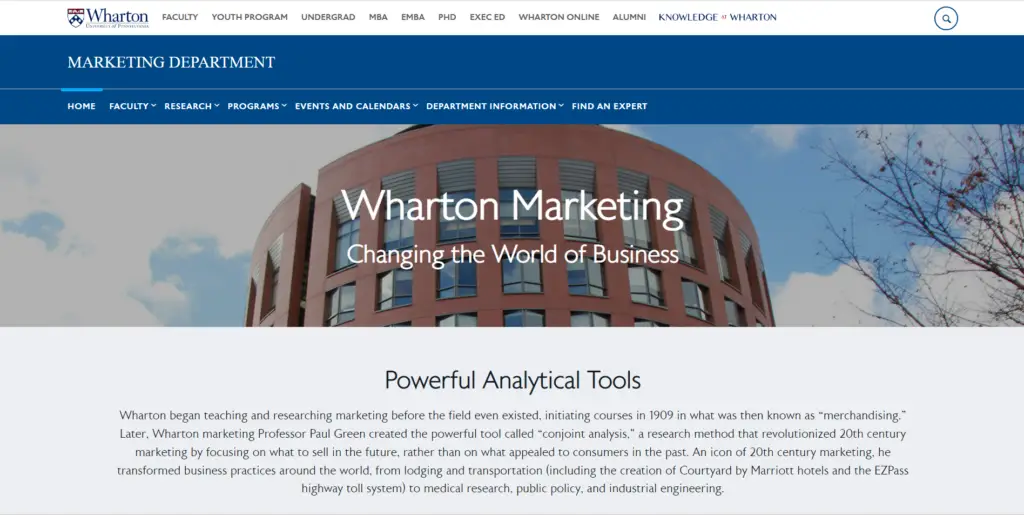 A Bachelor of Science in Marketing from the University of Pennsylvania is a prestigious program that combines history with research and forward-thinking tactics under the Wharton School. In Philadelphia, this school is known for being cutting-edge and pushing innovation.
They boast of having more professors who have been cited and published in marketing than any other school. As a result of their involvement in marketing, before it was formally recognized as a field, they are credited with leading research and analytics.
Students may also pursue dual concentrations in marketing and communications or marketing and operations in addition to the standard marketing track. During their preparation for careers, students have access to a wide range of opportunities inside and outside the classroom.
Through internships, research projects, or extracurricular activities, students will have ample opportunity to gain real-world experience and develop their skillset.
2. University of Notre Dame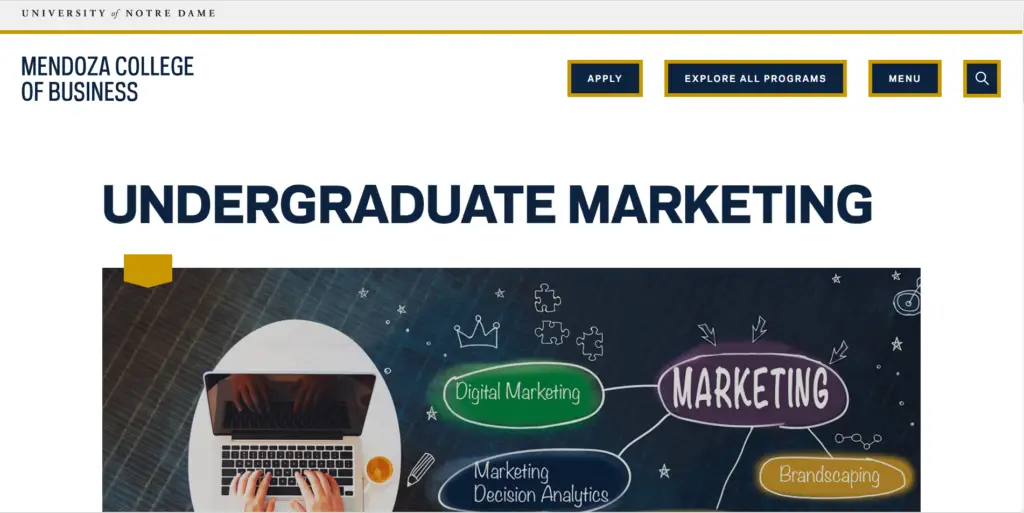 A marketing major offered by Notre Dame's School of Business in the Mendoza College of Business focuses on the "5Cs/S.T.P./4Ps" framework.
As a result, we can sum up the five Cs as "Company, Collaborators, Customers, Competitors, and Climate," which helps to frame and guide strategic decisions in marketing by providing a compass for strategic planning. This can help drive marketing campaigns to identify a product or service's "Segment, Target, and Position." And finally, there are four Ps to consider – Product, Placement, Price, and Promotion.
Notre Dame sees these marketing fundamentals as the starting point in discussing all the modern and innovative ideas discussed there. Also, the company's marketing program emphasizes ethical behavior as it relates to marketing.
3. Bryant University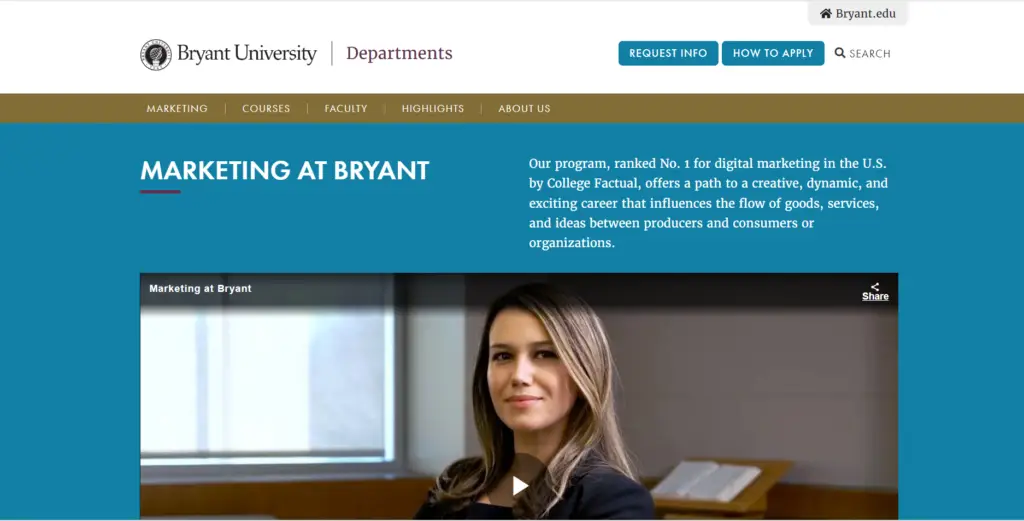 Taking students on a journey through research, coursework, internships, and further education that prepares them for a successful, long-term career in the marketing field, Bryant University offers an immersive marketing program that takes them on a journey of research, coursework, internships, and more.
Bryant's strength is that it allows students to learn marketing from various perspectives, including management, analytics, digital media, and communications. As a result, Bryant can prepare students for the unpredictable future of marketing.
It is said that the marketing graduates from this top marketing college earn a median salary of $60,000 post-graduation, working for several well-known companies such as Amazon, The Walt Disney Company, Nickelodeon, Time Inc., and many more all over the world.
4. University of Florida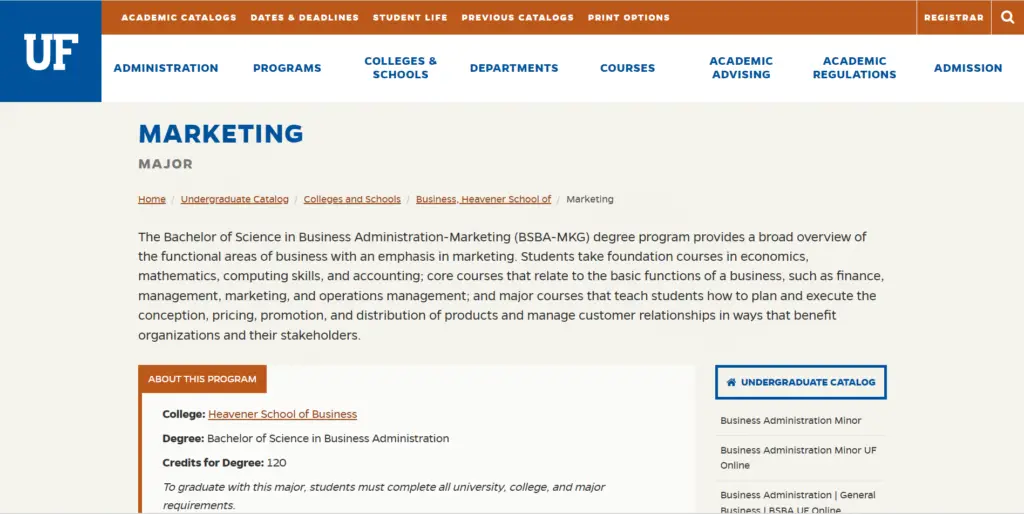 In looking for schools that offer marketing degrees, you may want to consider the University of Florida Heavener School of Business. The University of Florida, located in Gainesville, Florida, in the northern part of the state, offers a major in Business Administration with an emphasis in Marketing.
There are many advantages to taking this course for marketing students, including working with and learning from renowned faculty in their field. Several of their classes are oriented towards the research and the science behind marketing, including psychology and data, as well as the practical application of that information. Additionally, they are home to the David F. Miller Retail Center, which is well known for its work in science and research behind successful retailing.
5. Indiana University
In Indiana University's Marketing Department, students receive the skills, knowledge, and connections they need to succeed in marketing. Students develop creative and analytical skills essential for a successful career through teaching, research, and experiential learning opportunities.
The department's research shapes the marketing field and informs its teaching, providing students with a deep understanding of consumer behavior. In addition, students can compete in international case study competitions and connect with leading employers through the department's Undergraduate Marketing Club, Global Sales Workshop, Consumer Marketing Academy, and Business Marketing Academy.
With all that the department has to offer, it's no wonder that I.U.'s marketing graduates are in high demand by top companies.
6. University Of Wisconsin
The Department of Marketing at the Wisconsin School of Business offers a Bachelor of Business certificate, an M.B.A. with three specializations, and a doctoral program. Among the departments are the A.C. Nielsen Center for Marketing Analytics and Insights, the Center for Brand and Product Management, and the Grainger Center for Supply Chain Management.
As a result of the college's instructors, experienced practitioners, and field innovators, students will be able to acquire skills in qualitative and quantitative analysis, problem-solving, and communication.
In addition to marketing analytics and insights, digital and social media, sales management, advertising, brand/product management, supply chain management, and much more, you will have an opportunity to explore a variety of career paths at this top marketing college.
As you progress through the program, you'll have plenty of opportunities to practice your newly acquired skills through real-life projects, internships, and company visits, to name a few.
7. Missouri State University
Missouri State University offers four unique track options for marketing majors, depending on your interests. For those interested in marketing degrees, there are four track options available. These include Advertising and Promotion, Marketing Management, Marketing Research, and Professional Sales.
The marketing management track, for example, offers a hybrid option of online, in-person, or both. In addition to these specialization options, they also provide unique opportunities. Additionally, they offer certification in relationship selling at the undergraduate level and marketing and marketing analytics at the graduate level.
8. New York University
As part of its bachelor's degree program, New York University in New York City offers a concentration in marketing. In addition to empowering their students to compete in the market and establish relationships with target markets, they also offer courses that cover consumer behavior and consumer insights through research.
You may want to consider this path if you are interested in marketing in these areas, including social media, sports marketing, design, film, business on Broadway, luxury marketing, and more. Furthermore, they encourage those interested in marketing analytics and data to pursue a dual major in statistics.
9. Washington University in St. Louis
Under the bachelor of science in business administration major at Washington University in St. Louis, there is a marketing major. Designed to help students create a path reflective of their interests, this significant offers core classes such as marketing research, as well as electives to allow a student to customize their studies. London and Sydney, as well as sports, and luxury, are included in them.
In addition to offering a range of majors and minors, the school provides several children, including business sports, entertainment, social impact, and international business.
10. Saint Joseph's University
The Saint Joseph's marketing program provides students with the skills and experience they need to stay ahead of the curve in the ever-changing marketing world. With an emphasis on marketing theory through real-life insights, students get a healthy mix of classroom learning and practical experience.
Guest speakers, field trips, case studies, and internships give students a chance to see marketing in action. In addition, designing actual marketing plans, promotional campaigns, and research projects allows them to put their knowledge to the test.
And with a diverse faculty of world-renowned scholars, industry experts, and corporate executives, Saint Joseph's marketing majors have plenty of opportunities to network and learn from the best in the business.
So whether your interest lies in traditional marketing, entertainment marketing, or sports marketing, Saint Joseph's University is the perfect place to start your journey.
11. The University of Texas at Austin
Students can earn a bachelor's degree in marketing from the University of Texas at Austin McCombs School of Business. According to the University's website, U.S. News and World Report recognized this program as the third-best marketing program in the country.
In addition to offering a multidisciplinary approach to marketing, the program provides the latest findings and research in the field. As a result, it has become a renowned program that focuses on an interdisciplinary approach to the subject. They also encourage students to get hands-on, real-world experience through internships, study abroad programs, and other business opportunities as part of their program.
12. Catholic University Of America
The Catholic University of America offers students a well-rounded marketing education combining social teaching and liberal arts. The B.S.B.A. marketing program includes internships with top business companies and opportunities to study abroad. 
This University's marketing academics foster creativity and problem-solving in its students while preparing them for a professional career. The Busch School of Business even has a four-year career development program to help marketing graduates find an excellent positions for them. In addition, the University offers a variety of marketing courses that cover topics such as market research, advertising, and sales. 
As a result, students who graduate from the Catholic University of America with a marketing degree are well-prepared for a successful career.
13. William Peace University
William Peace University offers 27-degree programs, and their 13:1 student-to-faculty ratio ensures that every student receives personalized support from their faculty.
As a result of their efforts, they have a 98% success rate where graduates can land a job or place at a graduate school within six months of graduation.
Furthermore, 100% of undergraduate students are required to participate in an internship. This immersive learning approach of 'learning by doing provides students with the skills and experience they need to succeed after graduation.
14. Middle Tennessee State University
A significant component of the Marketing program at M.T.S.U. is the opportunity to be involved in projects involving campus departments and local companies.
In addition to these courses, several are part of the University's Experiential Learning and M.T. Engage programs, which emphasize learning beyond the classroom setting.
The Jones College of Business offers students a combination of classroom instruction and professional development through IGNITE, a program designed to prepare students for their transition from college to a career as a professional.
The Marketing School at Arizona State University may be one of the best schools in the country for internships as part of their program of study. They offer students the opportunity to gain marketing experience as part of their studies, and many turn into full-time jobs once they graduate.
At M.T.S.U.'s Professional Selling Concentration, you will find the I.G.A. Office of Professional Sales, which is part of the Insurance Group of America.
As a result, this program produces successful sales professionals who take the initiative, take responsibility, and take pleasure in exceeding their client's expectations in the sales field.
Combined with the required Dale Carnegie course offered in this program, students are allowed to develop the soft skills that will enable them to succeed in their future careers.
15. Penn State University
Penn State's marketing program allows students to explore all the different aspects of marketing – including branding, management, consulting, research, analytics, and sports marketing.
There is no doubt that Penn State is one of the top undergraduate marketing schools in the country because of its diverse curriculum and the wide range of career options available to students with this degree.
Students who graduate from this best marketing college are prepared to take on any marketing campaign, from brainstorming to execution, as they enter the field, ready to handle their campaign from beginning to end. The top companies they can work for include Unilever, Johnson & Johnson, Google, and many more.
16. Santa Clara University
Santa Clara University's Leavey School of Business graduates will be well-positioned to become successful marketers once they graduate.
It's also important to remember that several different marketing-specific concentrations allow students to choose their fate, whether between business and technology, consumer and channel marketing, or customizing their curriculum.
The vast alumni network and the well-connected faculty at Santa Clara University make it easy for graduates to enter into successful careers after graduation. One example of a notable company that hires graduates from Santa Clara University is the New York Times.
17. Seattle University
There is no doubt that Seattle University's Albers School of Business and Economics takes marketing seriously. It is not just about formally educating students to prepare them for the world but also equipping them with the necessary skills and knowledge to succeed professionally.
In this program, marketing majors get access to various marketing-related courses. Still, they also receive a solid business foundation, enabling them to understand all sides of marketing, creating a better brand experience.
18. The University Of Illinois At Chicago
Taking part in the U.I.C. Business marketing program gives students the chance to get a taste of what it is like to work in the marketing field before they step outside their campus.
A nice feature of the program is that it is located in the heart of the city, so students are right in the middle of all the activities. They can get an education in the classroom and use that education at the many marketing firms in the area.
This program exposes students to various concentrations through a research-based curriculum. However, their ability to choose their attention makes this program stand out as a tailored degree for each student.
19. University Of Iowa
As one of the premier marketing colleges in the country, the University of Iowa Tippie College of Business offers an undergraduate degree, an M.B.A., a Ph.D. in marketing, and several other programs.
Undoubtedly, the University invests in these programs from the moment they offer them to undergraduate students.
A student organization such as the American Marketing Association is an excellent way for students to interact with each other and learn how the marketing industry works from one.
As a student at the Marketing Institute, you will work on real marketing projects for real clients from the real world, and your coursework will help you lay the foundation for marketing success after you graduate.
20. Tulane University
There are plenty of opportunities for students pursuing a marketing career at the Tulane University Freeman School of Business.
As a student, you will be able to take courses that prepare you to be competent in the technical aspects of marketing. At the same time, you will be able to participate in student organizations that give you more hands-on experience.
A similar approach is used by Tulane University, which encourages its students to try out new strategies and seek out new opportunities.
Hence, students can gain valuable experience in various global markets by studying abroad or internships due to this program.
Graduates of undergraduate marketing schools like this one are never alone. Their extensive alum networks ensure they always have a place to call home.
Related: List of Skills for Resume (Top Soft & Hard Skills)
Conclusion
So, if you're considering a career in marketing, be sure to check out one of the top 20 marketing undergraduate programs we've listed. Not only will you gain a wealth of knowledge and valuable skills, but you'll also have access to some of the best job opportunities available.
And don't forget – getting your degree from one of these schools is an investment that will pay off for years to come. We'd love to hear about your experiences as a marketing student – please share them with us in the comment section below!
FAQ
Are marketing degrees worth it? 
The value of a marketing degree depends on what you hope to gain from it. If you are looking for a way to break into the marketing industry, a degree can help give you the knowledge and skills you need to succeed. However, a degree may not be necessary if you already have experience in the field. Ultimately, it is up to you to decide whether a marketing degree is worth the investment.
Is it hard to study marketing?
It can be challenging to study marketing because it is such a broad subject. There are many different areas of marketing, from advertising to market research, and each has its own set of challenges. However, many resources are also available to help you succeed in your studies. Dedication and hard work can overcome any obstacles you face while studying marketing.
What are the benefits of a marketing degree?
A marketing degree can give you the skills and knowledge you need to succeed in the marketing industry. Additionally, a degree can help you network with other professionals in the field and make connections that can benefit your career. Finally, a degree may lead to better job opportunities and higher salaries. Ultimately, the benefits of a marketing degree depend on your individual goals and objectives.
What are some of the best marketing schools?
There is no definitive answer to this question, as students have different needs. Some of the best marketing schools may offer programs that focus on specific areas of marketing, such as digital marketing or advertising. Others may have strong connections to the industry and offer internships or other opportunities to gain experience. Ultimately, the best marketing school for you is the one that best meets your needs and helps you achieve your goals.
What are some common marketing interview questions?
Some common marketing interview questions include:
• What made you interested in marketing?
• What do you think makes a successful marketing campaign?
• What are some of your favorite brands, and why?
• What do you think is the most important aspect of marketing?
• What do you think sets your company apart from its competitors?
These questions can help the interviewer get to know you and your thoughts on marketing. They can also help the interviewer gauge your knowledge of the subject and determine if you would be a good fit for the company.