Disclaimer: We sometimes use affiliate links in our content. For more information, visit our Disclaimer Page. 
Shopify is a leading e-commerce platform that provides a simple and intuitive solution to sell online. Many entrepreneurs are drawn to selling on Shopify without holding inventory, eliminating the need for upfront investment and storage space.
This article will explore the best practices for selling on Shopify without inventory through the dropshipping model.
What is Dropshipping Business model?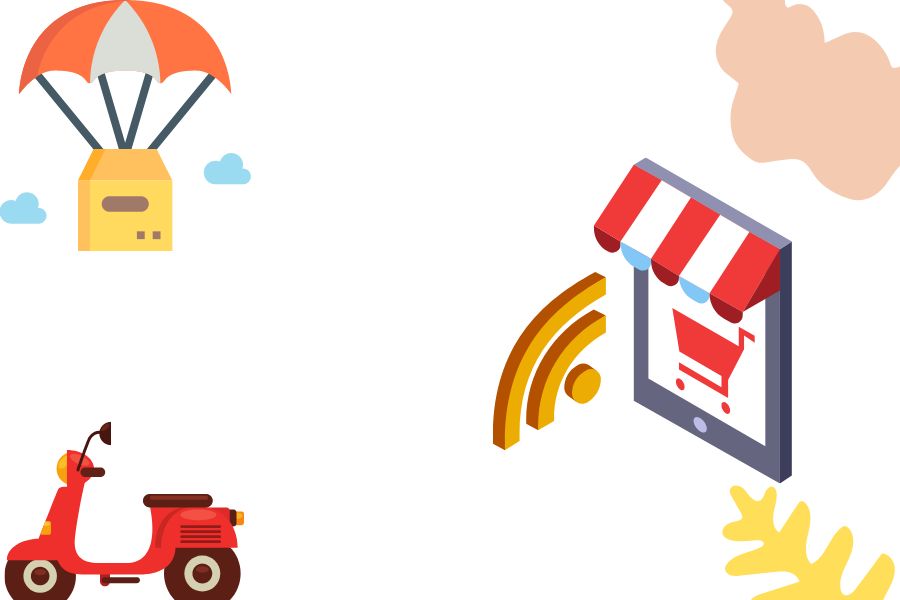 Dropshipping is a retail fulfillment method where a store doesn't keep the products it sells in stock. Instead, when a customer places an order in the store, the store purchases the item from third-party fulfillment centers and has it shipped directly to the customer.
On Shopify, dropshipping can be facilitated using apps or plugins that connect the store with suppliers who can fulfill orders on behalf of the store. This allows store owners to sell various products without managing inventory or handling shipping themselves.
Sell on Shopify without Inventory in Steps
Here is a step-by-step guide on how to sell on Shopify without inventory.
1. Decide on Your Niche & Marketing Strategy
Selecting the right niche for your Shopify store is critical in building a successful dropshipping business. Niche stores have a unique advantage over general online stores in dropshipping because they can provide more focused and relevant product offerings. By specializing in a specific area or niche, you can cater to a specific audience and provide products tailored to their needs and interests.
When selecting your niche, consider your passions, expertise, and the needs and interests of your target audience. Focusing on a specific area or niche can create more targeted and relevant content for your audience, build trust, and attract more traffic to your site. This can lead to higher conversion rates and increased customer loyalty.
To find the right niche for your Shopify dropshipping business, consider your passions and areas of expertise. Think about the products or services you enjoy using or know about. This will give you a good starting point for identifying potential niches in which you can specialize.
Next, conduct market research to identify trends and gaps in the market. Look for areas with a high demand for products but few competitors. By identifying these gaps, you can capitalize on untapped opportunities and position your store for success.
Additionally, look at your competition to identify areas where you can differentiate yourself. Analyze their product offerings, marketing strategies, and customer reviews. Look for areas where you can offer a unique value proposition or provide a better customer experience.
Finally, consider the needs and interests of your target audience. Aim to provide solutions to their pain points or offer unique products that align with their preferences. By understanding the needs of your target audience, you can create more targeted and relevant content that resonates with them and drives more traffic to your site.
Related: Ecommerce Marketing Strategies
2. Choose a Domain Name
In establishing a niche-based Shopify dropshipping business, it's crucial to select a domain name that accurately reflects your niche and is easy for your audience to understand. Your domain name should meet several critical criteria, including.
Choose a short word (ideally 1 or 2 words)
Easy to read, pronounce, write, and remember
Brandable, not an exact keyword match
Free from special characters or numbers
Preferably a .com domain name
Does not violate any trademarks or utilize existing brand names
Consider using a website specializing in brainstorming to help generate ideas for your store's name. After deciding on the perfect domain name, registering it can be done through an independent domain names registrar, Name Cheap, or you can use Shopify when building your store.
It's worth noting that utilizing an independent domain registrar provides the added benefit of setting up custom email addresses for customer support instead of relying on personal email accounts.
In short, naming your Shopify dropshipping store is a crucial step in the establishment process and should be approached with careful consideration and attention to detail.
3. Start a Shopify Store with The Free Trial
Take advantage of Shopify's free trial to get started simply by providing your desired email, the name of your store, and a password. It's important to note that you can modify the email later on.
Once you've created your account, accessing the Shopify admin dashboard is effortless, even for those new to the platform. With its intuitive design and user-friendly interface, the dashboard makes managing your store simple and stress-free.
Taking advantage of the free trial offered by Shopify is the most accessible and straightforward step in creating your successful dropshipping store.
4. Choosing a Theme for your store
You can choose a theme for your Shopify store once you have entered the dashboard. The theme will influence the overall look and feel of your site. There are many free and paid themes on Shopify, and choosing the right one can be challenging. 
Free themes are a good starting point for beginners who are just starting and don't have a large budget. They are often fully functional and can be customized to suit your needs.
When choosing a theme, you must consider the design, features, and functionality you need for your store. Look for mobile-responsive themes, easy to navigate and optimized for search engines. Pay attention to the included features, such as support for product variants, customer reviews, and social media integration. 
Related: Best Shopify Themes
5. Adding a Logo
A logo is integral to your brand identity and can help you stand out from competitors. A well-designed logo can communicate your brand values and make your store more memorable to your customers. While you can hire a professional designer to create a logo for you, you can also use several online tools to create your logo.
One of the best logo-maker tools available is Canva, a free plan that allows you to create and download high-quality logos. Canva offers a wide range of templates and design elements that you can use to create a memorable and eye-catching logo. 
Another popular logo-making tool is Looka. Looka offers a comprehensive branding package that includes a logo, business cards, social media kits, and brand guidelines. The platform uses artificial intelligence to design a unique logo for your brand based on your preferences and industry. You don't need graphic design experience to create a professional-looking logo.
Once you have created your logo, you can download it in various formats and add it to your Shopify store through the storefront editor.
6. Creating an attractive Home Page
Your home page is the first thing your customers see when they visit your store, so you want to make a good impression. It should share what your store is about and showcase your products or services.
Choosing relevant images for your niche store's header and footer sections is a good idea. You might choose images of athletes or sports gear in action if you're selling sports gear. Your store will look more credible and trustworthy if you do this.
Alternatively, if you have a general store selling all kinds of stuff, you could use more images like nature photos or abstracts. Even though these images don't show specific products, they can make your design visually appealing and engaging.
In addition, make sure your home page is search engine-friendly by including relevant keywords in the page titles, meta descriptions, and content. This will help your store appear in search results.
7. Add Important Pages
In addition to your home page, there are several other essential pages that you should include on your Shopify store. These pages help to build trust and credibility with your customers and can also help you to connect your store with payment gateways, advertising platforms, and other essential services.
Including a privacy policy that explains how you collect and use customer info is essential. Especially if you're using Google Analytics or Facebook Ads, you must have a privacy policy to ensure you comply with data protection laws.
You should also include a shipping policy outlining your shipping methods, delivery times, and other relevant details. A clear and transparent shipping process helps reduce confusion and build customer trust.
Other vital pages include terms of use, contact us, and about us. The terms of use page outline the legal terms and conditions of using your website, while the contact us page provides a way for customers to get in touch with you if they have any questions or issues. Finally, the about us page lets you tell your brand story and personally connect with your customers.
8. Payment Gateway
A payment gateway is essential to accept payments on your online Shopify store. Payment gateways allow you to accept payments from your customers and can be integrated into your store using Shopify's payment gateway settings.
Shopify offers various payment gateways in different countries, including Stripe, 2Checkout, and PayPal. Each payment gateway has its fees and features, so it is essential to research and compares different options before choosing the one that is right for your store.
Once your payment gateway is set up, you can accept customer payments. It is essential to test your payment gateway regularly to ensure it is working correctly and troubleshoot any issues that may arise. With a reliable payment gateway in place, you can provide a secure and seamless payment experience for your customers and help to build trust and loyalty for your brand.
9. Install a Dropshipping or POD App

After that, you must add the products you can sell without inventory to your Shopify store. Shopify made your life easier by offering apps that allow you to add products to your store with only a few clicks, even though many dropshipping or print-on-demand suppliers can be found, and you can add their products manually.
When it comes to finding top products from US and EU suppliers to dropship, Spocket is a great option. Spocket lets you start dropshipping easily and offers a wide selection of high-quality products from US and EU suppliers. With Spocket, you can quickly add products to your Shopify store and start selling without worrying about inventory.
Spocket offers a variety of products, including fashion, electronics, home goods, and more. All of the products are carefully curated to ensure they meet high-quality standards, so you can be confident that you are offering your customers the best products possible. You can also customize products with your own branding to make them unique to your store.
One of the best things about Spocket is its fast shipping times. All suppliers are located in the US and EU, so you can offer your customers faster shipping times than other dropshipping options. This can help you stand out from competitors and improve customer satisfaction.
In addition, if you want to sell print-on-demand stuff, like t-shirts, leggings, hats, mugs, etc., you can install a Shopify app that sells print-on-demand stuff like Printful or Printify. You can add one or more POD apps to a single store and a dropshipping app like Spocket.
Related: Best Shopify Apps
10. Add Products with Prices & Shipping Rates
With the niche you have selected, the store you have built, and the app you plan on utilizing to source your products, it's time to begin searching and adding the inventory-free products you wish to sell.
For instance, with the Spocket app, you can leverage the user interface by using the search bar to pinpoint a specific product or to scan for items within a specific niche, look for multiple suppliers boasting numerous positive reviews, quickly import the desired product with a single click, and then specify the sale price, refine the product title, and revise the product description to make it more appealing to customers.
Similarly, the same can be accomplished with any print-on-demand Shopify app. However, before importing any product, such as a t-shirt, you must first create a design or delegate the task to someone else and then incorporate the design into the product before importing it to your Shopify store, enabling you to sell personalized POD products without inventory.
For shipping, you can either include the cost within the price of each product and provide free shipping or establish the shipping fees within the store settings based on the weight of the products or the total order value.
11. Start Marketing Your Shopify Store
You must direct targeted traffic toward your Shopify store to sell products without holding inventory. The method adopted should be determined by the niche, target countries, product line, prior experience, and budget constraints.
The primary means to drive traffic for a general store would be using paid ads on platforms like Facebook, Google, and Bing. Another option is to build a following through a general Facebook page and conduct giveaway contests.
However, various paid and free methods exist for a niche store to attract potential customers. An instance of such a method could be using Instagram hashtags to accumulate a following within a specific niche and advertising dropshipping and print-on-demand products through Instagram posts or stories.
It is recommended to choose one traffic method, master it, and stick to it until a consistent stream of sales is generated. After achieving this milestone, it is at the store owner's discretion to either persist with the current method or switch to a different one. 
Related: Strategies for Skyrocketing Your eCommerce Sales
12. Fulfill The Orders You Receive
As soon as your targeted traffic drives sales to your Shopify store and customers to pay through the connected payment gateway, it's time to fulfill the orders and earn profits!
You'll need to reimburse the original dropshipping or print-on-demand provider for the product and shipping costs and pass on the customer information to them, including the ordered item, quantity, and delivery address, for the supplier to ship directly to your customer.
Lucky for you, most Shopify apps for dropshipping and POD make fulfilling orders simple with a single click, automatically exporting customer details to the supplier. Opt for a shipping method that offers to track, is affordable, and arrives promptly.
Remember that suppliers typically take a few days to process orders, so it's best to fulfill orders as soon as they come in. The supplier will likely provide a tracking ID, which you can pass on to your customer to track their package, rather than having them frequently reach out for updates.
Benefits of Working on Dropshipping Model
Following are some of the benefits of working in the dropshipping model.
→ Low startup costs
One of the biggest advantages of dropshipping is the low startup costs. In a traditional retail business, the startup costs can be very high. Renting a storefront, purchasing inventory, and hiring employees can quickly add up. With dropshipping, there is no need to purchase inventory upfront or rent a storefront. This can save entrepreneurs thousands of dollars in startup costs.
→ No inventory management
Another advantage of dropshipping is that there is no inventory management required. With a traditional retail business, managing inventory can be a headache. With dropshipping, the supplier manages the inventory and shipping, which means the entrepreneur does not need to worry about storing, packing, and shipping products. This frees up time for entrepreneurs to focus on other areas of the business.
→ Low overhead costs
Operating an online business can also be more cost-effective than running a traditional retail store. In contrast to traditional brick-and-mortar businesses, online businesses can operate with fewer overhead costs. An online retailer can establish a website with minimal investment and work from anywhere in the world. This flexibility and freedom attract entrepreneurs looking to balance their personal and professional lives.
→ Wide product selection
By working with multiple suppliers, entrepreneurs can offer their customers a wider range of products without the need to manage inventory. This approach provides greater flexibility to retailers and allows them to test new products and niche markets without the risk of carrying excess inventory.
→ Scalability
Another significant advantage of this fulfillment model is scalability. With a traditional retail business, scaling can be difficult. Entrepreneurs must rent a larger storefront, purchase more inventory, and hire more employees. With dropshipping, scaling is much easier. As sales increase, entrepreneurs can work with more suppliers to offer their customers a wider range of products.
→ Testing new products
Dropshipping also allows entrepreneurs to test new products without committing to a large inventory. They can test the market with a new product, and if it does not sell well, they can simply remove it from their website without losing money on inventory.
Tips for selling without inventory on Shopify
Listed below are the main aspects that lead to the success of a Shopify store without an upfront inventory:
Do thorough research. To succeed, you should review your competitors, potential target audience, and current trends before jumping into the eCommerce business. Remember, success comes from hard work and dedication.
Wisely choose your partners. Whether you're going to dropship products, print-on-demand, or work with affiliates, always thoroughly inspect your possible partners. If it's a supplier, ensure you know how they handle the shipping process and the quality they offer. The same applies to affiliate partners.
Complete Shopify SEO optimization. Although Shopify offers a decent suite of SEO tools, there is a way to improve the ranking of your Shopify store even more on the search engine. When taking your eCommerce to the next level, you need thorough keyword research, optimized metadata and images, and improved store speed. 
Get active on social media. You can easily target specific audiences and build a better connection with them by using social media and getting active on it regularly. With social media constantly growing, this is one of the best ways to drive more traffic to your Shopify store.
Related: Organic Instagram Growth with Social Boost
Conclusion
Selling on Shopify without inventory through dropshipping can be an excellent opportunity for entrepreneurs looking to start an online business. By outsourcing the production and shipping of products, you can reduce your upfront investment and focus on driving traffic to your online store. Choosing a reliable supplier, setting up a payment gateway, and fulfilling orders promptly is essential to ensure a seamless customer experience.
If you have any questions or experiences with running a successful Shopify store without inventory, don't hesitate to tell us in the comment section below.
FAQ
Shopify is an e-commerce platform that allows users to create their own online store to sell products or services.
Is it possible to sell on Shopify without inventory?
Yes, it is possible to sell on Shopify without inventory using a dropshipping business model.
Can I sell on Shopify without the product?
Yes, you can sell on Shopify without holding any physical inventory. This can be achieved through dropshipping, where you partner with a supplier who will handle your products' storage, packing, and shipping.
How do I turn off inventory on Shopify?
To turn off inventory tracking on Shopify, you can go to your Shopify admin panel, click on "Products," and then select the product you want to edit. In the "Inventory" section, you'll find the "Track quantity" toggle switch. Turn the switch off to disable inventory tracking for that product.
Dropshipping is a business model where you act as a middleman between the customer and the supplier. You list products on your online store, and when a customer places an order, you purchase the product from a supplier who then ships it directly to the customer.
What are the advantages of dropshipping on Shopify?
The main advantages of dropshipping on Shopify include lower startup costs, less risk, and the ability to offer a wider range of products without having to purchase inventory upfront.
Are there any disadvantages to dropshipping on Shopify?
Yes, some potential disadvantages of dropshipping on Shopify include lower profit margins, less control over the shipping and delivery process, and potential issues with the product quality or inventory availability.
How do I set up a dropshipping business on Shopify?
To set up a dropshipping business on Shopify, you'll need to find a supplier or suppliers, set up an online store, and integrate your store with your supplier's inventory and order fulfillment system. There are also several Shopify apps and services that can help with this process.
Can I still customize my online store if I'm dropshipping on Shopify?
Yes, you can still customize your online store and make it look unique and professional, even if you're dropshipping. Shopify offers a range of design templates and customization options to help you create a store that reflects your brand.
How do I market my dropshipping business on Shopify?
To market your dropshipping business on Shopify, you can use a variety of digital marketing tactics, such as social media advertising, email marketing, influencer marketing, and search engine optimization (SEO). You'll need to find the channels that work best for your particular product and target audience.