Disclaimer: We sometimes use affiliate links in our content. For more information, visit our Disclaimer Page. 
Likely, you have already considered Internet trading if you have been considering starting your own business for a long time. Suppose you have little money and are unfamiliar with online retail. In that case, you may wonder how to start an online store without inventory if you have little experience. 
This article will discuss several methods to sell products online without purchasing and keeping stocks on hand.
Is Starting an Online Store Without Inventory a Smart Move?
As we dive into some of the ways you can start a store without inventory, it is essential to first take a look at the reasons why starting a store without inventory may (or may not) be a good idea for you:
No need to hold inventory or manage a warehouse

Low startup costs

Flexibility to work from anywhere

Minimal financial risk

There is no need for permanent premises
Lower profit margins

Less control over product quality and shipping times

Reliance on the supplier's inventory and shipping abilities
How to Start an Online Store Without Inventory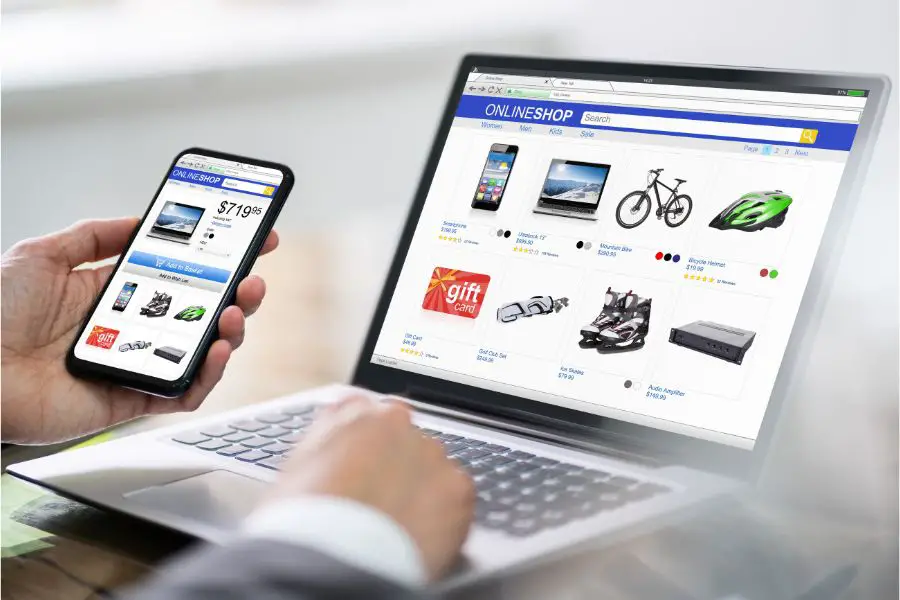 Following are the ways that you can use to start an eCommerce business without inventory.
1. Dropshipping
Dropshipping is an excellent way to start an online store without inventory hassle. With this method, you can receive an order from a customer and forward it to your supplier. The supplier will then ship the products directly to your customer.
This means you don't have to pay for anything until you receive an order, store products, or worry about shipping. It's a win-win situation!
On top of that, if you are using Spocket as your wholesale supplier, you can earn additional profit from their cashback program, which is a fantastic deal.
With drop shipping, you can easily focus on marketing and customer service, the critical factors for any online business's success. You can offer your customers a wide range of products without worrying about quality and quantity.
Moreover, you'll never face any stock shortages or surplus goods issues. You can set any margin you want if you find a supplier with the lowest prices.
But, you must be careful while selecting a niche with high potential, choosing reliable suppliers, and deciding on the pricing strategy. But these things are much easier to manage than worrying about warehouse rent, purchasing goods, and organizing deliveries.
2. Launching an affiliate store
In today's world, selling commodities without inventory has gained tremendous popularity due to the simplicity with which it can be carried out. Using affiliate marketing, you can start an online store without an inventory that advertises other businesses' products and earn commissions for successful transactions.
Many notable conglomerates have implemented their affiliate programs, allowing you to select the most suitable one or even join several programs and promote their wares across many platforms.
These goods may be promoted via your own website, blog, social media, or email list. However, before joining any such program, a thorough analysis of their regulations is in order, as some may prohibit email marketing.
The commission rates are, of course, established by the companies administering these affiliate programs. 
3. Print-on-demand service
Customers can purchase items through the order-on-demand (POD) process in this business model. This means that as a business owner, you can sell various items, such as T-shirts, totes, hats, keychains, cups, mugs, and even home decor items, without the need to stockpile inventory.
The first step in this process is to link your online store to a POD service provider. One such provider is Printful, which offers a variety of products that you can customize with your own unique designs.
Once a customer places an order on your online store, you collect the payment and then forward the request to Printful. They will then handle the printing, shipping, and direct delivery of the product to your customer. You will earn your profit margins through the amount you charge for the product.
The POD business model is an excellent choice if you want to specialize in unique and personalized items and build your own brand identity. However, given the competitive market, it can be challenging to stand out.
One benefit of using Printful is that they have a design team that can assist you in creating your designs if you lack the necessary design skills. They also have a wide range of products to choose from, making it easier to diversify your offerings and appeal to a broader audience.
Another advantage of using Printful is that they offer integrations with popular e-commerce platforms like Shopify, making it easier to set up and manage your online store.
Overall, while the POD business model requires some effort to succeed, using a service provider like Printful can make the process more accessible and efficient.
4. Digital products or services
Suppose you're wondering how to start an online store without inventory. In that case, you can start a business selling digital products or providing services through an online store specializing in creating and selling digital products.
As for the list of possible services, it can be even longer. There are many things you can sell online without any inventory: eBooks, software, music, videos, photos, some courses and training, and so on and so on.
Many services are in demand, including graphic design and web design, copywriting, translations, legal, IT, or HR consultations, coaching, language teaching, search engine optimization, etc.
The problem is it needs to solve the problem of resources. To sell digital products to your potential customers, you must first purchase a digital product; only then can you offer them to your audience.
When you create or sell your products or provide services online, it can become even more complicated. You are converting your time and energy into money, and there isn't much difference between it and a usual 9 to 5 job, except that you are seated on the sofa instead of a desk.
5. Fulfillment by Amazon
This glorious program allows businesses to run e-commerce stores without touching their inventory. Instead, you ship your products to Amazon's fulfillment centers, where they will manage, pick, and pack products to be sent directly to your customers. 
The beauty of using the Amazon FBA program is that you get to tap into their vast customer base, which is just what you need to source your products, deliver them to the warehouse, and start selling online.
However, if you plan to use the FBA program, invest some time and effort into learning the platform and how you can market your products online to get more sales.
But, like all things in life, there's a cost to using this magnificent program. You see, Amazon charges a fee for storing your products and fulfilling orders. But don't fret; they'll also handle any customer service issues on your behalf, so that's one less thing for you to worry about.
6. Third-party logistics (3PL) Company
Using a third-party logistics (3PL) company may seem similar to dropshipping, as they can take over your entire inventory and fulfillment process. But the main difference is that you still need some inventory, just not in your warehouse.
So, while you may have more flexibility in the types of products you can offer, sourcing will still be your responsibility. Unfortunately, 3PL companies can be pretty expensive, as they handle everything for you except for sourcing. You can expect to pay a flat fee for storing your products in their warehouses, plus additional costs for fulfillment.
It's important to note that 3PL services best suit businesses with well-established customers. If you're starting, drop shipping may be a more viable option.
Steps to Start an Online Store Without Inventory
Starting an online store without inventory can be a great business idea for aspiring entrepreneurs. It allows them to avoid the high upfront costs of purchasing and storing inventory. However, to run a successful eCommerce store, there are several key steps that one must follow.
The first step is to conduct thorough market research to identify potential products and competitors. This research will help you determine what products to select and how to design them to meet the needs of your target audience.
Selecting your target audience is another crucial step in building an online store without inventory. By identifying your audience, you can customize your merchandise to their needs and preferences while staying true to your brand's identity.
It is also important to decide on your niche and stick to it. Whether you choose to sell fashion, home decor, or a mix of both, it is important to introduce new products regularly and keep track of what is selling and what is not.
The next step is to get creative and customize your products. You can upload your designs or use free images with Shutterstock integration to create unique merchandise that stands out from the competition.
Ordering samples is another important step in building an online store without inventory. It allows you to test the quality and design of the end product before offering it in your store or on the web. This step ensures that you offer your customers the best merchandise possible.
Finally, it is essential to understand the return and refund processes and how they can impact your bottom line. Some methods for selling products online without inventory handle the return process for you, but it is still important to learn about each partner's policies and procedures.
By following these steps, entrepreneurs can start an online store without inventory and successfully grow their business.
Related: Ecommerce Marketing Strategies
Conclusion
As you can see, it is easier than ever to start selling online without inventory — something we wouldn't have believed possible a few years ago, and it looks like it is here to stay. Starting an online e-commerce store has many advantages and reasons.
So what's stopping you? Start your online business today by choosing the best method for you! Have you tried any of these methods before? Are there any other ideas for starting an online store without inventory? Please let us know in the comments section below.
FAQ
Can I start an online store with no money?
Starting an online store without money may seem impossible, but it's not entirely impossible. One way to start an online store with no money is by using social media platforms to sell products. You can use platforms like Facebook, Instagram, and Twitter to promote your products and reach potential customers.
How to become an Amazon seller without inventory?
Becoming an Amazon seller without inventory is possible through a business model called "drop shipping." With drop shipping, you can list products for sale on Amazon without actually holding any inventory.
How do I set up Shopify without inventory?
Setting up a Shopify store without inventory is possible through the dropshipping model. First, you must sign up for a
Shopify account
and choose a dropshipping app that integrates with Shopify. After installing the app, you can browse and select products from the app's marketplace to add to your Shopify store.
Do I need to hold inventory to run an eCommerce store?
No, it's possible to run a successful eCommerce store without holding inventory.
How do I find the right product niche for my eCommerce store?
Research profitable niches, identify products with high demand, and choose products that can be dropshipped.