Disclaimer: We sometimes use affiliate links in our content. For more information, visit our Disclaimer Page. 
Starting your own affiliate marketing business can be a daunting task, but the potential for earning a substantial income online is limitless. It's essential to understand the basics of affiliate marketing to set realistic expectations and avoid common pitfalls.
This comprehensive guide will walk you through the process of starting a successful affiliate marketing business step by step. Whether you're looking to make some extra cash on the side or create a full-time business, this guide will equip you with the tools and knowledge necessary to succeed.
How Does Affiliate Marketing Work?
Affiliate marketing is a powerful way for individuals to earn commissions by promoting products or services to their audience. To do this, affiliate marketers include special links in their website, blog, or social media posts that allow the affiliate network to track where the sales come from.
When a customer clicks on the link and makes a purchase or takes a specific action, the corresponding affiliate earns a commission. Essentially, it's like getting paid for referring people to buy things.
By leveraging their audience and promoting relevant products or services, affiliate marketers can generate a significant income stream and build a sustainable business. Moreover, businesses can benefit from affiliate marketing by leveraging the marketing efforts of affiliates to reach new audiences and generate more sales. Overall, affiliate marketing is a win-win situation for both affiliates and businesses.
Types of Affiliate Marketing
When it comes to affiliate marketing, there are three main types: unattached affiliate marketing, related affiliate marketing, and involved affiliate marketing.
Unattached Affiliate Marketing is the most hands-off approach. In this model, the affiliate has no connection to the product or service they're promoting. They don't claim to have any expertise or authority on the offering, nor do they recommend or advise customers on its use.
Related Affiliate Marketing, on the other hand, involves a stronger connection between the affiliate and the product or service being promoted. The affiliate has some level of expertise or influence in their niche, making them a trusted source for generating traffic. However, they still do not make any claims about using the product or service.
Involved Affiliate Marketing establishes the strongest connection between the affiliate and the promoted product or service. In this model, the affiliate has used or is currently using the product, and their positive experiences serve as the advertisement. They are confident in recommending the product or service to others, but their reputation may be compromised if problems arise.
Understanding the different types of affiliate marketing can help affiliates choose the approach that aligns with their expertise and reputation. Whether you're a seasoned affiliate marketer or just starting, selecting the right type of affiliate marketing can help you achieve your goals and generate a sustainable income stream.
How To Start a Successful Affiliate Marketing Business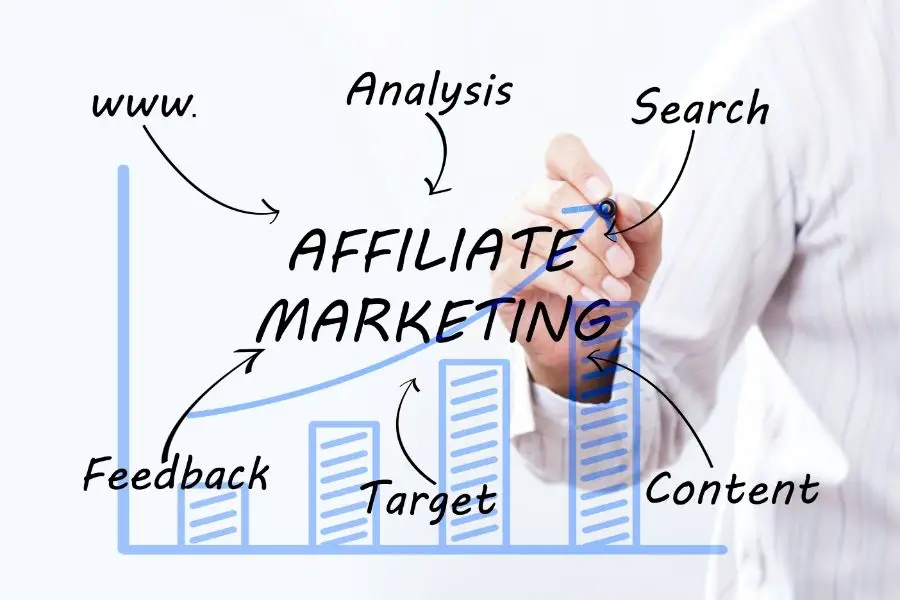 Here is a step-by-step guide to starting affiliate marketing.
Step 1. Decide on a Niche
Selecting a niche market and the audience is the first step towards a successful affiliate marketing strategy. A niche market typically represents a shared interest or demographic, which shapes the quality and price point of the products being promoted. For example, in the skincare industry, niche segments could include skincare for young people, anti-aging products, or skincare for those with acne-prone skin.
Focusing on a smaller market segment can make it easier to create brand recognition, establish expertise, and gain dominance in that particular area. Instead of trying to cater to an entire industry, affiliates can build a reputation by providing specialized knowledge and promoting products that resonate with their audience.
Moreover, catering to a specific niche can help affiliates build a more engaged and loyal audience. By providing relevant and targeted content, affiliates can establish themselves as trusted authorities in their chosen niche, and their audience will be more likely to follow their recommendations and purchase the products they promote.
Therefore, when selecting a niche market, it's crucial to consider factors such as market demand, audience size, and competition. By choosing a profitable and less competitive niche, affiliates can maximize their earnings and increase their chances of success in the competitive world of affiliate marketing.
Here are some things to mull over while cherry-picking an affiliate marketing niche:
Commence with your zeal or curiosity. Opting for a fascinating subject will render content creation a delightful experience. Alternatively, select a subject matter that you have mastered—proficiency in the product will aid in establishing yourself as a dependable source.
Evaluate your contenders. Gauge the level of complication involved in entering that niche. If it's a niche inundated with stiff competition, find and underscore your unique selling proposition to differentiate yourself.
Survey the market demand. Ascertain that the chosen niche is remunerative and sustainable. Prefer evergreen markets that sustain an unvarying demand all year long. A quick investigation on Google Trends or Ubersuggest can assist in verifying keyword popularity.
Step 2. Select a Platform
Following selecting an affiliate niche, the next crucial step is determining the platform for publishing content. The two main options for commencing affiliate marketing are personal websites and social media.
Social media platforms offer excellent opportunities to interact with established communities, grow an audience, and establish credibility.
When considering a social media platform, it is imperative to contemplate your audience's demographics. For instance, TikTok's most extensive age group falls between 10 to 19 years old. Consequently, beauty bloggers targeting teenage girls might find it beneficial to utilize TikTok as their primary channel.
The subsequent step is to identify where your niche is predominantly visible. For instance, advertise on a professional networking platform like LinkedIn to promote career acceleration courses. Conversely, for niches related to fashion or travel, Instagram is more suitable.
Additionally, initiating a YouTube channel could immensely benefit those entering highly competitive niches, as videos can augment leads.
Expanding your reach across multiple platforms effectively increases the chances of generating leads through affiliate marketing. However, it's important to note that each platform requires a unique optimization strategy. If you're new to affiliate marketing, it's best to start with a familiar platform and focus on optimizing your content to maximize results.
While endorsing affiliate marketing products on social media platforms is a splendid method for cultivating an audience, having a separate website conveys a more professional image, drawing in potential customers. In reality, almost 65% of affiliate marketers drive traffic by blogging.
Moreover, blog posts provide a broader scope for including affiliate links naturally and optimizing them for search engine results.
Step 3. Create a Website using Web Hosting
In affiliate marketing, an affiliate site is a crucial central hub that houses all your affiliate marketing content. In addition, affiliate websites offer you more opportunities to feature other promotional materials.
But for this to happen, you will need a space, and that is where hosting comes into play. Web hosting is a service that enables you to store your website files and present them on the internet.
While numerous web hosting types are available, shared hosting is a fantastic option for affiliate marketers as it's cost-effective and doesn't necessitate technical proficiency.
You'll also require a domain name. A domain name is your affiliate site's address, serving as the portal through which internet visitors access your site. Therefore, it's imperative to select a unique yet straightforward domain name.
Aim for short names that reflect your brand's essence, avoiding special characters to ensure maximum efficacy. When it comes to domain registration and web hosting, services like Namecheap and Hostgator offer an excellent solutions.
Step 4. Choose a Website Building Platform
Using content management systems (CMSs), such as WordPress and website builders, you can now design and build your website without knowing any coding so that you can create your website easily.
A website builder simplifies building a website by removing the tedious technicalities. It often features a drag-and-drop interface that enables easy customization. This option is ideal for users who want to set up their websites quickly and without coding.
On the other hand, if you desire more control over your affiliate site and are willing to navigate a steeper learning curve, then a CMS is your go-to solution. A CMS provides a lot of flexibility and functionality that website builders unmatch.
However, before you get too carried away with all the possibilities of a CMS like WordPress, it's important to note that creating your website with a CMS requires a hosting plan. The type of hosting plan you choose plays a significant role in your site's performance and user experience. Hence, selecting a fast WordPress server hosting plan is crucial to ensure optimal performance.
Step 5. Customize Your Site With Themes and Plugins
As you create a WordPress site, selecting a visually appealing and fast-loading theme from the official directory is crucial. Ensure the theme is responsive and adapts to different screen sizes and devices. 
Thankfully, WordPress offers a wide range of free themes that cater to different styles and niches, making it easy to find one that suits your website. However, customizing your site using a builder may require some coding knowledge, which could be overwhelming for beginners. In this case, seeking help from a coding enthusiast or freelancer could be a smart solution.
Moreover, incorporating top-performing plugins can significantly enhance the functionality and security of your WordPress site. These plugins offer various features that improve site performance, search engine optimization, and user experience. Installing these plugins allows you to take your website to the next level and provide visitors with an exceptional browsing experience.
For instance, a caching plugin speeds up your website by storing frequently accessed data in memory. Security plugins scan your site for malware and other vulnerabilities that could harm your visitors or compromise your site's data. Also, install a plugin that allows you to manage your site's content more efficiently, such as a page builder plugin that simplifies the design process. 
By leveraging these plugins, you'll be well on your way to creating a high-quality WordPress site that attracts and retains visitors.
Related: WordPress Themes
Step 6. Join an Affiliate Program
Once you have identified your target audience and selected your content platform, the next step is to join an affiliate marketing program that aligns with your niche.
You can begin by researching companies in your niche to see if they offer affiliate programs that you can join. Alternatively, consider signing up for an affiliate network that gives you access to multiple affiliate programs at once.
Each affiliate sale is tracked through a cookie attached to your affiliate links. This cookie period can vary from one day to more than 30 days. While a shorter cookie period can still be useful, longer durations provide more time to convince your audience to convert.
Subscription-based businesses often offer recurring commissions, allowing you to earn payments as long as the customer continues to use the service. Other affiliate programs may require you to generate a specific number of sales before receiving a payout.
Moreover, pay close attention to the commission rates. Depending on the product type you're promoting, there are three varieties of affiliate programs:
Low commission, high volume: These programs feature a low payout but encompass a broad range of mainstream affiliate products. Thus, generating substantial content and traffic is necessary to reach your revenue goal. Amazon's affiliate program is a classic example.
High commission, low volume: With these high-paying affiliate programs, you generate more revenue with fewer sales. These programs frequently involve high-end products such as watches, jewelry, and antiques.
High commission, high volume: These programs are tremendously competitive due to their vast earning potential. Examples include credit card and web hosting affiliate programs.
Partnering with unreliable merchants can negatively impact your brand. Before choosing an affiliate partner, check out online reviews, discussion forums, or social media conversations to gauge their brand reputation.
Also, ensure you partner with brands that suit your content and audience group. Otherwise, you risk losing your audience's trust.
Step 7. Write Excellent Content
To be successful in affiliate marketing, you can't just add affiliate links to your site and hope for the best. It's crucial to prioritize building a connection with your audience by creating top-notch, high-quality content that caters to their needs and interests. Whether it's a blog post, YouTube video, or newsletter, original and informative content is essential to attracting and retaining your audience.
Conducting thorough keyword research is a great way to get started. It will help you determine your audience's problems and pain points, and find specific long-tail keywords that are easier to rank for than generic ones. Combining non-time-sensitive and trend-driven topics will keep your content relevant throughout the year.
In addition to product reviews, there are several other types of content you can create for your affiliate site, including product comparisons, roundups, tutorials, resource pages, and eBooks. Remember to include an affiliate disclosure that explains your commission structure to your audience.
As you develop your affiliate marketing skills, it's important to consider joining other programs to diversify your income streams. Keep in mind that creating high-quality, engaging content is the foundation of a successful affiliate marketing strategy. Put in the effort, do your research, and get creative!
Related: AI Content Generator for Affiliate Marketers
Step 8. Drive Traffic to Your Affiliate Website
Once you've produced great content for your affiliate marketing site, it's time to boost traffic and attract potential customers. This is a crucial step to generate leads and increase conversions.
One way to achieve this is by crafting a well-thought-out SEO strategy. Optimizing your site's keywords, building high-quality links, and ensuring your site is mobile-friendly will help your site appear higher in search engine results, thereby driving more traffic.
In addition to SEO, there are several other tactics you can use to drive traffic to your affiliate marketing site and attract potential customers.
Email marketing: Starting an email campaign can be an effective way to communicate directly with your subscribers about product recommendations, limited-time offers, and regular updates. By creating email newsletters, you can nudge readers towards purchasing gently. Using a custom email address that contains your website name can increase the chances of success.
Social media engagement: Being active on social media can help you build a solid online presence, increase brand awareness and engage with your followers. Optimize your content with relevant hashtags and watch your reach grow.
Participation in online forums: Participating in online forum discussions can be another effective way to connect with your target audience. Forums like Reddit and Quora provide a platform to engage in conversations and redirect people to your blog posts or affiliate landing pages.
Guest posting: Writing guest posts can help you drive traffic to your site by reaching out to other sites within your niche and offering to write high-quality posts. By attracting an audience already interested in the topic to your site, you can expand your reach and establish yourself as an expert.
By using tactics such as email marketing, social media engagement, participation in online forums, and guest posting, you can increase traffic to your affiliate marketing site, boost conversions, and attract potential customers.
Step 9. Cloak Your Affiliate Links
Affiliate marketers can optimize their affiliate marketing efforts by implementing the practice of link cloaking. This process involves concealing the affiliate ID by redirecting a URL to another page.
By cloaking affiliate links, marketers can protect themselves from link hijacking, a serious security threat in the affiliate marketing industry. This happens when malicious entities attempt to steal commissions by substituting their unique ID for the original one.
Cloaked links are considered more secure and can alleviate such predicaments, ensuring users are aware of the hyperlink's trajectory unequivocally and clearly. Additionally, cloaked links are easier to remember and spread, enhancing brand recognition and expanding audience reach.
Therefore, it's crucial for affiliate marketers to cloak their links for the success of their affiliate program, making their links simple, user-friendly, and less suspicious to visitors.
Step 10. Track Your Affiliate Campaigns
To ensure a successful affiliate marketing campaign, closely monitoring your affiliate links is vital. Tracking various metrics, such as the pages, links, and visual elements that receive the most traffic and conversions, is necessary to create an effective revenue-driven strategy.
While most affiliate programs provide sales data through an affiliate dashboard, additional affiliate marketing tools can be used to optimize your campaigns further. These tools can keep track of your affiliate campaigns across different marketing channels and enhance your affiliate strategies.
For those looking for free tools, Google Analytics and Tag Manager are excellent options for tracking affiliate links. However, WordPress users have a plethora of affiliate plugins available to simplify the process. 
One example is MonsterInsights, which allows users to see traffic volume for individual product pages from the WordPress dashboard.
MonsterInsights also integrates with your Google Analytics account for affiliate link tracking and link cloaking plugins like Pretty Links to set up redirection for your affiliate links. 
Using these tools allows you to analyze data in real time and quickly adjust your campaigns, increasing the chances of success.
Step 12. Boost Your Income
Continuously optimizing your marketing efforts is fundamental to intensifying affiliate income, and it all commences with testing your content.
An excellent place to initiate this process is by scrutinizing which posts procure significant traffic but have low conversion rates. From there, tweak the components to observe what stimulates more conversions and spikes your affiliate income. This could include experimenting with different call-to-action buttons, adjusting the placement of affiliate links, or altering the language used to describe the product or service.
Regularly testing and optimizing your content allows you to identify what works best for your audience, resulting in higher conversion rates and increased affiliate income. Remember to track your results and continue to make adjustments as needed to ensure optimal performance.
Conduct tests on your headlines. For instance, generate two headlines for the same content and split traffic into two groups, providing each group with a different headline. This will help to evaluate the headlines' effectiveness.
Conduct experiments with images. You can test two separate, high-quality images of the same product and analyze the results to choose the image that converts more effectively.
Incorporate comparison tables. You can add a comparison table to showcase the product features and prices, especially for product comparisons or reviews.
Optimize the CTAs (Calls to Action). Keep the CTAs brief and personalized, utilizing time-related words like "Shop Now," "Limited," and "Last Chance," and pair them with a countdown timer to instill a sense of urgency.
Integrate exit intent pop-ups. These pop-ups can be employed as the last resort to convince visitors to leave the site to stay and engage.
Why Should You Start Affiliate Marketing?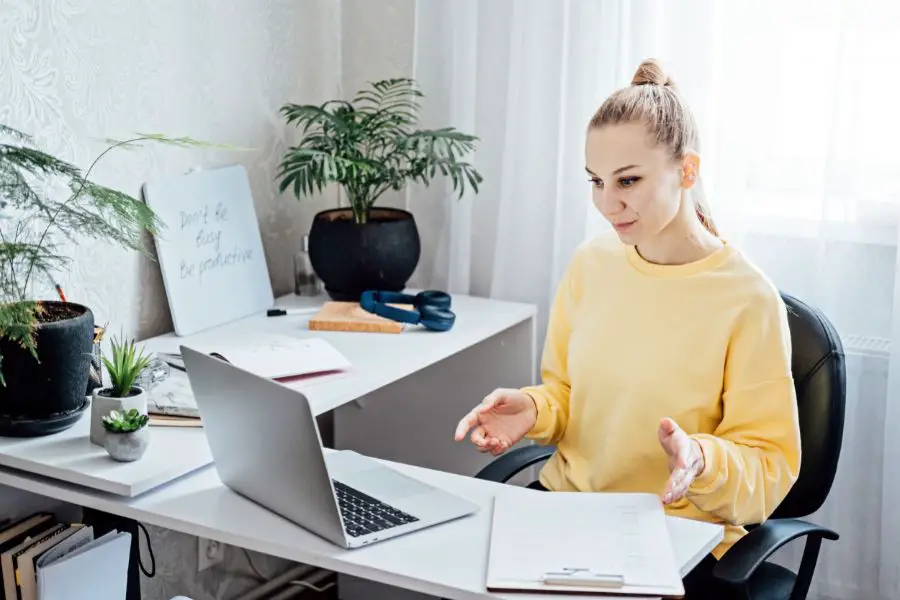 Affiliate marketing is a mutually beneficial business model for the company and the affiliate. It allows you to earn commissions by promoting other people's products or services to your audience, making it an attractive opportunity for those looking to monetize their online presence.
Some of the other advantages of affiliate marketing include:
1. Easy to execute
One of the most compelling reasons affiliate marketing is a great idea is its ease of execution. As an affiliate marketer, your primary responsibility is to handle the digital marketing side of building and selling a product.
This involves various activities, such as creating marketing messages and visuals, identifying key customer segments, developing and optimizing digital advertising campaigns, and tracking campaign performance metrics.
2. Easy to scale
You can significantly scale your earnings using affiliate marketing if you are successful without having to hire extra help if you are successful at doing so. Your current work will continue to generate affiliate revenue in the background while introducing new products to your existing audience and building campaigns for additional products.
You should know that excellent affiliate marketing is based on trust, so don't get too excited about it. While it seems like endless products or services to promote, it's best to highlight only the ones you use or would recommend.
Becoming an affiliate marketer for a product that interests you or a hobby you have already developed takes excellent effort.
3. Affiliate Marketing Is Low-Risk and Low-Cost
Affiliate marketing is a lucrative avenue that demands a manageable initial budget. Unlike setting up a traditional business like an online store, you won't have to concern yourself with the overhead costs of product development, maintenance, and shipping logistics.
While some upfront costs might be incurred mainly during website creation, no further monetary investment is anticipated after that initial outlay.
It is also a low-risk venture because there's no penalty fee for unfruitful affiliate sales. You're free to experiment with various affiliate programs without any financial constraints.
4. Diverse Range of Products and Services to Promote
As an affiliate marketer, you can promote a diverse range of products and services across various niches. From tech gadgets to beauty products, there are numerous options to choose from.
This means you can pick the products and services you are passionate about that align with your niche and audience. With such a vast range of products and services, you can diversify your portfolio and reduce the risk of relying on a single product or service for your income.
5. It's a Source of Passive Income
In today's world, affiliate marketing is becoming a popular way for individuals to earn passive income from home, but it is not guaranteed success.
As an affiliate marketer, you need to invest time and effort in establishing promotional platforms, building an audience, and creating traffic sources to make money continuously from your affiliate link once it has been set up.
Mistakes to Avoid as an Affiliate Marketer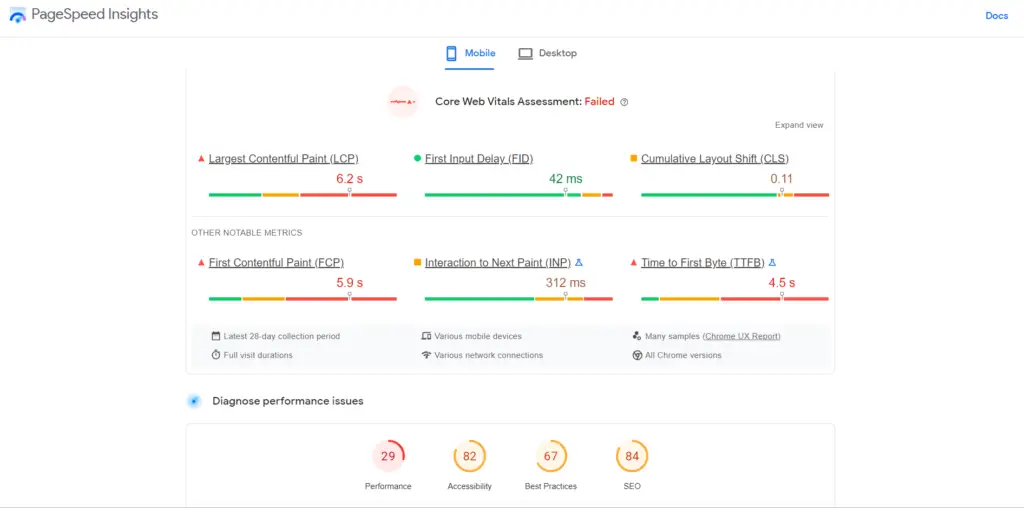 Affiliate marketing has challenges, and marketers must avoid a few mistakes at all costs. 
❌ Lacking product knowledge
Affiliate marketing is often marred by a fatal flaw – a lack of comprehensive product knowledge. This lapse can trigger a cascade of adverse consequences that can jeopardize one's affiliate marketing endeavors. 
As an affiliate marketer, you aim to provide valuable recommendations to your audience. Lacking knowledge about the products you promote can lead to recommending substandard products or those irrelevant to the audience, ultimately resulting in a trust deficit and loss of revenue. 
Therefore, conducting extensive research and testing products before promoting them is crucial.
❌ Neglecting site performance
A critical blunder many affiliate marketers make is disregarding their website's performance. A substandard user experience due to sluggish page load times, broken links, and other technical problems can lead to reduced traffic, a pitfall that may ultimately lead to a decline in revenue. 
To avoid this predicament, it is essential to constantly monitor and improve your website's performance by optimizing navigation, design, and page speed.
❌ Overlooking the importance of SEO
Affiliate marketers must pay significant attention to search engine optimization (SEO), a vital aspect of affiliate marketing. 
Neglecting SEO can lead to your content not ranking well on search engines, making it challenging for your audience to find your site and affiliate links. 
Affiliate marketers should thoroughly research and employ effective SEO strategies to avoid such unfavorable scenarios, including conducting comprehensive keyword research, optimizing meta descriptions, and building strong website backlinks.
❌ Producing low-quality content
One more common affiliate marketing mistake is to produce low-quality content. This can significantly impede your marketing efforts, reducing trust and profits. Lackluster or irrelevant content can repel your audience, leading to lost sales and revenue. 
To avoid this error, concentrate on developing top-notch, stimulating content that delivers value to your audience and promotes the related products with precision and excellence.
❌ Counting on one affiliate program
One of the top affiliate marketing mistakes is counting on a single affiliate program to generate revenue. This can lead to a loss of income if the program gets terminated or lowers its commission rates. 
Diversifying your affiliate programs can open up more opportunities to promote a range of products and increase your revenue streams. By joining multiple programs, you can spread out the risk and not rely on just one source for your affiliate income.
❌ Underestimating the audience's trust
It is essential to have trust as a critical element of your affiliate marketing efforts. Affiliate marketers make one of the most common mistakes when underestimating trust's importance in affiliate marketing. 
Trust plays a pivotal role in converting your audience into potential customers, and failing to establish it can lead to a reduced click-through rate and revenue. 
Therefore, building a trustworthy relationship with your audience is crucial to demonstrating honesty and transparency and providing high-quality, informative content that aligns with their interests and needs. 
This will enhance your credibility and increase your audience's likelihood of purchasing through your affiliate links.
❌ Not including an affiliate disclosure
Neglecting to include an affiliate disclosure is a grave error in affiliate marketing. Please include a disclosure to avoid problems with your credibility and even result in legal issues. 
To avoid these issues, being open and honest with your audience about your affiliate links and the commissions you earn from them is critical. Ensure to include clear and conspicuous disclosure statements on your website and all your content to maintain transparency and avoid legal complications.
Best Platforms For Affiliate Marketers Get Started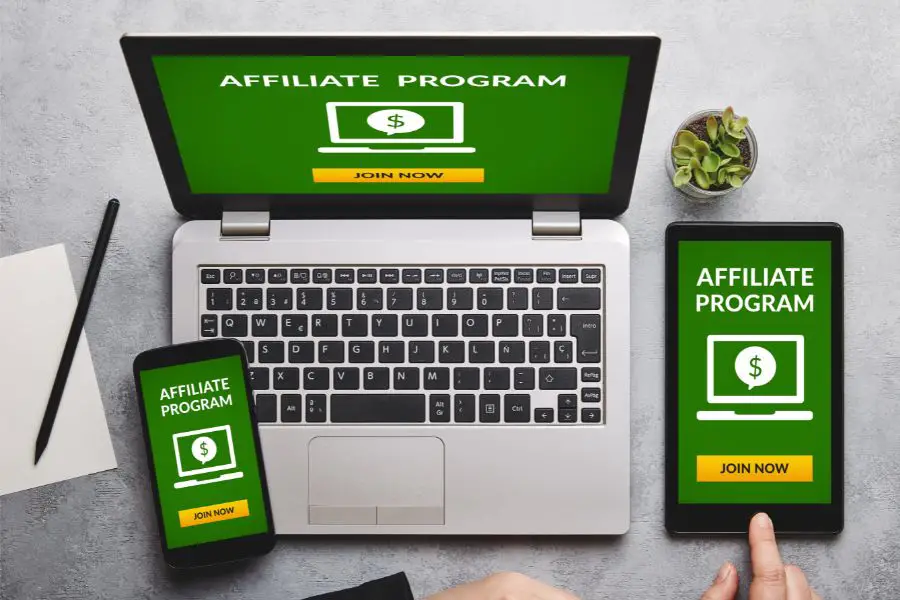 Starting as an affiliate marketer can be overwhelming, especially when finding merchants and products to promote. While finding quality products to promote is necessary, it cannot be evident for new affiliates.
Fortunately, joining an affiliate network can be an effective way to start as an affiliate marketer. Affiliate networks are intermediaries between affiliates and brands, making it easier for marketers to find quality products to promote.
For beginners, some of the best affiliate networks to join include:
1. Amazon Associates
Amazon Associates, being a globally recognized brand, is a fantastic place to kick-start your career in affiliate marketing.
With Amazon Associates, aspiring affiliate marketers have a wide range of choices. However, its user-friendly interface makes it easier for newcomers to navigate the sea of products and find appropriate advertising materials.
Moreover, as Amazon Associates has a reputation for providing excellent customer service, affiliates can rest assured that the products they promote are of high quality. By partnering with such a trusted brand, affiliates can build credibility with their audience, leading to better conversions and increased commissions.
2. ClickBank
Regarding affiliate marketing, ClickBank is a reputable name and has been in the industry for quite some time. As one of the oldest affiliate networks, it has gained the trust of many marketers looking to advertise digital affiliate products. 
With a wide range of high-quality products, ClickBank is an ideal choice for affiliates who wish to promote digital products such as eBooks, online courses, software, and much more.
3. CJ
Commission Junction (CJ) is a popular affiliate network that offers affiliates access to detailed metrics and performance data, making it an ideal option for those who want to map out which programs to join and estimate their earning potential accordingly.
With a multitude of affiliate programs to choose from, CJ is an excellent choice for beginners and experienced marketers alike. This platform has a great deal to offer in terms of affiliate programs.
One of the most significant benefits of CJ is the wide variety of affiliate programs available. You can choose from various programs, from fashion and beauty to technology and finance.
4. Impact
Impact may be a good choice if you're new to affiliate marketing and looking for a platform to get started.
As one of the top affiliate networks in the industry, Impact offers advertisers access to a large pool of affiliates, making it easy to find relevant affiliates for your program.
Additionally, Impact's onboarding process is straightforward, making it easier for beginners to get started. Overall, Impact may be worth considering if you're looking for a platform that can help you connect with quality affiliates and grow your program.
Conclusion
Starting a successful affiliate marketing business requires careful planning and execution. You can build a profitable business by choosing a niche, finding the right affiliate program, building a website, creating quality content, promoting your content, and monitoring your results.
Remember to be patient, persistent, and adaptable; don't be afraid to learn from your mistakes. If you have any questions or tips for starting an affiliate marketing business, please share them in the comment section below. We would love to hear from you!
FAQ
How profitable is affiliate marketing?
Affiliate marketing can be very profitable for those willing to invest time and effort to build a successful business. The key to making money with affiliate marketing is to choose the right niche, find high-paying affiliate programs, and create quality content that resonates with your audience.
Do affiliate marketers make good money?
There is no doubt that affiliate marketers can make a lot of money if they are willing to invest time and effort into building a successful business to be successful.
What is affiliate marketing?
Affiliate marketing is a type of online marketing where an affiliate earns a commission by promoting a company's products or services to their audience.
How do I get started with affiliate marketing?
To get started with affiliate marketing, you need to choose a niche, join an affiliate program, create content, and promote your affiliate links.
What types of content can I create as an affiliate marketer?
As an affiliate marketer, you can create different types of content, such as product reviews, comparisons, tutorials, roundups, and resource pages.
How do I find the right affiliate program for my niche?
You can find the right affiliate program for your niche by conducting research and analyzing companies within your niche or joining an affiliate network.
What is link cloaking, and why is it important in affiliate marketing?
Link cloaking is the practice of concealing affiliate links to protect them from data theft and link hijacking. It is important in affiliate marketing to ensure secure and trustworthy affiliate links.
Can I make a full-time income with affiliate marketing?
Yes, it is possible to make a full-time income with affiliate marketing if you consistently produce high-quality content, engage with your audience, and promote relevant products.
How do I increase traffic to my affiliate marketing site?
You can increase traffic to your affiliate marketing site by using SEO strategies, such as email marketing, social media engagement, forum participation, and guest posting.
Do I need to have technical expertise to start an affiliate marketing business?
No, you do not need technical expertise to start an affiliate marketing business. However, basic knowledge of digital marketing and website building is helpful.
How do I track my affiliate sales and earnings?
You can track your affiliate sales and earnings through your affiliate program's tracking system or third-party tools such as Google Analytics.
Is it ethical to use affiliate marketing?
Yes, affiliate marketing is ethical as long as you disclose your affiliate links and only promote products or services that align with your values and beliefs.