Disclaimer: We sometimes use affiliate links in our content. For more information, visit our Disclaimer Page. 
The most effective way to promote your business online is to build a strong presence and focus on getting in front of the right people quickly. You can only put some of your eggs in one basket regarding advertising – diversification is essential to avoid diminishing returns.
This article walks you through 21 ways to promote your business, so let's get started. 
What is Shopify Marketing?
Shopify marketing is a comprehensive strategy that involves promoting your online store through various digital channels to increase sales, brand awareness, customer retention, and loyalty.
To achieve this, a Shopify marketing strategy may include a range of tactics such as social media marketing, email marketing, paid advertising, search engine optimization (SEO), influencer marketing, and more.
By implementing a robust Shopify marketing strategy, you can effectively reach your target audience and drive more traffic and sales to your online store.
This approach aims to attract new customers, increase brand awareness, retain existing customers, and improve customer loyalty.
If you want to grow your Shopify store and boost sales, it's crucial to have a solid marketing strategy in place. With the right tactics and tools, you can expand your reach and build a loyal customer base that keeps coming back to your online store.
Related: Ecommerce Marketing Strategies
21 Best Places to Advertise Shopify Store Effectively
Here are the best platforms or places to advertise your products.
1. Promote Your Brand With Email Marketing Campaigns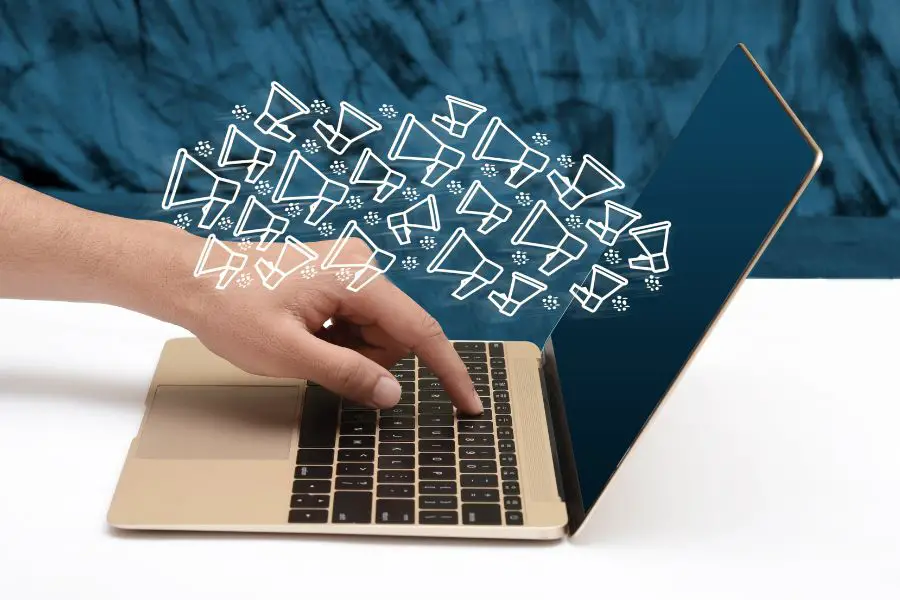 Email marketing is a crucial strategy for Shopify owners to attract and retain customers and generate sales. It's an effective way to bring back customers who abandoned their carts by sending them enticing offers. Regular newsletters update customers about new products, special offers, and other marketing messages.
Email marketing is relatively easy to start with and can significantly impact at minimal or zero cost. It's cheaper to get existing customers to make another purchase than acquire new customers; email is a great way to make this happen.
For Shopify, email strategies include welcome emails, promotional emails for sales and special offers, and abandoned cart emails for regaining lost customers. It is also essential to provide existing customers with relevant information about their orders, such as shipping updates and confirmations.
To make the most out of email marketing, segment your email list into different categories based on customers' actions, geographic location, demographics, and more. This way, you can send personalized messages to each list and promote products and offers that interest them, leading to better engagement and sales.
2. Set Up a Referral Program
Using word-of-mouth marketing, Shopify can use a referral program to create widespread awareness of your brand that multiplies exponentially over time, like a snowball spreading through the atmosphere. 
If one individual refers two others, these individuals, in turn, refer two more individuals. In this way, the process continues to spread, and you can sell your products to hundreds of thousands of people.
Further, referrals from family and friends seem more genuine than marketing messages from brands, so a well-planned referral campaign can also cultivate important trust around your business.
To execute a successful referral campaign, you must give customers a compelling reason to refer your business. Offering a discount is a popular strategy, but there are other incentives to consider, such as free shipping, complimentary products, or other exclusive perks. Referral giveaways are another winning strategy worth considering.
3. Send SMS Product Promotions
SMS marketing is a tool that Shopify store owners need to take advantage of, and it's mighty. Every SMS message received is opened by people, meaning SMS marketing can generate more engagement compared to email. It's the most direct way to connect with customers.
With the right Shopify app, you can send out SMS campaigns in a snap. These campaigns result in super-fast open rates and higher engagement. Plus, you don't have to worry about any SMS messages being sent to the spam folder.
SMS marketing for Shopify can be used to:
Disseminate promotional announcements such as sales and discounts
Communicate transactional information like order confirmations and shipping updates
Send customer support messages
Deliver cart abandonment messages
Target specific customers with personalized offers
Promote your product giveaway
4. Add Customer Reviews to Product Pages
For Shopify store owners, customer reviews are crucial to the success of their store. They build a customer's trust and are the first thing customers check before purchasing. Without customer reviews, your store couldn't build that trust.
As a result, showcasing your product reviews on your product pages can significantly impact the sales you receive, as they create social proof around your products.
Even if a product has bad reviews, they still provide valuable information that customers want. Customers are more likely to trust a product that has a few bad reviews than one that has no reviews at all.
You'll need to use a review app from the Shopify app store to add reviews to your product and checkout pages. You can also share positive reviews on social media or other website areas to help build trust around your brand.
Encourage your customers to leave reviews by sending an email or SMS after their purchase has been shipped. You can even incentivize reviews with a giveaway or discount to generate more reviews for your store.
5. Consider Influencer Marketing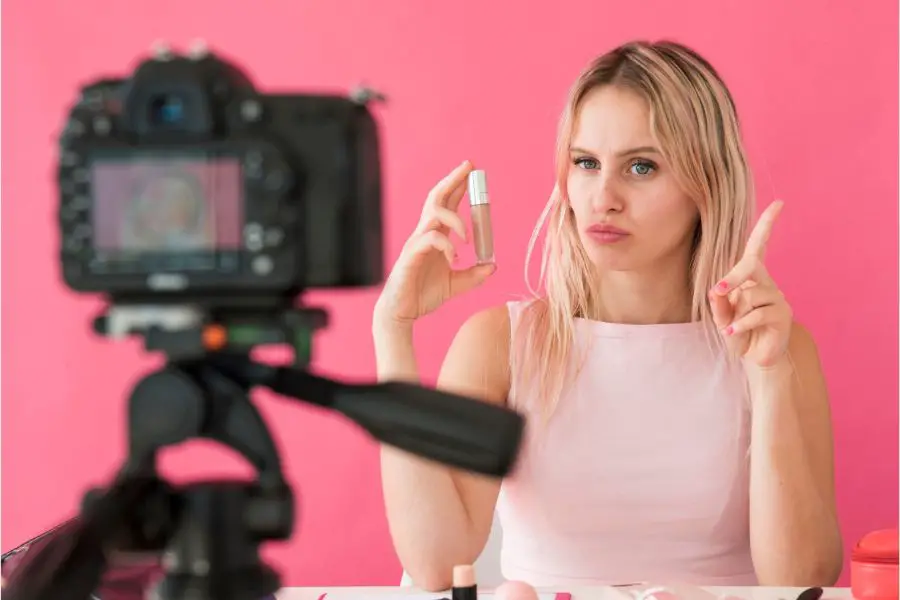 Influencer marketing, an emerging trend in business-to-consumer brands, has emerged as a powerful and rewarding marketing strategy, yielding an excellent return on investment (ROI). 
Influencers offer a fabulous solution for eCommerce firms seeking to reach a wider audience. Notably, customers tend to trust influencers more than they do brands themselves. With an uncanny ability to influence their followers' purchasing decisions, influencers can be the game-changer eCommerce companies seek.
The use of influencers is not restricted to big businesses alone. Small businesses can benefit from partnering with smaller yet highly effective micro-influencers. These influencers are more relatable, engaging, and convincing than their larger counterparts, making them perfect for promoting your eCommerce products.
Choosing the right influencer with your business's target customers is essential. With the vast array of influencers available on various platforms, you can identify a niche that perfectly aligns with your brand. 
Also, it's vital to assess the influencer's level of engagement rather than solely relying on their follower count. In this regard, a smaller, more engaged audience is far more valuable than a vast, disengaged one.
6. Start a Customer Loyalty Program
A customer loyalty program can be the bee's knees regarding Shopify marketing strategies. Building a group of happy customers can keep them returning for more rather than wrangling new customers each time.
When it comes to a successful loyalty program, you must ensure you're offering something valuable to customers. That could mean discounts for return purchases or points for reviews and referrals. You could even grant access to limited edition products or other goodies.
Now, when it comes to a well-crafted loyalty program, you've got to make it super easy to join and redeem rewards. Here are some tips for creating an effective Shopify loyalty program:
Make the loyalty program available to anyone, even if they have yet to purchase. Lure them in with an email or push notification subscription.
Offer a range of rewards beyond the same-old-same-old discounts or points. How about free shipping, gratis products, or a free consultation?
Take a survey and ask your customers what rewards they would like to receive if you wanted an excellent loyalty program.
7. Add an Instagram Feed to Your Shopify Store
This is another social proof strategy you should consider as an alternative to reviews. If you add an Instagram feed to your store, online shoppers can see how your products are used in real-life scenarios, and this serves as a valuable source of user-generated content.
A customer sees a dress that looks amazing on someone on your Instagram feed, and they immediately want it for themselves since they see it on someone else on your Instagram feed, which means they can't resist buying it as well.
There are many benefits associated with social media, including the ability to build customer trust, showcase happy customers, and show your products in action.
It is easy to showcase these feeds on your store so that online shoppers get a more excellent overview of your products and what your brand is all about by sharing positive user-generated content through your Instagram feed. When you do so, the feedback will have the same effect as a 5-star review.
8. Be Active On Pinterest
Pinterest is an exceptionally fab social media platform for eCommerce marketing.
Because Pinterest users earnestly desire to buy stuff, tons of people flock to Pinterest to find products and product ideas.
If you play your cards right and get your Pinterest account looking spiffy, you can whisk these buyers straight to your checkout page.
All you have to do is add some delectable images of your products to Pinterest and use this to get people to your Shopify store. You can even add product tags to your pins, so users can click on your product image and head straight to the checkout page.
It's an excellent way to help people discover your products and buy them all in one fell swoop.
Remember to add your online store URL to your Pinterest profile, whip up some snazzy captions about your products, and craft a variety of product boards to appeal to potential customers.
9. Run Google and Social Media Ads
It is a sad truth that relying solely on free website traffic will only bring in a few sales. Thankfully, some excellent paid advertising campaigns let you reach many customers and generate a terrific ROI.
Paid Facebook or google ads are often the first Shopify marketing strategy that stores implement because they can get your products in front of many people quickly.
If you're considering running an ad campaign, Google and Facebook are the best platforms. You can spend a measly $5 daily on ads here and still make some decent sales. So, if you want quick results, ads might be your winning ticket.
Some of the best-paid advertising strategies for Shopify stores include:
Google retargeting ads: These ads show to people who have previously visited your store and shown an interest in your products
Google shopping ads: To attract customers who conduct a lot of online product research
Facebook ads: These are perfect for impulse buys, particularly with lower-priced products.
While paid advertising can deliver speedy results, it comes at a cost – literally and figuratively. And if you don't know how to manage your ads correctly, you might spend more than the revenue your ads generate.
10. Focus On Search Engine Optimization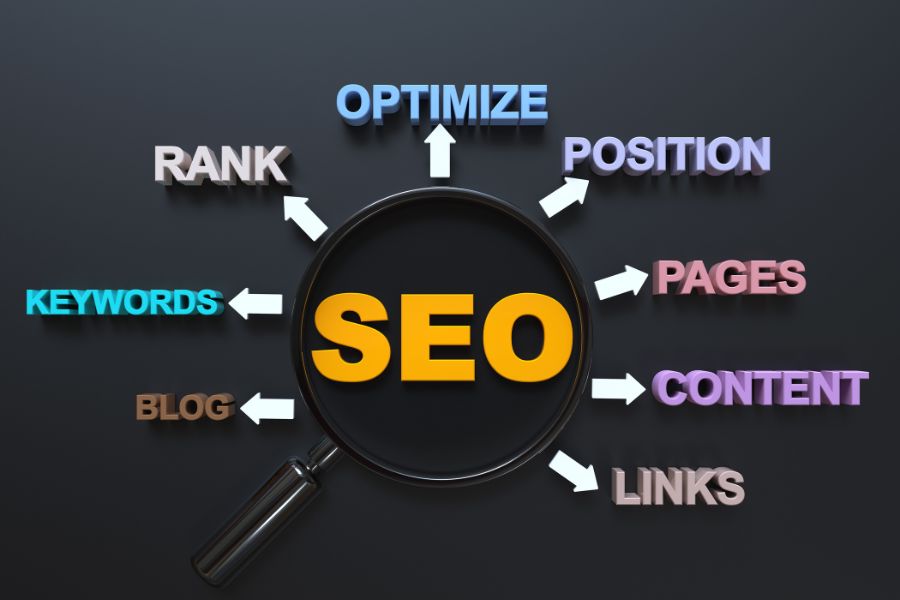 If you want to spend less on advertising, focus on SEO. Good SEO content can bring in much free traffic to your store. Although it takes time and effort, it can generate long-term results without costing you money.
Starting with a search engine is common when people shop. You can attract potential customers if your store appears at the top of the right search results.
You can optimize your blog content and your product pages for search engines. Every page on your eCommerce site should be optimized for the right keywords, especially those with relevant search intent for what the page offers.
Here are some best practices for SEO on your Shopify store:
Target high-volume keywords at the top of the funnel.
Ensure your website speed is fast, which helps with SEO.
Focus on specific, long-tail keywords that indicate higher buying intent.
Optimize all images on your site for search engines.
Use detailed product descriptions to include relevant keywords.
Interlink your category and product pages with other sites to get backlinks.
Shopify also has built-in SEO features, such as setting up URL structures, adding alt text for every image, and optimizing meta titles and descriptions.
Related: On-Page vs. Off-Page SEO
11. Set Up an Affiliate Marketing Campaign
Affiliate marketing is a highly effective and influential Shopify marketing strategy. The central premise of this technique involves seeking out affiliates interested in promoting your products on your behalf and only paying them when successful sales are made.
The benefits of affiliate marketing are immense since it allows you to avoid wasting your marketing budget. Instead, you will be able to attain a strong return on investment (ROI) by paying only for successful sales made by your affiliates.
To start with affiliate marketing, you must set up an appealing affiliate promotion, which could include a flat fee or a percentage of each sale paid to an affiliate. You can then reach out to relevant affiliates and offer them the opportunity to participate in your affiliate program and promote your store.
Affiliates can come from various sources, including bloggers, influencers, YouTubers, or celebrities. This method allows you to avoid promotional work while saving you from spending any money until a sale has been made. Affiliate marketing is the perfect marketing strategy for busy eCommerce store owners who want to maximize their returns without wasting their precious time and resources.
12. Get Involved in Community Marketing
Community marketing is a distinct approach from social media marketing. Unlike creating your community centered on your brand, community marketing entails joining an existing online community.
Many online communities, such as Quora, Reddit, and Facebook groups, are dedicated to specific niche interests. Shopify store owners can take advantage of these communities, which cater to their target customer demographic, and use them as spaces to establish valuable relationships. 
This can be achieved by offering advice, joining conversations, and sharing insightful knowledge.
By regularly contributing to these online communities, store owners can gradually build trust and develop a strong brand reputation. They can leverage these communities to promote their online business when appropriate opportunities arise. 
The community comprises individuals with relevant interests, so they can easily be swayed into becoming loyal customers.
Community marketing is an excellent technique for eCommerce store owners who aim to build a solid online presence without necessarily investing significant resources or time.
13. Create Engaging Social Media Posts
Social media is an exceptional tool for expanding your customer base and reaching a vast audience. However, it is critical to go beyond merely pushing your products and create compelling content that inspires and fosters a connection with your audience.
Many strategies are available for social media marketing, including using influencers, narrating your brand's story, hosting hashtag challenges, generating niche-specific content, announcing brand news, and providing discounts.
When using platforms like TikTok, it's a good idea to incorporate some personality into your content. Social media allows you to diversify your Shopify marketing strategy by uniquely presenting your products and gathering user-generated content.
Successfully executing your social media strategy will attract new customers to your store. Thus, it is essential to dedicate sufficient resources to ensure your social media presence is engaging and informative.
14. Run a Social Media Giveaway
In social media, one of the most powerful strategies for eCommerce merchants is the utilization of product giveaways.
Such a tactic can stimulate a lot of buzz and excitement around your brand, increase your visibility and boost traffic toward your store. Additionally, eCommerce sites can leverage product giveaways to attain virality and gather valuable user-generated content, just like some TikTok challenges have shown.
It's worth noting that every participant who engages in your giveaway is already displaying interest in your products, rendering them ripe targets for further marketing initiatives. After concluding the giveaway, send every entrant a 10% discount code. 
By doing so, you're keeping your merchandise at the forefront of their minds and incentivizing them to finalize the purchase they may have contemplated during the contest.
15. Promote Your Products in Blog Articles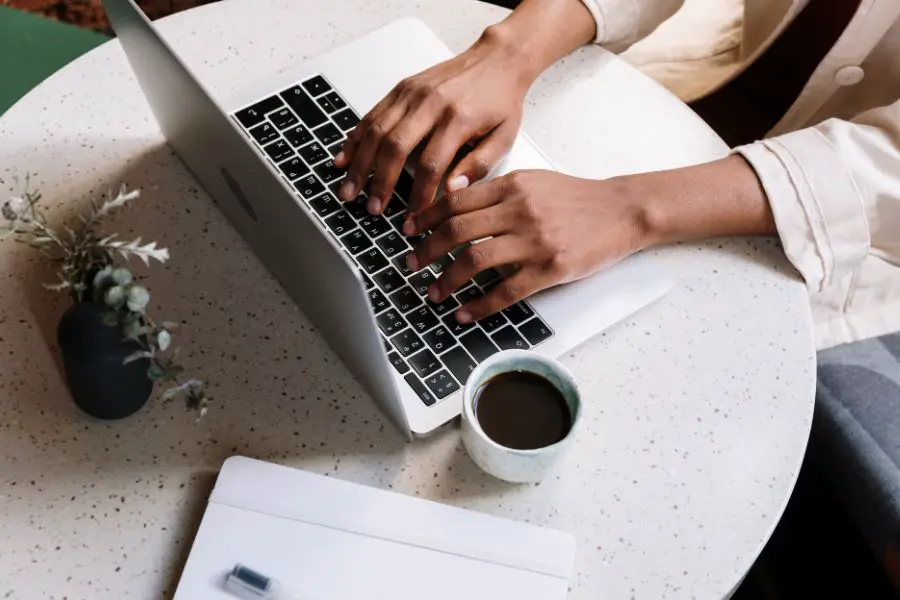 Shopify's blog software is an excellent option if you want to promote your products and generate organic traffic to your website. Craft informative blog content that caters to your niche and incorporates SEO-friendly practices to target relevant keywords your target audience is interested in.
While including your products in your blog post is acceptable, avoid making it sales-focused. Instead, take the opportunity to promote your products to an engaged audience. Identify a problem your product can solve and create a blog post explaining how your product can help. By highlighting your product as the solution to this problem, you can utilize a low-risk marketing tactic that doesn't require a significant budget.
The beauty of this approach is that it can drive an abundance of traffic and customers to your website over time. If your blog post ranks high in search engines, it can generate significant organic traffic and help your products reach a broader audience.
By taking advantage of Shopify's blog and creating compelling blog content, you can showcase your products and promote them to an interested audience. This can help increase your website traffic and drive more sales, making it a valuable strategy for any eCommerce business.
16. Collaborate With Other Brands
In Shopify marketing, other brands in the same niche can be seen as allies rather than competitors. With some strategic partnership, you can work with these other businesses to access a larger audience and drive sales.
To achieve this, locate a business whose products complement yours and then partner with them for a joint promotion or giveaway.
As an example, imagine you sell activewear. You could establish a strategic partnership with another business in the fitness and wellness industry, such as a supplement company or a yoga mat store, and collaborate on a product bundle.
The beauty of this approach is that each brand has a shared audience that can be targeted for promotion. It's a mutually beneficial situation for both parties.
By leveraging this marketing strategy, you can quickly and effectively broaden your reach and achieve tremendous success.
17. Use Videos to Promote Your Products
The best way to show off and promote your products is through video. Short videos are currently the most popular type of content on social media platforms. With TikTok, Instagram Stories, and Reels, all kinds of videos are created daily.
Many people must realize that these videos are rapid and easy to make. Hiring a production team or becoming a pro video editor to make these videos is unnecessary. Just stay on top of trends and have fun doing it.
Shooting some of your products, making them fun and exciting, adding trending music, and repeating are essential. The more of these videos you create, the better you will become at it.
There is a reason why these videos are so popular, and it's not just because they're entertaining and engaging. If you look at the algorithm on Instagram and TikTok, you will see that both platforms offer more reach to Reels and TikToks than other platforms.
18. Use Facebook
Facebook Shops is perfect if you want a tool to sell your products online. Facebook Shops has become the top tool for eCommerce businesses looking to sell their products on Facebook.
You only need a business profile and can set up a Facebook Shop for free. You can easily link it to your Shopify store! You can even upload your product catalog through a spreadsheet.
With Facebook's Messenger feature, you can easily communicate with your customers. This is a great way to build relationships with your audience and keep them engaged with your brand.
Plus, Facebook is an excellent platform for shoppers to discover new products that match their interests. They can complete their purchase right within the app—no need to Shop from site to site.
19. Use Instagram
With Instagram Shopping, you can easily set up your Instagram Shop like your regular online storefront. All you need is a business/creator account and an online store, and you can start selling your products right on the platform. And the best part? Shoppers can browse and buy your products without ever leaving Instagram.
Your Instagram Shop can be customized with various themes, collections, and curated products. You can showcase your bestsellers, seasonal trends, and new arrivals in one place. And the best part is that setting up an Instagram Shop is entirely free.
When setting up your shop, you can send shoppers to your Shopify website or use Instagram Checkout, where shoppers can purchase products directly on the platform. Please note that a small fee is charged when shoppers purchase through Instagram Checkout.
Product pages on Instagram are just like those on your online store. You can include product descriptions, prices, and other vital information to help shoppers make informed decisions.
Now, let's discuss some exciting features and ways to use Instagram Shopping!
Shoppable Posts: You can integrate your store with Instagram product tags. Tag products in your posts just like you would tag people, and when users tap the product tag, they will be sent to the relevant product page. This is a great way to showcase your products and promote sales.
Shoppable Stories: Like shoppable posts, you can also use product tags in your stories to send more traffic to your store. This is an excellent way to engage with your audience and drive sales.
Shoppable Ads: Product tags can also be used in Instagram ads to get your products out to a broader audience. You can set this up in the Ads Manager or boost shoppable posts.
Live Shopping: This is an exciting way to launch new products and promote real-time sales. You can incorporate your product tags into your live stream, where users are sent to your store from your broadcast.
Shopping Tab: The Instagram Shopping Tab is an excellent way to get your products and brand out to more customers. Users can discover relevant products and brands through this tab, where yours could be included to boost your visibility to new customers.
20. TikTok
A partnership between TikTok and Shopify offers increased organic product discovery and shopping tabs to TikTok due to this new collaboration. Shopify is the most recent social commerce platform to offer a partnership with.
There is only one way to sell on TikTok, and that is with a Shopify account.
There is no doubt that TikTok is one of the fastest-growing social media platforms, and it is a platform that marketers need to look at when it comes to their social media marketing campaigns. With its new social commerce feature, it is sure to reach a large audience of potential customers.
21. Create Abandoned Cart Recovery Campaigns
Lost sales can be recovered wondrously and effectively in the abandoned cart recovery campaign. This innovative approach targets individuals who previously expressed interest in your enterprise by adding items to their shopping carts but failing to make a purchase. 
The likelihood of securing a sale from these wayward shoppers is relatively high. The cost and exertion required to acquire new customers are considerably less than necessary.
To execute this ploy, store proprietors can deploy astutely timed reminders to these delinquent shoppers, inducing them to return to complete their neglected transactions. The most effective stratagem involves presenting a discount code, an offer that is nearly impossible to resist for customers who have already advanced to the checkout page.
Various channels may be used to transmit these notifications, including SMS or email, push notifications, and Facebook Messenger. Automating these reminders can save significant time while driving lost sales back to your store, bolstering your profits.
Related: Best Shopify Apps
Conclusion
Promoting your business online requires a multi-faceted approach that involves using various marketing channels to reach your target audience effectively.
Whether you're just starting or looking to take your business to the next level, these 21 methods will help you increase your online visibility and drive more traffic to your website.
Remember, it's essential to experiment and measure your results to determine what works best for your business. So, which methods have you found most effective for promoting your business online? Let us know in the comment section below.
Related: How to Promote Shopify Store for Free
FAQ
What is the cheapest way to advertise your Shopify store?
The cheapest way to advertise your Shopify store is to focus on organic marketing strategies that don't require upfront costs. These strategies include optimizing your website for search engines, creating valuable content that resonates with your target audience, leveraging social media platforms to engage with your followers, and building relationships with other businesses or bloggers in your industry.
Do you have to promote your Shopify store?
Yes, promoting your Shopify store to increase your online visibility and reach your target audience effectively is essential. You are launching your Shopify store to drive traffic and sales to your website.