Disclaimer: We sometimes use affiliate links in our content. For more information, visit our Disclaimer Page. 
Starting a small business is no easy feat, but running an entire company alone is an even greater challenge. Despite the potential pitfalls, difficulties, and hurdles, many working adults start solo business enterprises every year. This is because there is a certain allure to being your own boss, setting your own schedule, and pursuing your passions.
However, being a solo business owner comes with unique challenges, such as managing all aspects of the company, wearing multiple hats, and dealing with the constant pressure of being solely responsible for the success or failure of the business. This can be overwhelming, especially for those new to the entrepreneurship world.
Fortunately, several tactics can help solo business owners establish and grow their one-person companies with a higher probability of success. This article will explore some of these strategies and provide practical tips for implementing them. Whether you're just starting or looking to take your business to the next level, these tips can help you achieve your goals and succeed as a solo business owner.
Choose One Social Media Platform
As a solo entrepreneur, social media can be an effective way to promote your products and services without spending money.
However, it's crucial to avoid trying to manipulate several platforms simultaneously. Instead, focus on one social media platform that you're familiar with and dedicate a chunk of time each day to it.
Allocate a half-hour five times per week to regularly post, respond to comments, and monitor the platform. This will help you better understand how the public views your offerings.
Utilizing a single social media outlet can quickly build an audience of followers and potential customers. This approach can help you effectively promote your business as a solo entrepreneur.
Take Out a Personal Loan
Few sole practitioners or one-person shops can afford to cover all the expenses that go with launching a new organization. That's where borrowing can be the ideal solution.
Applying for a personal loan delivers an immediate infusion of much-needed capital and gives owners a chance to augment their credit scores by making timely payments on the obligation.
In other words, personal loans are a win-win for savvy entrepreneurial adults who know how much to borrow before filling out an online application.
Work Regular Hours
As the only employee of your business, it's essential to establish a regular schedule of work hours by dedicating a fixed number of hours to the effort each week.
Many at-home, sole practitioners struggle with time management, so reviewing your personal schedule and finding a routine that works for you is crucial.
Part-time entrepreneurs can get by with five days of four hours each or six 3-hour days, while full-time entrepreneurs might experiment with four 10-hour days or the old standard, five 8-hour sessions.
Dedicating a fixed number of hours to your business each week can increase your productivity and achieve success as a solo entrepreneur.
Know What Jobs to Keep In-House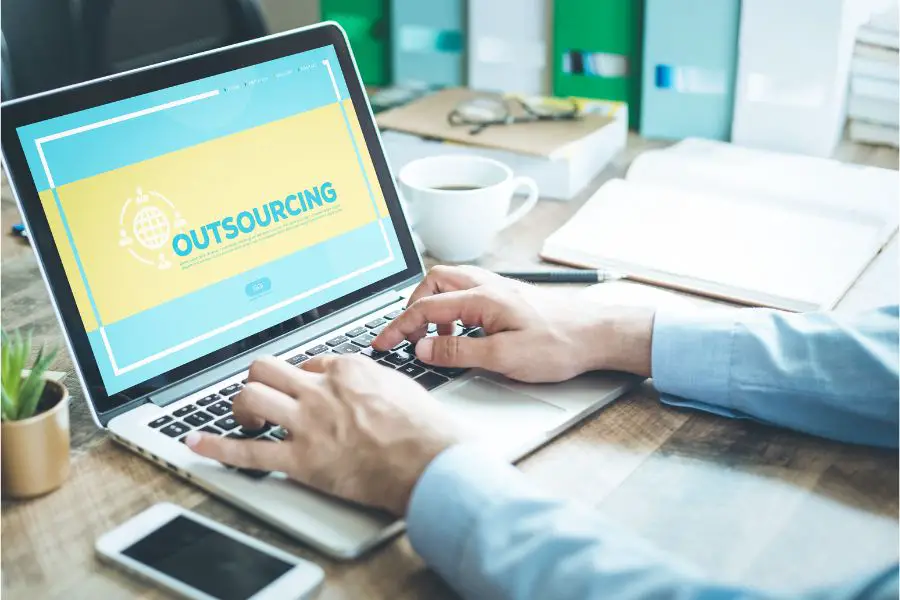 As a one-person company, it's crucial to approach outsourcing strategically. Hasty decisions can result in either outsourcing too much or too little.
To make informed decisions, create a list of core functions to outsource and ones to keep in-house. For borderline cases, experiment with performing the task for a month or two before deciding whether to outsource or keep it in-house.
By taking a thoughtful approach to outsourcing, you can ensure that your business runs efficiently while also maximizing your resources as a solo entrepreneur.
Deal Wisely with Taxes and Legal Issues
Preparing business tax forms and returns and filing state and federal paperwork can be complicated tasks.
Unless you have experience in these areas, it's best to hire an experienced accountant or legal professional to handle these tasks for you.
While local law firms can handle these tasks at a modest cost, it's important to get a referral from another entrepreneur you trust.
By seeking professional help with taxes and legal paperwork, you can ensure that your business remains compliant with regulations and avoid costly mistakes as a solo entrepreneur.
Become a Proactive Network Builder
Building a professional network is essential for success as a one-person management team.
To get started, consider joining the local chamber of commerce, attending trade shows, handing out business cards, partnering with a charity, or getting involved in a church or community group.
Networking involves meeting new people and letting them know what you do for a living. However, it's important to avoid being pushy, as this can work against you in the long run.
By practicing your networking skills and building genuine relationships with others in your industry, you can expand your reach and increase your chances of success as a solo entrepreneur.
Don't Skimp on Website Design
Having a professional website is crucial for any business, including one-person companies.
If you don't have solid skills in HTML, JavaScript, and CSS, it's best to pay someone to build a top-notch website for you.
Shop online for an experienced site designer that doesn't charge a fortune and is willing to let you make at least two revisions.
As with other services, it's important to check with friends and those in your network for references when choosing a website designer.
By investing in a high-quality website, you can establish a professional online presence and attract potential customers as a solo entrepreneur.
Work from Home
Working from home is an excellent way for one-person companies to save money on rent and develop the self-discipline needed to succeed as a solo entrepreneur.
If you don't need office space, consider working from home for the first few months. However, it's crucial to set up a quiet workspace where others won't disturb you and where you can speak in a normal voice over the phone.
By working from home, you can reduce expenses and focus on building your business without the distractions of a traditional office setting. This approach can help you develop the discipline needed to succeed as a solo entrepreneur.
Related: Best Business Software for Sole Proprietor
Conclusion
In summary, operating a successful solo business requires a combination of effective strategies and a strong entrepreneurial spirit.
By following the suggestions outlined in this article, solo entrepreneurs can increase their chances of success.
Some of the recommended strategies include leveraging social media, managing finances, establishing regular work hours, outsourcing strategically, building a network, prioritizing website design, and creating a productive work environment.
However, it's important to remember that every business is unique, and what works for one may not work for another. Therefore, flexibility and adaptability are essential traits for solo entrepreneurs.
By remaining committed to continual learning and growth, solo entrepreneurs can overcome the challenges of running a business alone and achieve their goals.
Ultimately, solo entrepreneurs can turn their vision into a thriving business with determination, creativity, and perseverance.