Disclaimer: We sometimes use affiliate links in our content. For more information, visit our Disclaimer Page. 
What do you do in the first few weeks as a new manager? One of the most important things you need to do is make a good first impression on your team. This means taking the time to introduce yourself and establish some ground rules right from the start.
This blog post will discuss ten tips for introducing yourself as a manager to a new team. We will also discuss why managers need to make a good first impression and give examples of how you can effectively introduce yourself.
10 Tips on How To Introduce Yourself as a Manager To a New Team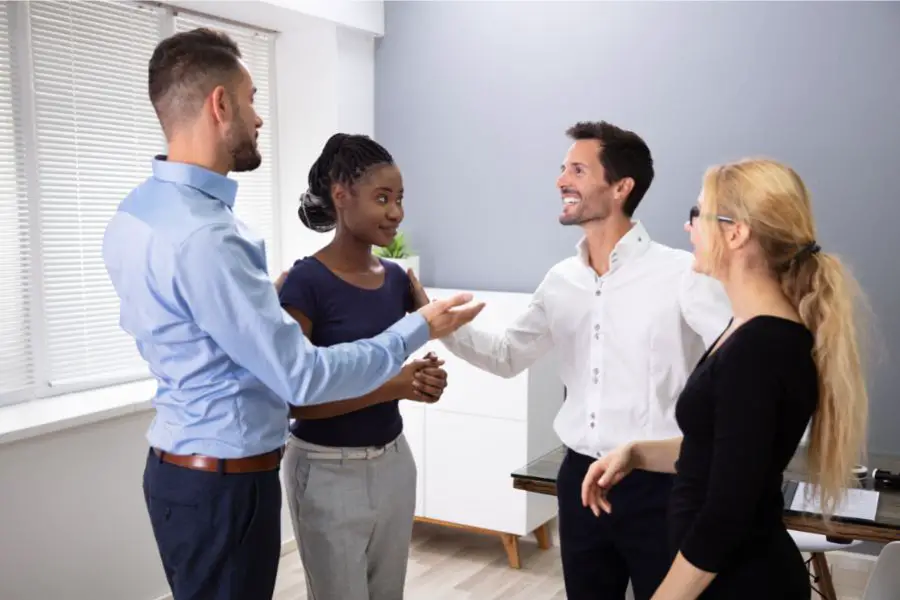 As a new manager, you must take the time to get to know your team members and build trust. Here are some tips on how to introduce yourself as a manager:
1. Be clear about who you are and what your role is
Introducing yourself to new team members is essential to building a cohesive and effective team. When you introduce yourself, let your team members know who you are and your role within the company.
This will help them understand your position and how you fit into the company hierarchy. In addition, be sure to explain your job responsibilities and how they contribute to the team's overall goals.
By taking the time to introduce yourself effectively, you can help new team members feel comfortable and confident in their new roles.
2. Make sure you've dressed appropriately
For better and worse, what you wear on the job can significantly influence people's first impressions of you. That's why you should dress to impress, but that doesn't have to mean a suit and tie.
Dress codes vary from workplace to workplace, and wearing the right thing can show that you're willing to fit the company culture.
And sometimes, wearing clean, well-fitting clothes can boost your confidence, which serves you well when speaking to your new team for the first time. 
3. Learn about each team member individually
One of the best ways to get to know your team members is to take the time to learn about them individually. Ask them about their backgrounds, interests, and what they hope to achieve in their career.
This will help you understand how they think and how they work best. In addition, getting to know your team members personally will help build trust and rapport.
When you know more about the people you work with, you can better motivate and inspire them to do their best work.
4. Describe your story
When first introduced to a team, it is customary to give some background information about oneself. This is an opportunity to share how you began your career, what motivates you, and what your goals are.
It can also be helpful to share personal information, such as hobbies or interests outside of work. This helps to make you more relatable and earn the trust of your new team.
When sharing your story, keep it brief so you can provide more details in future one-on-one meetings.
5. Explain your management style and how you like to work
Every manager has a unique management style. Some are more hands-on, while others prefer to give their team members more autonomy.
Regardless of your management style, you must take the time to explain it to your team members. This will help them understand how you like to work and how they can best support you in your role.
For example, if you are a hands-on manager, your team members will know that you like to be involved in every project stage.
6. Clearly define your expectations
As a team leader, setting the standards for your team from the beginning is important. After introducing yourself, take a moment to discuss your expectations and goals for the team. Then, explain what you hope to accomplish together and what kind of team you want to be.
Having specific goals in mind can be helpful, but giving your team the space to grow and evolve organically is essential.
In addition to setting goals, take a moment to acknowledge what your team is already doing well. This will help motivate them to meet your expectations and continue doing great work.
By taking the time to introduce yourself and set the standards for your team, you'll be laying the groundwork for a successful partnership.
7. Positively express yourself
A positive attitude is essential for making a good first impression on your new team. When you enter the office with a smile and positive demeanor, it shows your staff that you're excited to be their manager.
You can maintain a positive attitude at work by smiling when greeting your employees, even if you're speaking to them on the phone. The sound of a friendly voice can make all the difference in how your team perceives you.
By exhibiting a positive attitude, you can show your team that you're committed to being a supportive and effective leader.
8. Be prepared to answer questions
After introducing yourself as the new team leader, allowing your employees to ask you questions can be beneficial. This will enable them to seek clarification on anything they may not understand, reducing miscommunication and improving productivity.
Preparing to answer common questions in advance can help you respond with confidence. For example, some questions employees may ask you include:
"What do you plan to change?"
"What's your vision for the team?"
"What are your personal career goals?"
9. Track down roadblocks
When it comes to being a successful team, there is always room for improvement. One way to identify these areas of improvement is by taking note of when team members seem to struggle with their work.
This can be for various reasons, but it can impact the team's productivity if something is in the way. As a new manager, it will be your responsibility to try and identify these struggle areas.
Once you have identified them, you can offer some ideas to get past this roadblock. Again, this will show your team that you are willing to work with them to improve the team's overall productivity.
10. Follow up with a message
Assuming you're the team leader, it's a great idea to follow up with team members after you've initially introduced yourself.
This shows that you're eager to work with them and builds trust. Then, in your follow-up message, you can encourage team members to keep asking questions or requesting help if they need it. It will also demonstrate that you care about their success and are invested in working together.
Additionally, reply on time when team members reach out to you. This will show that you're professional and responsive, both essential qualities in a team leader.
Related: Ways to Manage Transitioning From Peer to Manager
How important is the first introduction?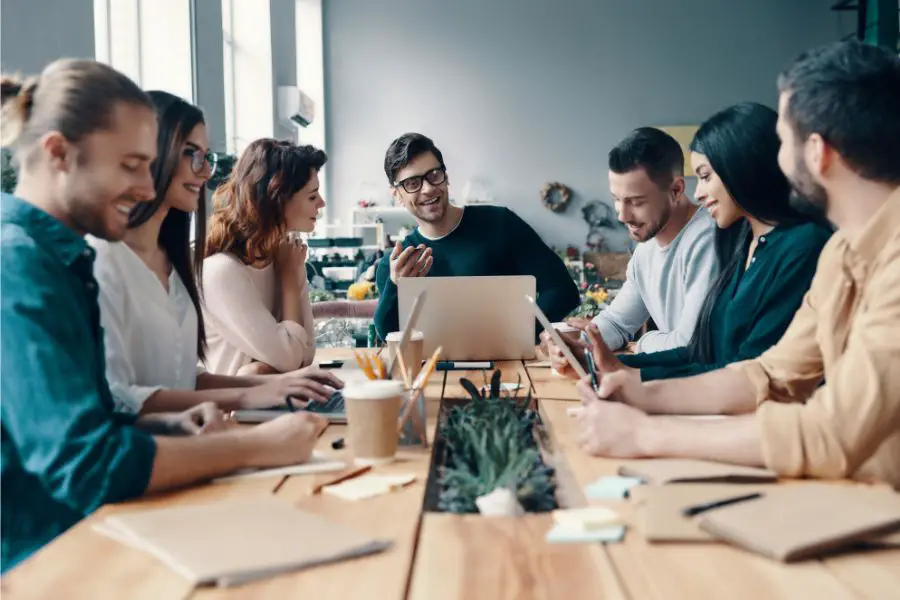 When you give an introduction, it's your chance to share your team values with everyone. As a result, your team will know what you're all about and will be more likely to follow your lead.
An introduction also gives you a chance to build rapport with your team. By taking the time to get to know them, you can create a strong foundation for working together.
And finally, it can help you to establish yourself as a leader. By sharing your vision and engaging with your team, you can show them that you're ready to take charge.
So give that exciting introduction – your chance to shape how your team sees you. Plus, it comes with the below benefits.
→ Exhibits your dedication and enthusiasm
When joining an already established team, it's essential to be confident and invested in the team's goals.
The best way to do this is by research. Look at previous projects the team has completed and try to understand what they most value during a project. This information will help you focus on the team's goals and come across as genuinely enthusiastic when introductions are made.
A team that sees a confident, excited leader is typically more motivated than one whose manager seems less than thrilled about the project.
→ Provides ease of transition
Introductions can help ease your team's adjustment since they preview your management style. After introducing yourself, there should be a few surprises on how you'll run the ship and some seeds of trust you can grow over time.
Of course, some kinks will still be to iron out before everything goes perfectly, but a good introduction starts the process.
→ Establishes the project's tone
By being a confident leader when introducing yourself as a manager, you set the tone for how the project will go. Conversely, it may cause a down-the-line if you come across as nervous.
Therefore, building trust among team members immediately during the personal introduction is critical. This includes being confident about words uttered and appearing assertive.
→ Develops positive relationships
As a project manager, one of your most important tasks is to build positive relationships with your team. This may seem like a simple task, but it's quite important.
Your introduction will give your team an idea of what to expect from you regarding management style and project handling.
Of course, there will still be some adjustments to be made as everyone gets used to working together, but a good introduction is a great way to start things off on the right foot.
Related: How To Measure Employee Productivity
Example introductions for managers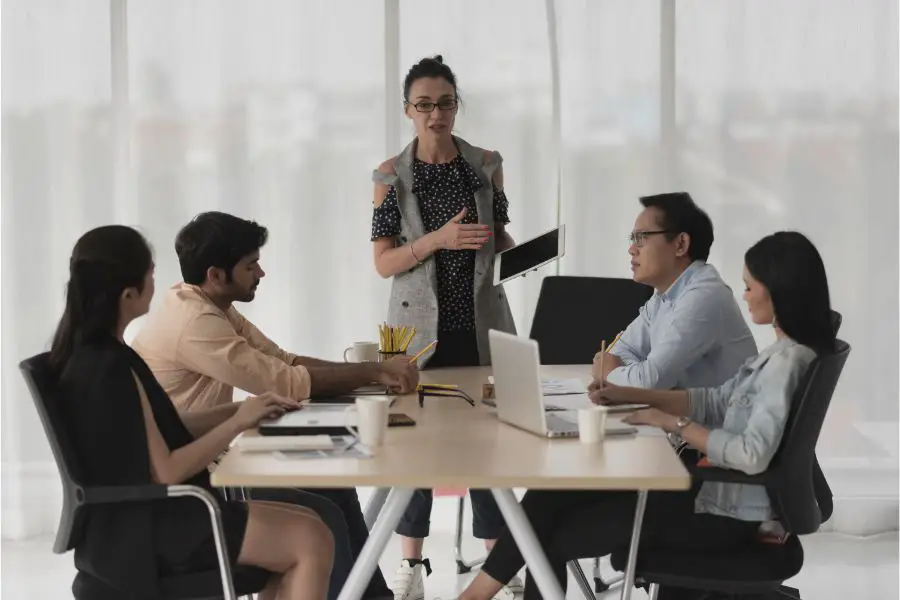 Here are some introduction examples for managers:
• An in-person introduction
Here is an example of an in-person introduction that a manager might offer their new team:
" Hi everyone! I'm your new manager, and I'm excited to get to know all of you. First, I wanted to take a moment to introduce myself. My name is John, and I've been in the business for ten years. I started as a sales associate and eventually worked my way up to management. I'm passionate about this company and its products and am committed to helping our team succeed. We have a lot of work to do, but we can do it if we work together.
I'm looking forward to getting to know all of you and working together to make our team the best it can be. Thanks for having me! "
• Email introduction
Here is an example of how you could introduce yourself to your new team via email:
" Hello, Team
My name is Jhon, and I'm the new project manager of your project team. I am excited to get to know all of you and help you achieve your goals. I have a lot of experience in this field, and I'm confident we can work together to achieve great things. Here are a few things you should know about me:
Things move forward very quickly for me because I'm very organized.
Communication is one of my strong points, and I always welcome new ideas.
I have a lot of energy and enthusiasm, and I'm always looking for new ways to motivate my team.
I'm looking forward to working with all of you, and I know we can accomplish great things together. If you have any questions or ideas, please don't hesitate to let me know.
Best regards,
Jhon,
Project manager, "
• Video Call Introduction
Here is an example of a new manager introducing themselves to remote workers on a video conferencing platform:
" Hi, team! I'm your new manager. First, I want to start by thanking you guys for joining me. My name is Jordan Buckley, and I'm taking over for our senior director, who recently retired. Here's a little bit about me. I'm originally from Boston, but I've been living in New York for the past few years. I've been working in the XYZ industry for the past ten years. I started as an entry-level employee and worked my way up to management. I've managed teams of all sizes and specialize in XYZ. I'm excited to bring my knowledge and experience to this team. I believe that we can achieve great things together.
I'm looking forward to getting started and getting to know you better. Thanks for taking the time to introduce yourselves. "
Conclusion
We hope this blog post has been helpful for you as you transition into your new role as a manager. Remember, it is vital to take the time to introduce yourself and set some ground rules right from the start.
This will help ensure a successful relationship with your new team. How did you introduce yourself when you first became a manager? Leave us a comment below and let us know!
FAQ
How do you describe a leader?
Leaders are people who have a vision and can inspire others to achieve that vision. They can take charge and make things happen. They have strong communication skills and can motivate and encourage their team members. They set high standards and hold themselves and others accountable. And finally, they always put the needs of their team ahead of their own goals.
What is the concept of leadership?
Leadership is about influencing and inspiring others to achieve a common goal. It involves setting a clear vision, communicating that vision to the team, and motivating them to work together towards achieving it. Leaders also need to be able to make difficult decisions, provide direction and guidance when needed, and create an environment where people can do their best work.
How do you introduce yourself as a new supervisor?
You want to start by introducing yourself and explaining who you are and what your position is. It's important to be clear about your role so everyone knows what to expect from you. You should also explain why you're qualified for the position and what you hope to accomplish in the role. Finally, asking the team members if they have any questions or concerns is a good idea.
How do you introduce yourself in a leadership interview?
It's important to have a solid understanding of your strengths and weaknesses before an interview. Then, when asked to introduce yourself, be prepared to talk about your personal and professional accomplishments.
How do you introduce leadership skills?
There are many ways to introduce leadership skills, depending on the context and audience. For example, you might discuss the traits of a good leader in a classroom setting. You could also write an article or blog post about developing leadership skills. No matter what method you use to introduce the concept of leadership skills, it's essential to be clear, concise, and helpful in your explanation.
What do you say when you introduce a new boss?
You can talk about the new boss's strengths and how they can help the team reach its goals. It's always good to be optimistic when introducing someone new to the team because it sets the tone for a productive and successful relationship.