Disclaimer: We sometimes use affiliate links in our content. For more information, visit our Disclaimer Page. 
No one enjoys being disrespected by their employees, but unfortunately, it happens often. If you find yourself in this situation, don't worry – you can take action to improve the situation.
This blog post will discuss nine ways to deal with employees' disrespectful behavior. Follow these tips, and you can get your respect back and create a more positive work environment for everyone involved!
9 Ways on How to Deal With Employees Who Don't Respect You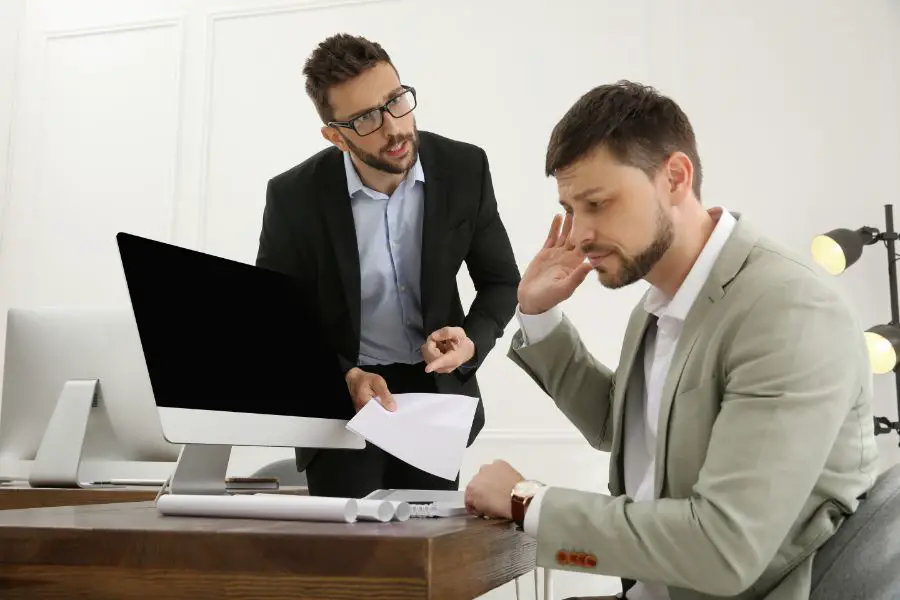 When you are the boss, it is essential to be respected by your employees. But, unfortunately, there are times when this doesn't happen.
If you find yourself in a situation where you feel disrespected by those who work for you, don't worry – there are things you can do to improve the situation.
1. Reinforce your positive behavior 
A single bad egg can sour a perfectly good working relationship. Therefore, it's crucial to avoid lowering yourself to the employee's level, even if the employee is throwing insults and negative comments your way.
Instead of publicly chastising the employee, wait until the meeting is complete and schedule a private meeting in your office.
Initially, try asking the employee to express any concerns and offer to repair any issues you can. Employees tend to feel more positive when they believe their opinions matter to the organization. 
2. Make clear expectations
Maintaining a professional manner with your employees is key to ensuring a smooth-running work environment. If discipline becomes necessary, clearly outlining your expectations of that employee in writing will help.
This should be presented as soon as possible after a new worker is hired and revisited at least once a year to ensure those expectations are met. Outline that job's duties and ensure the employee has the support necessary to complete those duties.
By maintaining open lines of communication and setting clear expectations, you can help to prevent problems before they start.
3. Avoid micromanaging
A positive attitude is one of the most critical traits of a successful manager. Trust your employees to do their jobs, and you'll be more likely to create a positive work environment where employees feel empowered and motivated.
Having periodic meetings with your employees to update you on their progress and to share what you're working on will help to achieve company goals.
By taking a hands-off approach and letting your employees take the lead, you'll be more likely to foster a positive and productive work environment.
4. Trust their work
It can be frustrating when you feel like a team member is not warming up to you. However, the issue is entirely personal. If you would like, you can ask if they feel unchallenged as of late and see if they want to take on more responsibility.
However, if you trust their work and knowledge, the best solution is to give them greater tasks. You might find that trusting this team member with more significant tasks leads them to come to you more often with questions.
This way, you can foster a better relationship and understanding with this team member.
5. Acknowledge the blame
Knowing how to respond when you feel disrespected by an employee can be difficult. However, it is essential to remember that not every case of disrespect is the same.
Disruptive behaviors should always be addressed, but if the only thing being disrupted is your ego, then the problem lies with you and not your direct report.
It is important to separate personal feelings from objective reality. For example, if you feel disrespected, take a step back and evaluate the situation.
6. Set a boundary
As a manager, it's your responsibility to create a positive work environment for your team. This means promoting open communication, fostering collaboration, and addressing concerns or issues.
However, there may come a time when an employee behaves in a way that is detrimental to the workplace.
In these cases, it's essential to talk sternly with the employee. Mention specific instances of negative behaviors, and let the employee know that while you're available to discuss any issues they're having, you expect a certain level of respect in return.
7. Seek help from HR
The human resources department can advise on how to deal with the situation and provide support and resources. In addition, they will investigate the case and take action if necessary.
In addition, they can help to create a respectful workplace environment by educating employees about respectful communication and enforcing policies and procedures.
Related: HR in Small Businesses
8. Talk to them about their behavior in a private meeting.
When an employee's behavior or attitude doesn't meet the standards set by the company, it's the manager's responsibility to take action. Sometimes, a perceived personal slight can cause an employee's bad attitude.
In these cases, it's important to discuss with the employee to see if there is anything that can be done to improve the situation. If the employee's attitude is still causing problems after this discussion, you'll probably have to initiate disciplinary action.
9. Subordination as a discipline
Firing an employee is a particularly difficult pill to swallow for any business owner. Finding, hiring, and training someone new is time-consuming and expensive.
However, sometimes firing an employee is the best action, particularly if the employee exhibits toxic behavior. If your efforts to improve the employee's overall attitude are unsuccessful, you'll probably have to initiate disciplinary action.
This can be a difficult conversation, but focusing on specific behaviors is essential.
Related: How To Deal With an Argumentative Employee
What is the impact of disrespectful behavior on other employees?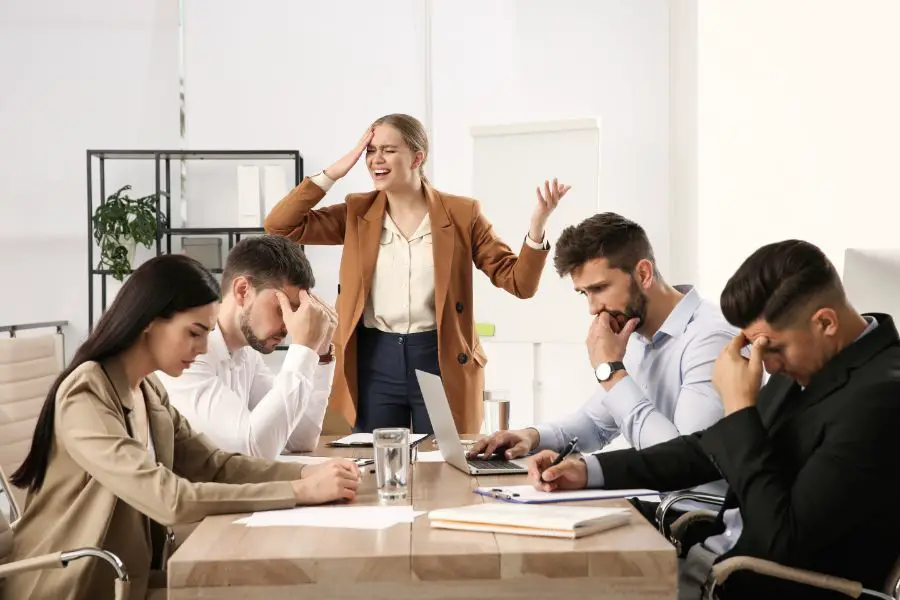 A disrespectful employee can hurt an entire organization, causing decreased productivity and affecting the mental health of other employees.
This type of behavior can have real and severe consequences, with employees who face disrespect reporting lower engagement and suffering from physical and mental health issues.
Disrespectful employees are often not appreciated and face verbal abuse daily while performing their tasks. Often, employees who face disrespectful attitudes plan to switch jobs rather than continue to endure the hostile environment at their current workplace.
In addition, disrespected employees commonly face exclusion and interruption, with their work being rejected to demotivate them.
Related: How To Handle Employee Conflict in the Workplace
How can employees' inappropriate behavior be addressed?
Inappropriate behavior in the workplace can take many forms, from making inappropriate comments to more serious offenses such as sexual harassment.
It is essential to address it as soon as it occurs, as letting it go unchecked can send the message that it is acceptable. Addressing the issue early on can also help prevent it from escalating into a bigger problem.
When addressing negative behavior, be assertive and direct with the employee. However, avoid being too aggressive, as this could worsen the situation.
If you are unsure how to handle the situation, reach out to your human resources department for guidance. Letting the employee know that their behavior is not acceptable can help set expectations for future interactions and may improve the overall working relationship.
Related: How To Handle Employees With Bad Attitudes
Conclusion
Disrespectful employees can damage your business and hurt employee morale. However, there are things you can do to improve the situation. Follow these nine tips to deal with disrespectful behavior in the workplace, and you'll be on your way to a more respectful and productive work environment.
Have you had to deal with disrespectful employees in your workplace? Tell us about it in the comment section below!
FAQ
How would you motivate employees if they do not respect you as a leader?
Many employees do not respect their leaders simply because they do not feel they are being listened to or their voices are being heard. To regain the trust and respect of your employees, you must first listen to them and understand their concerns. Only then can you begin to address the issues that they are facing and work together to find solutions.
How do you handle a toxic employee?
Some of the most important things to keep in mind when dealing with a toxic employee are:
• First, establish clear boundaries and expectations.
• Don't take away their autonomy.
• Talk to the employee.
• Set expectations and consequences.
How do you deal with rude insubordinate employees?
There are a few things you can do to deal with rude insubordinate employees:
• Talk to them privately about their behavior and explain that you would like them to act differently in the future.
• Document everything they do wrong and track how it affects the rest of the team or company.
• Suspend them from work or fire them if their behavior does not improve.
What do you do when your team turns against you?
You could try to win them back over by understanding what might have caused them to turn against you in the first place. It could be that they feel like they're not being heard or that they're not being allowed to grow and contribute. Maybe they think you're micromanaging them, or you're not being fair in your decisions.
Can you fire an employee for being disrespectful?
Yes, you can fire an employee for being disrespectful. In some cases, disrespectful behavior may also be considered insubordination, a separate grounds for termination. However, it's important to note that firing an employee for being disrespectful can be risky, as it could lead to a wrongful termination lawsuit.