Disclaimer: We sometimes use affiliate links in our content. For more information, visit our Disclaimer Page. 
A shift leader is a person who coordinates the work during a particular shift at a business. They make sure that everyone knows their job and what needs to be done.
Shift leaders usually have some managerial experience or training. This position can be very demanding, but it can also be rewarding, especially if the employees are productive and the shift runs smoothly.
What you will learn:
What is the role of a shift leader?
What is a good shift leader?
Difference between shift manager and shift leader job
Is a shift leader considered a supervisor?
Do Shift Leaders have different responsibilities in different industries?
Final Thoughts
Frequently Asked Questions
A shift leader's job may include overseeing inventory, scheduling employees, providing customer service, and cleaning up after closing. They also need to handle difficult situations, such as employee disputes or customer complaints.
If you are looking for a challenging but rewarding career, becoming a shift leader may be right for you.
What is the role of a shift leader?
Shift leader responsibilities are delegating tasks and leading their team members to achieve their goals. The shift leader will need to have specific skills and abilities to accomplish their tasks for this to happen.
They develop the shift plan, assign duties to team members, and provide assistance at any work station throughout their shift. Monitoring team performance and ensuring tasks are performed efficiently.
In addition, a shift leader needs to know health and safety procedures. This way, they can keep their employees and the workplace safe. The shift leader should also be aware of legal implications and follow them and gain enough knowledge on its activities to lead their team better.
Nowadays, many companies do not hire individuals to fill this role full-time, but instead, they allow those who are willing to work extra hours for an increased salary. An additional responsibility held by a shift leader is to represent the company in front of other important officials such as government inspectors or auditors.
This individual will have to explain how things work in the organization they represent, which means having good communication skills is crucial for this position. To sum up, being a shift leader means having many responsibilities, but it is also a gratifying job with excellent prospects.
Related: Team Leadership Style
What is a good shift leader?
Being a shift leader means that you are in charge of the duties, responsibilities, and tasks to be carried out by your team while you are not around. Therefore, good shift leaders should possess certain qualities. First of all, being human, they would have inadequacies, but these will only make them more determined to do better. Below are some of their qualities.
1) Commitment to high standards
A good shift leader does not compromise on quality even if it is already 2 a.m. and his workers want to go home after working hard for 8 hours straight. A good shift leader goes beyond the call of duty mostly because he has pride in what he does and knows that his employees look up to him.
2) Interpersonal skills
A good shift leader can motivate his employees by talking and walking the walk. A good shift leader can influence people without getting too pushy or overbearing. A good shift leader knows when to be tough and lenient with his workers.
3) Strong sense of responsibility
If a company has gone through a lot of trouble before it becomes successful, they have strong leaders – these are men who do not lose hope despite several setbacks. A good shift leader does not blame others for mistakes committed but instead takes full responsibility to prevent similar things from happening in the future. He knows when he should step down from his post.
4) Willingness to learn new things
A good shift leader does not feel threatened when his employees excel in their given area. Instead, he is willing to help them achieve even more success in the future because he has a lot of pride in his company and knows it will benefit from this kind of collaboration.
5) Good communication skills
People tend to misunderstand each other when they do not communicate well enough, and often there are clashes in personalities and points of view. A good shift leader can defuse such situations and resolve conflicts with creative solutions that benefit all parties involved.
The ability to better manage your skills and flaws, as well as an effort to comprehend the viewpoints of others, will enhance your chances of long-term success in your position. In addition, you must have the skills to encourage and model excellent communication, seek solutions rather than blaming, offer constructive feedback, and identify methods for connecting individual and corporate needs.
With these qualities, a good shift leader will successfully command the respect admiration of his team members. He will be able to inspire and motivate even the most unmotivated workers. His leadership style can harmonize his employees to work as one cohesive unit. That translates into a better bottom line and, overall, ensures company success.
Related: Transactional Leadership
Difference between shift manager and shift leader job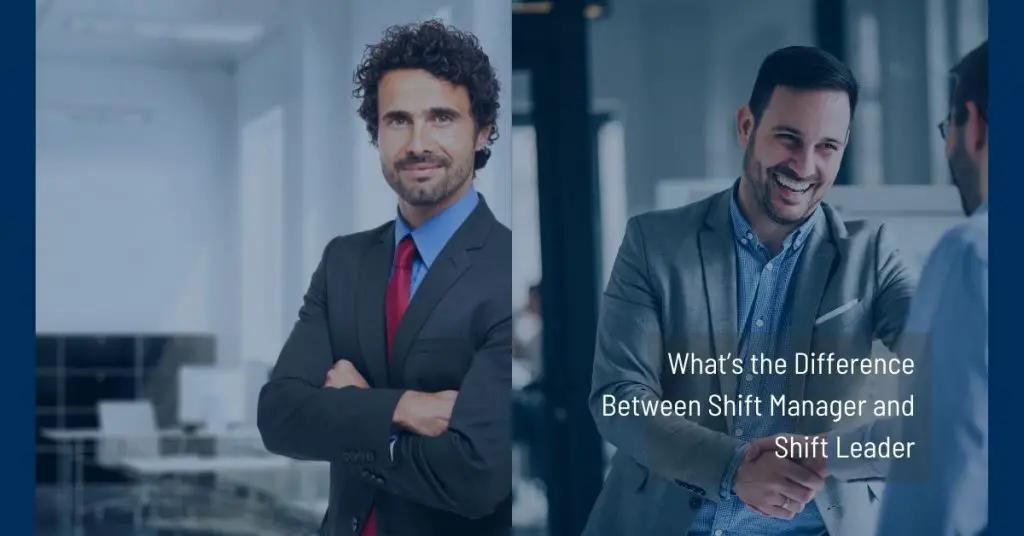 A shift manager is responsible for the daily operations within an establishment. They oversee all team members and ensure that everything runs smoothly. Shift managers answer directly to the General Manager or Operations Manager.
Some of their main tasks include:
Responsible for scheduling, assigning duties to staff, training new hires, organizing workstations, managing inventory, tracking sales figures, and analyzing reports.
Responsible for ensuring safety regulations are met at all times.
Making decisions based on financial information about cost-effective solutions for stocking products and purchasing equipment.
A shift leader is responsible for acting as a liaison between managers and hourly employees. They typically have authority over others who are subordinate to them within a specific area of an establishment.
A shift leader often acts in the manager's absence and is responsible for day-to-day operations but does not have direct authority over managers. However, shift leaders are responsible for reporting information to their supervisors.
"Shift Leaders are capable of running shifts independently when no other Leader or Supervisor is available."
Coordinates activities with other departments to ensure smooth communication between all parties involved.
Oversees one particular production area at a time, such as receiving, stocking shelves, cashiering, or cooking food.
Is a shift leader considered a supervisor?
Many businesses have found that it is more efficient to have one group of employees work the day while another works at night. Shift leaders are responsible for organizing and directing this type of labor. The decisions made by a shift leader impact all workers under their supervision.
Shift Leaders as Supervisors
Some business owners believe that the employees working in the evening or overnight shifts are not managers, even if they would be considered supervisors in other jobs. However, other business owners disagree with this assessment.
Just because an employee does not have direct control over others does not mean they are not considered a supervisor. Due to their broad responsibilities, many business owners view shift leaders as supervisors.
Do Shift Leaders have different responsibilities in different industries?
The responsibilities of a Shift Leader vary depending on the kind of company they work for. Shift Leaders who operate a restaurant, for example, will have distinct goals and obligations from those who work in a retail shop.
The restaurant Shift Leader may delegate sections to waitstaff, assist with hospitality responsibilities, and speed food preparation. In contrast, the retail store shift leader would primarily ensure that workers perform their required jobs.
Shift leaders are primarily responsible for managing employees during peak hours of operation. They must enforce company policy regarding tardiness, attendance, dress code, and break schedules. They also address customer complaints or concerns about products or services provided directly and give management feedback.
To ensure that employees are not interacting with customers in a way that could be construed as misleading or potentially damaging to the company brand, they must handle inventory control and inspect products before being served to customers.
In most cases, shift leaders need management experience to apply for these positions. Many employers also require that applicants have a high school diploma or GED. It's also widespread for employers to look for candidates with prior job training in retail, customer service, and food service. Candidates who have previously held supervisory roles tend to get preference over those who haven't due to the increased level of responsibility associated with this position.
5 Tips for shift leadership
Here are some of the most effective shift leadership tips for your talent development.
1. Communicate, communicate, communicate
As the leader of your shift team, you should pass on instructions and information properly to your subordinates. They need to know what they are doing to do their job well. In addition, make sure that the members of your shift were updated about developments within the company or even outside it.
Keep them posted on any changes or alterations in policies etcetera that might affect their performance at work.
2. Provide effective feedback
Give positive feedback whenever possible ( but make sure it is genuine ). When he does something right, tell him. Please don't wait for him to do something wrong, then reprimand him for whatever reason; this will only push your staff away from you and affect their work performance.
3. Be fair in applying the rules and policies within your department
At times, you might have to correct or reprimand a member of your team for a mistake he made, but make sure that you don't do it harshly. For example, if two persons committed an error, don't reprimand one more severely than you will the other – this is not fair. Treat them equally.
4. Focus on what is important
Don't be distracted by petty issues, as they may lead to problems down the road if they become unmanageable. It's easy enough to lose focus from the big picture, especially when dealing with minor issues that may crop up from time to time; remember that those could cause more significant troubles later on.
5. Be aware of your strength and weaknesses
It is usually crucial for leaders to know what they can do well and what they are not good at to work on their shortcomings. Therefore, take some time first to assess yourself before you take the job as a shift leader in a company.
Related: 5 Levels of Leadership
Final Thoughts
If you're interested in a position that offers leadership and managerial experience, then consider becoming a shift leader. This is an important role where the person will coordinate all work during their assigned shift to make sure everything runs smoothly for themselves and their employees.
This leadership position can be advantageous, especially if the employees are productive and the shift runs smoothly. They'll also be responsible for communication with other managers or supervisors to ensure everyone knows what needs to happen next.
In simple words, the first step for good business administration is to become a good leader and become a good leader; you must have to learn how to be a good follower.
Every great leader, no matter which category, like Transformational leaders, Democratic leaders, or even Shift Leaders, all are once competent followers- it sets you up for success as an effective leader because being able to follow instructions from those above you helps you understand the thought process and reasoning as to why something needs to be done in a particular way.
Related: 16 Leadership Styles
Frequently Asked Questions
Although many people think that authority comes from title or position, moral authority is about who you are. Moral authority is usually followed before positional authority. Maxwell lists competence, valor, consistency, and character as four qualities a leader must have to possess moral authority.
Why is communication shift important?
When a task and its associated responsibilities are transferred to another person or work team, effective communication is essential in every company. This can happen during shift changes, between day and night workers, or when different functions of an organization are mixed within a shift, such as operations and maintenance.