Disclaimer: We sometimes use affiliate links in our content. For more information, visit our Disclaimer Page. 
There is a lot of confusion about the difference between a manager and a supervisor. Many people use the two terms interchangeably, but they are pretty different. A manager oversees a team of employees and ensures they work efficiently. A supervisor monitors fellow employees' work and ensures that it meets the standards set by the company.
This blog post will discuss the differences between these two positions in more detail!
Difference Between Supervisor and Manager
A supervisor oversees the work of others and provides guidance, whereas a manager plans, directs, and controls the work of others within an organization. A manager is responsible for both an organization's strategic and operational aspects. In contrast, a supervisor is accountable for operational aspects. Let's see each one in more detail.
→ Manager
While the title "manager" might conjure up images of a suit-clad professional overseeing a team of employees, the reality is that there are many different types of managers. For example, depending on the size and structure of their organization, managers might be responsible for managing a specific department or team, or they might have more general duties like conducting employee performance reviews and making decisions.
Regardless of their specific duties, managers are essential in facilitating communication between employees and high-level executives. By performing their duties effectively, managers can help to ensure that a company culture runs smoothly and efficiently.
→ Supervisor
On the other hand, In management, a supervisor is an individual responsible for monitoring and regulating the performance of a company's staff in their delegated duties. In particular, they oversee the daily performance of a small group, team, or department. A good supervisor has the authority to recommend or exercise discipline, promotion, rewards, and hiring, and they perform many functions that help improve a company's productivity.
For this reason, a supervisor's role is popular in industrial and administrative settings. However, as someone who monitors and regulates the performance of others, a supervisor must be competent in both interpersonal skills and task management.
They must communicate effectively, set deadlines and expectations, and provide feedback constructively. In addition, a supervisor must work well under pressure and maintain a sense of calm in chaotic situations. Those who excel in these areas can find high demand in many industries.
Is a manager higher than a supervisor?
A supervisor is a person who oversees the work of other employees. On the other hand, a manager is responsible for planning, directing, and coordinating employees' work. Therefore, managers are considered higher than supervisors in terms of hierarchy.
In most businesses, managers are regarded as mid-level management. Supervisors are typically middle-level management who report to a director, a member of the C-suite, or a vice president. However, the terms "supervisor" and "manager" may be used interchangeably.
For example, in a small business with only a handful of employees, the owner may serve as supervisor and manager. There may also be different levels of supervisors in larger organizations, such as first-line supervisors and general managers. Ultimately, the term "supervisor" generally refers to someone who supervises the work of others, while the term "manager" denotes someone with more responsibility for overseeing employees and achieving organizational goals.
What are the 8 key qualities of a manager and supervisor?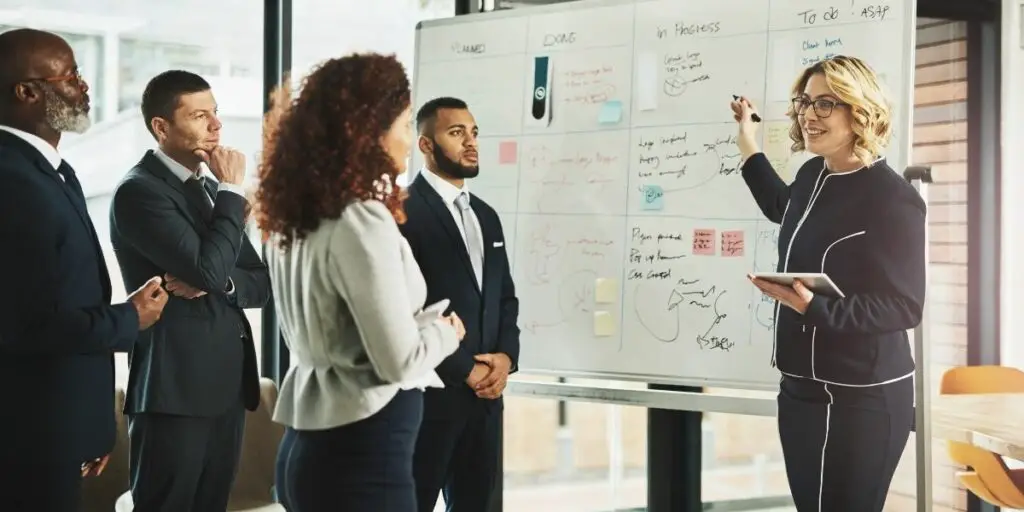 A good manager or supervisor possesses a variety of important qualities. While different managers and supervisors will have their unique strengths and weaknesses, there are eight essential qualities that all great leaders share. If you want to be a successful manager or supervisor, make sure you possess these qualities:
1. Leadership
Many qualities make a great manager and supervisor, but leadership is one of the most important. A leader can inspire and motivate others to achieve their best. A manager and supervisor with strong leadership skills can help their team reach its full potential.
Any Leadership style is more than just giving orders or telling people what to do. A good leader can listen to each team member and consider their suggestions. They also need to communicate effectively and provide clear instructions when necessary.
Managers or supervisors who are strong leaders will be able to build trust and respect among their team members. This type of environment is essential for any team to be successful. If your team feels they can trust and respect you, they will be more likely to put forth their best effort.
2. Empathy and compassion
Empathy and compassion are two essential qualities of both. Empathy is the ability to understand and share the feelings of another person. Compassion is the ability to feel sympathy or concern for another person. Both empathy and compassion are necessary qualities in a manager and supervisor because they show that they care about their employees.
A manager/supervisor who is empathetic can better understand the needs of their employees. This understanding can help both provide support when needed. For example, an empathetic supervisor/manager can offer advice or counseling if an employee has personal problems. A compassionate supervisor/manager can also be helpful in times of crisis, such as when an employee loses a loved one.
3. Effective Communication
It is no secret that communication is key in any successful relationship. This is especially true for the relationship between a manager and their subordinates. A good manager or supervisor must effectively communicate with their employees to ensure that tasks are completed correctly and efficiently. In addition, effective communication can help build trust and respect between managers and their teams.
While some managers/supervisors may be natural-born communicators, others may need to work harder. However, there are some basic tips that all managers can follow to improve their communication skills. First, it is crucial to always be clear and concise when communicating with employees. Secondly, make sure to listen more than you speak. This will show your employees that you value their input and are interested in hearing what they say. Lastly, avoid making assumptions and always be open to feedback.
4. Conflict Resolution
Conflict resolution is a necessary skill for any manager or supervisor. While it is impossible to avoid all conflicts, a good manager/supervisor can resolve any disagreements that arise effectively. This skill is important because it can help prevent small problems from escalating into major issues.
There are a few critical methods of conflict resolution that can be employed in various situations. The first is mediation, which involves both parties coming together with the help of a neutral third party to discuss the issue at hand and try to agree.
Another method is arbitration, which is similar to mediation but involves a more formal process and usually ends with the arbitrator making a binding decision. Finally, there is conciliation, a process in which the parties involved agree on their own without the help of a third party.
5. Problem-Solving
Solving problems is also an important quality for both managers and supervisors. When issues arise, they need to be able to identify the problem and then find a solution that works. Often, this requires creative thinking and out-of-the-box thinking. However, those who are good at problem-solving can often find answers that others may not think of. This can make a big difference in the workplace and help keep things running smoothly.
Problem-solving skills are also critical because they can help to prevent problems from occurring in the first place. By being proactive and identifying potential issues before they become actual problems, those with good problem-solving skills can help avoid many headaches down the road.
6. Confidence
A confident manager or supervisor can lead their team effectively and inspire others to achieve goals. A secure and positive outlook allows managers and supervisors to make difficult decisions and stand by their choices even when faced with criticism. Employees often look to their leaders for guidance and direction, so it is vital that they feel confident in their ability to provide this.
There are many ways to build confidence, such as setting clear expectations, providing adequate training, and offering positive reinforcement. By developing confidence and a positive attitude, supervisors and managers can create a more positive work environment for everyone involved.
7. Emotional intelligence
Emotional intelligence (EI) is one of the most critical skills that a manager or supervisor can possess. Managers and emotionally intelligent supervisors can better understand and manage their own emotions. This self-awareness allows them to stay calm under pressure, resolve conflict effectively, and make clear decisions.
People with high emotional intelligence are also better able to read other people. This empathy allows them to build strong relationships, understand and motivate others, and create a positive work environment.
Also, emotionally intelligent managers and supervisors are better able to manage change. They can effectively communicate the vision for change, gain buy-in from employees, and lead their team through times of transition.
Related: Strength of a Leader
Responsibilities of managers vs. supervisors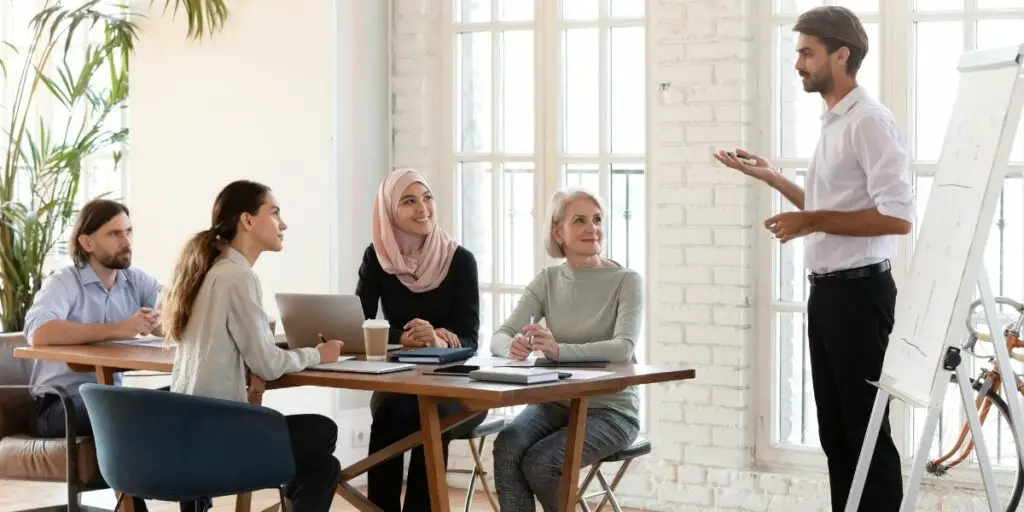 While managers and supervisors have much in common, delegation is one significant difference. Supervisors oversee their employees' day-to-day tasks while ensuring they're being compensated appropriately along the way – this ensures that workers know how to do their jobs well and manage all aspects involved with delivering quality service at any given time! Individuals who succeed in a supervisory position typically have a mix of interpersonal and management skills and a personable, encouraging, and self-assured attitude.
Other responsibilities of a supervisor include:
Giving feedback and assessing performance
Training new employees
Communicating company demands
Managing the process
Building Employee discipline to accept responsibility
Creating a work schedule
Resolving organizational conflict and personnel difficulties
On the other hand, Managers are responsible for leading their teams and ensuring employees accomplish the impactful outcomes that matter to an organization. This helps contribute overall success and goals of the company's performance through inspiring supervisors with direction from management and showing up often to make sure everything runs smoothly.
Managing people is not just about managing time or tasks but also human resources – which means understanding how each person can bring different skillset into this process depending on what needs arise at any given moment (elderly parents need extra attention; new hires might require more coaching).
It requires strong communication skills to know where everyone stands while maintaining collaboration across all levels of your business.
Other responsibilities of a manager include:
Meeting with the company's leadership team
Creating goals for the department
Ensuring company policies are being followed
Budget accountability
Getting employee feedback on the department's success
Examine the performance of staff members.
Conducting performance reviews of supervisors
Related: Teamwork in the Workplace
What is the salary of managers and supervisors?
Managers make more money than supervisors because they have greater responsibilities and authority. This is due to their strategic planning function within the firm. Because different managers have various responsibilities, their pay will be based on that.
The average salary in the United States is $55,342 per year. Managers also receive an average $10,000 cash bonus per year. However, salaries for managers can vary greatly depending on location, industry, and rank, like junior and senior management positions.
On the other hand, Supervisors also play a vital role in any organization, overseeing employees' work and helping to ensure that tasks are completed efficiently and effectively. Supervisors generally earn higher salaries than the average wage for their field.
For example, operations supervisors in the US earn an average salary of $63,686 per year, while warehouse supervisors earn $52,687 per year. Production supervisors tend to make slightly more, with an average salary of $61,086.
In addition to their base salary, many managers and supervisors also receive benefits such as health insurance and retirement plans. Some organizations also offer bonuses or other incentives for those who can improve efficiency or meet other goals.
Related: Management Styles
Final Thoughts
Overall, both managers and supervisors are important figures within any organization. However, while they share some similarities, there are also some key differences between these two roles.
When deciding which career path is right for you, you must consider your goals, skillset, and desired salary. With this information in mind, you can decide whether management or supervision is the right fit for you.
If you're interested in pursuing a career in management or supervision, take some courses! This will give you the skills and knowledge to succeed in these roles.
FAQ
What is difference between manager and supervisor?
The main difference between a manager and a supervisor is that a manager is responsible for both an organization's strategic and operational aspects. In contrast, a supervisor is only accountable for operational aspects. In addition, a manager has more decision-making power than a supervisor in terms of authority. Finally, managers are usually held responsible for results, while supervisors are often judged on their ability to maintain efficient operations.
What are the 5 roles of a supervisor?
A supervisor plays many different roles in an organization. For example, they may be responsible for managing a team of employees, developing training programs, or providing guidance and support to employees. Sometimes, a supervisor may also be responsible for performance evaluations and disciplinary action. The five primary roles of a supervisor are educator, sponsor, coach, counselor, and director.
What are supervisory skills?
Supervisory skills are the ability to effectively lead and manage a team of employees. A good supervisor must communicate clearly, set goals and expectations, give feedback, and provide adequate resources and support. They must also be able to handle conflict resolution and problem-solving ad efficiently as possible. A successful supervisor is an essential asset to any company because they contribute directly to their employees' productivity levels.
Is a supervisor the same as a manager?
Generally speaking, a supervisor oversees the work of others, while a manager is someone who directs and plans the work of others. However, there can be some overlap in responsibilities and titles depending on the organization.
What is the difference between supervision and management?
The main difference between supervision and management is that supervisors focus on overseeing and directing employees' work, while managers are responsible for more strategic tasks such as setting goals, developing plans and budgets, and making decisions.
What are supervisor qualities?
Many qualities make a great supervisor, but some of the most important ones include developing and maintaining strong working relationships with team members, being an effective communicator, being organized and efficient, and having a strong focus on results. Additionally, supervisors must be able to lead by example and provide guidance and support when needed.
What are the characteristics of supervisors?
There are many different types of supervisors, but some common characteristics make a good supervisor. A good supervisor is typically patient, fair, and has good communication skills. They should also handle stress well, be organized, and have good problem-solving skills. It's also essential for supervisors to be able to motivate their employees and provide guidance when needed.