Disclaimer: We sometimes use affiliate links in our content. For more information, visit our Disclaimer Page. 
Have you ever found yourself staring at the clock, counting the minutes until you can leave the office, or lying awake at night, dreading the next business day? If thoughts like "I don't care about my job anymore" are frequent visitors in your mind, know that you're not alone. Many people struggle with a lack of motivation and losing interest in their jobs. The good news is, this isn't the end of the road. Finding passion at work is still within reach; this article is your ally.
In a world where we often define ourselves by our professions, feeling disconnected from work takes a toll on more than just our productivity—it affects our self-esteem and overall happiness. It's time to break free from the rut and rekindle the flame that once made your job gratifying. Together, let's navigate through strategies and insights that can lift you out of career apathy and lead you towards job satisfaction.
Key Takeaways
Understanding that a lack of motivation at work is a common issue many face.
Recognizing the signs that you're losing interest in your job and why it's critical to act.
You affirm the importance of rediscovering and aligning with your core work values.
Exploring practical advice for combating work apathy and re-engaging with your career.
You are empowering yourself with strategies to find and foster passion in your professional life.
Learning to set healthy work-life boundaries to maintain enthusiasm and prevent burnout.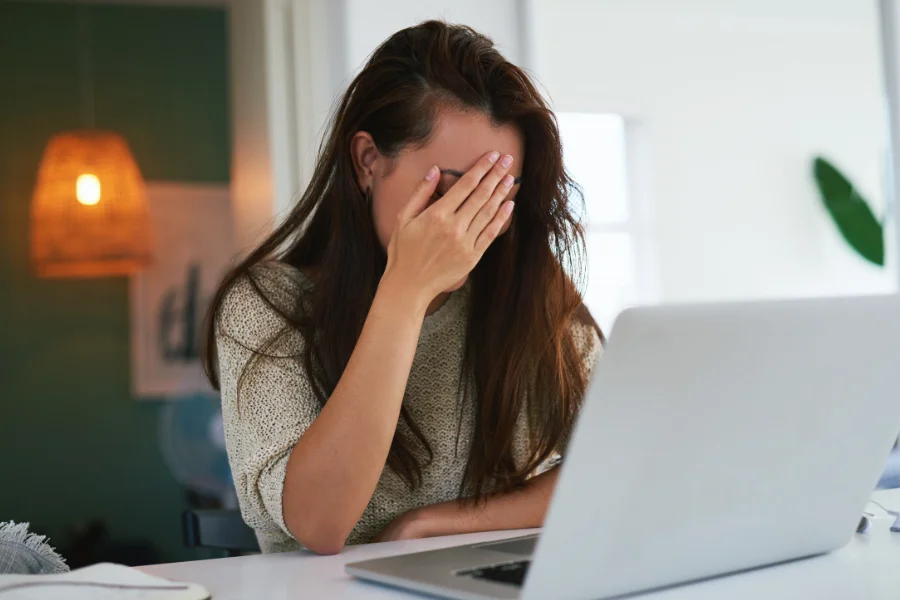 Assessing the Root of Job Dissatisfaction
Feeling a sense of disconnection or detachment from your job can often be symptomatic of deeper issues in the workplace and your personal life. To counteract this, one must first identify the core reasons behind one's career unhappiness. Whether experiencing job burnout, contending with external factors, or struggling to maintain a healthy work-life balance, discovering the root causes is imperative for addressing job dissatisfaction symptoms.
Recognizing the Signs of Career Burnout
Job burnout represents a state of physical and emotional exhaustion, where individuals may feel overwhelmed and unable to meet constant demands. Here are some common symptoms:
Chronic fatigue or lack of energy
A sense of ineffectiveness and lack of accomplishment
Feeling overly cynical or detached from the job
Decreased satisfaction and engagement with work tasks
"Career burnout not only hampers job fulfillment but can also spill into one's personal life, causing broader unhappiness and emotional distress."
Identifying External Factors Contributing to Indifference at Work
Indifference towards work is often a byproduct of external factors that affect job satisfaction. These can include:
| External Factor | How It Contributes to Indifference |
| --- | --- |
| Company Culture | May not align with personal values or provide a supportive environment |
| Management Styles | Excessive control or lack of support can lead to a decrease in motivation |
| Lack of Recognition | Can cause feelings of being undervalued and affect morale |
| Job Market & Economy | Instability can increase job insecurity and cause anxiety |
The Impact of Work-Life Imbalance on Job Fulfillment
When the scales tip too heavily towards work, leaving little room for personal downtime, feelings of career disillusionment can swiftly take hold. The key indicators of a work-life imbalance include:
Long hours lead to neglect of personal relationships and health.
Work tasks encroaching upon a time reserved for relaxation or hobbies
Feeling perpetually drained and indifferent towards work and family events
Appreciating the severe impact of a failure to balance professional and personal demands is critical for anyone looking to restore job fulfilment and counter work apathy.
Realigning Your Work Values and Career Goals
At the heart of a fulfilling career lies a clear understanding of your work values and goals. When you're lacking motivation at work, it may be time to return to the foundational aspects of what you expect from your professional life and why you embarked on your career path in the first place. This introspection is a step towards career reinvigoration, creating a more engaged and rewarding job experience.
It's essential to recognize that work values are not static; they evolve as you encounter new experiences and your circumstances change. Therefore, realigning your work values with your career goals is not a one-time event but an ongoing process that requires regular reflection and adjustment.
"To achieve fulfillment in your professional life, it's imperative to ensure that your career goals are not just aligned with, but also energized by your deepest work values."
What follows are some practical steps you can take to realign your work values with your career goals and reignite your passion for your job:
Analyze your current job satisfaction and pinpoint areas where you feel disconnected.
Identify your core work values by reflecting on experiences that brought you the most satisfaction in the past.
Evaluate your current career goals and assess whether they resonate with your values.
Adjust your goals and pursue opportunities that closely match your personal work values.
In this introspective journey, it's beneficial to break down your work values into specific categories for a clearer picture:
| Value Category | Questions to Consider |
| --- | --- |
| Intrinsic Satisfaction | Does your work provide a sense of accomplishment and pride? |
| Work Environment | Is your workplace conducive to your preferred working style? |
| Work-Life Balance | Does your job allow for a healthy balance between your personal and professional life? |
| Compensation & Benefits | Are you adequately rewarded for your efforts in terms of salary, benefits, and perks? |
| Company Mission & Values | Does your organization's purpose and core values align with your own? |
| Professional Growth | Are there opportunities for learning and advancement? |
This table can serve as a starting point for realigning your work values and setting forth new career goals better synchronized with what fundamentally drives and satisfies you in your professional realm.
Remember, when you align your work values with your career goals, you create a powerful synergy that can transform your professional outlook, enhance your job performance, and lead to career reinvigoration. It's a decisive step in overcoming a lack of motivation at work and paving the way towards a revitalized and enthusiastic approach to your career.
Strategies to Overcome Feeling Stuck in My Job
Breaking through the barriers of complacency can be transformative for your career's trajectory. This section explores actionable strategies to overcome the paralyzing sense of feeling stuck in my job, emphasizing professional development, support network establishment, and job redesign to boost job engagement.
The Role of Professional Development in Career Reinvigoration
Embarking on a professional development journey is a key strategy for career reinvigoration. It allows for skill enhancement and acquiring new knowledge, which keeps you competitive and relevant in your industry. Below are some effective professional development avenues:
Continuing Education: Enroll in online courses or attend workshops related to your field.
Certifications: Obtain certifications that recognize your expertise and commitment to your profession.
Networking: Join professional associations and attend industry conferences to connect with peers.
"Investing in your professional growth not only positions you for advancement but also renews your sense of purpose and passion in your job."
Building a Support Network for Job Frustration
Creating a support network can be crucial when combating job frustration. This network should include colleagues, mentors, and industry connections who provide support and guidance. Here's how you can build this invaluable asset:
Contact mentors: Find someone whose career trajectory inspires you and ask for mentorship.
Engage with peers: Form or join a peer support group to share experiences and strategies to cope with job challenges.
Strengthen social ties: Cultivate relationships outside of work that can provide emotional support and a fresh perspective.
A solid support network can provide career support and act as a sounding board and source of encouragement during challenging professional phases.
Exploring Job Redesign for Enhanced Job Engagement
Job redesign can reinvigorate your relationship with your work, enhancing job engagement by making daily tasks more meaningful. Consider the following redesign strategies:
| Redesign Strategy | Benefit to Job Engagement |
| --- | --- |
| Job Crafting | Personalizes your job to fit your strengths and interests. |
| Role Negotiation | Allows for modification of roles to align better with personal and professional growth. |
| New Responsibilities | Introduces challenges that can rejuvenate interest and motivation. |
Modifying aspects of your job can lead to a substantial decrease in job dissatisfaction signs, promoting a renewed zest for the role and the tasks at hand.
Incorporating these strategies can pave the way for an enriching professional life with opportunities for growth and satisfaction. Remember, the feeling of being stuck is not a permanent state; proactive steps towards career development and job redesign can significantly alter your career's course towards a more fulfilling future.
Implementing Job Dissatisfaction Solutions
Job dissatisfaction can be a considerable barrier to personal happiness and professional success. However, recognizing the problem is the first step towards implementing effective solutions. Ensuring that you're armed with actionable strategies is essential in overcoming work apathy and rejuvenating your occupational outlook.
Let's break down how to take these strategies from concept to action, setting the stage for meaningful change in your work life.
Establish Clear Goals: Begin by setting clear, achievable goals. Reflect on what job satisfaction means to you and define what a fulfilling job would look like. Goals can range from improving work relationships to learning new skills.
Communicate Your Needs: Opening a dialogue with your managers or HR department about your current job dissatisfaction can pave the way for changes. Be honest about what's causing your apathy and suggest possible solutions.
Embrace Lifelong Learning: Continue to grow your skillset. Whether through online courses, webinars, or conferences, prioritize your professional development to foster engagement and excitement in your career.
Seek Mentoring: Mentorship can be incredibly valuable. A mentor can offer guidance, motivate you, and help you navigate career challenges. Seek someone who embodies the career satisfaction you aspire to achieve.
Explore Lateral Moves: If possible, investigate lateral moves within your organization that can freshen your perspective and rekindle your engagement with work without the need for demotion or salary cut.
"Facing job dissatisfaction doesn't have to be a solo fight. Leverage resources, relationships, and resilience to steer your career back on a path that brings joy and fulfillment."
| Strategy | Action | Expected Outcome |
| --- | --- | --- |
| Goal Setting | Determine what changes will make your work more engaging and set SMART goals to achieve them. | Provides a roadmap for resolving dissatisfaction and fostering a sense of accomplishment. |
| Skills Development | Identify skill gaps and pursue training opportunities to address them. | Boosts self-confidence and enhances your value in the job market. |
| Mentorship | Connect with a mentor within your industry to gain insights and advice on career progression. | Offers support and accountability as you navigate through your career challenges. |
| Job Redesign | Propose modifications to your job description that play to your strengths and interests. | Renews excitement for your role and increases overall job satisfaction. |
| Networking | Engage with professionals within and outside your organization to expand your support system. | Opens doors for new opportunities and injects fresh perspectives into your professional life. |
By methodically applying these strategies, you address the symptoms of job dissatisfaction and the root causes. Such proactive measures can result in a significant turnaround in your career, leading to improved morale and professional fulfilment. Remember that overcoming work apathy requires consistent effort and commitment, but the rewards—personal satisfaction, recognition, and career advancement—are well worth the endeavour.
Creating a Sustainable Work-Life Balance to Combat Job Stress
Job stress is an all-too-common part of modern life, but it's not an invincible enemy. A well-crafted work-life balance is one of the most effective weapons against this stress. By setting boundaries, we can reduce the risk of work apathy prevention and create a foundation for professional success and personal happiness.
Setting Boundaries to Prevent Work Apathy
Learning to delineate where work ends and personal time begins is essential for preventing work apathy. Without clear boundaries, job dissatisfaction can infiltrate every corner of life, leaving little room for recovery and relaxation. Here are some actionable steps for setting these important limits:
Identify Your Limits: Understand how much work you can do without compromising your well-being.
Communicate Boundaries: Discuss your availability with colleagues and superiors to manage expectations.
Create Rituals: Establish rituals that mark the beginning and end of work time, such as a walk after logging off for the day.
"We often forget that our personal time isn't just ours to enjoy—it's also a critical period for rest and rejuvenation, which are indispensable for sustained job performance."
The Importance of Personal Wellbeing in Job Performance
A study conducted by the World Health Organization found that depression and anxiety have a significant economic impact, resulting in an estimated $1 trillion per year in lost productivity globally. This highlights a clear link between mental health and job performance—a relationship that's impossible to ignore. Personal well-being plays a pivotal role in one's professional domain, influencing job performance and overall engagement with work. Key aspects of personal wellbeing include:
Physical Health: Regular exercise and a balanced diet contribute to better energy levels and focus at work.
Mental Health: Stress reduction techniques and work-life balance are important for maintaining a positive outlook.
Social Connections: Supportive relationships are crucial buffers against workplace stress and burnout.
Encouraging a culture that values each team member's well-being can increase job satisfaction and productivity.
Time Management Techniques for Increased Job Satisfaction
Effective time management is instrumental in reducing job stress and enhancing job satisfaction. It provides a sense of control and can help manage workloads, reduce long hours, and prevent the sense of being overwhelmed—all of which contribute to job dissatisfaction signs.
Prioritize Tasks: Distinguish between high-impact tasks and less critical duties.
Break Down Projects: Divide larger projects into smaller, manageable steps to alleviate pressure and facilitate progress.
Use Technology: Implement tools and apps designed for goal tracking and time management to stay organized.
Integrating these techniques into daily routines can help preserve personal time, reduce stress, and ultimately lead to a healthier approach to work.
| Technique | Benefit | Outcome |
| --- | --- | --- |
| Task Prioritization | Focuses energy on high-impact activities | Enhances efficiency and job satisfaction |
| Project Segmentation | Makes large projects less daunting | Encourages progress and reduces stress |
| Adoption of Technology | Streamlines planning and organization | Optimizes time for a balance between work and life |
By establishing clear boundaries, focusing on personal well-being, and applying effective time management techniques, workers can create a sustainable work-life balance that helps keep job stress at bay. It's a cycle of positivity; the less stress workers feel, the better they perform, and the more they can enjoy their jobs and personal lives.
Conclusion
Revitalizing your career and combating career burnout is a journey that begins with self-awareness and takes shape through deliberate, sustained effort.
As we've traversed the roads of reassessment and realignment, it's clear that achieving job fulfilment is not an elusive dream but a tangible reality. Adopting the strategies discussed—from identifying the core reasons behind job dissatisfaction to embracing professional development—sets a powerful course towards reigniting passion at work.
The professional landscape will inevitably face shifts and turns, but your capacity for renewal remains constant. Integrating approaches such as job redesign, mentorship, and effective time management can carve out a career path that not only excites but also deeply satisfies.
As you endeavour to pave this path, remember that the essence of progress lies in the willingness to grow and adapt—even when faced with the daunting thought, "I don't care about my job anymore."
FAQs
How can I find passion at work when I lack motivation?
Rediscovering passion in your job involves introspection to understand what initially drew you to the role, seeking new challenges or learning opportunities within your workplace, and realigning personal values with your career. Sometimes, a fresh goal or project can reignite the spark you once had.
What are common job dissatisfaction symptoms?
Common signs of job dissatisfaction include feelings of apathy or dread towards work, a decrease in job performance, lack of engagement with tasks or with colleagues, a constant desire to leave early or take time off, and experiencing negativity or cynicism related to your job.
What can I do if I'm feeling stuck in my job?
Feeling stuck might indicate a need for change. Consider seeking new learning opportunities, asking for different responsibilities, setting career goals, or looking for a mentor. Sometimes, bringing fresh ideas to your current position or looking for a new job can also provide a way forward.
How does work-life balance affect job fulfilment?
A healthy work-life balance is crucial to job satisfaction. If work consumes too much personal time, it can lead to stress, burnout, and a decrease in job fulfillment. Conversely, having time to enjoy personal interests and relationships can improve your engagement and satisfaction at work.
How can personal well-being impact job performance?
Personal wellbeing directly affects your ability to perform well at work. Poor health, stress, and lack of sleep can diminish concentration and efficiency. Taking care of your mental and physical health can enhance your performance and make work more enjoyable.