Disclaimer: We sometimes use affiliate links in our content. For more information, visit our Disclaimer Page. 
Embarking on the Aldi recruitment journey signifies stepping into a world where precision and preparation meet opportunity. As 2023 unfurls, Aldi continues to evolve its selection methods, sharpening the focus on video interviews—a domain where your readiness can truly shine.
This era's digital shift isn't just about adapting; it's about excelling in a virtual space where your first impression isn't made with a handshake, but with a click. In this guide, we navigate through the intricacies of the Aldi interview landscape, unpacking the nuances of their approach and how it aligns with current trends.
Understanding the Aldi interview process has never been more critical. With a spotlight on practical preparation, this guide aims to arm you with insights and strategies tailored to the distinctive Aldi interview rhythm. Whether it's revealing what makes an Aldi store tick or how to articulate your ambition to thrive there, we've got you covered.
Let's map out your path to success, ensuring that when the time comes, your interview performance is as effective and confident as the brand you aspire to join.
Key Takeaways
Understand Aldi's Interview Format: Grasping the structure of Aldi's interview process, including the pivotal role video interviews play in 2023, prepares you for success from the phone screen to the final interview.
Prepare for Role-Specific Scenarios: Tailor your preparation to the nuances of the position you're applying for, whether it's a sales associate or store manager, by anticipating relevant Aldi interview questions and crafting strategic answers.
Showcase Your Aldi Compatibility: Your responses should not only highlight your skills but also demonstrate an alignment with Aldi's culture, business model, and commitment to providing excellent customer service.
Highlight Your Unique Value: Discussing experiences that show your ability to work as part of a team, go above and beyond, and offer high-quality service will mark you as the right fit for Aldi's dynamic work environment.
Ask Engaging Questions: Displaying curiosity about the company's future and your role within it by asking insightful questions can leave a memorable impression, marking you as a candidate who's truly interested in becoming part of the Aldi team.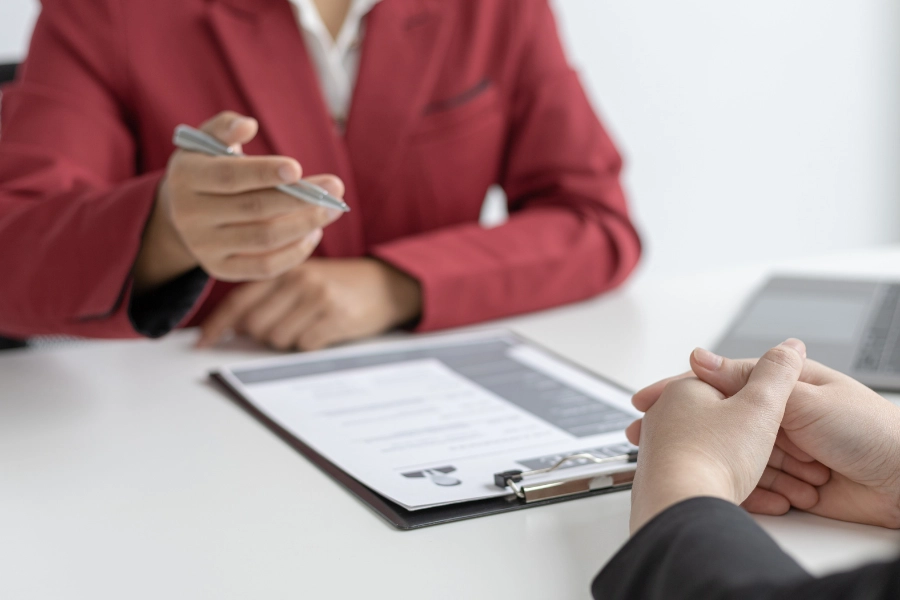 The Aldi Interview Process: What to Expect
Delving into the interview at Aldi process is like mapping the layers of a well-structured strategy game—each stage demands a unique set of skills and preparedness. The process unfurls in stages, beginning with the initial application, easing into phone screenings, and culminating in the more personal online interviews that Aldi has integrated into their 2023 hiring process.
As you transition from the phone's impersonal audio-only environment to the more visually engaging online interview, it's essential to adapt swiftly. Your ability to convey enthusiasm through a screen becomes paramount. In this digital setting, your expressive communication skills are your greatest ally.
Equally, if you find yourself in the dynamic environment of a group interview, remember, that it's not just about standing out. It's about demonstrating how well you synergize with others—how you, as a piece of the puzzle, can fit and contribute to the Aldi ethos of teamwork and excellent customer service.
Preparing for these stages means not only anticipating the common questions but also understanding the subtler aspects of digital body language. It's about mastering the art of listening, engaging, and responding in a way that reflects the Aldi culture—efficient, sincere, and always aiming to go above and beyond.
When asked why you want to work for Aldi, underscore your admiration for their commitment to high-quality products and sustainable practices.
Breaking Down the Aldi Job Description
The Aldi job description serves as a crucial compass that guides applicants through the expectations and requirements of various roles, from the front-line cashier to the strategic store manager. It's not just a list of duties; it's the blueprint of the role you're aiming to fill. To resonate with Aldi's hiring team, dissect these descriptions meticulously to showcase your potential to work at Aldi. Identify the competencies and attributes Aldi cherishes, and then mirror these in the tapestry of your work history.
Highlighting your work experience is more than a chronology of past roles—it's a narrative that demonstrates your suitability for Aldi's culture. Align your experience with Aldi's values, showing how you've championed efficiency, upheld excellent customer service, or contributed as part of a team. The goal is to craft a professional profile that reflects Aldi's ethos as much as your own achievements.
The Aldi Hiring Process: A Step-by-Step Guide
Navigating the Aldi hiring process can be likened to a journey that begins with a single click on the Aldi careers page and advances toward the pivotal final interview. This trek through the digital landscape of Aldi's career portal requires attention to detail and a readiness to showcase your professional best at every node.
Preparing for the hiring process is akin to gearing up for a series of decisive moments, where each step brings you closer to your objective. Ensure that you have polished and updated copies of your resume, tailored for the role and ready to be presented. Anticipate the possibility of a follow-up interview; it's a sign that Aldi sees potential in you. Having multiple copies on hand symbolizes your meticulous nature and preparedness—qualities Aldi admires.
Aldi Interview Questions and Answers: Your Comprehensive Guide
Embarking on the Aldi interview quest requires more than just a polished resume; it's about showcasing your affinity with their brand through each answer you provide. This section is your strategic partner, offering insights into crafting responses that resonate with the ethos of Aldi for positions ranging from the diligent store associate to the visionary assistant store manager.
For every question posed during your interview at Aldi, questions you may be asked are opportunities to exhibit not just your skills, but also your alignment with the Aldi brand. When asked why you want to join the team, underscore your admiration for their commitment to high-quality products and sustainable practices. Illustrate your understanding of Aldi's unique place in the retail sector, and articulate your desire to contribute to its continued success.
In demonstrating that you would be proud to represent Aldi, infuse your responses with evidence of your past achievements that parallel their principles. Whether it's your proactive approach to customer service or your contribution to a previous employer's efficiency, let your pride in these experiences shine through. It's about communicating a shared vision, a collective goal, and a mutual understanding of what makes Aldi, as a brand and a community, truly stand out.
The Assistant Manager and Area Manager Interview
Aspiring managers eyeing a career with Aldi must exhibit a special blend of strategic acumen and personable leadership. During the interview for an Assistant Manager or Area Manager position, expect queries that delve deep into your ability to lead, motivate, and inspire team members. These questions are designed to unravel your leadership philosophy and your hands-on experience with steering teams toward collective goals and company milestones.
Engage the interviewers by discussing your past encounters with the Aldi brand, whether it's through working in a retail environment with similar business models or as a customer appreciating their focus on quality and efficiency. This conversation will demonstrate your understanding of the role's nuances and how they align with Aldi's operational principles.
Here are some sample responses to common managerial interview questions at Aldi:
Question: "Describe a time when you had to implement a significant change in your previous role. How did you manage it?" Sample Answer: "In my former role, we transitioned to a new inventory system, a move that required all hands on deck. I led this transition by clearly communicating the benefits and organizing comprehensive training. I introduced a mentorship program to encourage team support, and we celebrated small victories to keep morale high. This approach not only smoothed the adoption process but also reinforced our team dynamic."
Question: "How would you deal with an underperforming employee?" Sample Answer: "I approach underperformance with a mindset to understand first, then act. In a case where an employee was struggling, I arranged a private meeting to discuss any issues they were facing and set clear, incremental goals. Ongoing support and consistent feedback were key in helping the employee improve and eventually exceed their performance targets."
Question: "Can you give an example of how you've driven sales or productivity in your team?" Sample Answer: "At my previous position, I initiated a 'Mid-week Madness' promotion to boost sluggish mid-week sales, incorporating staff incentives to increase engagement. The result was a significant sales lift and heightened team motivation, demonstrating my ability to combine creativity with strategic sales tactics."
Question: "Tell us about a time you had to handle a difficult customer issue." Sample Answer: "Faced with a dissatisfied customer, I personally addressed their concerns, offered a product replacement, and a future discount. This direct approach not only retained the customer but transformed them into a brand advocate, reflecting my commitment to resolving issues with empathy and a customer-first mindset."
Question: "What strategies would you employ to ensure your store meets its targets and maintains Aldi's standards of efficiency and customer service?" Sample Answer: "In my previous leadership roles, I've always started with setting clear, measurable goals aligned with the company's standards. To meet these targets, I would implement a dual strategy focusing on efficiency and customer service. For efficiency, I'd conduct regular training sessions to ensure all team members are proficient in best practices and time management. Regarding customer service, I would instill a culture of 'every customer matters' by sharing positive feedback and examples of excellent service within the team. I would also actively seek customer reviews and feedback to identify areas for improvement. Regular team meetings would be held to discuss our progress and recalibrate our strategies, ensuring we not only meet but also exceed our targets, maintaining the high standards Aldi is known for."
The Store Assistant and Sales Associate Interview
If you're eyeing a position as a Store Assistant or Sales Associate at Aldi, you'll need to bring your A-game to the interview, often conducted via video in today's digital age. This screening is your opportunity to shine a spotlight on your collaborative skills and adaptability within Aldi's unique workplace culture.
Expect the conversation to pivot around your previous experience in teamwork and customer service scenarios. Aldi values individuals who can effortlessly blend into their well-oiled machine, prioritizing efficiency and excellent customer service. Emphasize your punctuality, reliability, and willingness to go above and beyond for both customers and teammates.
You will likely encounter a mix of straightforward and situational questions designed to gauge your problem-solving capabilities and your ability to offer exceptional service. Here are five potential questions with strategic approaches to formulating your responses:
Question: "Tell us about a time when you had to work closely with a team to achieve a goal. How did you ensure your collaboration was effective?" Sample Answer: "In a previous retail position, I was part of a team responsible for reorganizing the store layout to enhance customer experience. I ensured effective collaboration by actively listening to my colleagues' ideas and building upon them. We held brief daily check-ins to track our progress, which helped us meet our project deadline ahead of schedule and boost customer satisfaction scores."
Question: "Describe a situation where you exceeded a customer's expectations." Sample Answer: "Once, a customer was in a rush and needed assistance finding a specific item. Not only did I quickly locate the product, but I also suggested additional items to complete their shopping list, which they appreciated. I made sure to expedite their checkout process to save them time, and they left the store grateful and impressed with the level of attention and service provided."
Question: "How do you handle a situation where you're faced with an unexpected rush of customers?" Sample Answer: "I stay calm and focused, prioritizing tasks efficiently. For example, during an unexpected rush hour at my last job, I quickly assessed the customer flow and delegated tasks to my coworkers to streamline the checkout process. I also jumped in to help bag items and directed traffic within the store to reduce wait times, ensuring a smooth experience for everyone."
Question: "Aldi is known for its efficiency. How do you manage your tasks to maintain productivity?" Sample Answer: "I like to start each shift by reviewing my tasks and setting priority levels. At my last job, I used downtime to restock shelves and ensure the store's cleanliness. This proactive approach meant that during busier periods, I was available to assist customers, maintaining the level of efficiency that Aldi stands for."
Question: "Give an example of how you've handled a disagreement with a coworker." Sample Answer: "Disagreements are natural, but it's how we handle them that counts. In one instance, a coworker and I had different ideas about merchandising. We each presented our cases and then reached a compromise that incorporated elements from both suggestions. The result was a creative display that increased sales in that section by 15%."
As you craft your responses, remember to intertwine your personal experiences with the traits that make Aldi's workforce stand out: efficiency, teamwork, and outstanding service. Conveying these qualities will paint you as the right person for the job, someone who's not only familiar with the retail business but who also embodies the values that make Aldi a successful and respected retailer.
The Store Manager Interview: A Deeper Dive
For those stepping into the ring for the role of Store Manager at Aldi, be prepared to engage in a discussion that probes deep into the realms of retail management and your capacity to not just meet, but exceed expectations. Aldi's leadership roles demand a robust grasp of the retail industry's ebb and flow, coupled with a proven track record of steering a store to success.
The interviewers will likely deploy a series of questions aimed at unpacking your leadership style, strategic thinking, and how you've successfully piloted your previous teams toward excellence. Here's a roadmap of potential queries you might navigate, complete with guidance on sculpting your responses:
Question: "How would you describe your leadership style and how does it align with Aldi's values?" Sample Answer: "My leadership style is participative and results-oriented, which resonates with Aldi's collaborative and high-performance culture. At my previous job, I empowered my team to take ownership of their tasks, leading to increased accountability and a 20% uplift in store productivity."
Question: "Can you give us an example of a strategy you implemented to improve store performance?" Sample Answer: "Understanding the pivotal role of customer satisfaction in store success, I launched a 'Customer First' program that focused on staff training and quick resolution of customer issues. This strategy not only improved our customer service ratings by 30% but also boosted repeat business significantly."
Question: "Aldi stores are often bustling. How do you plan to manage staff and resources during peak times?" Sample Answer: "I thrive in high-traffic environments. In my last role, I developed a dynamic scheduling system that allocated staff based on real-time data of customer flow, which ensured efficient operations even during the busiest hours, maintaining the high standards of customer service Aldi is committed to."
Question: "What measures would you take to ensure your store aligns with Aldi's commitment to sustainability and reducing its environmental impact?" Sample Answer: "I'm passionate about sustainability, a value I share with Aldi. I would conduct regular training for my team on eco-friendly practices, oversee the implementation of waste-reduction initiatives, and work with suppliers to ensure our products are sourced responsibly."
Question: "How do you keep your team motivated and ensure they share Aldi's vision of providing high-quality products and service?" Sample Answer: "Motivation stems from being part of a vision that resonates on a personal level. I would hold regular team meetings to reinforce Aldi's mission and recognize individuals who exemplify our commitment to quality and service, fostering a culture where everyone feels valued and driven to achieve our collective goals."
Each response should be a tapestry woven with threads of your own experiences, insights, and the foresight that managing an Aldi store is not just about running a retail outlet but leading a team to contribute to a larger community ethos. Showcase yourself as a candidate who's not only adept in the nuts and bolts of retail management but one who also embodies the pioneering spirit that is synonymous with the Aldi brand.
Aldi Job Interview Tips: Elevating Your Prospects in the Aldi Interview Arena
Embarking on the Aldi interview journey demands more than just a polished resume and a crisp suit—it's about showcasing a genuine connection with the brand's core values and strategic vision. In a competitive landscape, your ability to articulate a deep understanding of Aldi's business model, especially its commitment to sustainability and efficiency, can set you apart.
In the digital-centric world of 2023, video interviews are a staple, and mastering them involves demonstrating your fluency in Aldi's language — not just the verbal kind, but also the non-verbal cues that communicate your enthusiasm for joining their ranks. Here are some strategies to help you shine:
Articulate Your Company Knowledge: Go beyond the basics. Dive into Aldi's history, its evolution, and how it stands unique in the retail sector with its cost-saving, high-quality approach. Be prepared to discuss Aldi's impact across the 20 countries it operates in and how its business model resonates with today's consumer values.
Connect Your Passion to Their Mission: Express why Aldi is your chosen battlefield. Whether it's their dedication to reducing their environmental footprint or the way Aldi is revolutionizing the grocery industry, make it clear that your personal and professional values are in sync with the company's ethos.
Crafting Your Narrative: Reflecting Aldi's Spirit
When it comes to narrating your past work encounters, it's not just about listing duties and tasks. It's about weaving a story that reflects Aldi's spirit. Aldi prides itself on providing excellent customer service and an exceptional shopping experience, and your anecdotes should echo this commitment.
Tailor Your Tales: Frame your past roles in a way that mirrors Aldi's environment. If you've previously provided excellent customer service as a cashier, share specific instances where you went above and beyond for a customer, mirroring the excellent customer experience Aldi aspires to offer.
Culture Is Key: Aldi's team-centric culture is all about collaboration and efficiency. Recount times when you've thrived as part of a team, tackled challenges head-on, and how those experiences have sculpted you into a prime candidate for Aldi's dynamic and fast-paced setting.
Remember, it's not about having an impressive work history; it's about demonstrating that you are the right person for Aldi. Your ability to align your experiences with Aldi's values, and showing a sincere desire to be part of their vision, is what can truly make you stand out in the interview process.
Conclusion: Sealing Your Future with Aldi
As you approach the finale of your Aldi interview, remember that this is more than just a step towards a new job—it's a leap into a community that values diligence, quality, and sustainability. The insight you've gleaned through the interview process should empower you, not intimidate you. You now understand what it takes to stand out as a candidate who's not only qualified but also a cultural fit.
Keep in mind, the conclusion of your interview is a prime opportunity to underline your interest. Inquire about the team, the store, or the company's future endeavors. Asking insightful questions demonstrates foresight and genuine curiosity about your potential role within the Aldi family.
And as you depart, ensure that your farewell is as impactful as your introduction. Leave behind a sentiment that resonates with Aldi's ideals—a pledge to excellence, a commitment to the community, and a readiness to contribute to a green, efficient, and customer-focused future.
By approaching each stage of the interview with the knowledge, authenticity, and enthusiasm we've discussed, you're not just answering questions; you're starting conversations that could inaugurate a prosperous career with Aldi. Remember, they're not just looking for employees; they're looking for future ambassadors who will thrive with the Aldi brand, and you have the potential to be just that.
FAQs
What questions do Aldi ask at an interview?
At an Aldi interview, you can expect questions about your experience, availability for hours, and your ability to work in a team. They may also inquire about your interest in the company.
How do I pass Aldi interview?
To pass an Aldi interview, it's essential to research the company, demonstrate your people skills, and highlight your flexibility with hours. Provide specific examples that showcase your qualifications.
Why do I want to work in Aldi answer?
When answering why you want to work at Aldi, emphasize your appreciation for the company's values and commitment to providing value to customers. Express your desire for a retail career and growth opportunities.
Does Aldi do job interviews?
Yes, Aldi conducts job interviews as part of their hiring process. They use interviews to assess candidates for various positions within their stores and warehouses.