Disclaimer: We sometimes use affiliate links in our content. For more information, visit our Disclaimer Page. 
Choosing a career path is a defining decision, one that shapes our daily lives and our identities. Today's workforce finds itself at a crossroads between the traditional 9 to 5 job and the lure of entrepreneurship. Both avenues offer distinct experiences, rewards, and challenges.
The 9 to 5 route provides structure, stability, and a sense of security. It's a world where routines govern the day, and predictability is a comfort.
Entrepreneurship, on the other hand, is a journey of self-reliance and innovation. It's an arena that demands resilience, as it brings both the freedom of independence and the weight of responsibility.
In our journey, we'll compare the structured world of a 9 to 5 job with the dynamic realm of entrepreneurship. Delving into the excitement and challenges of self-started business, we examine not just a career choice, but a lifestyle, complete with its own values and visions. Join us to uncover which path truly resonates with your personal and professional ambitions.
Key Takeaways
Traditional employment offers a sense of security and structure, with benefits that extend beyond the paycheck.
Entrepreneurship is synonymous with autonomy, allowing for the pursuit of personal passions and innovative ideas.
Work-life balance varies significantly between structured corporate roles and the flexibility of self-employment.
Job satisfaction in both 9 to 5 jobs and entrepreneurship is deeply personal, hinging on individual desires for stability or independence.
The evolving landscape of work demands adaptability, whether one chooses the predictability of employment or the adventure of entrepreneurship.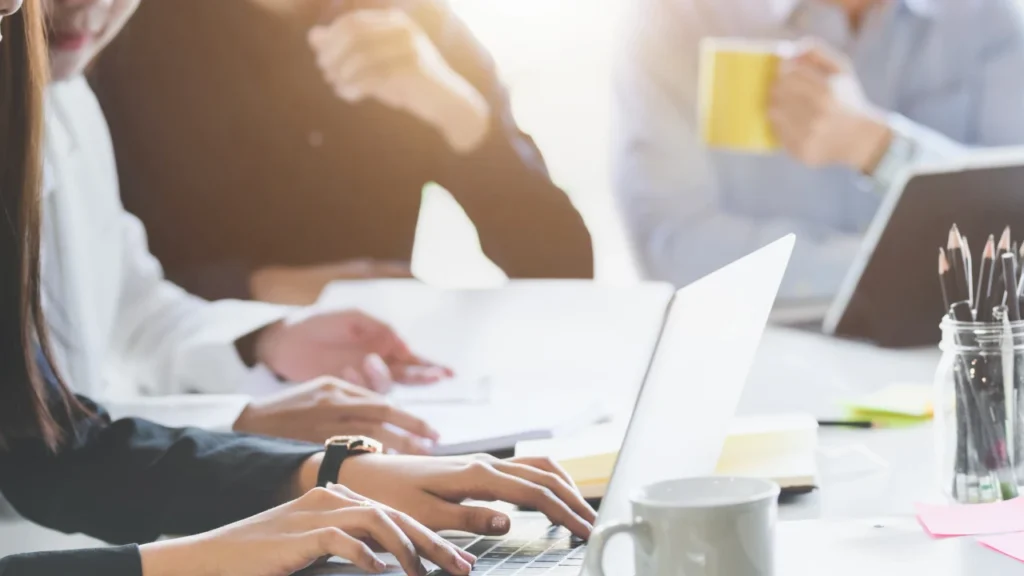 Traditional Employment: Pros and Cons
Traditional employment—often characterized as a 9 to 5 job—remains a dominant career model for many. It's associated with job security, a structured routine, and the benefits that come with being part of an established organization. However, this conventional path isn't without its limitations.
Pros of Traditional Employment
The primary allure of traditional employment lies in its job security. A contractual agreement with an employer provides clarity regarding job roles and employment terms, bringing a comforting sense of stability to one's professional life.
Moreover, the benefits package is another significant perk. Health insurance, retirement contributions, and paid leave are standard offerings in many companies. These benefits contribute to an employee's sense of financial and health security, which can be less certain in non-traditional roles.
Cons of Traditional Employment
On the flip side, traditional employment can often mean rigid work hours. This fixed scheduling can clash with personal life demands, leading to a strained work-life balance. The inability to adjust work hours can impact personal relationships, mental health, and overall life satisfaction.
Furthermore, the very job security that is a pro can double as a con. The 'golden handcuffs' effect—where one feels bound to their job due to the benefits and stability it offers—can lead to a reluctance to pursue other opportunities that might offer greater fulfillment or better work-life balance.
Work-Life Balance in Traditional Employment
Addressing work-life balance within traditional employment structures is complex. The prescribed hours can be restrictive, making it tough to juggle work with family, education, or leisure activities. However, there's a growing trend among employers to embrace flexibility—through adjustable hours or the option to work remotely. These changes are a response to the growing demand for a better balance and can greatly enhance an employee's satisfaction and well-being.
Entrepreneurship: Pros and Cons
Entrepreneurship is often romanticized in popular culture, but it's a path filled with both immense rewards and significant risks. It's the backbone of the economy, driving innovation and job creation, yet it requires a blend of courage, resilience, and innovation from those who dare to embark on this journey.
Pros of Entrepreneurship
Autonomy is one of the most celebrated aspects of entrepreneurship. As an entrepreneur, you become your own boss, making decisions that align with your values and vision. This level of control is unparalleled in traditional employment and can lead to profound personal satisfaction.
Another advantage is the potential for financial rewards. Entrepreneurs have the opportunity to earn unlimited income based on the success of their ventures. Unlike a salaried position, the ceiling for earnings can be as high as the market will bear.
Cons of Entrepreneurship
However, entrepreneurship is not without its challenges. The risk of failure is substantial, with a significant number of new businesses failing within the first few years. This can lead to financial strain and stress, which not everyone is prepared to handle.
In addition to financial risk, there's also the burden of responsibility. Entrepreneurs often wear multiple hats, especially in the early stages of their business, leading to long hours and the potential for burnout. The pressure to succeed can be immense, given that the livelihoods of their employees and the satisfaction of their customers rest on their shoulders.
Balancing Risk and Reward in Entrepreneurship
Finding the right balance between risk and reward is a central theme in the life of an entrepreneur. While the potential for high returns is appealing, it's important to approach entrepreneurship with a clear strategy and an understanding of the market. Success often requires a delicate dance between bold moves and careful planning.
Job Satisfaction: Comparing 9 to 5 Jobs and Entrepreneurship
Job satisfaction is a multifaceted concept that plays a pivotal role in shaping our professional contentment and, by extension, our quality of life. Understanding how it varies between traditional employment and entrepreneurship can help individuals make more informed career choices.
Job Satisfaction in 9 to 5 Jobs
The structure of 9 to 5 jobs can be a significant contributor to job satisfaction. Stability and predictability in these roles often provide a comforting rhythm to daily life. Employees may find satisfaction in the clear career path and structured advancement opportunities these positions offer. Knowing what to expect and understanding how their career may progress can impart a sense of security and purpose.
Moreover, well-defined roles provide clarity in responsibilities, reducing stress and ambiguity in the workplace. The ability to leave work at the office and disconnect after hours can also help maintain a healthy work-life balance, which is a crucial element of job satisfaction.
Job Satisfaction in Entrepreneurship
Conversely, entrepreneurship thrives on flexibility and independence. Entrepreneurs often report high levels of job satisfaction stemming from the personal fulfillment of building something from the ground up. The freedom to steer their business according to their vision and values can be immensely gratifying.
While the financial potential of entrepreneurship is unlimited, so too is the personal achievement. Being responsible for one's success and seeing direct results from one's efforts can lead to profound satisfaction. Moreover, the ability to set one's schedule allows entrepreneurs to tailor their work-life balance to their personal needs, though this often requires discipline and self-regulation.
Both career paths offer unique advantages that can lead to job satisfaction. In a 9 to 5 setting, the camaraderie with colleagues and support from a larger organization can be rewarding. For entrepreneurs, the satisfaction often comes from overcoming challenges and witnessing the impact of their work firsthand.
In the end, job satisfaction is deeply personal and varies widely among individuals. It is influenced by a multitude of factors, including personal values, desired lifestyle, and the importance of financial versus creative rewards. Both traditional employment and entrepreneurship have the potential to be fulfilling, depending on one's career goals and personal priorities.
Benefits of 9 to 5 Jobs vs Entrepreneurship for Job Satisfaction
| Benefits of 9 to 5 Jobs | Benefits of Entrepreneurship |
| --- | --- |
| Stable income and job security | Opportunity for financial independence |
| Predictable work schedule and routine | Flexibility to create your own work-life balance |
| Defined roles and responsibilities | The ability to pursue passions and create something of your own |
Both 9 to 5 jobs and entrepreneurship offer unique benefits that can contribute to job satisfaction. Individuals must consider their personal values, goals, and preferences when determining which career path to pursue.
Financial Considerations: Stability vs Freedom
Choosing a career path is a complex decision that involves various financial considerations, including stability and freedom. While traditional employment offers a consistent salary and job security, entrepreneurship provides the possibility of achieving financial independence and creating wealth on your own terms.
| | 9 to 5 Job | Entrepreneurship |
| --- | --- | --- |
| Stability | High | Low |
| Freedom | Low | High |
In terms of stability, a 9 to 5 job offers a predictable income that comes with a consistent work schedule. On the other hand, entrepreneurship often lacks the financial certainty that a traditional job offers, which can create added stress and uncertainty.
However, entrepreneurship can provide the opportunity to create wealth and achieve financial independence. By starting your own business, you have the freedom to decide how much money you want to make and how you want to make it. In contrast, a 9 to 5 job may limit your earning potential and offer a more rigid approach to how you work.
Ultimately, the decision between stability and freedom depends on your values and priorities. If you prioritize financial stability and a regular income, a 9 to 5 job may be the better option for you. However, if you value flexibility and the possibility of creating your own wealth, entrepreneurship could be the more suitable path.
Success Factors: Thriving in 9 to 5 Jobs and Entrepreneurship
Success in any career path depends on various factors. In this section, we will explore the key success factors for both 9 to 5 jobs and entrepreneurship, providing insights into what it takes to thrive in each.
Success Factors for a 9 to 5 Job
In a 9 to 5 job, success is typically measured by promotions, salary increases, and job satisfaction. Here are some crucial success factors to keep in mind:
Developing and maintaining strong professional relationships with colleagues and superiors
Showcasing excellent communication skills, both written and verbal
Consistently producing high-quality work and meeting or exceeding targets
Continuously improving skills and expertise, through training and development opportunities
Having a positive attitude, being adaptable, and embracing change
Success Factors for Entrepreneurship
Entrepreneurship requires a unique set of skills to be successful. Self-motivation, innovation, and risk-taking abilities are vital to thrive in this career path. Here are some key success factors:
Having a clear vision and mission for your business, and the ability to communicate it effectively
Being able to identify and seize opportunities, while also managing risks effectively
Being highly self-motivated and able to work independently with discipline and focus
Being open to learning and continuously improving, including learning from failures
Having excellent networking and relationship-building skills to attract clients and build a team
"Success is not final; failure is not fatal: it is the courage to continue that counts."

Winston Churchill
Regardless of the career path you choose, both 9 to 5 jobs and entrepreneurship require perseverance and the ability to learn from failures. Keep these success factors in mind to thrive in your chosen career path!
Making the switch from a traditional 9 to 5 job to entrepreneurship is a bold step that can lead to self-fulfillment and potentially significant financial rewards. Yet, this transition is often riddled with challenges that require careful consideration and strategic planning.
Preparing for the Leap into Entrepreneurship
Embarking on the entrepreneurial journey demands not just a solid business concept but also a readiness to tackle the unknown. Preparation is twofold:
Logistically, individuals must set the stage for a new business. This involves conducting market research, securing funding, and understanding the legalities of starting and running a business.
Emotionally, it requires building resilience and mental fortitude. Aspiring entrepreneurs need to cultivate a mindset that can withstand the highs and lows of starting a new venture.
Developing a Strategic Plan
A robust business plan acts as a roadmap for the entrepreneur. It should clearly articulate:
The core business idea: What problem is your business solving?
Market analysis: Who are your competitors, and where do you fit in the market?
Financial planning: How will you manage startup costs and cash flow?
Growth strategy: What are your long-term goals, and how will you scale your business?
A strategic plan not only guides the entrepreneur but also communicates the business's potential to investors and stakeholders.
Embracing Continuous Learning
Entrepreneurship requires an ongoing commitment to learning. This might involve:
Keeping abreast of industry changes: Trends can change rapidly, and staying informed is key.
Learning about business management: This includes understanding finance, operations, marketing, and sales.
Being open to personal development: Developing leadership skills and emotional intelligence is just as crucial as business acumen.
Building a Support Network
No entrepreneur succeeds in a vacuum. Building a strong support network is critical:
Mentors can offer wisdom gained from experience, helping you navigate challenges and avoid common pitfalls.
Peers provide camaraderie and an opportunity for cross-promotion and collaboration.
Professionals such as accountants, lawyers, and consultants can offer the specialized knowledge that you may lack.
By thoroughly preparing, developing a detailed plan, committing to lifelong learning, and creating a solid network, the transition from traditional employment to entrepreneurship can be a smoother and more successful journey.
Conclusion: Finding Your Fulfillment
Deciding between traditional employment and entrepreneurship is more than a career choice—it's about what makes us content. Traditional jobs offer stability and camaraderie, while entrepreneurship provides freedom and self-direction.
Job satisfaction is subjective, influenced by our own definitions of success and balance. The best path is one that aligns with personal values and life goals.
As the workforce changes, remember that true job satisfaction intertwines work with passion and purpose. Whether you thrive in a structured environment or crave the thrill of creating something new, ensure your career reflects your unique vision for a satisfying life.
FAQs
What is the difference between a 9 to 5 job and entrepreneurship?
A 9 to 5 job refers to traditional employment with set working hours, while entrepreneurship involves starting and managing your own business.
What are the pros of a 9 to 5 job?
Some pros of a 9 to 5 job include job security, a predictable work schedule, and potential benefits like health insurance and retirement plans.
What are the cons of a 9 to 5 job?
Cons of a 9 to 5 job may include limited flexibility, less control over your work, and potential limited financial growth compared to entrepreneurship.
What are the pros of entrepreneurship?
Entrepreneurship offers the opportunity for financial independence, the ability to pursue your passion, and the freedom to create your own work-life balance.
What are the cons of entrepreneurship?
Cons of entrepreneurship can include financial uncertainty, longer working hours, and the need for self-discipline and self-motivation.
Is job satisfaction higher in a 9 to 5 job or entrepreneurship?
Job satisfaction can vary depending on personal preferences. Some individuals may find fulfillment in the stability and structure of a 9 to 5 job, while others may find satisfaction in the autonomy and creativity of entrepreneurship.
Are there financial considerations when choosing between a 9 to 5 job and entrepreneurship?
Yes, financial considerations play a significant role. A 9 to 5 job may provide more stability in terms of a regular paycheck, while entrepreneurship offers the potential for higher earnings, but with more financial risks.
What factors contribute to success in a 9 to 5 job and entrepreneurship?
Success in both career paths requires different factors. In a 9 to 5 job, factors like professionalism, teamwork, and dedication are crucial. In entrepreneurship, factors like innovation, resilience, and risk-taking play a significant role.