Disclaimer: We sometimes use affiliate links in our content. For more information, visit our Disclaimer Page. 
There are many different types of leaders in the world. Some are more effective than others, and some have a unique leadership style that sets them apart.
This blog post will discuss ten famous leaders and their unique leadership styles. This information can be helpful for business owners who are looking to improve their leadership skills!
Related: Leadership Philosophies
10 famous leaders and their leadership styles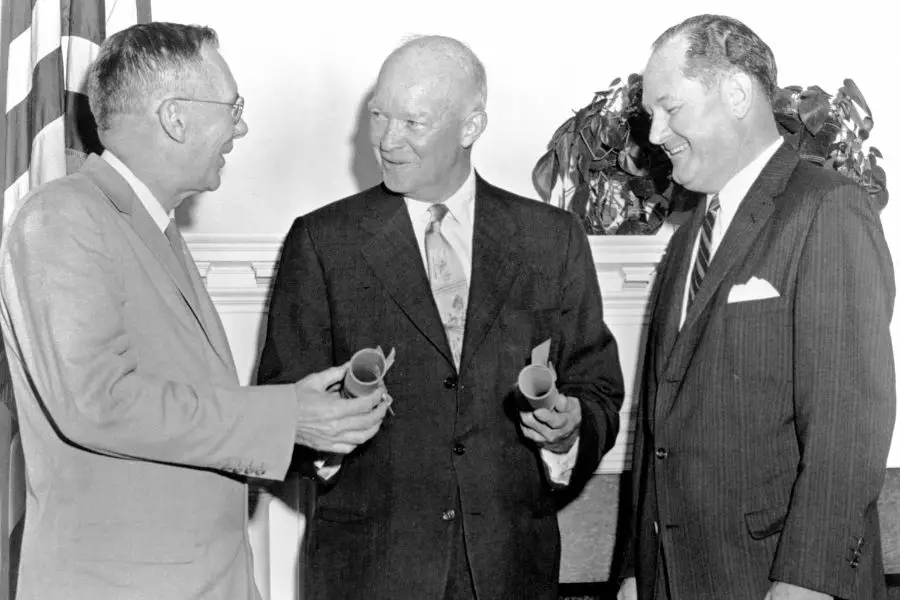 The following are some famous modern leadership styles and leaders.
1. Transformational Leader
Transformational leaders are often referred to as "blue sky thinkers." They have a growth mindset and inspire their followers by effectively communicating a shared vision. They also create environments that foster intellectual stimulation and innovation.
Transformational leadership styles focus on using the power of vision and meeting followers' needs to motivate them towards common objectives. This leader also focuses on developing followers into leaders by unlocking their potential. Transformational leadership is an effective way to inspire and engage employees. Doing it can lead to increased productivity, creativity, and employee satisfaction.
→ Arianna Huffington
One of our most famous transformational leaders is undoubtedly Huffington Post founder Arianna Huffington. Her unique methods for running a successful business have been heavily scrutinized and copied by leaders in many industries.
Yet, she has fostered a productive and happy workplace by introducing policies that promote employee well-being. For example, she has installed sleep pods in the workplace so her employees can take a nap when they need to.
---
2. Charismatic leader
To accomplish their life mission, those with this dominant style are driven, influential, and determined to achieve it. They inspire a collective effort by encouraging the mobilization of efforts toward a common goal by being skilled orators with a distinct vision.
The charismatic style is similar to the transformational style, but it primarily motivates others through emotional connection, which is quite different.
→ Martin Luther King
As a minister and civil rights activist, Martin Luther King, Jr. was a charismatic leader who inspired millions to fight for social justice. Through his eloquent speeches and tireless activism, he helped to galvanize the Civil Rights Movement and bring about significant changes in American society.
In 1963, he delivered his famous "I Have a Dream" speech at the March on Washington, calling for an end to racial discrimination and segregation. The following year, he was awarded the Nobel Peace Prize for promoting peace and nonviolent resistance. 
---
3. Transactional Leader
As the name implies, transactional leadership styles are one of the more "old school" leadership styles. In essence, these styles concentrate on the group's organization, the precise chain of command, and using rewards and punishments (e.g., transactions) as motivational techniques.
It is the role of transactional leaders to maintain formal positions of authority, monitor the performance of their employees, and offer tangible rewards in exchange for their loyalty and hard work.
→ Bill Gates
As a business magnate and co-founder of the tech giant Microsoft, he is very strict about controlling his organization's production process (so that consumers will receive its products). 
At Microsoft, Gates systematically selected, throughout the company's growth stages, dedicated, hardworking employees to fit his task-oriented, transactional leadership style.
---
4. Servant leader
An inherent characteristic of servant leadership is its generosity. Servant leaders have to serve their followers.
The leadership style of this organization focuses on power-sharing models of authority by prioritizing the needs of followers and encouraging group decision-making. In addition, they emphasize diversity in strategic direction, boost morale, and enrich the lives of their followers by emphasizing diversity in strategic direction. 
By developing trust, improving communication, and building team commitment, servant leaders are more effective than traditional leaders. 
→ Nelson Mandela
Few people are unfamiliar with Nelson Mandela. As an activist and later president of South Africa, he drove apartheid into the dust by supporting his community's vision for a better future.
The importance of Mandela playing a significant role in providing leadership to the people of South Africa both before and after independence should not be underestimated. His vision focused on the commitment to serve, lead change, and assist the people of his community in achieving their goals.
In addition, Mandela was willing to share his leadership with others, focusing his activism, and eventually his role as a politician, on building community and empowering others so that they could carry out social change themselves.
---
5. Participative leader
As the name suggests, this type of leadership consists of the leader making decisions based on input from their followers and team members. Participative leadership styles make this possible as follows: expressing their perspectives and exchanging ideas freely.
The company's leader will always make the final call, but all employees have the right to have an equal say in strategic direction. In this way, lower-level employees can exercise some level of authority, which allows the creation of innovative solutions to flourish even more.
→ Gail Kelly
The ex-CEO of Westpac Bank, Kelly, has stated that the "old world of autocratic, top-down leadership styles is over." Instead, Kelly strongly advocates participative leadership, where leaders are willing to listen to their employees and consider new ideas and solutions.
Her most proud achievement at Westpac is the culture she has built under her leadership, with a focus on the health, well-being, and safety of all employees and a high level of employee engagement.
---
6. Autocratic leader 
An autocratic leader is essentially the inverse of a leader with a participatory leadership style. Authoritarian leaders are in control of their followers and rarely (if ever) consider suggestions made by their employees.  
When it comes to leadership, this hegemonic organizational culture defines old-school leadership in the best possible way. The leader is possessed by total authority, with a clear separation between leaders and followers, work is highly structured and disciplined, and the leader controls strategic direction. As a result, it may be difficult to distinguish a tyrant from a leader regarding autocratic leadership.
→ Martha Stewart
Due to her autocratic leadership style, Stewart built her empire with meticulous attention to every detail. Stewart owes her success, as a business magnate, author, and magazine publisher, to her autocratic leadership style.
Known as a perfectionist, she expects her employees to do the same. As a result, her business management style focuses on highly regimented work structures (determined almost exclusively by Stewart) because she is convinced that doing things "the right way" is the best way to do things.
---
7. Laissez-Faire leader
Managers can adopt different leadership styles, and laissez-faire leadership is arguably the least intrusive. As its name suggests, laissez-faire leaders "let them do," affording their employees a great deal of autonomy in decision-making and work processes.
These leaders tend to hire experts in their field who they trust to do their work the best they see fit. On the other hand, laissez-faire leaders operate on trust and only enter the scene to provide guidance and their employees with resources when needed. 
→ Warren Buffett
One of the most successful investors of all time and CEO of Berkshire Hathaway, Buffett has achieved great success by employing a hands-off management style for his employees.
Buffet's custom is to select highly motivated, capable managers to whom he gives full autonomy as he cultivates a working environment in which his employees feel motivated and confident as they allow themselves a great deal of freedom.
---
8. Pacesetter leader
This leadership style is about setting high standards and expecting employees to meet them. Pacesetters are often very demanding of their team members and have little patience for those who do not meet their expectations.
Pacesetter leaders can be effective in certain situations, such as when there is a need for quick results or when the company is in a crisis. However, it can also lead to high levels of stress and burnout among employees and a feeling of being micromanaged.
→ Jack Welch
Jack Welch is a well-known business leader often associated with the pacesetter leadership style.
As the former CEO of General Electric, Welch was known for setting high standards and expecting his employees to meet them. He was also known for being very demanding, and he had little patience for those who did not meet his expectations.
---
9. Situational leader
Situational leadership is about adapting to the ever-changing needs of the situation and the people involved. Therefore, leaders need to assess both their capabilities and those of their followers to make the best decisions possible.
This type of leader is often described as dynamic and flexible, two essential qualities for dealing with constantly changing circumstances. 
→ Dwight Eisenhower
As the 34th president of the United States, Dwight Eisenhower was one of the most influential leaders of the 20th century. A skilled diplomat and military commander, Eisenhower was also a master of what has come to be known as situational leadership.
This approach involves adapting one's leadership style to the situation's specific needs. For example, when faced with a complex problem, Eisenhower would gather input from diverse experts before deciding.
However, in times of crisis, he quickly took decisive action. This flexibility helped Eisenhower navigate some of the most challenging moments in American history. Today, his legacy continues to inspire leaders around the world.
---
10. Democratic leader
As a leader, one of the most popular styles of leadership is the democratic leadership style, which is an approach that encourages team members to participate and collaborate. The key to being a democratic leader is to create a culture within a team that is supportive and values everyone. 
To keep team members engaged and motivated, those practicing this leadership style must create an environment that encourages dialogue through exchanging ideas. Democratic managers and executives must let people at every level know that their contributions are crucial in shaping the organization. By doing so, they foster a culture of voluntary participation.
→ Tony Hsieh, CEO of Zappos
When it comes to effective leadership, many different styles and approaches can be taken. However, one common trait among successful leaders is the ability to empower those around them. This is undoubtedly true of Tony Hsieh, the CEO of Zappos.
Hsieh built his company on the principle of putting employees first, which has paid off in a big way. Zappos is now one of the most successful online retailers in the world, and Hsieh is widely respected as a visionary leader.
He has shown that businesses can achieve incredible results by investing in employees and giving them the freedom to do their best work. This approach is at the heart of democratic leadership, and it is clear that Tony Hsieh is a shining example of this management style.
Related: Best Leadership Styles in Management
Conclusion
We've looked at ten different famous leaders and their unique leadership styles. While not all of these styles will work for every business owner, it is essential to be aware of them and experiment with what works best for you.
In addition, we would love to hear about your own experiences with leadership in the comment section below! What have you found the most effective way to lead your team?
Related: What Type of Leader Are You
FAQ
What is Mark Zuckerberg's leadership style?
Mark Zuckerberg's leadership style is that of a transformational leader. He can inspire those around him to achieve more than they thought possible. He has a clear vision for the future and can articulate it in a way that motivates others to work towards it. He also takes an active role in ensuring that his vision is executed, which has led to him being very hands-on in the day-to-day operations of Facebook.
What type of leader is Elon Musk?
Elon Musk is a transformational leader. He isn't afraid to take risks and challenge the status quo. He's also a very vision-oriented leader and always looks for ways to push the boundaries of what's possible.
What is Warren Buffett's leadership style?
Warren Buffett's leadership style can be described as hands-off but attentive. He delegates authority to his managers and allows them to run their businesses without interference. However, he remains closely involved in his company's overall strategy and performance. This approach has helped him build a successful conglomerate over the years.
What is Jack Ma's leadership style?
Jack Ma's leadership style can be classified as democratic and empowering. He encourages employees to come up with their ideas and provides them with the resources they need to see those ideas through.
Who are people-oriented leaders?
People-oriented leaders prioritize the needs of their team members and work to create an environment where everyone can succeed. They see their role as not just to provide direction but also to facilitate growth and learning. This type of leader is often described as having a coaching or mentoring style.