Disclaimer: We sometimes use affiliate links in our content. For more information, visit our Disclaimer Page. 
Why is communication important in the workplace? This is a question that many business owners, managers, and employees alike often find themselves asking. Good communication has become more crucial in today's fast-paced business world. It can propel businesses forward, foster a healthy work environment, and pave the way for unprecedented success.
Let's delve deeper into the reasons why workplace communication is indispensable and how it influences various facets of the corporate realm.
The Cornerstone of Effective Workplace Communication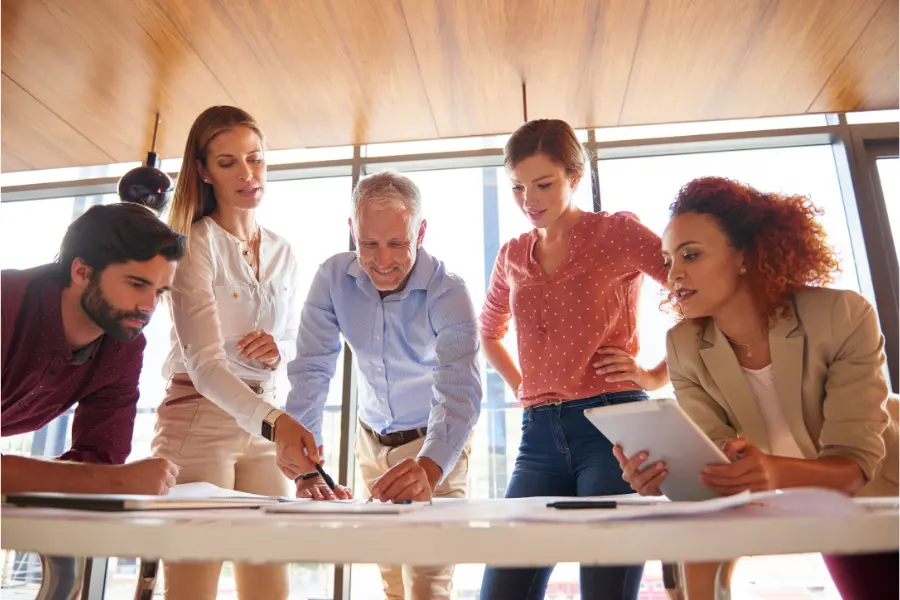 At its core, workplace communication is the exchange of information, ideas, and messages within a professional setting. Whether through emails, phone calls, team meetings, face-to-face conversations, or video conferencing, each communication channel serves a unique purpose and can be used strategically to ensure successful outcomes.
Good communication is much more than just words. It also encompasses nonverbal cues such as body language and eye contact, written messages like emails and meeting notes, and even the overall communication culture within a company. It's a multifaceted construct that requires continuous effort, and understanding its importance is the first step toward achieving effective workplace communication.
1. Boosts Employee Engagement and Satisfaction
One of the top benefits of effective communication in the workplace is improved employee engagement. When employees feel heard, valued, and well-informed about their roles, company updates, and ongoing projects, they tend to be more engaged. This engagement often translates into increased job satisfaction and productivity.
A company that communicates effectively ensures that its employees are always on the same page, which in turn reduces misunderstandings, fosters collaboration, and promotes a positive work environment.
2. Reduces Employee Turnover
Poor communication can lead to miscommunications, misunderstandings, and ultimately, a high employee turnover rate. On the flip side, a workplace that emphasizes open, transparent, and respectful communication can improve workplace relationships, leading to reduced employee turnover.
Effective communication ensures that employees have a clear understanding of their roles, responsibilities, and the expectations of the organization. This sense of clarity and purpose can foster a sense of job security and satisfaction, reducing the likelihood of employees leaving the company.
3. Improves Productivity
Effective communication can significantly boost productivity within the workplace. It ensures everyone involved in a given project has a comprehensive understanding of their roles and responsibilities, thereby reducing errors, increasing efficiency, and resulting in high-quality output.
Moreover, good communication skills can enhance problem-solving and decision-making processes. Facilitating the sharing of diverse perspectives and ideas can help teams to come up with creative solutions, leading to successful project execution and business growth.
4. Facilitates Team Building and Cooperation
Teams that communicate effectively are often more cohesive and collaborative. Good communication aids in team building by fostering a sense of camaraderie and mutual respect among employees. This can lead to better engagement, teamwork, and cooperation.
Whether it's internal communication within a team or communication between different departments, clear, concise, and respectful communication can keep everyone aligned with the company's goals and strategies. This can result in a more harmonious and productive working environment.
5. Enhances Customer Service
Employees who can communicate effectively also tend to excel in customer service roles. Whether it's a customer service representative handling a phone call, or a manager meeting with a client, good communication skills can make all the difference. It can help resolve issues swiftly, foster strong customer relationships, and enhance the company's reputation.
How to Improve Communication in The Workplace
Now that we've established the importance of good communication, the question remains: how can we improve workplace communication? Here are a few strategies:
1. Promote Open Communication
First and foremost, it's essential to foster a culture that values open and honest communication. This means encouraging employees to voice their opinions, ideas, and concerns without fear of judgment or retaliation. It's equally important for managers to be receptive to feedback and take it into account to improve workplace practices. This kind of environment promotes transparency and mutual respect, leading to better communication and overall success.
2. Utilize Different Communication Channels
Understanding and leveraging different communication channels is vital in today's diverse workplaces. Emails, team meetings, video calls, and face-to-face communication all serve different purposes and should be used appropriately. For instance, complex ideas might be better communicated through a video conference or meeting, while simple updates could be disseminated via email.
3. Foster Strong Listening Skills
Active listening is a cornerstone of effective communication. Encourage employees to listen attentively to their colleagues, superiors, and customers. This includes maintaining eye contact, refraining from interrupting and responding appropriately. This type of listening builds trust, ensures a better understanding of the message, and can significantly enhance communication in the workplace.
4. Develop Communication Skills Training Programs
Investing in regular communication skills training programs can help employees improve their verbal, nonverbal, and written communication abilities. Training programs can be tailored to suit the needs of the organization and could include modules on public speaking, negotiation, conflict resolution, customer service, and even email etiquette.
5. Encourage Feedback
Positive and constructive feedback is a vital part of improving communication. Regular feedback helps employees understand their strengths and areas of improvement, leading to better performance and increased job satisfaction. Managers should provide clear, specific, and actionable feedback to help employees grow and improve.
6. Understand and Respect Communication Styles
Recognizing that every individual has a unique communication style is key to improving workplace communication. Some employees may prefer direct, concise communication, while others might prefer a more detailed approach. Understanding and respecting these differences can help promote a more inclusive and effective communication culture.
The Role of Technology in Workplace Communication
Technology has dramatically transformed the way we communicate in the workplace. With the rise of remote working arrangements, digital tools have become essential for employees to stay connected and communicate effectively.
Video conferencing tools such as Zoom and Microsoft Teams allow teams to conduct meetings and collaborate on projects in real-time, regardless of their physical location. Instant messaging apps like Slack provide a platform for quick, informal conversations, while project management tools like Asana and Trello can help teams keep track of their tasks and deadlines.
However, it's essential to balance the use of technology with face-to-face communication. While digital tools can enhance efficiency and flexibility, in-person interactions are often more effective for building relationships, resolving conflicts, and discussing complex issues.
Communication: The Secret to Employee Empowerment
Employee empowerment has become a buzzword in the corporate world, and rightly so. Empowered employees are more engaged, productive, and satisfied, which can lead to better business outcomes. But how can organizations empower their employees? The answer lies in effective communication.
How Communication Empowers Employees
Clear and consistent communication can make employees feel valued and involved. By keeping them informed about company goals, updates, and changes, organizations can ensure that their employees feel like an integral part of the business.
Feedback, both giving and receiving, is another crucial aspect of communication that empowers employees. Positive feedback can boost their confidence and motivation, while constructive feedback provides them with the insights they need to grow and improve.
Moreover, by promoting open and two-way communication, organizations can encourage their employees to voice their ideas, opinions, and concerns. This can make them feel heard and respected, which can in turn foster a sense of empowerment.
Strategies to Enhance Communication for Employee Empowerment
Here are a few strategies to enhance communication for employee empowerment:
1. Regular Updates: Keep your employees in the loop about company updates, changes, and future plans. This can make them feel involved and invested in the organization.
2. Promote Feedback Culture: Encourage managers to provide regular and constructive feedback. Likewise, create channels for employees to share their feedback and suggestions.
3. Create a Safe Space: Foster an environment where employees feel safe to express their opinions and ideas without fear of judgment or retaliation.
4. Provide Clear Expectations: Ensure that employees have a clear understanding of their roles, responsibilities, and expectations of the organization. This can provide them with a sense of direction and purpose.
Conclusion
Communication is the lifeblood of any successful business. It underpins every aspect of organizational life, from team collaboration and customer service to employee satisfaction and productivity. Effective communication can drive innovation, boost morale, and propel a company toward its strategic goals.
As the business world continues to evolve and diversify, the ability to communicate effectively has become one of the most important skills that employees at all levels can possess. By understanding the importance of communication and making a concerted effort to improve communication practices, organizations can position themselves for long-term success in the competitive business landscape.
FAQs
What is the importance of communication to work?
Communication is fundamental to the smooth functioning of any workplace. It facilitates the exchange of information, promotes collaboration, boosts employee morale and productivity, and improves customer service.
Why is communication so important?
Communication is vital because it's the basis of all human interaction. It's essential for expressing ideas, sharing information, building relationships, and understanding others. In a professional setting, good communication can lead to better team collaboration, increased productivity, and overall business success.
What is the importance of communication in workplace teamwork?
Communication plays a crucial role in workplace teamwork. It helps teams understand the project goals, share ideas, solve problems collectively, and stay aligned. Moreover, effective communication fosters a sense of trust and mutual respect within the team, promoting a more cooperative and productive work environment.
What is the 5 importance of communication?
The five key benefits of communication are: 1) fostering relationships, 2) promoting understanding, 3) facilitating collaboration, 4) increasing productivity, and 5) driving innovation. In a workplace context, these benefits can lead to a more engaged workforce, improved customer service, and overall business growth.
Why is communication important in the workplace?
Communication is critical in the workplace because it underpins every aspect of organizational life. From employee engagement and satisfaction to team collaboration and customer service, effective communication has a profound impact on a company's success.