Disclaimer: We sometimes use affiliate links in our content. For more information, visit our Disclaimer Page. 
As we know, a manager can use many leadership styles in the workplace. Each style has advantages and disadvantages, and knowing which will work best for you is essential.
This blog post will discuss the 8 most common leadership styles and provide an overview. We will also help you determine which style best fits your personality and management style.
Related: Best Leadership Styles in Management
What's meant by Leadership Style?
When it comes to leadership, there is no one-size-fits-all approach. Instead, the best leaders can adapt their style to the situation. Leadership style is how a leader leads. It encompasses the leader's actions, demeanor, and approach to problem-solving and decision-making.
"A good objective of leadership is to help those who are doing poorly to do well and to help those who are doing well to do even better." 

Jim Rohn.
There are many different leadership styles, each of which can be effective in certain situations and with certain types of people. The key is to find the right leadership style for the current situation and to adapt as needed.
Related: 10 Famous Leaders and Their Leadership Styles
Why It's Important to Know Your Leadership Style?
Leadership style is one of the most critical factors in success or failure in any given situation. It can make all the difference between team morale and burnout, achieving short-term objectives or struggling for long-term results.
We are discussing eight different leadership styles that can be used in various situations, so it's important to try them out before deciding which one works best for you and your team. Once you've found your style, be patient – leadership doesn't come overnight!
And lastly, always remember that leadership isn't just about giving orders – people need to feel appreciated too!
Related: The Power of Leadership
Top 8 Leadership styles to choose from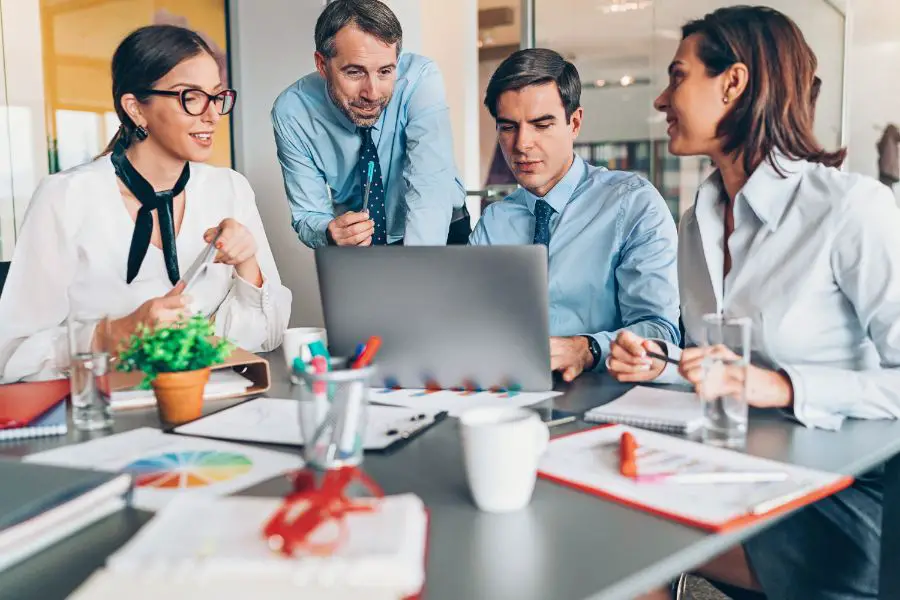 No matter your leadership position, it's always helpful to have a few different styles in your arsenal. After all, the best leaders are often the ones who can adapt their style to the situation at hand.
With that in mind, here are the eight most popular leadership styles, and briefly describe each.
1. Transactional leadership 
Transactional leadership is a type of leadership that involves leading by setting clear expectations and providing rewards or consequences based on performance. Transactional leaders typically have a clear vision for what needs to be done and delegate tasks and responsibilities accordingly. They also hold employees accountable for their actions and performance, providing feedback.
When it comes to transactional leadership, the focus is on getting things done and achieving results. This type of leader is often task-oriented and may use a carrot-and-stick approach to motivate employees. However, transactional leaders can also be effective at inspiring employees to do their best work and meet high standards.
While transactional leadership can be effective in some situations, it is not always the best approach. In particular, transactional leadership can become problematic when leaders focus too much on the rewards and consequences and not enough on the relationships between leaders and employees. When this happens, employees may feel like they are being treated as pawns in a game and lose trust in their leaders.
If you are considering using a transactional leadership style, it is important to ensure that you do so in a way that will build trust and respect between you and your employees. Transactional leadership can be a helpful tool when used correctly, but it is not always the best approach for every situation.
Pros:
Easy-to-understand system.
Provides clear expectations.
Creates a sense of fairness.
It can be motivating for employees.
This can lead to quick results.
Cons:
This can lead to a lack of trust.
May create an environment of fear.
It can be inflexible.
Does not encourage creativity.
2. Democratic Leadership
The democratic leadership style (also known as a participative leadership style) is a popular leadership style whereby the leader encourages democracy, team input, and consensus among team members. In addition, the democratic leader typically has an open-door policy, encouraging employees to voice their opinions and ideas.
The main goal of democratic leadership is to build trust and respect among team members while maintaining a high productivity level. This type of leader usually has a strong vision for the team or organization and works to ensure everyone is working towards common goals.
Democratic leadership can effectively run a team or organization as it allows for greater employee creativity and input. However, this leadership style can also result in slower decision-making, as consensus must be reached among team members. Additionally, democratic leaders may have difficulty maintaining control over their team if members do not respect the leader's authority.
Pros:
Encourages creativity and input from employees.
Allows for a more democratic decision-making process.
It helps to build trust and respect among team members.
Cons:
This can result in slower decision-making.
It May be challenging to maintain control over the team.
Not all team members may respect the leader's authority.
3. Autocratic Leadership
Autocratic leadership is about getting one's way, regardless of the consequences. This type of leadership style is often found in chaotic or leaderless environments. Under such circumstances, autocratic leaders can make decisions quickly and efficiently as they have a clear vision of what needs to be done, and no one can question them. However, this type of leadership tends to be ineffective when multiple decision-making channels or team members have a lot of autonomy.
In these cases, chaos prevails, and effective decision-making becomes impossible. On the whole, autocratic leadership can work well under conditions where everyone knows their role and follows strict rules without questioning authority. However, when things go wrong, it inevitably happens, resulting in big breakdowns in communication and morale among team members.
Pros:
Fast Decision-making.
It can reduce Employee Stress.
Great Communication.
Effective Handling Of the difficult situation.
Increase Productivity.
Cons:
Lack of empowerment.
Too high dependency on the leader.
Lack of trust.
Use of intimidation.
4. Transformational Leadership
Transformational leadership style is all-encompassing, taking the business to new heights and making it one of the most successful ventures. It requires dedication, hard work, and a team-first approach – but it pays off in the end.
Transformational leaders focus on developing their team members into better leaders to take charge and steer their businesses towards success. This type of leadership not only makes people more effective but also sets them up for long-term success as well.
Pros:
Strong connections are established.
Reduces employee turnover.
Serves as an ideal influence.
It is a tool that promotes enthusiasm and drive.
Encourages learning and creativity.
Cons:
Lack of focus.
Disruption of routines.
Potential for burnout.
Misuse of power.
5. Strategic Leadership
There's no one-size-fits-all answer to what makes a great strategic leader. However, certain essential qualities would be common among effective leaders. For starters, they need intimate knowledge of their business – understanding customer needs inside out. Leaders with this level of insight often make difficult decisions quickly and confidently because they understand the bigger picture.
They also assume complete authority and responsibility for the team's success or failure – they must be able to handle challenging situations with poise. And finally, strategic leadership is all about planning and executing a successful path forward. With a detailed strategy, leaders can take action to help them reach their objectives faster than expected.
Pros:
Can able to make difficult decisions.
Effective progress measurement.
Exploration of opportunities.
Prioritization.
Cons:
Impossible to Predict the Future.
A Complex Process.
Time Consuming.
Requires Skillful Planning.
6. Pacesetting Leadership
Pacesetting leadership is an approach characterized by its hands-on style of management. This type of leadership expects a lot from followers and requires strong communication and networking skills to be effective. In addition, it encourages creativity and innovation, two essential qualities for any leader.
Furthermore, it is about setting an example and motivating others to follow suit. Leaders must have a clear vision that they can articulate in an easy-to-understand manner, so team members know what's expected of them. And last but not least, staying ahead of the curve is key – constantly innovating to remain relevant in today's competitive landscape.
Pros:
Focused on high levels of achievements.
Goals can be quickly achieved.
Encourages Productivity.
Fast Issues are addressed.
Cons:
Work begins to seem monotonous and routine.
Employees can feel stressed.
Pacesetting might be integrated into the system.
Employee involvement is minimal.
Employees receive too little feedback.
7. Coaching Leadership
Leadership coaching is a gradual process that helps leaders learn more about themselves and their team. The coach works with the leader to identify areas of improvement, set goals, and provide feedback so that the leader and team can improve steadily over time. A coaching style is perfect for leaders who want to develop their skills and grow in their careers.
It is an effective leadership style to gain insights into leadership styles, decision-making processes, communication abilities, etc., which can help you take your leadership development to the next level.
Pros:
Promotes a healthy work environment.
Encourages innovation.
Employees get opportunities to become future leaders.
Free Thinking.
Improved Communication.
Enhanced Performance.
Cons:
Coaching can be challenging.
It is applicable only in certain situations.
Coaching is a two-way street. 
It requires a lot of time and patience.
8. Visionary Leadership
A visionary leader has many qualities, but the most important ones are their ability to see the future and motivate others towards it. They have a clear vision of what they want their organization to be like in the future and are not afraid to take risks to make this vision a reality. This type of leadership is essential for any business that wants to move forward and make significant progress.
Pros:
This style can inspire and motivate others.
The team feels empowered and heard.
Have a Clear vision.
Powerful and persuasive communicators.
Cons:
They may not be able to delegate effectively.
The team may feel that they are not part of the decision-making process.
The leader may be too focused on the future and not present.
Hyper-focus on a single goal.
Related: What Type of Leader Are You
How to Choose the Right Leadership Style for You?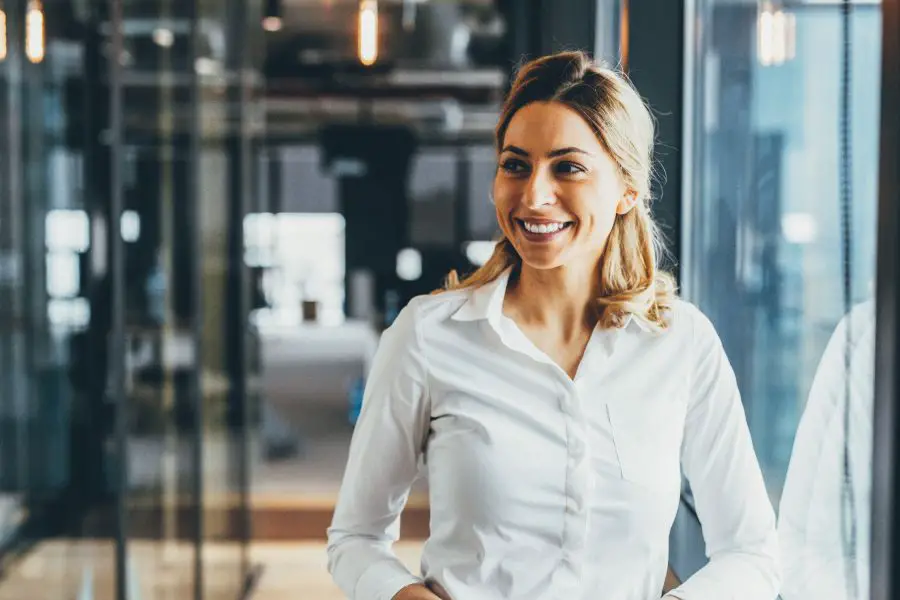 There are various methods to discover the best leadership style for you. If you're unsure what leadership styles would suit your needs, follow the steps below.
Get to know yourself: Knowing your strengths and weaknesses is part of finding the right leadership style. You need to be honest about what you're good at and what you're not. Consider taking a personality test to help you better understand your strengths and weaknesses.
Outline your values and challenges: What's important to you? What are the challenges that you face in your work or life? Once you know what's important to you and your challenges, narrowing down the leadership styles that will work best for you will be easier.
Complete a leadership style assessment: Many online assessments can help you identify your preferred leadership style. These assessments often ask questions about your values, goals, and how you like to interact with others. Answer these questions honestly to get the most accurate results. Leadership style assessments can be a helpful tool in finding the right leadership style for you.
Watch leaders you respect: Another way to find the right leadership style is to watch leaders you admire and respect. Pay attention to how they interact with others, what motivates them, and their goals. You can learn a lot by observing the leadership styles of others.
Try different leadership styles: Don't be afraid to experiment with varying styles of leadership. A leader isn't one size fits all. You might find that a particular leadership style doesn't work for you in one situation but does in another. The only way to know is to try different leadership styles and see what works best for you.
Related: Development Plan for Leaders
Conclusion
Leadership style is one of the most critical factors for any field. However, knowing which style is best for you can be tough.
In this blog, we have outlined the different leadership styles of exceptional leaders and explained how to choose the right one for you. We have covered you whether you are a team player or a visionary leader! So, what are you waiting for? Start implementing the right leadership style and see the amazing results for yourself!
FAQ
Which type of leadership style is best?
There is no single answer to this question, as different leadership styles can be effective in different situations. The most important thing is to adapt your style to the specific needs of your team and the situation at hand. Some common leadership styles include autocratic, democratic, transformational, and servant leadership.
What is the effectiveness of leadership?
Leadership effectiveness is the ability of a leader to influence and motivate followers to achieve objectives. It is often measured by leader outcomes, such as job performance or satisfaction, or follower outcomes, such as job satisfaction or commitment.
What are the best qualities of an effective leader?
The ability to delegate, build relationships and communicate are vital qualities of an effective leader. Other important attributes include Strategic thinking, Creativity, Honesty, Integrity, Decisiveness, and Courage.
What is an effective leadership example?
The most effective leaders can adapt their style to the situation and the individual. The best leaders can also build trust and credibility with their followers. There is no one-size-fits-all answer to the question of what effective leadership is, but the ability to adapt and build relationships is essential.
What is laissez faire leadership style?
Laissez-faire executives have a trusting and reliant attitude toward their employees. They don't supervise or interfere, nor do they offer too much direction or advice.