Disclaimer: We sometimes use affiliate links in our content. For more information, visit our Disclaimer Page. 
In an era dominated by digital communication, mastering verbal communication skills is more crucial than ever. Effective verbal communication is key to professional success, fostering strong interpersonal relationships and ensuring clear understanding among team members in the workplace.
This blog post explores strategies, tips, and examples to improve your verbal communication skills, making you a more effective communicator in the professional environment.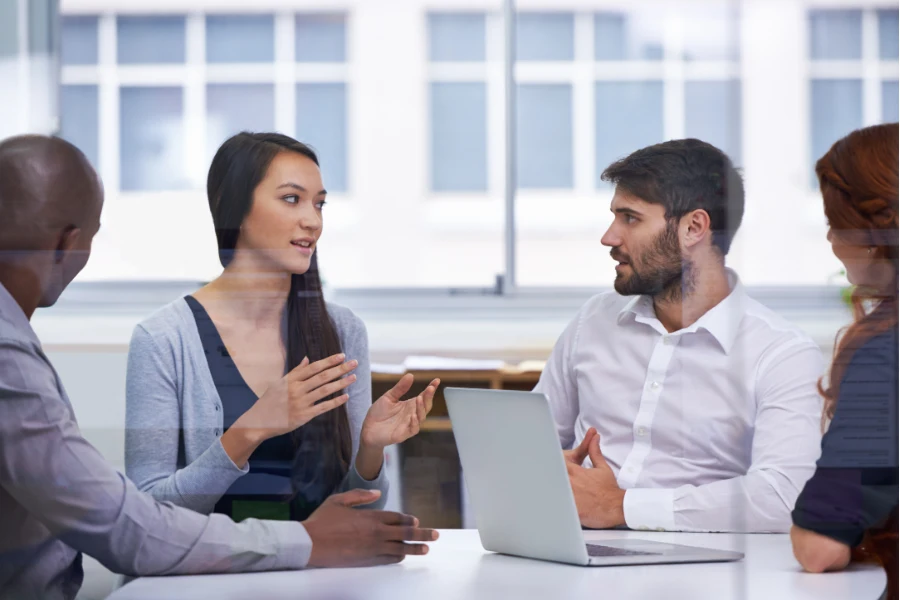 The Fundamentals of Verbal Communication
The backbone of successful interpersonal communication, verbal communication refers to the use of spoken words to convey information, ideas, or feelings. It extends beyond simply speaking and includes the effective use of voice, tone, and body language, all contributing to the communication process.
Why are Verbal Communication Skills Important?
Verbal communication skills play a crucial role in the workplace, shaping professional relationships and influencing workplace success. They are among the most important skills required for career advancement, and here's why:
Team Collaboration: Effective verbal communication helps build rapport among team members, fostering a collaborative environment that bolsters productivity and promotes innovation.
Conflict Resolution: Clear communication can mitigate conflicts, allowing for more productive discussions and problem-solving.
Leadership: Strong verbal communication skills are essential for leadership roles where the ability to convey key points effectively and inspire a team is paramount.
Customer Relations: In customer-facing roles, good verbal communication skills create a positive impression, leading to increased customer satisfaction and loyalty.
Understanding these individual differences in communication styles and harnessing them effectively is vital for maintaining positive and productive relationships in the workplace.
Components of Effective Verbal Communication
There are many aspects to effective verbal communication, but some are particularly important for the workplace. Here are the key points:
Clarity and Conciseness: Keep your message clear and concise. Concentrate on one or two points at a time to avoid confusion.
The tone of Voice: The tone can dramatically affect a speaker's message. Ensure your tone matches your message to avoid misunderstandings.
Active Listening: Listening is as important as speaking when it comes to effective communication. Paying close attention to the speaker shows respect and enhances understanding.
Nonverbal Cues: While words are important, nonverbal cues such as facial expressions, body language, and maintaining eye contact can reinforce or alter your message.
Feedback: After delivering your message, seek feedback to ensure understanding and make necessary adjustments. Open-ended questions can be a useful tool for this.
Now that we've discussed why verbal communication skills are important and the components of effective communication, let's dive into how to improve these skills for workplace success.
Strategies to Improve Verbal Communication Skills
1. Active Listening
Active listening is an integral part of effective verbal communication. It involves focusing completely on the speaker, understanding their message, and responding thoughtfully.
Tips to improve active listening include:
Maintaining eye contact with the speaker to demonstrate engagement.
Nodding and using affirmative phrases like "I understand" or "Please continue" to show you're following along.
Refraining from interrupting the speaker until they've finished talking.
2. Clarity and Conciseness
Clarity and conciseness are key to avoiding miscommunication. Be clear about your main points and deliver your message concisely and straightforwardly.
Here's how you can practice this:
Before you speak, outline the main points you want to address. This preparation helps keep your message on track.
Avoid using complex language or jargon that might confuse your audience.
3. Nonverbal Communication
Nonverbal cues often communicate more than words. Mastering body language, facial expressions, and eye contact can significantly enhance your verbal communication skills. Here are some ways to improve your nonverbal communication:
Maintain eye contact to demonstrate that you are engaged and trustworthy.
Pay attention to your body language. Stand or sit straight, use hand gestures sparingly and purposefully, and keep your facial expressions neutral and open.
Be aware of your personal space and that of others.
4. Tone of Voice
The tone of voice is a critical aspect of verbal communication, and mastering this can greatly enhance your effective verbal communication skills. It can significantly alter the meaning of words and can either reinforce or contradict the spoken message. Here's how to enhance the tone of your verbal communication:
Pay attention to your volume. Make sure you're speaking loud enough to be heard without shouting.
Keep your voice steady and even.
Adjust your tone according to the context. A formal presentation requires a different tone than a casual conversation with a team member.
5. Giving and Receiving Feedback
Feedback is essential in the communication process. It ensures that your message is understood and allows for adjustments when necessary. Here are some tips to improve your skills in giving and receiving feedback:
Be open to feedback. It can help you identify areas for improvement and foster personal growth.
When giving feedback, be constructive. Focus on the behavior or action rather than the person.
Encourage a feedback culture in your workplace where everyone feels safe and open to express their thoughts and feelings.
Overcoming Common Challenges in Verbal Communication
While working to improve your skills for effective verbal communication in the workplace, it's essential to acknowledge and overcome common challenges. Here are some common obstacles and strategies to overcome them:
1. Nervousness
Nervousness can hamper effective communication. If you find yourself anxious before a presentation or important conversation, try these strategies:
Practice explaining your main points to a family member or friend. This can boost your confidence.
Use relaxation techniques like deep breathing or visualization.
Preparation is key. The more prepared you are, the less nervous you'll be.
2. Misinterpretation
Misinterpretation can occur when the receiver of a message doesn't understand the speaker's message accurately. This can lead to confusion and conflicts. To minimize misinterpretations:
Repeat or paraphrase key points to ensure understanding.
Encourage questions to clarify any misunderstandings.
Pay attention to nonverbal cues that might indicate misunderstanding or confusion.
3. Distractions
In today's world, distractions are everywhere. To maintain focus and communicate effectively, consider these tips:
Minimize potential distractions in your environment.
Practice active listening.
Take notes during conversations or presentations to keep your mind engaged.
Benefits of Effective Verbal Communication in the Workplace
Improving your verbal communication skills can have numerous benefits in the workplace. Let's look at a few examples:
Improved Relationships: Effective communication builds trust and respect among colleagues, fostering strong professional relationships.
Increased Efficiency: Clear communication minimizes misunderstandings, making work processes more efficient.
Enhanced Problem-Solving: With effective verbal communication, problems can be discussed openly and solved more effectively.
Improved Customer Satisfaction: Good verbal communication skills can enhance interactions with customers, leading to increased satisfaction and loyalty.
The Path to Becoming an Effective Communicator
Improving your verbal communication skills is a journey. It requires self-awareness, practice, and patience. Here are some final tips to keep in mind as you work towards becoming a more effective communicator:
Practice, practice, practice: Like any other skill, practice is key to improving verbal communication, including your verbal communication skills. Seize every opportunity to speak in public, whether in team meetings, presentations, or informal conversations.
Seek Feedback: Don't hesitate to seek feedback on your verbal communication skills. Others' perspectives can provide invaluable insights into areas you may need to improve.
Continue Learning: Stay open to learning new communication techniques and strategies. Reading books, attending workshops, and participating in professional development courses can all contribute to your growth as a communicator.
Patience: Improving verbal communication skills takes time. Be patient with yourself, celebrate small victories, and keep striving for improvement.
With consistent effort and the right strategies, you can enhance your verbal communication skills, including written communication, and become a more effective communicator. This will not only enhance your professional relationships and workplace success but also positively impact many aspects of your personal life.
Conclusion
In the age of digital communication, the importance of effective verbal communication in the workplace cannot be overstated. It plays a crucial role in fostering strong interpersonal relationships, enhancing team collaboration, and contributing to personal and professional success. By understanding what verbal communication skills refer to, adopting strategies to improve, and overcoming common challenges, we can make significant strides in enhancing our skills for effective verbal communication in the workplace.
Incorporating these insights into your daily interactions can lead to a notable enhancement in your verbal communication skills. This improvement can significantly influence your workplace dynamics and professional growth. Remember, effective communication is a lifelong journey, so keep practicing, learning, and improving. Your efforts will surely pay off, opening doors to countless opportunities in the workplace and beyond.
FAQs
Why are verbal communication skills important in the workplace?
Verbal communication skills play a crucial role in building rapport among team members, resolving conflicts, leading teams, and managing customer relations. They are key to maintaining positive and productive relationships in the workplace.
How can I improve my verbal communication skills?
Practicing active listening, delivering clear and concise messages, paying attention to nonverbal cues, adjusting your tone of voice, and giving and receiving feedback effectively can enhance your verbal communication skills.
What are some common challenges in verbal communication?
Nervousness, misinterpretation, and distractions are common challenges in verbal communication. Overcoming these can involve techniques such as practice, relaxation exercises, repetition of key points, and minimizing distractions.
What are the benefits of effective verbal communication in the workplace?
Improved professional relationships, increased efficiency, enhanced problem-solving, and improved customer satisfaction are some benefits of effective verbal communication in the workplace.
How can I become a more effective communicator?
Consistent practice, seeking feedback, continual learning, and patience are key to becoming a more effective communicator.