Disclaimer: We sometimes use affiliate links in our content. For more information, visit our Disclaimer Page. 
Do you find yourself constantly exhausted from work and yearning for a change? Are you in your 40s and feeling the weight of decades of long hours and unfulfilling jobs?
You are not alone. Many people experience job dissatisfaction and burnout as they approach midlife. It's a common feeling to crave something different, something refreshing, something that ignites passion and purpose.
But where do you begin? How do you navigate a midlife career change? In this article, we will explore the signs of burnout, the importance of work-life balance, the benefits of a midlife career change, and practical tips to reignite your passion for work or pursue new opportunities.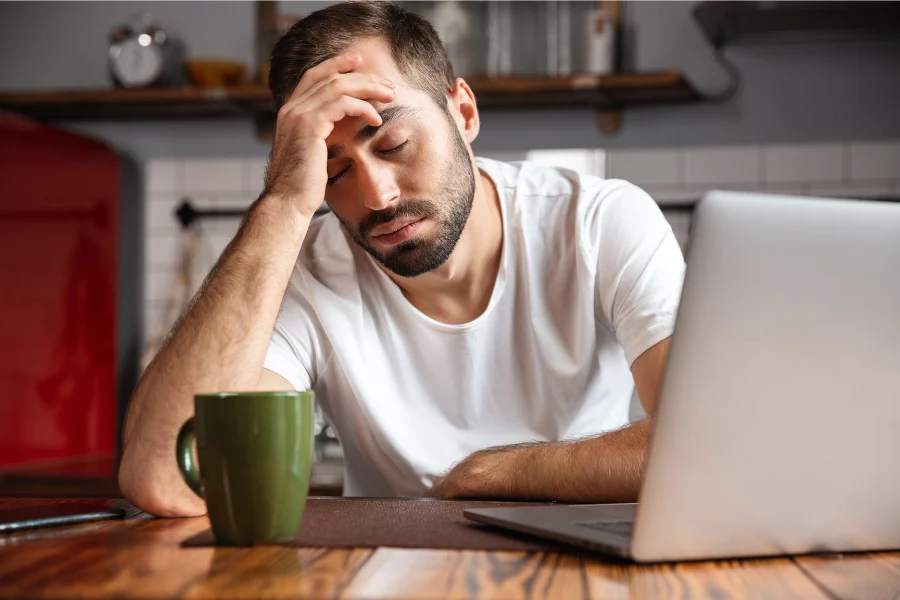 Recognizing the Signs of Burnout and Career Stagnation
Feeling overwhelmed, exhausted, and unmotivated at work? These could be signs of burnout or career stagnation, especially for those in their 40s who have been in the same career for a while.
Burnout is a state of emotional, physical, and mental exhaustion caused by prolonged stress and can lead to decreased productivity and satisfaction at work.
Career stagnation, on the other hand, is when an individual feels stuck in their current job with limited opportunities for growth and development.
Recognizing these signs is crucial in order to take action and prevent further negative consequences.
Signs of Burnout
According to the World Health Organization (WHO), burnout can be identified by three main symptoms:
Bottom Line
Pros
Cons
Spec
Pros
Feelings of exhaustion
Cons
Cynicism and detachment
Pros
Feeling emotionally and physically drained, with the inability to muster enough energy to complete tasks
Cons
Feeling disconnected and disengaged from work, colleagues, and clients, with a negative attitude towards their job and responsibilities
Spec
Feeling less productive and efficient at work, with a decrease in job satisfaction and engagement
Recognizing these symptoms in oneself is the first step in preventing burnout.
Career Stagnation
In addition to burnout, career stagnation can also cause dissatisfaction and frustration at work. Some signs of career stagnation may include:
Lack of challenging projects or opportunities for growth
Feeling unfulfilled or unsatisfied with current responsibilities
Feeling stagnant and unproductive
Lack of recognition or advancement opportunities
Recognizing these signs can help you take steps toward overcoming career stagnation and finding fulfillment in your work.
Exploring Work-Life Balance as a Solution
One solution for combatting feelings of exhaustion and dissatisfaction in your current job is to focus on achieving a better work-life balance. This can be challenging, especially if you have a demanding job or other responsibilities that require your time and attention.
However, by prioritizing your time and setting boundaries between work and personal life, you can improve your overall sense of well-being and satisfaction with your life.
Set realistic work hours and stick to them as much as possible.
Make time for activities that you enjoy outside of work, such as hobbies or exercise.
Take frequent breaks throughout the day to recharge and prevent burnout.
Communicate openly with your employer about your needs for work-life balance.
Consider adjusting your work schedule, such as working from home or part-time hours.
By incorporating these strategies into your daily routine, you may find a better balance between work and personal life, leading to increased satisfaction and happiness.
The Benefits of a Career Change in Your 40s
Embarking on a midlife career change can be a daunting prospect, but it can also be incredibly rewarding. Here are some of the benefits of taking the leap:
Renewed passion and purpose: Pursuing a new career can give you a sense of renewed energy and excitement about your work. You may discover a new passion or purpose that was previously missing.
Increased job satisfaction: Doing work that aligns with your values and interests can lead to greater job satisfaction and overall happiness.
Opportunities for growth: Starting a new career can provide opportunities for personal and professional growth, as well as the chance to learn new skills.
Financial benefits: Depending on the career change you make, there may be the potential for increased earning potential or better job security.
Remember, a career change in your 40s is becoming increasingly common. By taking the time to explore your options and plan for a successful transition, you can find a career that brings you greater fulfillment and satisfaction.
Assessing Your Skills and Interests
Identifying your skills and interests is crucial when considering a midlife career change. Take time to evaluate your strengths, weaknesses, and hobbies to discover potential second career options.
One effective way to assess your skills is through a career assessment test, which can provide insights into your personality traits, interests, and work style. You can find these tests online or through career counseling services.
In addition, think about the tasks you enjoy doing in your current job and consider if they could be applied to a different field. For example, if you enjoy problem-solving, consider a career in consulting or data analysis.
It's also important to consider your interests outside of work. What hobbies or activities bring you joy and fulfillment? Could they be translated into a potential career change? For example, if you enjoy cooking, consider a career in the culinary industry.
Furthermore, networking and speaking with professionals in fields that interest you can provide valuable information about their experiences and insight into potential roles.
Take the time to reflect on your passions, strengths, and interests to determine potential second career options.
Researching and Planning for a Successful Career Transition
Embarking on a midlife career change can be a daunting prospect, but thorough research and planning can help ensure a successful transition. Here are some steps to take:
Clarify your goals: Before diving into job listings or applying to programs, take the time to reflect on what you hope to gain from a career change. Ask yourself questions like: What skills or abilities do I want to utilize? What kind of work environment do I thrive in? What kind of impact do I want to have?
Research industries: Once you have a clearer sense of your goals, begin researching industries that align with your values and interests. Look for growth opportunities, job availability, and work culture.
Consider education or training: If you're aiming to switch careers entirely, you may need additional education or training. Research programs that align with your new career goals and consider the time, cost, and feasibility of each option.
Connect with professionals: Seek out professionals who work in industries that interest you and ask for informational interviews. This is a great way to gain insights into the day-to-day work, challenges, and opportunities in a particular field.
Create a plan: Once you've gathered information and insights, create a strategic plan for your career transition. Outline the steps you need to take, timelines, and any potential obstacles you may encounter.
Stay flexible: Remember that not everything will go according to plan. Stay flexible and open to new opportunities that may arise as you move forward in your transition.
By taking these steps, you'll be better equipped to make informed decisions as you pursue a rewarding and fulfilling career change.
Upskilling and Education for Career Reinvention
When pursuing a midlife career change, it's important to acquire new skills and knowledge relevant to your desired field. This can be achieved through upskilling and education.
Upskilling refers to acquiring new skills or enhancing existing ones, while education involves formal learning through courses or certifications.
There are various ways to upskill and educate yourself, depending on your preferred learning style and budget.
Bottom Line
Pros
Cons
Spec
New item
Pros
Online courses and webinars
Cons
Local workshops and classes
Spec
Professional certifications
New item
Continuing education programs
Pros
Many universities, institutions, and organizations offer online courses and webinars that cover a wide range of topics. These can be taken at your own pace and often come with certificates of completion.
Cons
Check your community centers, libraries, and vocational schools for workshops and classes on a variety of topics. These are often affordable and provide hands-on learning experiences.
Spec
Obtaining a professional certification in your desired field can improve your job prospects and credibility. Industry-specific certifications are usually offered by trade associations or professional organizations.
New item
Many universities offer continuing education programs, which allow you to take courses without enrolling in a full program. These programs are often tailored to working professionals and offer flexible schedules.
In addition to these options, there are also many free resources available online, such as YouTube tutorials and open educational resources.
When considering which upskilling or education method to pursue, it's important to do your research and choose the one that best fits your goals and learning style.
Benefits of Upskilling and Education
Investing in upskilling and education can provide numerous benefits, such as:
Improved job prospects and career advancement opportunities
Increased earning potential
Enhanced job satisfaction and confidence
Expanded professional networks and opportunities for collaboration
Acquiring new knowledge and skills that can be applied in various aspects of life
"Learning is not a one-time event or a periodic luxury. Great leaders in great companies recognize that the ability to constantly learn, innovate, and improve is vital to their success." – Amy Edmondson
By upskilling and educating yourself, you're investing in your personal and professional growth, which can lead to a more fulfilling and successful career.
Networking and Leveraging Connections
During a midlife career change, networking and leveraging connections can make all the difference in finding new opportunities. Building professional relationships can open doors to job opportunities and provide valuable insights into different industries and career paths. Here are some practical tips on how to network effectively:
Join professional organizations: This is a great way to meet people in your industry and expand your network. Attend events, seminars, and conferences to meet new people and learn about current trends and developments.
Utilize online networks: LinkedIn and other professional networking sites can be a powerful tool in connecting with others in your field. Create a strong profile and engage with others by commenting on posts and sharing relevant content.
Volunteer: Volunteering is a great way to meet new people and expand your network while giving back to the community. Consider volunteering for professional organizations or causes related to your industry.
Ask for introductions: Don't be afraid to ask your current network for introductions to people in their network who may be able to provide insights or job opportunities.
Once you've expanded your network, it's important to leverage these connections to explore new opportunities:
Set up informational interviews: Informational interviews are a great way to learn about different career paths and industries. Reach out to people in your network and ask for a brief meeting to discuss their careers and gain insights into the industry.
Get referrals: Referrals from people in your network can be a powerful tool in landing a new job. Don't be afraid to ask for referrals or recommendations from individuals who can speak to your qualifications and work ethic.
Attend networking events and job fairs: These events can provide valuable opportunities to meet potential employers and learn about available job openings. Bring your resume and business cards to make a strong impression.
Remember, networking is a two-way street. Offer to help others in your network and be willing to share your own expertise and insights. You never know where a new connection may lead.
Reigniting Your Passion at Work
While a complete career change may not be feasible for everyone, there are ways to reignite passion and enthusiasm in your current job. Here are some tips to find fulfillment in your present role:
Seek New Challenges
One way to reignite passion in your job is to seek out new challenges. Look for opportunities to take on new projects or tasks that are outside your comfort zone. This will not only stretch your skills but also give you a sense of achievement and satisfaction.
Expand Responsibilities
Another way to find a new passion in your current job is to expand your responsibilities. Talk to your supervisor about taking on additional responsibilities or transitioning to a new role within your organization. This will not only keep you engaged but also show your dedication and commitment to the company.
Connect with Colleagues
Building relationships with your colleagues is an important part of finding fulfillment in your job. Take the time to get to know your coworkers and build meaningful connections. This will not only make work more enjoyable but also create a support system during challenging times.
Learn Something New
Learning something new can be a great way to reignite your passion for your job. Look for opportunities to attend workshops, conferences, or seminars related to your field. You can also take online courses or ask your supervisor for cross-training opportunities within your organization.
Set Goals and Celebrate Achievements
Setting goals and celebrating achievements can help to keep you motivated and engaged in your job. Take the time to set achievable goals for yourself, and celebrate when you reach them. This will not only give you a sense of accomplishment but also keep you focused and driven.
By implementing these tips, you can reignite passion and enthusiasm in your current job and find fulfillment in your present role.
Conclusion
Feeling tired of working in your 40s is not uncommon and can be a sign of mid-career fatigue. However, it's important to remember that this is just a phase and there are strategies you can implement to overcome it.
Whether it's making small changes in your current job or considering a career change, the key is to take action and prioritize your well-being and happiness in the workplace. Don't let fatigue hold you back from finding fulfillment in your professional life.
FAQs
How can I combat feeling tired and burned out from work in my 40s?
To combat feelings of exhaustion and burnout, it's important to prioritize self-care and make time for activities that bring you joy and relaxation outside of work. This could include exercising regularly, practicing stress-reducing techniques such as meditation or yoga, seeking support from friends or a therapist, and considering making lifestyle changes such as adjusting your work-life balance or exploring new career paths.
Is it normal to feel tired of working in my 40s?
Feeling tired or burned out from work is a common experience for many individuals, regardless of their age. As the demands of professional life increase with responsibilities and commitments, it's natural to feel overwhelmed or fatigued at times. However, if these feelings persist over an extended period and significantly impact your quality of life, it may be worth evaluating what changes can be made to improve your overall well-being.
What are some signs that I may be experiencing burnout in my 40s?
Signs of burnout may include chronic fatigue despite adequate rest, decreased motivation or interest in work-related tasks, increased irritability or cynicism towards colleagues or projects, difficulty concentrating or making decisions, physical symptoms such as headaches or stomach issues, and a general sense of detachment from your job. Recognizing these signs early on can help you take proactive steps to address them before they become more severe.
There are various resources available to support individuals who are feeling tired or burned out from their careers in their 40s. Consider seeking guidance from career coaches who specialize in midlife transitions, attending workshops on managing stress and finding fulfillment at work, participating in support groups or online communities where you can connect with others in similar situations, and reading books or articles on work-life balance and finding meaning in your career.