Disclosure: We sometimes use affiliate links in our content, meaning, at no additional cost to you, we will earn a commission if you click through and make a purchase. This helps us offset the costs of paying our writing team and keeping this website running. Thanks for your support!
---
The cannabis industry is booming, with legal marijuana sales in the US in 2016 reaching $6.7 billion and surpassing $17.5 billion in 2020. According to recent research, the cannabis industry will be worth $39.4 billion by 2023.
The obstacle for cannabis businesses is that they face undue restrictions on social media marketing or see their social media accounts get shut down permanently if they bypass these limitations.
This has led to the promulgation of niche social media sites, cannabis social networks devoted to cannabis business owners, and users to boost their social media presence.
These platforms are more likely to have targeted audiences who'd be interested in what you have to offer them. So you can sign up for these cannabis-themed social networks and benefit through a solid social media marketing strategy to grow your business.
Best Cannabis Business Social Network And Forums
The cannabis industry has been in a state of flux for some time, and the emergence of online social networks dedicated to entrepreneurs in this space is an exciting development.
These platforms enable you to grow your company by harnessing the power of social media with minimal restrictions on the content or advertising strategy. There are many other cannabis businesses out there, but here we list down the top 19 cannabis business social networks & forums that offer opportunities to grow:
Leafly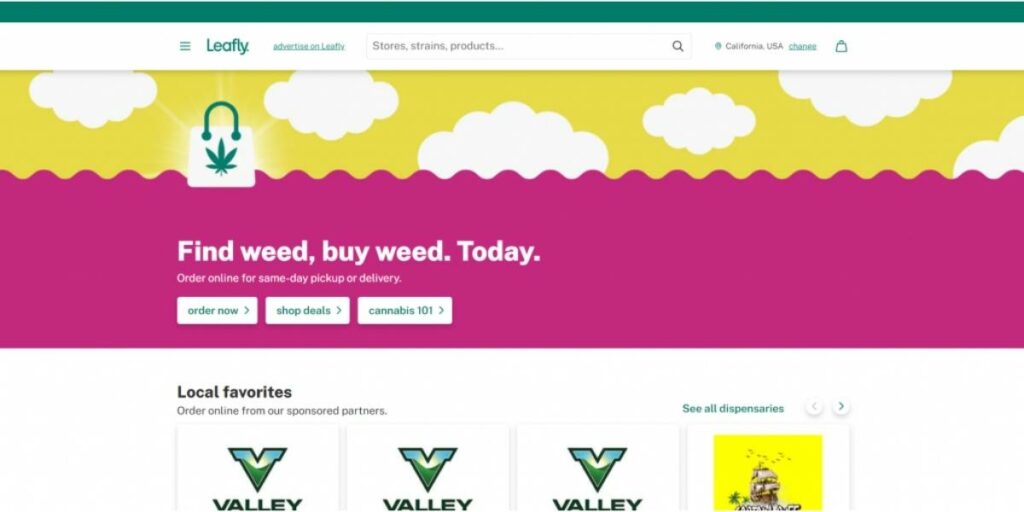 Among top cannabis companies, Leafly is a cannabis-themed social network with a community of more than five million members. It is an online platform where users can review and rate strains or start discussions about various topics related to cannabis.
The site offers forums for general conversation and specific ones for medical marijuana patients looking to get recommendations or feedback on their medical marijuana regiment.
Leafly also offers an interactive map, which shows the most popular strains of cannabis in your state or country.
The site has a free membership for basic features and can be upgraded to a paid version depending on user needs (e.g., more advanced plant science content).
Weedmaps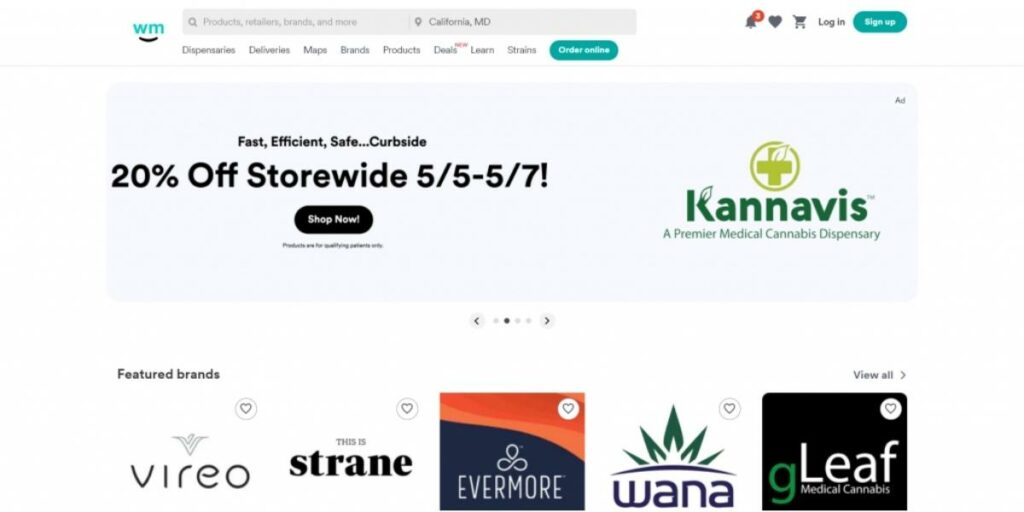 This company aims to make weed more mainstream by providing dispensaries with the infrastructure they need to succeed.
Weedmaps is to the cannabis industry as Yelp is to restaurants. Weedmaps is a directory for dispensaries and delivery services. There's no social aspect, but it does provide access to an impressive amount of information about each listing you find on their site. You can read reviews from other users who have tried the product or service, read up on a dispensary's hours and location, look at their menu of products available for sale as well as prices.
Weedmaps is available on the App Store or Google Play for iOS/Android devices. It has over 500,000 global visitors per month, with app downloads exceeding five million worldwide.
Jane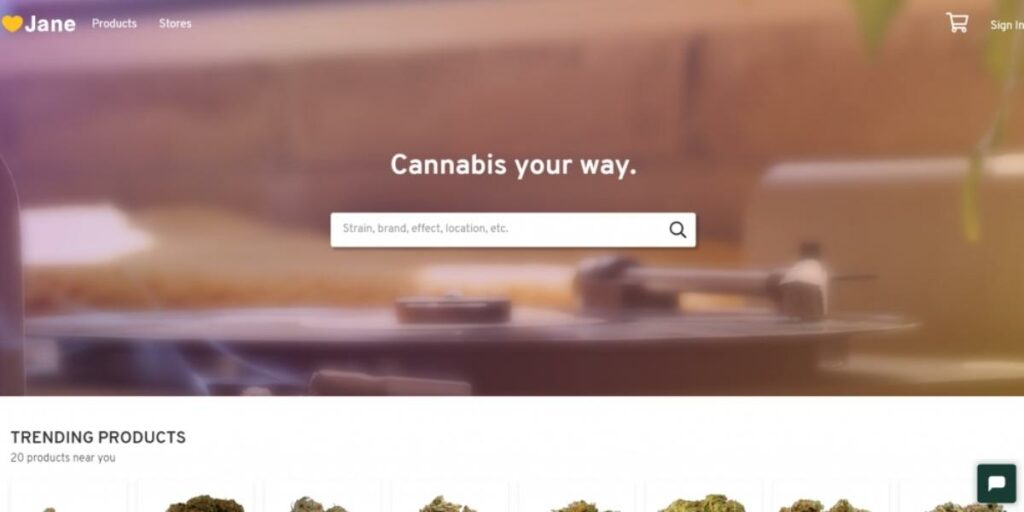 Jane is the most recognized cannabis lifestyle brand in Canada, and IHEARTJane.com's content reflects its mission to promote wellness through cannabis. Among other things, the brand features health-related articles from a team of medical experts, interviews with influencers about their experiences with marijuana use for mental and physical well-being, recipes for cannabis-infused dishes, and a cannabis product directory.
This is an example of a content marketing strategy that targets marijuana users with information about the medical benefits of cannabis products to increase sales.
Jane does it by looking at three aspects: their diverse articles, interviews with influencers, and recipes for cannabis-infused dishes.
Allbud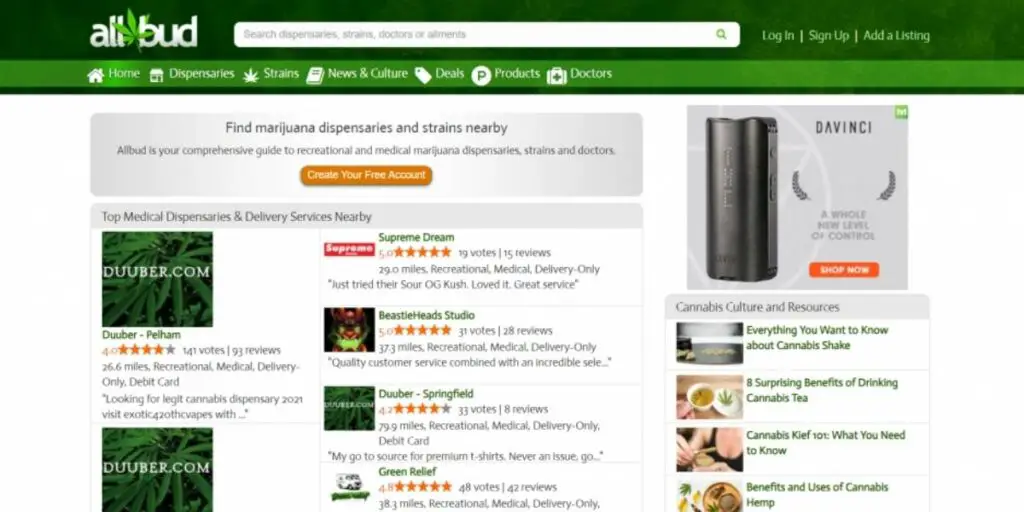 Allbud is a cannabis business social network for medical marijuana patients, doctors, businesses, and investors to connect. The site has forums with discussions on the latest research on cannabis products and how to get your doctor's support. In addition, it offers tools like searchable databases of licensed marijuana dispensaries near you by state or city. You can also post ads for products or services.
You'll find a specific community of cannabis users with whom you share interests. If your posts are informative enough, you could even make some money by getting sponsorships from other Allbud members' businesses.
PotGuide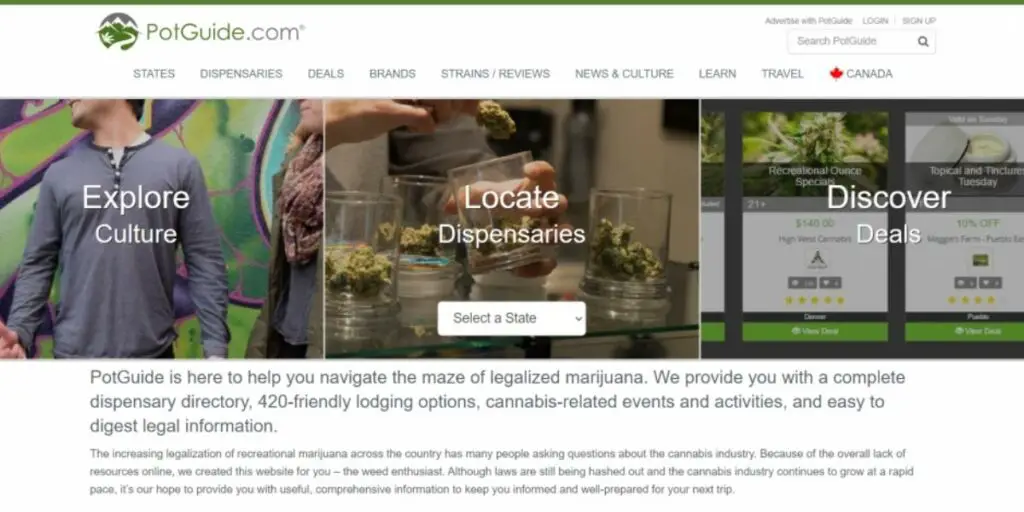 PotGuide, the cannabis lifestyle and business site for professionals. They serve as a valuable resource to those interested in exploring all facets of this emerging industry while providing news updates, articles on legal issues, career opportunities, events listings, and more.
Founded in 2013 by three longtime friends with ties to the cannabis community from their years living in medical states, PotGuide is an authority on the industry and committed to publishing high-quality content that educates readers.
Wikileaf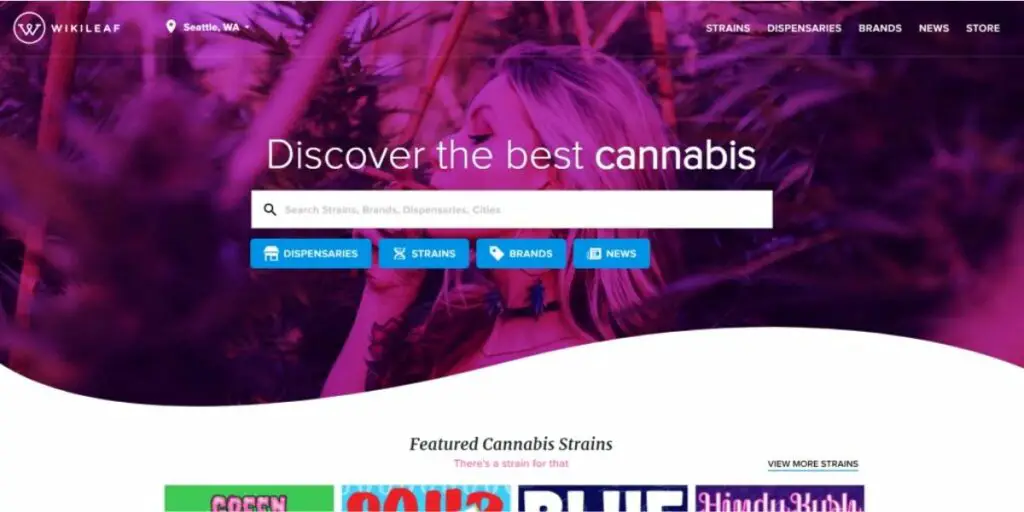 Wikileaf is a cannabis business social network that can also be used as an online marketplace. The Wikileaf website provides users with resources and tools to meet the needs of novice, intermediate, or expert growers.
The site offers access for members on plant science, cultivation techniques, legal assistance advice from attorneys in their network, and cannabis culture. The site also provides information on how to grow your weed or where you can buy marijuana locally.
Business Solutions
Dispensary Solutions
Online Solutions
Support Services
Cannabis Industry News.
Sponsor Content
Advertise on Wikileaf
High Times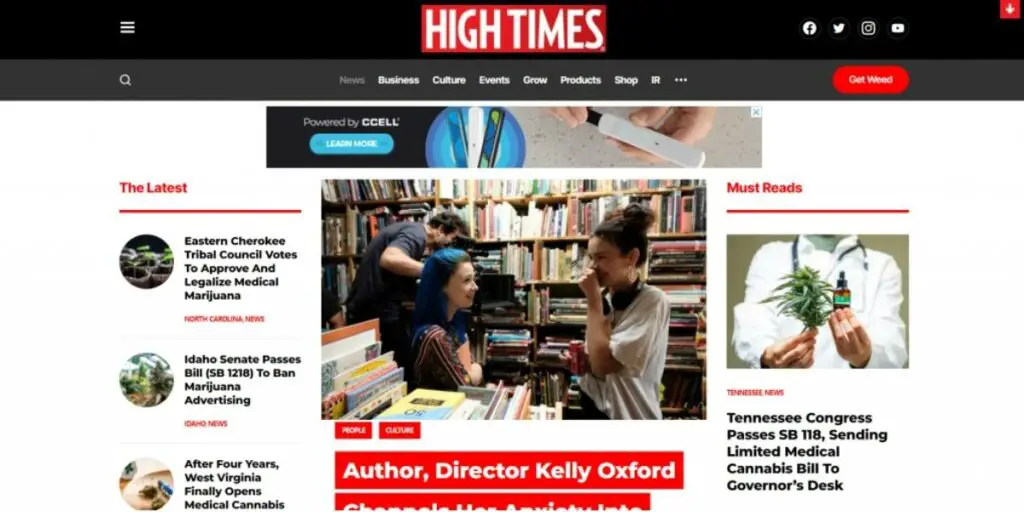 High Times is a cannabis business social media network built specifically for the cannabis industry, focusing on connecting people worldwide who work in or are interested in this space. Members can share content and be rewarded for their quality contributions to conversations.
They are one of the most popular sites in the United States and have a Facebook following of more than 5M people. They also have an active Twitter presence with over 700K followers, a well-run Instagram page (around 2.6M followers), and a YouTube channel viewed more than 15 million times.
This is a cannabis magazine that has been around for over four decades. Its experience in the industry shows them an excellent resource to connect with other business owners.
CannaSOS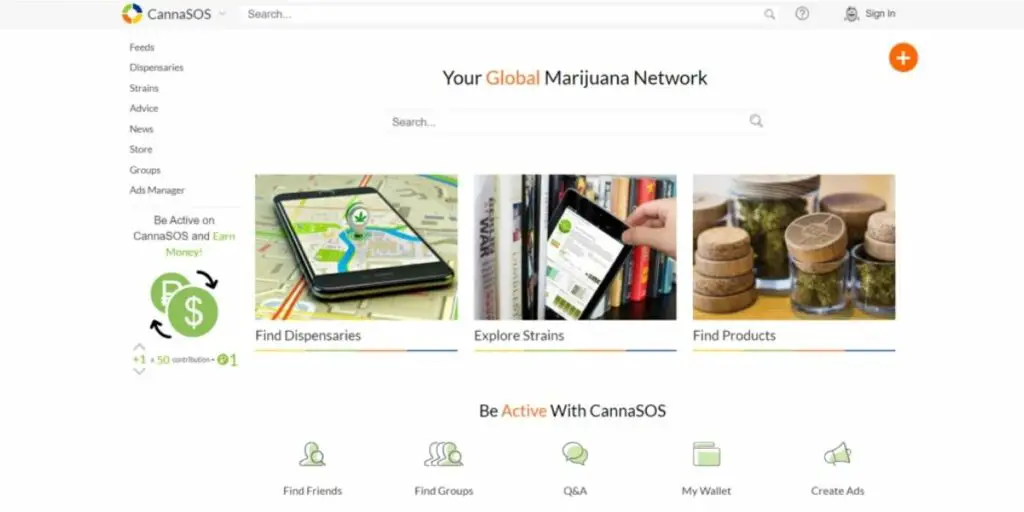 CannaSOS is a huge cannabis business social network with over 300K members. CannaSOS is a cannabis-themed social network with forums, live chat rooms, and many other features.
This platform is excellent for those people looking to mingle with cannabis users and businesses.
The CannaSOS platform is also great for businesses to market their products and services. There are numerous free ways to advertise your cannabis-related business on the site, including creating a profile page with photos of your product or service offerings, posting in forums, advertising banners (with links), contests, and more.
Grasscity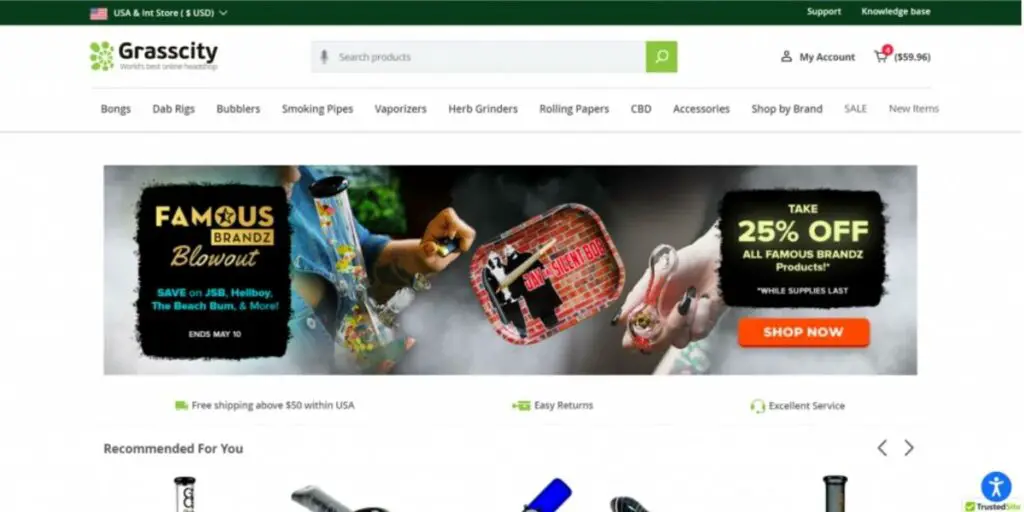 The Grasscity forum is one of the oldest social media platforms for cannabis users and businesses. Initially launched in 2000, the forum is one of the first internet cannabis communities. The site also has a dedicated marketplace for buying and selling marijuana products or services with bitcoin payments supported.
Initially, it began as an online marijuana forum for marijuana growers. It is now one of the most active cannabis websites on the internet, with over 1.5M visitors each month.
The forum functions as a platform for information sharing among cannabis users and businesses. In addition, it is a place where the user can chat with other cannabis enthusiasts to discuss ideas, knowledge, and experience to grow together.
In short: The Grasscity forum functions as a platform for information sharing among cannabis users and businesses who gather there to discuss ideas, share knowledge, and experience to grow together.
Leaf Wire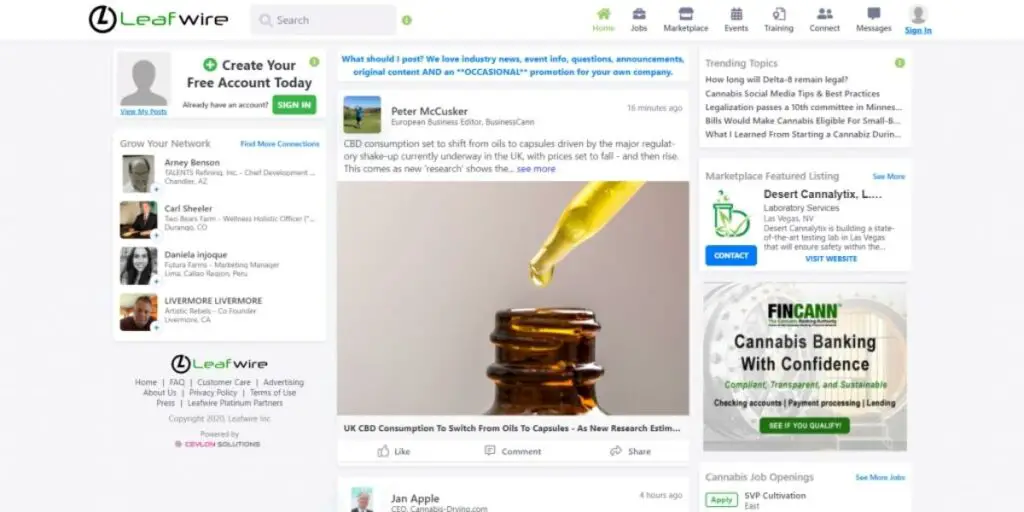 Leaf Wire is a cannabis business social network that lets you post articles, images, or texts. It also has features such as live streaming and podcasts. You can share content with your different groups of friends on the platform to grow your audience and take it to another level.
LeafWire has a blog to share or publish articles, images, live streams, and podcasts. In addition, you'll be able to create groups of friends with similar interests on the platform for them to engage better with your content.
It also has a live streaming feature for you to share with friends who don't have time to read what you wrote.
The platform also features podcasts that help market cannabis businesses as well.
Mjlink
Mjlink is a cannabis social network and forum for people who love weed." The site's mission statement is to create an open, engaging community that brings together all facets of the marijuana industry. (Source: Mjlink)
This niche platform offers photo albums, forums, YouTube video live streams, and marketplace features.
MJLink is a cannabis business social network that provides users with an opportunity to connect and grow their businesses through networking, information sharing, advertising, and promotion opportunities.
GrowWeedEasy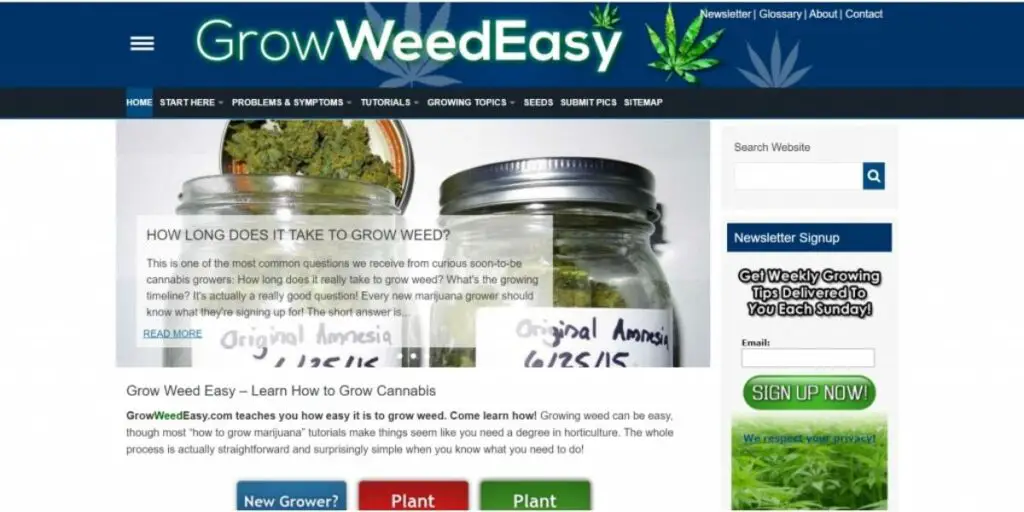 Growing weed can be easy, though some marijuana grows tutorials make it seem like you need to be a scientist with years of experience.
Visit Grow Weed Easy to have accessed an online grower's journal that dispenses advice in plain English, marijuana forum community, and cannabis forums.
The site offers information on strains, growing techniques for hydroponic and soil gardens, clones or seeds, pest control products, fertilizers, etc., all without the jargon.
WeedLife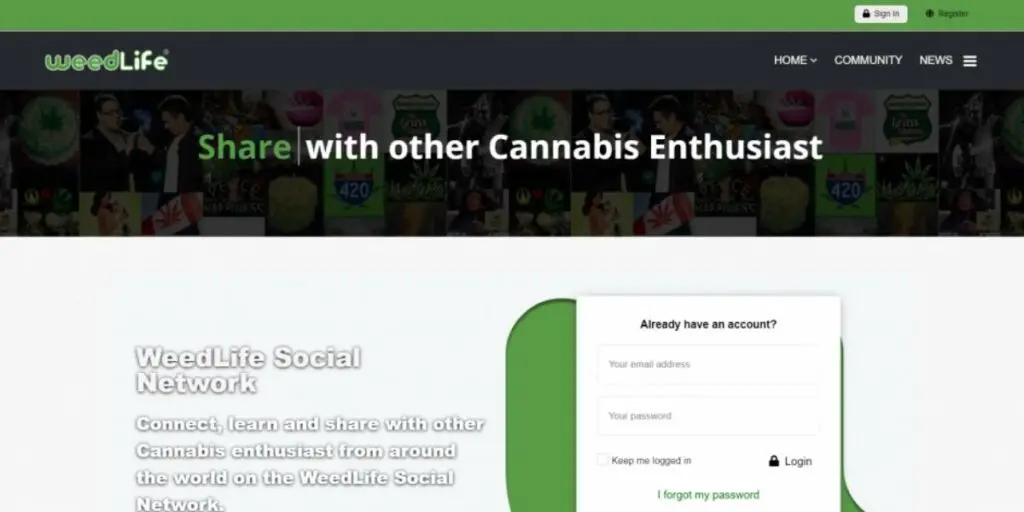 Weedmaps is a cannabis business social network that caters to medical and recreational marijuana users, cultivators, dispensaries, and industry professionals.
This is a cannabis-centric social media for the weed community. You can find industry professionals, medical marijuana patients, and caregivers on WeedLife to network with. It also has event listings from all over the world that you can attend to meet new people in your niche.
It is a cannabis forum with public and private groups to collaborate, network, and promote their business.
WeedLife is a swiftly growing cannabis social media network, with over 200k registered users in more than 120 countries. WeedLife is constantly adding new features to its system to assist businesses wanting to boost brand recognition and revenue by providing social media marketing capabilities.
The platform offers an exclusive realm for industry professionals to connect about pertinent issues related to the cannabis community.
LeafedOut
LeafedOut is a marketing platform for cannabis-related businesses' social networks that provides a suite of tools to grow your reach and promote events, products, or cannabis brands. In addition, this site is an excellent resource for cannabis enthusiasts and hobbyists. They have over 20K Facebook followers, so you should quickly find the information or people you're looking for!
LeafedOut.com is a cannabis business social network for people interested in the industry or looking to start their own business. It has different channels, like "Passionate People" and "Cannabis Jobs," where you can get involved with others sharing your interests.
You can also find work opportunities and job postings on the site to help you with your career goals or start your own company.
The site's beautifully designed pages make it easy for users of all kinds to find the information they need.
New Cannabis Ventures
New Cannabis Ventures is an online media company that reports everything related to the marijuana industry. A lot of their content is about investing, legalization, new market opportunities, entrepreneurs, and anyone interested in the business of marijuana.
Visit New Cannabis Ventures.com for the latest news on:
Deals, Acquisitions, and Fundraising in the cannabis industry
Regulations affecting marijuana businesses
Trends that are shaping a burgeoning new market with unprecedented growth potential
Potnetwork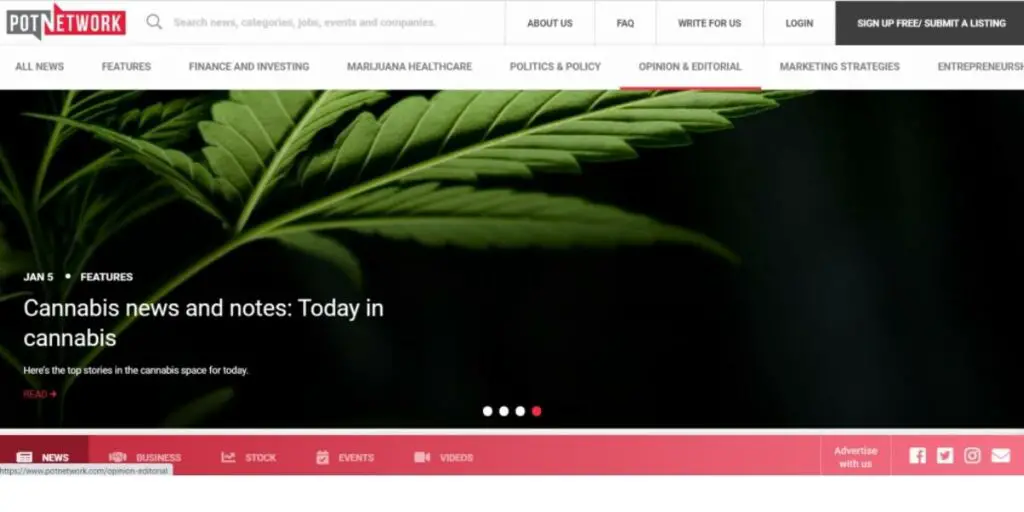 Potnetwork is a cannabis business social network for all things marijuana. Has been at the forefront of cannabis marketing. The company offers sponsored posts where businesses can purchase ads that will be seen by their followers and fans in other regions who have expressed an interest in marijuana culture.
PotNetwork is a place where cannabis professionals can share their expertise and experiences.
Professional cannabis job seekers also have a place to find new opportunities.
Bloggers, journalists, or anyone who wants to report on the latest developments in the industry are welcome as well.
PotNetwork is social media for all things cannabis!
Canna, Inc. Canna Group, Inc. (CGI)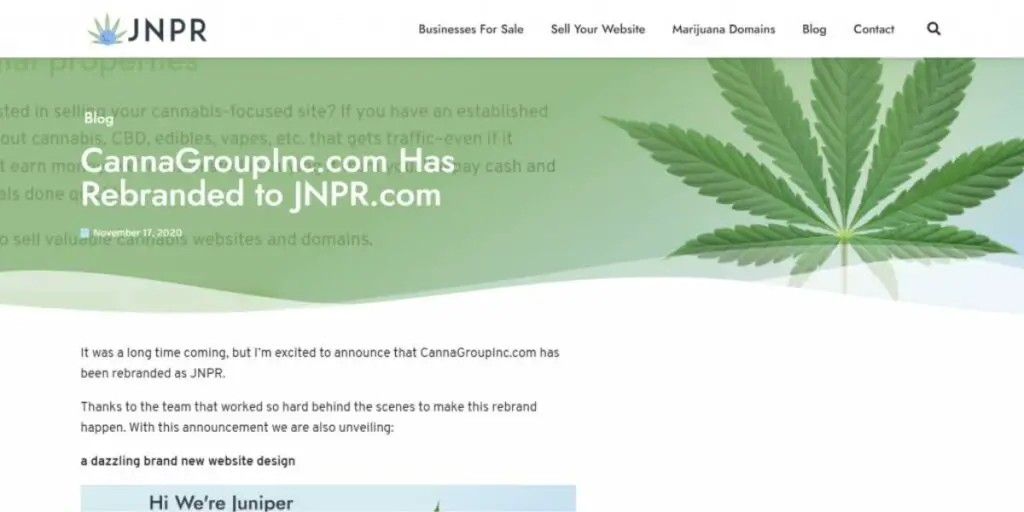 Canna, Inc. has been a "leader since 2008" in the quickly emerging regulated cannabis market. CGI has a knowledgeable, hands-on group skilled in seeking advice on business/project advancement, advertising and marketing, education/training, and financial investment chances for companies to succeed in all facets of the marijuana industry, including cultivation, production, and dispensaries.
Marijuana Business Daily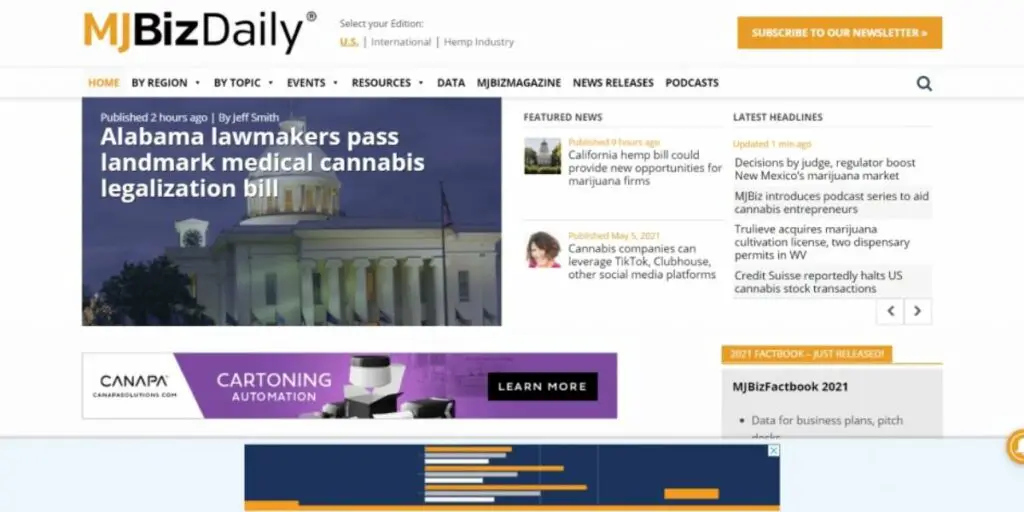 Marijuana Business Daily – this site has a blog that is a leading source of financial, legal, and other business news for the cannabis industry. Marijuana Business Daily is the most trusted professional publication covering the legal cannabis industry in the US.
Cannabuzz
Cannabuzz: This site is all about marijuana; you can find medical or recreational dispensaries and search through the help forums for all your cannabis-related questions.
Conclusion
If you're a cannabis business, it might seem like there is no way to share your products or services on social media. That couldn't be further from the truth! We know how frustrating it can feel when these limitations and restrictions keep popping up in different areas of digital marketing. With our help, we will show you that these obstacles are not insurmountable and provide some tips for getting around them.
We also want to remind everyone who reads this blog post – please subscribe and follow us on social media to chat with you more about what we do and answer any questions you may have about PR campaigns or other aspects of digital marketing strategy.
Related: Digital Marketing
FAQs (Frequently Asked Questions)
What is a Cannabis Business Social Networks?
Cannabis Business Social Networks is a type of social media platform that is dedicated to the cannabis industry. They allow professionals in the cannabis industry to share their skills, connect with other users, and stay up-to-date on information related to their field.
What is their role in the cannabis industry?
With this rapid growth, many different roles have emerged to support all levels of cannabis growers. These include medical professionals, budtenders/dispensaries, cultivators, processors, and distributors. With this increase in demand for these various roles within the cannabis industry comes a need for more qualified individuals to take on these opportunities.
Cannabis is one of the fastest-growing industries globally, and that is why more and more social networks are popping up every day. The cannabis industry is undergoing a rapid transformation, and it can be challenging to keep up with all the new trends, information, and jobs in this ever-changing market. The social network is a vital marketing tool for cannabis businesses. It can help you connect with your audience and allow you to spread your brand's message.