Disclaimer: We sometimes use affiliate links in our content. For more information, visit our Disclaimer Page. 
Serial entrepreneurs are always looking for ways to improve themselves and their businesses while maintaining an upbeat attitude about life in general. This blog post is a compilation of the best tips I've learned over the years that have helped me grow my business. These lessons come from both successes and failures, but they all share one thing in common – they're things that I wish someone had told me when I first started on this journey.
The following list includes some of the most important lessons that every entrepreneur should know before starting their own company. It's not exhaustive by any means, but it does include many of the basics as well as more advanced concepts that you'll need to master if you want your business to thrive long-term.
If you're thinking about starting your own company or want to learn how to be a better leader at work, these tips can help guide you through what might otherwise seem like uncharted territory.
Read on for some valuable insights into entrepreneurship!
What is Serial Entrepreneurship?
A serial entrepreneur is an entrepreneur who continually comes up with new ideas and starts new businesses. As opposed to a normal entrepreneur, who will usually come up with a single idea, begin the business, then see it through and play an important role in the day-to-day functioning of said company.
The term "serial entrepreneur" is not usual in business circles, but some individuals are made for that kind of practice.
A certain type of person does well with serial entrepreneurship because it allows you to constantly learn new skills and gauge your success through tangible results. In addition, serial entrepreneurs often thrive on the thrill of being their own boss and building something from nothing.
Some signs to know if you might be a serial entrepreneur include being creative and having an intrinsic need to create new things. Serial entrepreneurs typically have high levels of drive as well– they're the type who can't sit still or do one idea for too long.
As far as time and money management go, serial entrepreneurs, are typically good at budgeting their funds to ensure they have enough capital set aside for the next venture– or ventures. They're also good at making sacrifices when giving up other activities to complete a project that seems promising.
Are you a serial entrepreneur? I'm not talking about the kind of entrepreneur who has one idea, starts that company, and then turns it over to someone else. No, I'm talking about an entrepreneur who continuously comes up with new ideas and starts new businesses. If this sounds like you, then maybe you should consider becoming a serial entrepreneur! This blog post will discuss 10 reasons why being a serial entrepreneur is perfect for your personality type!
What are some Benefits of Being a Serial Entrepreneur?
For one, it often allows for the opportunity to learn from past mistakes and successes. It also provides opportunities to change your profession or direction as needed; such changes can be a welcome relief in times when you're feeling stale with what you do day-to-day.
It's an opportunity for entrepreneurs to get a fresh start and build on their past successes in different industries or even within the same industry. Many benefits come with serial entrepreneurship, such as gaining business experience through trial and error; building up goodwill among your customers due to successful ventures from before (which can lead to more opportunities);
Serial entrepreneurs have more than one company to manage, which is both difficult and complex. However, there may be some advantages that come with this type of lifestyle:
You get better at multitasking because you're constantly juggling different issues in various industries.
You can accumulate experience from your successes or failures throughout all of your companies and use it for future projects' success rates. Working on multiple ventures also makes sure you don't end up putting too much work into just one thing when others might need attention instead (which could lead to burnout). This way if something doesn't go well elsewhere, then maybe another venture will pick up where things left off!
Why Serial Entrepreneurship is for You
In the modern world, it is not enough to find a job and settle down. Instead, our society values people with diverse skillsets with many different types of experience from which they can solve problems or explore new avenues for growth. For those that meet this description, serial entrepreneurship may be right up your alley! Serial entrepreneurship is perfect for You if:
You are continually coming up with new ideas and want to pursue them all at the same time.
You like trying your hand in different business areas, including finance, marketing, human resources, or operations.
You don't need the security of an established business and enjoy being your own boss.
You work best when there is a clear, attainable goal in front of you.
You want to take risks.
The idea of working for someone else doesn't appeal to you
You love being in the driver's seat
You appreciate a challenge and are willing to go through some tough times for major rewards.
You're willing to fight for what you want, knowing that it might not be given easily.
You have a relentless work ethic, knowing that even if you don't ever feel like work, at least there's always more of the day left when you wake up tomorrow. And with this kind of attitude, you'll always find something to do.
The downside to serial entrepreneurship is that it can be difficult. It takes an unusual person with plenty of drive, stamina, perseverance, and talent.
But if you're one of the people who can handle it, serial entrepreneurship is perfect for you.
Ways to Transform Your Life With Serial Entrepreneurship
The American Dream is changing. Today, the average person experiences a career change once every six years, but it's possible to have ten or more different careers in your lifetime with serial entrepreneurship. Here are ways you can reinvent yourself and make an even bigger impact on society than ever before:
Change Your Mindset and Forget About the 9 to 5 Job
If you have ever dreamed of a career in entrepreneurship, it is time for the 9 to 5 scene to find its replacement. For those with an entrepreneurial spirit and want-to-be serial entrepreneurs, they will need three things: mindset shift away from traditional jobs; determination and willingness not only to work hard but also keep going no matter what obstacles come along their way; and lastly, experience as it can be found through previous business ventures or projects that require one's skillset whether these are done individually or collaboratively.
Steps That Will Help You Become a Serial Entrepreneur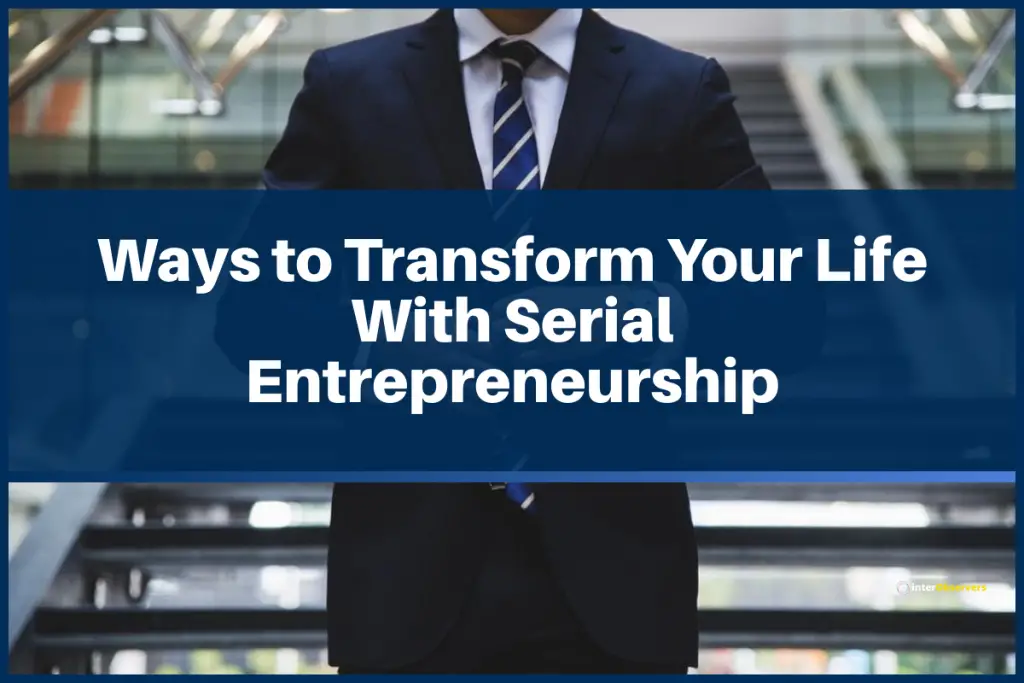 Work on your self-identity.
Evaluate what you're good at and find an opportunity connected to it.
Find/create projects that motivate you, align with your values.
Explore out new opportunities, even if they seem scary.
Take a course or two. Online courses like Udemy offer an easy way to learn.
Network with other entrepreneurs, ask them for advice and be open to their feedback.
See how the experts do it: watch documentaries about famous entrepreneurs and listen carefully.
Create a personal brand for yourself that stands out from the competition.
Learn how to use social media more effectively; it's not just for networking!
Establish a support system of mentors, partners.
Before you know what's happening, you'll have your own business.
Related: Create a Great Management Team for Your Business
Tips for Entering a New Industry
It takes a lot of hard work and dedication to break into new industries, but it can be done! To start on the right foot with your own business, make sure you have these tips in mind:
Get educated about what is involved. Being prepared will help ensure success when breaking into this industry or starting up your own company.
Establish connections before entering an unfamiliar territory that could provide valuable insight for long term growth opportunities based on networking skills alone.
Stay committed even if setbacks happen
Understanding the differences between your new industry and what you are used to.
Taking time out of your day for strategic planning.
Being really clear on who you are and what your goals are.
Network, network, and network some more! You never know when somebody might be able to help you out.
And most importantly, realize the risks. Make sure not to invest too much of your time and money.
Related Article: Self-Management is the Best Tool for Success
Conclusion
I hope you found this article useful and that it helped you gain a little insight into the mind of someone who is constantly looking for new ways to improve their business. If so, we'd love for you to subscribe below to get future blog posts delivered straight to your inbox. We also invite you to follow us on social media @interobservers, post articles related to entrepreneurship weekly! Thanks so much for reading today!