Disclaimer: We sometimes use affiliate links in our content. For more information, visit our Disclaimer Page. 
Welcome to our comprehensive guide on best practices for managing a call center. Call centers often serve as the face of companies, acting as a frontline for customer service and sales interactions. Therefore, ensuring efficient operations, high-quality customer service, and maintaining a positive work culture for agents is essential.
This article provides expert tips and strategies to optimize your call center's performance, enhance customer experiences, and overcome common challenges.
Key Takeaways:
Implementing best practices in call center management is crucial for efficient operations and excellent customer service.
Effective call center management requires clear communication, effective leadership, and setting performance goals.
Strategies for enhancing call center performance include implementing performance metrics, regular evaluations, and providing feedback and recognition to agents.
Optimizing call center operations requires efficient workforce management, forecasting call volumes, and utilizing technology solutions to streamline processes.
Customer service excellence in call centers requires effective communication skills, empathy, and problem-solving abilities.
Harnessing call center technology solutions can improve efficiency, customer satisfaction, and agent productivity.
Call center analytics are essential in evaluating performance, tracking key metrics, and identifying areas for improvement.
Ongoing training and development for call center agents and managers are crucial for enhancing skills and overall performance.
Effective call center workforce management requires hiring talent, creating a positive work culture, and providing appropriate incentives.
Embracing a culture of continuous improvement is necessary for call center management, including conducting regular assessments, soliciting feedback, and implementing process enhancements.
Common challenges call center managers face include high agent turnover, handling difficult customers, and maintaining service level agreements.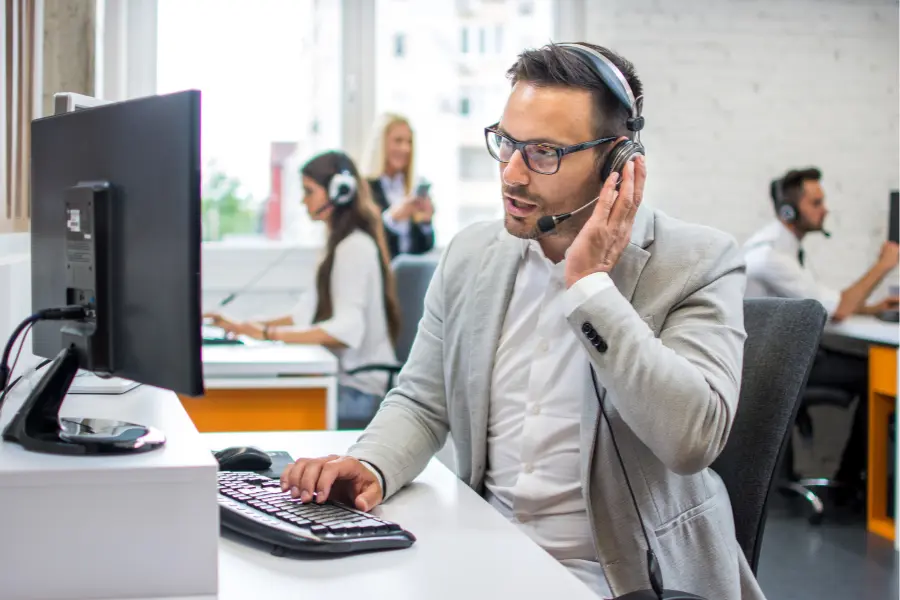 Understanding Call Center Management
Effective call center management involves a range of key considerations that can impact your team's performance and your business's overall success. One of the most important aspects is strong leadership that sets clear goals, fosters open communication, and motivates agents to deliver exceptional customer service.
Regarding call center management tips, one key strategy is establishing performance metrics that help you track progress and identify areas for improvement. This includes average handling time, first-call resolution, and customer satisfaction ratings.
| Metrics | Description |
| --- | --- |
| Average handling time | The average amount of time it takes agents to handle a call or contact. |
| First call resolution | The percentage of calls or contacts that are resolved on the first attempt. |
| Customer satisfaction ratings | The level of satisfaction reported by customers in post-contact surveys or feedback. |
Clear communication is also a crucial component of call center management. This includes providing regular feedback and recognition to agents and setting expectations for their performance and behavior. To maintain high quality and consistency, managers should prioritize ongoing training and development opportunities for their team.
Effective Call Center Leadership
Effective call center leadership ensures that all operations are functioning smoothly. This involves providing clear direction, setting expectations, and developing a culture prioritizing communication, collaboration, and accountability. Strong leaders also take an active role in identifying areas for improvement and implementing new strategies to optimize performance and achieve key objectives.
To establish a strong leadership foundation, hiring the right talent and providing comprehensive training that equips them with the skills and knowledge they need to succeed is important. Ongoing coaching, mentorship, and professional development opportunities can also ensure that your team is constantly improving and evolving to meet the changing demands of your business.
Ultimately, call center management requires a commitment to continuous improvement and a willingness to try new strategies and techniques to achieve your goals. With the right leadership, communication, and performance metrics in place, you can build an effective call center that delivers exceptional customer service and supports the success of your business.
Enhancing Call Center Performance
Effective call center performance is critical to delivering top-notch customer service and improving business outcomes. Here are some expert tips on enhancing call center performance:
Implement Performance Metrics
Tracking performance metrics is essential in improving call center performance. Consider measuring the number of calls answered within a set timeframe, average handle time, and first-call resolution rate. Performance metrics provide agents with clear performance expectations and help managers identify areas for improvement.
| Metric | Description |
| --- | --- |
| Number of calls answered | The total number of calls answered by agents within a set timeframe |
| Average handle time | The average amount of time spent on a call, including hold time and after-call work |
| First-call resolution rate | The percentage of customer issues resolved on the first call |
Conduct Regular Evaluations
Regular evaluations of call center operations and individual agent performance can help identify areas for improvement. Conduct customer satisfaction surveys and monitoring calls to ensure agents adhere to best practices and company policies.
Provide Feedback and Recognition
Providing regular feedback and recognition to agents can boost morale and enhance performance. Consider implementing a rewards program to recognize top-performing agents, provide constructive feedback on areas for improvement, and hold regular team meetings to discuss performance and other issues.
Call centers can optimize performance and deliver exceptional customer service experiences by implementing these strategies and continually seeking improvement.
Optimizing Call Center Operations
Call center managers must optimize operations to provide the best customer service possible. By doing so, they can improve efficiency, reduce wait times, and increase agent satisfaction. Here are some key strategies for optimizing your call center:
| Strategy | Description |
| --- | --- |
| Workforce Management | Efficient workforce management involves hiring the right employees, scheduling shifts appropriately, and maintaining a motivated team. By doing so, managers can ensure that the right number of agents are available to handle incoming calls, leading to shorter wait times and higher customer satisfaction. |
| Forecasting Call Volumes | By analyzing historical data, managers can accurately forecast call volumes for different times of the day, week, or year. This makes it easier to staff appropriately, reducing wait times and improving customer service. |
| Using Technology Solutions | Call center managers can leverage technology solutions such as CRM systems, call routing software, and automated chatbots to streamline processes and improve efficiency. |
Workload balancing is one of the most important aspects of optimizing call center operations. By distributing call volume evenly among agents, managers can avoid long wait times and ensure that customers receive prompt attention. Technology solutions can also help reduce call handling times and improve first-call resolution rates.
Optimizing call center operations is essential for delivering excellent customer service and achieving high agent satisfaction. By implementing these strategies, managers can ensure that their call centers run smoothly and efficiently, resulting in happier customers and employees.
Customer Service Excellence in Call Centers
Providing excellent customer service is crucial in call center management. Agents who possess effective communication skills, empathy, and problem-solving abilities can make all the difference in creating a positive customer experience.
The first step in achieving customer service excellence is hiring the right people. Look for candidates with the necessary skills and a genuine desire to help others. Once you have a strong team, the next step is to provide them with comprehensive training programs. These programs should include guidance on effective communication, active listening, and conflict resolution.
Empathy is another critical factor in delivering excellent service. Agents should be trained to put themselves in the customer's shoes and understand their perspective. They should also be able to express empathy verbally and non-verbally, using positive language and a caring tone.
Problem-solving skills are also essential to providing excellent customer service. Agents should be able to think on their feet and resolve issues quickly and efficiently. This might involve gathering additional information, offering alternatives, or escalating the issue to a supervisor.
Regular feedback and coaching are also crucial for maintaining high levels of customer service. Managers should give agents constructive feedback on their performance and identify areas where they can improve. They should also offer incentives and recognition for outstanding performance to motivate agents.
Harnessing Call Center Technology Solutions
Call center technology solutions have transformed how businesses operate in today's digital age. Call centers can improve efficiency, customer satisfaction, and agent productivity by leveraging the right tools. Let's take a closer look at some of the top technology solutions available:
Customer Relationship Management (CRM) Systems
A CRM system is a software application that helps businesses manage customer interactions and data. Call center agents can access customer information and history in real-time by utilizing a CRM system, allowing for more personalized interactions. This can lead to a better customer experience and increased loyalty.
Call Routing Software
Call routing software directs incoming calls to the most appropriate agent. Using intelligent routing algorithms, calls are directed to agents based on their skills, availability, and workload. This helps to ensure that customers are connected with the right agent quickly, resulting in shorter wait times and more efficient call resolution.
Automated Chatbots
Chatbots are computer programs that use artificial intelligence to simulate conversations with humans. Call centers can handle routine inquiries and common issues by implementing chatbots without agent intervention. This frees agents to handle more complex tasks while providing customers with quick and efficient solutions.
By harnessing these call center technology solutions, businesses can enhance their operations and improve the overall customer experience.
Utilizing Call Center Analytics
Call center analytics are essential for evaluating performance and identifying areas for improvement. Managers can make data-driven decisions and optimize their call center operations by tracking key metrics. There are various types of analytics tools available, including:
Call volume
Call resolution time
Customer satisfaction
First-call resolution rate
Agent productivity
Call center managers can identify trends and patterns by monitoring these metrics and adjust their operations accordingly. For example, managers can schedule more agents to handle those calls if call volume is consistently high during specific hours. Likewise, if agents struggle to resolve customer issues during calls, managers can evaluate their performance and provide additional training.
It's important for call center managers to regularly review analytics data and use it to inform their decision-making. By analyzing this data, managers can continuously improve their operations and enhance overall performance.
Investing in Call Center Training and Development
One of the most important factors in managing a successful call center is investing in a comprehensive training and development program for your agents and managers. Ongoing training and coaching can improve performance, increase job satisfaction, and reduce turnover rates.
Training programs should cover a range of skills, including effective communication, problem-solving, and product knowledge. It's important to provide training opportunities for new and existing employees and coaching and mentorship programs for agent development.
Managers should also receive leadership, conflict resolution, and performance management training. They should be equipped with the skills to provide feedback, recognition, and support to their agents, fostering a positive work culture.
Investing in training and development benefits your call center team and can positively affect customer satisfaction and overall business performance. Well-trained agents are better equipped to handle complex customer issues and provide exceptional service, leading to increased customer loyalty and retention.
Effective Call Center Workforce Management
Managing a call center workforce is no easy feat. It requires careful planning and execution to ensure the team is motivated, productive and delivers excellent customer service. Here are some expert tips for effective call center workforce management.
Hiring the Right Talent
Hiring the right talent is one of the most critical steps in managing a call center workforce. Look for candidates with excellent communication and problem-solving skills, a positive attitude, and a willingness to learn and grow. Conduct thorough interviews and assessments to ensure that you select candidates who fit the role and the company culture well.
Creating a Positive Work Culture
A positive work culture is essential for maintaining a motivated and engaged team. Encourage open communication, provide opportunities for professional development, and recognize and reward exceptional performance. Also, ensure that the workplace is safe, comfortable, and well-equipped to handle the job demands.
Providing Appropriate Incentives
Offering appropriate incentives is an effective way to keep your call center agents motivated and productive. Consider implementing performance-based bonuses, career development opportunities, and flexible work schedules. Moreover, ensure that your incentive programs are fair, transparent, and aligned with the company's goals.
Workforce Planning
Effective workforce planning is critical to ensure your call center has the right number of agents at the right time. Analyze call volume data and historical trends to forecast staffing needs accurately. Also, consider using workforce management software to automate scheduling and forecasting, saving time and resources.
Maintaining a Motivated Team
Finally, maintaining a motivated team is crucial for call center success. Provide regular feedback and coaching, recognize and appreciate excellent performance, and encourage a culture of continuous learning and improvement. Moreover, ensure that your team has access to the training, resources, and tools they need to excel in their roles.
Ensuring Continuous Improvement
Continuous improvement is an essential component of successful call center management. Call centers can improve their efficiency, effectiveness, and service level by actively seeking customer and agent feedback, regularly assessing performance, and implementing process enhancements.
An effective way to gather feedback from customers is through post-interaction surveys. These surveys allow customers to voice their opinions about their experience with the call center, including the quality of service they received. Call centers can use this data to identify areas for improvement and make necessary changes.
Similarly, conducting regular performance assessments of agents can help to identify training needs and areas for improvement. Managers can analyze agent performance metrics, such as call handling time and customer satisfaction ratings, to identify trends and implement targeted coaching and training programs.
Key Data Points for Call Center Analytics
| Data Point | Description |
| --- | --- |
| Service level | The percentage of calls answered within a certain timeframe. |
| Handle time | The average time agents spend on each call. |
| First call resolution | The percentage of calls resolved on the first attempt. |
| Customer satisfaction | The percentage of customers who rate their experience positively. |
Finally, call centers must be willing to implement process enhancements to optimize efficiency and service quality. This may involve implementing new technology solutions, changing call routing strategies, or adjusting workforce management practices. By continually seeking to improve call center operations, managers can ensure that they provide the best possible service to customers and achieve optimal results for their business.
Overcoming Common Challenges
Call center management can be a challenging role, and there are common issues that managers face regularly. However, these challenges can be overcome with the right strategies and mindset. Here are some of the most common challenges in call center management and ways to tackle them:
High Agent Turnover
Agent turnover is a challenge that most call centers face. It can be expensive to recruit and train new agents continuously, and it can cause disruptions in customer service. To overcome this challenge, managers must create a positive work culture that rewards performance. Providing opportunities for career growth and offering regular feedback and training can also help to retain agents.
Handling Difficult Customers
Dealing with angry or difficult customers can be stressful for agents, impacting overall morale in the call center. Providing agents with the necessary training and resources to handle difficult situations can help mitigate unpleasant interaction effects. Managers can also encourage agents to take breaks and practice self-care after difficult calls.
Maintaining Service Level Agreements
Meeting service level agreements (SLAs) can be challenging in a call center environment, where call volumes fluctuate greatly. Managers need to plan and forecast call volumes to meet SLAs. This can help ensure enough agents are available to handle the incoming calls.
By addressing these common challenges head-on, call center managers can create a more productive and positive work environment that delivers excellent customer service.
Conclusion
Managing a call center can be challenging, but managers can optimize operations and improve overall performance by implementing best practices and strategies. From enhancing customer service to utilizing technology solutions and investing in workforce development, every aspect of call center management requires attention and continuous improvement.
By embracing a continuous improvement and innovation culture, call center managers can overcome common challenges and ensure they provide their customers with the best possible service. Remember to always invest in your agents and leadership, adopt new technologies, and track call center metrics to stay on top of your performance.
To take your call center to the next level, implement these expert tips and strategies and always strive to provide excellent customer service. You can transform your call center into a highly efficient and productive operation with the right mindset and approach.
FAQs
What are the best practices for call center customer service?
Hiring and training the best employees.
Assigning specific roles to employees based on their strengths.
Knowing and adhering to relevant laws in your area.
Implementing clear and efficient communication strategies.
Monitoring and measuring key performance indicators (KPIs) regularly.
Providing ongoing training and support for agents.
What makes a good call center manager?
Strong leadership skills to guide and motivate the team.
Excellent communication and interpersonal skills.
Problem-solving ability to address challenges promptly.
Effective decision-making skills for quick and informed choices.
Empathy and understanding towards both customers and agents.
The ability to adapt to changing situations and implement new strategies.
What is managing a call center?
Managing a call center involves overseeing and coordinating various aspects to ensure smooth operations and exceptional customer service. This includes hiring and training employees, assigning roles, monitoring performance, setting goals, optimizing processes, handling customer interactions, and continuously improving the center's efficiency and effectiveness.
What makes a successful call center?
Well-trained and motivated agents who provide exceptional customer service.
Efficient call routing and response systems.
Clear and effective communication both internally and with customers.
Regular monitoring of key performance indicators to assess performance.
Flexibility to adapt to changing customer needs and technological advancements.
Implementation of best practices to enhance customer satisfaction and agent productivity.
What are the three C's in a call center?
Communication: Effective communication between agents and customers, the team, and other departments.
Cooperation: Collaborative efforts among team members to ensure smooth operations and problem-solving.
Customer-Centric: Prioritizing customers' needs and satisfaction in all interactions and decision-making processes.