Disclaimer: We sometimes use affiliate links in our content. For more information, visit our Disclaimer Page. 
As a manager, your decision-making ability and leadership skills are critical to the success of your organization. You must have essential critical thinking skills to excel in your role. Critical thinking analyzes, evaluates, and interprets information to effectively make informed decisions and solve problems.
This article will explore critical thinking examples to be a better manager in management. We will explain how critical thinking can improve decision-making, problem-solving, and communication skills. We will also provide practical tips on developing your critical thinking skills as a manager and applying them in your role.
Key Takeaways
Critical thinking is an essential skill for effective management.
It involves analyzing, evaluating, and interpreting information to make informed decisions and solve problems effectively.
Critical thinking can improve decision-making, problem-solving, communication, and team management skills.
You can develop your critical thinking skills through practice, training, and engaging in exercises and activities.
Cultivating a culture of critical thinking within your team or organization can lead to better decision-making, innovation, and success.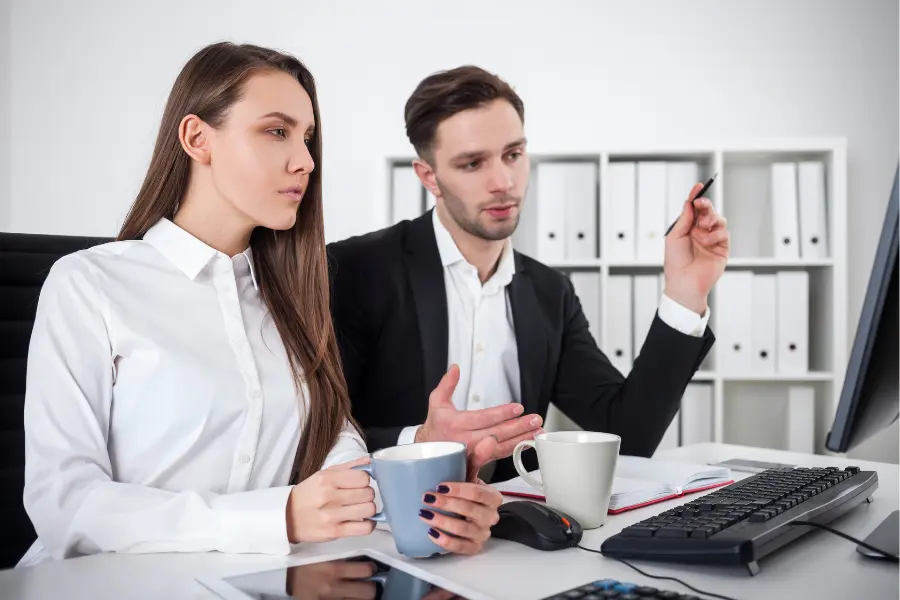 The Role of Critical Thinking in Management
As a manager, critical thinking is an essential tool for success. It enables you to analyze situations, make informed decisions, and adapt to an ever-changing business environment. Critical thinking in management involves evaluation, analysis, interpretation, and problem-solving skills.
With critical thinking, you can better understand complex issues and identify potential obstacles before they become major problems. Critical thinking also allows you to weigh risks and benefits, evaluate available data, and make decisions based on sound reasoning.
By incorporating critical thinking into your management style, you can improve your ability to lead your team and achieve your business objectives. Cultivating this skill is critical for managers who want to succeed in a fast-paced and competitive environment.
Developing Critical Thinking Skills as a Manager
Critical thinking is a skill and a habit that can be developed over time. Managers can enhance their critical thinking skills by practicing exercises, engaging in problem-solving activities, and seeking opportunities to develop their knowledge and expertise. Here are some practical tips to improve your critical thinking as a manager:
Tip
Description
1
Question assumptions
Challenge your assumptions and those of others. Ask questions to clarify ideas, identify biases, and uncover hidden meanings.
2
Analyze arguments
Examine the evidence, assess the logic, and evaluate the strengths and weaknesses of different arguments or perspectives.
3
Practice active listening
Listen attentively to what others say and how they express themselves. Pay attention to non-verbal cues, such as body language or tone of voice.
4
Read widely
Read books, articles, and reports from a variety of disciplines and perspectives. Seek out sources that challenge your views and expand your knowledge.
5
Use frameworks
Adopt a structured approach to problem-solving by using frameworks, models, or methods that provide a systematic way of analyzing complex issues.
6
Seek feedback
Ask for feedback from colleagues, mentors, or coaches. Identify areas of improvement and use them as opportunities to grow and develop.
7
Embrace uncertainty
Acknowledge the presence of ambiguity and uncertainty in complex situations. Avoid jumping to conclusions or making hasty decisions based on incomplete information.
8
Encourage diversity
Create a team environment that welcomes diverse perspectives and promotes creative thinking. Encourage your team members to challenge each other's ideas and assumptions.
By incorporating these tips into your daily routine, you can develop your critical thinking skills and become a more effective manager. Remember, critical thinking is not a one-time event but a continuous reflection, analysis, and improvement process.
Applying Critical Thinking in Decision Making
As a manager, you often make tough decisions that can significantly impact your team and organization. Critical thinking strategies can help you make informed choices and reduce the risk of negative outcomes.
One effective way to apply critical thinking in decision-making is to evaluate all available options and weigh the potential risks and benefits of each. This involves gathering information from various sources, analyzing the data, and considering the possible outcomes of each option.
| Critical Thinking Strategy | How It Helps in Decision Making |
| --- | --- |
| SWOT Analysis | Helps to identify strengths, weaknesses, opportunities, and threats of each option, aiding in the decision-making process. |
| Cause-and-Effect Analysis | Helps to identify root causes and potential consequences of each option, enabling informed decision-making. |
| Brainstorming | Allows for the generation of a wide range of creative solutions to a problem or decision, increasing the likelihood of finding the best possible option. |
Another critical thinking strategy for decision-making is to seek out different perspectives and consider alternative viewpoints. This approach can help to identify potential biases and mitigate the impact of those biases on the decision-making process.
Lastly, it is essential to consider the long-term implications of your decision. This involves considering the immediate consequences and how the decision may impact the organization in the future.
By using critical thinking strategies, you can make well-informed decisions that are more likely to lead to positive outcomes for your organization.
Problem-Solving Through Critical Thinking
Critical thinking is an essential tool for problem-solving in managerial roles. Using critical thinking, managers can identify the root cause of a problem, generate innovative solutions, and implement effective problem-solving strategies. Here are some examples of how critical thinking can be applied in problem-solving:
Identifying the root cause – When facing a problem, it's important to identify the underlying cause rather than just addressing the symptoms. Using critical thinking, managers can analyze the situation and ask targeted questions to determine what is causing the problem. This approach helps to ensure that the solution addresses the underlying issue and not just the surface-level symptoms.
Generating innovative solutions – Critical thinking can help managers generate creative solutions to problems. By approaching a problem from different angles, considering alternative viewpoints, and brainstorming various options, a manager can develop innovative solutions that may have been overlooked otherwise.
Implementing effective problem-solving strategies – Critical thinking can help managers decide which solution to implement. By evaluating the pros and cons of each option, considering potential risks, and selecting the most viable option, a manager can implement a solution that effectively addresses the problem.
By using critical thinking to solve problems, managers can help their teams overcome obstacles and succeed.
Critical Thinking for Effective Communication
Effective communication is a crucial aspect of managerial roles. It involves the transmission of ideas, thoughts, and opinions to team members, colleagues, and stakeholders, with clarity and precision. However, misunderstandings, misinterpretations, and assumptions often hinder communication, leading to confusion and conflicts.
Critical thinking can help managers enhance their communication skills by providing a well-structured framework for analyzing and articulating ideas. By asking questions, evaluating evidence, and considering multiple perspectives, critical thinking enables managers to convey their ideas with clarity and precision and to listen actively to others' viewpoints.
Here are some ways that critical thinking can improve communication skills:
Active Listening: Critical thinking involves actively listening to understand the speaker's perspective rather than just hearing their words. By listening actively, managers can better understand their team members' concerns, ideas, and suggestions.
Effective Questioning: This involves asking relevant, insightful questions encouraging discussion and dialogue. By asking open-ended questions, managers can engage their team members in deeper discussions and uncover new ideas and insights.
Clear Articulation of Ideas: Critical thinking involves organizing ideas logically and coherently. By structuring their ideas clearly and concisely, managers can better convey them and ensure their team members and stakeholders understand them.
By incorporating critical thinking into their communication approach, managers can become more effective communicators, better understand their team members' perspectives, and foster a culture of open dialogue and collaboration.
Critical Thinking in Team Management
Managers who employ critical thinking in team management are better equipped to foster collaboration, diversity of thought, and conflict resolution.
Critical thinking allows managers to:
Identify each team member's strengths and weaknesses and leverage them for maximum productivity
Encourage different perspectives, which can lead to innovative solutions and approaches
Effectively resolve conflicts that may arise between team members
Using critical thinking in team management, managers can build stronger teams that work together more effectively. This can increase productivity, higher quality work, and improved morale.
Critical Thinking and Ethical Decision Making
Critical thinking involves analyzing information, questioning assumptions, and evaluating evidence to make sound decisions. Critical thinking is particularly relevant to ethical decision-making in the context of management.
Managers are often faced with ethical dilemmas that require careful consideration and judgment. Using critical thinking, managers can assess the situation from multiple perspectives, evaluate all available options, and make an informed decision aligning with their organization's values.
One useful strategy for ethical decision-making is the "ethical decision-making framework." This framework involves the following steps:
| Step | Description |
| --- | --- |
| Identify the problem | Determine the ethical problem and all parties involved. |
| Gather information | Gather all the facts relevant to the problem and evaluate the reliability of your sources. |
| Identify the stakeholders | Identify all the stakeholders, including those who will be affected by the decision. |
| Consider the available options | Consider all available options for resolving the problem and evaluate their potential risks and benefits. |
| Choose a course of action | Choose the option that aligns with your organization's values and will bring the most good to the stakeholders. |
| Take action | Implement your chosen course of action and evaluate its effectiveness. |
By using critical thinking to follow this framework, managers can make ethical decisions that are thoughtful, fair, and effective.
Critical Thinking for Effective Change Management
Managing change in an organization can be a daunting task. However, critical thinking can help managers assess change impacts, identify potential obstacles, and implement successful change initiatives.
One critical thinking strategy for effective change management is to break down the change into smaller parts. This can help managers and team members better understand the change and identify potential issues or challenges. It can also help involve team members in the change planning process, as they can provide valuable insights and perspectives.
| Critical Thinking Strategies for Effective Change Management | Benefits |
| --- | --- |
| Identify potential obstacles to change | Helps managers anticipate and mitigate potential risks |
| Assess the impact of change on stakeholders | Enables managers to better understand the impact of the change and identify potential resistance |
| Develop a strategic plan for change | Helps managers to organize and prioritize tasks, ensuring efficient implementation of the change initiative |
In addition to these strategies, critical thinking can help managers effectively communicate the change to team members, stakeholders, and customers. Managers can address concerns and build stakeholder trust using critical thinking skills such as active listening and effective questioning.
Ultimately, critical thinking is a valuable tool for effective change management. It can help managers to navigate the complexities of change, anticipate potential challenges, and implement successful change initiatives.
Cultivating a Culture of Critical Thinking in the Organization
As a manager, you can create a culture of critical thinking within your organization. By encouraging your team to think critically, you can foster innovation, creativity, and problem-solving skills that will benefit your company in the long run.
Here are some strategies for cultivating a culture of critical thinking:
| Strategy | Description |
| --- | --- |
| Encourage open dialogue | Encourage your team to speak openly and honestly, and actively listen to their ideas and feedback. This will promote a culture of transparency and trust, which is essential for critical thinking. |
| Reward innovative thinking | Recognize and reward team members who think outside the box and come up with innovative solutions to problems. This will encourage others to follow suit, and showcase the value of critical thinking. |
| Provide training opportunities | Offer your team the opportunity to attend workshops, seminars, and other training programs that promote critical thinking skills. This will help them develop the skills they need to succeed as critical thinkers. |
By implementing these strategies, you can create a culture of critical thinking that supports your team's success. Remember, the success of your team and your organization depends on your ability to lead them effectively, and that starts with encouraging critical thinking.
Conclusion
Critical thinking is an essential skill for effective management. Through this article, we have explored the importance of critical thinking in management and provided practical examples and strategies for managers to enhance their critical thinking abilities.
By developing critical thinking skills, managers can make better decisions, solve problems more efficiently, and adapt to changing situations. Applying critical thinking, problem-solving, communication, team management, ethical decision-making, and change management can lead to managerial success.
Managers must cultivate a culture of critical thinking within their teams and organizations by encouraging open dialogue, rewarding innovative thinking, and providing training opportunities.
Through the critical thinking examples and strategies provided in this article, we encourage managers to enhance their management skills and achieve success in their roles.
FAQs
What is an example of critical thinking in management?
An example of critical thinking in management could be when a manager faces a complex problem in the workplace, such as declining team productivity. Instead of jumping to conclusions, the manager analyzes the situation, gathers relevant data, considers various perspectives, and devises a well-thought-out plan to address the issue. This approach demonstrates critical thinking as the manager evaluates alternatives and makes informed decisions.
What are some examples of critical thinking in the workplace?
Critical thinking in the workplace can manifest in various scenarios. For instance, a manager deciding whether to invest in new technology evaluates the potential benefits, drawbacks, and implications before making a choice. Another example could involve resolving employee conflicts by considering multiple viewpoints, identifying underlying issues, and proposing effective solutions.
What is an example of strong critical thinking?
An example of strong critical thinking could be when a manager is presented with a crisis threatening a project's completion. Instead of reacting impulsively, the manager assesses the situation, gathers information, and collaborates with team members to identify root causes and potential solutions. This demonstrates strong critical thinking as the manager employs analysis, creativity, and strategic thinking to address the crisis effectively.
How to think critically as a business owner?
Identify the Problem: Clearly define the issue or challenge you're facing.
Gather Information: Collect relevant data, facts, and perspectives on the problem.
Analyze Information: Break down the information into components, identifying patterns and potential connections.
Consider Alternatives: Generate multiple possible solutions or approaches.
Evaluate and Decide: Assess the pros and cons of each alternative and select the most suitable option.
Implement and Monitor: Execute the chosen solution and monitor its outcomes, making adjustments if necessary.
How does critical thinking help managers work through problems?
Analyze: Break down complex problems into manageable parts and examine each component.
Evaluate: Consider different viewpoints and assess the validity of information and assumptions.
Problem-Solve: Generate creative solutions based on a comprehensive understanding of the problem.
Plan: Develop a well-thought-out strategy that addresses the issue effectively.
Make Informed Decisions: Choose the best course of action after considering various factors.
Adapt: Adjust strategies as new information emerges or circumstances change.