Disclaimer: We sometimes use affiliate links in our content. For more information, visit our Disclaimer Page. 
Leadership presence can be described as the aura that a leader gives off. This presence comprises various factors, including body language, communication style, and tone.
A leader with a strong presence can inspire confidence in those around them and motivate employees to achieve great things.
While not everyone can be a natural-born leader, there are specific techniques that anyone can use to improve their leadership presence.
What is leadership presence?
The ability to project authority is the sum of numerous talents and characteristics, including communication and adaptability and visual factors such as body language and apparel. It takes more than just showing up in a suit one day to develop leadership presence – it's about your total package.
Why is leadership presence important?
Presence is defined as projecting an image of self with conviction and grace. In addition, presence in leadership has been associated with authenticity, charisma, charm, confidence, and personal power.
These traits are all critical components for maintaining influence over others. Because presence is developing into a recognized area of study within the field of leadership, it will be important that individuals become familiarized with its definition, benefits, and risks. Leadership Presence is the key to dynamic and authentic leadership.
Related: Charismatic Leadership
6 Benefits of leadership presence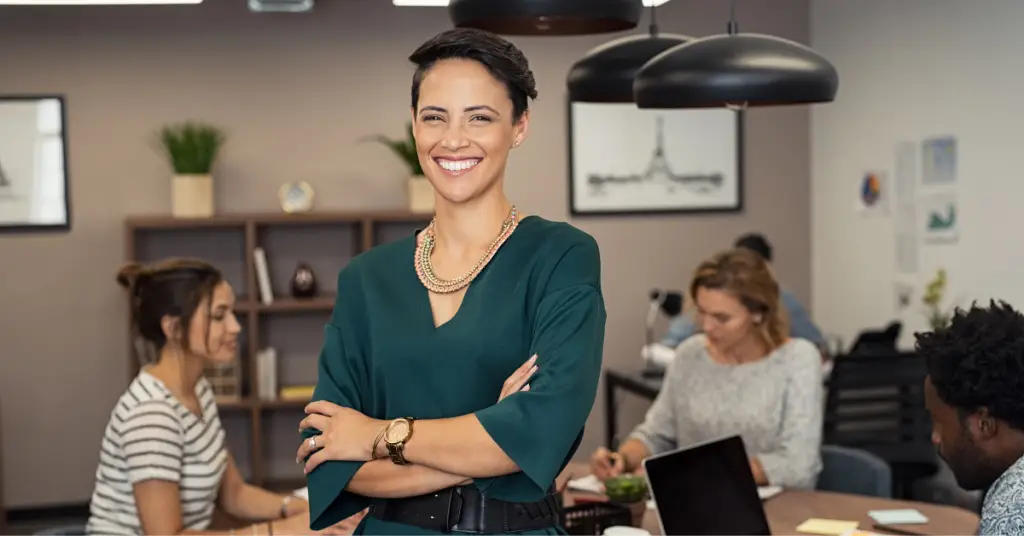 There are many benefits of leadership or executive presence, including strengthening company culture, increasing motivation for employees & more respect/authority. Leadership presence is crucial to success in delivering what your company needs.
Having a solid aspiring leader enables you to be more successful in business life, especially in business relationships and motivating employees. Your leadership style sets an example that influences everything from achieving results, building relationships, managing conflict, and engaging others.
Great Leaders who have high levels of transformational and transactional leadership have a significant influence on developing each employee's self-leadership qualities within the organization.
1) Strengthening company culture
One of the most significant benefits of leadership presence is strengthening a company's culture. Employees need to feel safe, clear about their role in the organization, and have positive relationships with their co-workers. When they don't feel empowered by their leaders, they will not work at maximum capacity or be productive.
Leaders who understand their employees' needs make sure everyone is aligned with the shared mission and vision of the business while also providing them with the proper training, resources, and abilities so they can perform well.
While many companies give lip service to empowering employees, true empowerment comes when a leader invests in their team enables them to do things they never thought possible.
2) Increases motivation
One of the best benefits of leadership presence is that effective leaders motivate employees. Employees who enjoy their jobs, feel fulfilled, and do good work are more likely to be productive and make positive contributions to your company's success.
They will also give you great "value for money" as they invest energy and passion into their job and work for greater returns.
3) More respect/authority
Leadership presence gives you the power and authority needed to lead effectively. In addition, it creates a natural hierarchy that puts an end to infighting and disagreements over who makes decisions – all because everybody knows exactly what the leader thinks without having to ask or wait for clarification.
When employees follow orders instead of questioning them, it speeds up processes within your business significantly while simultaneously making lives easier for people working in management & leadership roles.
4) Deliver what your company needs
Leadership presence is needed to deliver its vision, mission, and goals while also achieving sustainable growth for its business. In addition, executives with an excellent leadership presence are more likely to build a strong team that delivers the right results.
They can communicate their ideas clearly while engaging with others on their terms, making decisions quickly and rapidly. This enables business leaders to meet deadlines, stay on top of daily tasks and get things done without continuously checking in with employees or asking subordinates what they've been up to.
Presence creates trust within teams & strengthens relationships between co-workers, making it easier to achieve common goals together effectively.
5) Improves organizational performance
When a great leader leads an organization, it can quickly get employees excited about the business and create a powerful "buzz" among the team members. It makes an almost infectious drive for productivity throughout your enterprise while also promoting high morale.
Leadership presence ensures that you have people willing to do what needs to be done to achieve targets & goals. Without this strong leadership style, companies will struggle with filling roles or remaining empty. In addition, there would be infighting between co-workers without direction from leaders, and the workforce wouldn't have any passion for their jobs.
6) Builds relationships
One of the essential benefits of leadership presence is building relationships within organizations. The more seniority you have in a company or, the more employees you manage, your leadership presence will be more valuable.
Leaders who have strong personalities can build networks of beneficial relationships with their co-workers, fellow managers, and the company's higher-ups. These relationships can lead to opportunities for further growth within your organization, financial gain & job promotions, etc.
This is not something everyone has naturally, so people must learn how to master this skill through various training programs, reading self-help books, or attending seminars on management skills.
Related: Contingency Theory of Leadership
How to improve leadership presence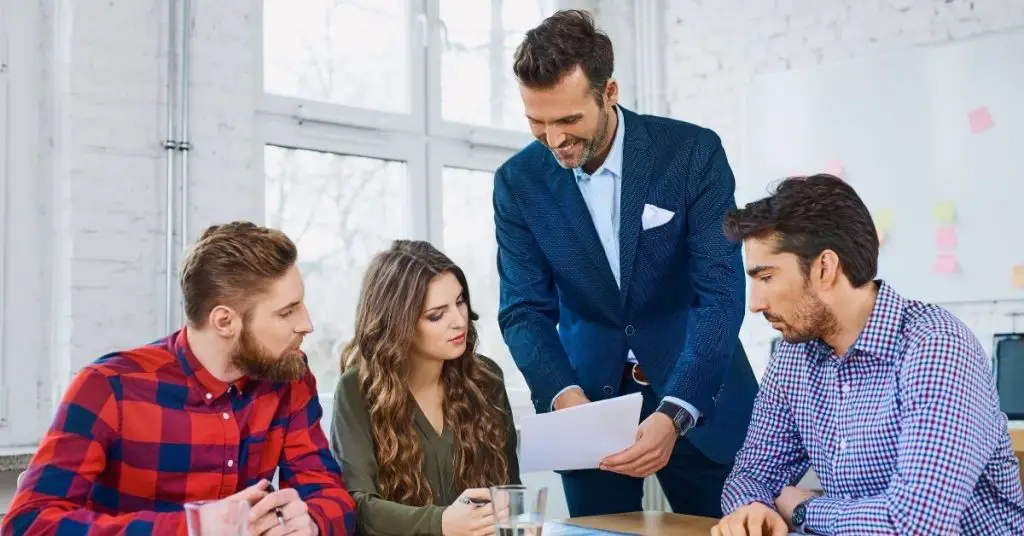 Leadership presence is key to becoming an effective leader. It's not only what you say but how you say it that makes a difference. Here are twelve tips to help improve your leadership presence.
1) Lead with your head and your heart
The best leaders can use both their head and their heart while leading. First, they see how something should be done; then, they follow that up by considering the emotions of those involved. If possible, try to empathize with the people you are trying to lead to increased morale and productivity.
2) Be approachable!
No matter what title you may have, remember that you are there for them if someone needs help or has an issue. Allowing your employees access to you at all times will allow them to feel as if they can come to talk about anything with you…and eventually, they'll start feeling comfortable enough around you where they do just that. Eventually, they'll maybe even start going to you for advice on other things.
3) Be a role model
People don't always know what to do unless you show them, so if you want your employees to be productive and hardworking, prove it! You can still have fun while working hard- teach the rest of your team how serious business is handled with class and efficiency.
4) Always follow up
You sent out an email to everyone…great job! Now make sure you come back in a couple of hours or that same day and see what was done. Maybe someone forgot something or misunderstood one of your orders….careful oversight will ensure that everything gets done the way it should be. It will also give you a chance to recognize people doing an outstanding job.
5) Be honest
If someone is doing a fantastic job, tell them! If something is not working, let them know. Don't be afraid of criticism- it's only human nature that some employees will take anything negative the wrong way.
However, if they're aware of their errors and you can offer suggestions on how to fix them, they'll end up coming out looking like even better workers in the process!
6) Practice good time management skills
Ugh…another busy day at work? Chances are you wish you had more time in the day to get everything done with ease…well, so do your employees! They want to know that you are on top of your game and can handle whatever comes. So show them good time management skills by first addressing the important tasks, delegating what needs to be delegated, etc.!
7) Be proactive
Now, this one is pretty simple- don't wait for something terrible to happen before you take action, or at least try to foresee what could happen if you sit around doing nothing…try not to overthink about it… go out there and do it! Then, your employees will respect your ability to make decisions quickly- even if they aren't always right (because, let's face it, no leader is perfect).
8) Don't forget to relax
At the end of a long day, you should always allow yourself to unwind and relax. No matter what kind of job you have, it's essential to be healthy and at your best! Try not to let stress get the best of you- if you need a break, take one! It will benefit everyone involved in the long run.
9) Read and adapt to different situations
The best leaders have read various books on leadership and possess a diverse range of knowledge to draw from. No two situations are alike, so you must know what to do in every scenario- whether a disagreement between co-workers or a natural disaster! The more information you have at your disposal, the better you will handle whatever comes your way.
10) Be flexible
Listen…there is no one person out there who can handle everything perfectly all the time. It's okay if things don't go as planned now and then- keep calm and move on! If someone else has an idea or suggestion that may help, always consider it before dismissing it outright. Sometimes even your worst critic has something good to say!
11) Communicate effectively
Effective Communication skills are a crucial factor- especially in your leadership position. If you want people to respect your opinion, make sure they know what you think. Don't beat around the bush (even if it's bad news or criticism).
Be clear and precise about whatever it is you need to tell them! Ask for their input whenever possible…it will make them feel valued, encouraging them to put forth more effort.
Your workforce should want change just as badly as you do- so why not work together? Remember- leadership isn't only about making tough decisions; it's about correctly exercising the power you already have!
12) Develop your emotional intelligence
Don't feel insulted…emotional intelligence is an integral part of leadership! It's the ability to recognize, understand, and control your own emotions and recognize, understand, and influence others' emotions. But, first, you need to figure out what people are feeling at any given time so that you can motivate them properly- even without saying a single word.
This means that it's essential for you to develop self-awareness around how certain situations make you feel in the workplace (even if they're minor ones). Once you've figured this out, try not to dwell on those feelings because it won't help anyone…just let them go!
Related: 5 Levels of Leadership
Final thoughts
Anyone can improve their leadership presence by working on their body language, communication style, and tone. Of course, it takes time and practice to perfect these techniques, but the payoff is worth it.
A strong leadership presence can inspire confidence in those around you and motivate employees to achieve great things. So if you're looking to become a more effective leader, start practicing the leadership skills we've outlined in this blog post.
Do you have any tips to share? Let us know in the comments!