Disclaimer: We sometimes use affiliate links in our content. For more information, visit our Disclaimer Page. 
In the last few years, our world has gone digital in ways we could never have predicted. From Zoom meetings to remote team onboarding, virtual settings are rapidly becoming the norm. With this change, it's essential to learn how to introduce yourself effectively in these online environments. This post will guide you through the intricacies of creating a compelling virtual introduction. Let's dive in!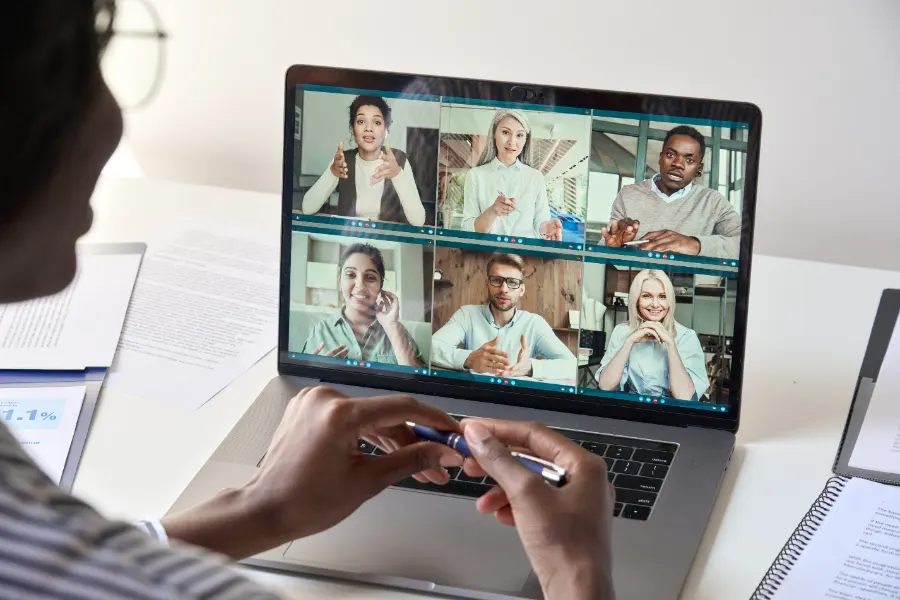 How do you introduce yourself in a virtual meeting?
Introducing yourself in a virtual meeting may seem tricky initially, but with a few simple strategies, you can make a memorable first impression.
Craft a Compelling Introductory Statement
Begin with a compelling statement about yourself. It should be concise, yet interesting enough to pique others' curiosity. For instance, you might say, "Hello, I'm John, and I love turning complex concepts into simple, understandable ideas. As a Technical Writer at XYZ Corp, that's my day-to-day task."
Body Language Matters
Even in a virtual setting, body language speaks volumes. Maintain eye contact by looking at the camera and sit up straight to show attentiveness and respect. Your non-verbal cues can enhance your introduction and convey confidence.
Practice Makes Perfect
Prior to the meeting, rehearse your introduction to ensure a smooth and confident delivery. It helps to mirror the setting by practicing in front of your webcam.
How do you introduce yourself in a first team meeting?
Joining a new team can be both exciting and nerve-wracking, especially when it's done remotely. Here are a few tips for a great first impression.
Make It Personal, Yet Professional
An introduction isn't merely stating your name and role. It's also about conveying who you are as a person. Share a bit about your professional journey, achievements, and some personal tidbits. Be sure to balance professionalism with relatability.
Express Enthusiasm
Enthusiasm is contagious, and it helps form positive first impressions. Express your excitement about joining the team, contributing to projects, and learning from your peers.
Be Mindful of Time
In a team meeting, it's important to be concise and respect everyone's time. Aim for a 1-2 minute introduction, providing a snapshot of your professional identity without delving into a full-length autobiography.
How do you introduce yourself casually?
There are instances when a formal introduction isn't necessary, such as casual networking events or virtual social gatherings. Here's how to keep it light and engaging.
Sharing a fun fact about yourself is an excellent way to break the ice. It might be your love for salsa dancing, your talent for playing the piano, or the quirky fact that you can recite every line from the "Friends" series.
Use Humor
Humor can be an effective tool to establish rapport. It might be a funny story from your childhood or a light-hearted remark about your remote working setup.
Keep It Real
In a casual setting, authenticity goes a long way. Be yourself and show genuine interest in others. Remember, the goal of a casual introduction is to establish a connection, not to impress with your credentials.
Related: Ground Rules for Virtual Meetings
How do you present your team in a fun way?
Presenting your team in a fun way can boost morale and foster a sense of camaraderie. Here are a few ideas.
Virtual Team-Building Games
Consider virtual games such as trivia contests, scavenger hunts, or online escape rooms. These activities not only introduce your team members but also engage them in a fun and interactive way.
Storytelling
Every team member has a unique story. Create a relaxed environment where everyone can share something interesting or funny about themselves.
Virtual "Show and Tell"
"Show and tell" isn't just for schoolchildren. Inviting team members to share a physical object that represents them or their work can provide unique insights into their personalities and hobbies.
Related: Free Virtual Team Building Activities
Practical Examples of Introducing Yourself in a Virtual Setting
In this section, let's delve into some concrete scenarios where you'll need to introduce yourself virtually and how the advice provided earlier can be put into practice.
Example 1: Virtual Meeting
Imagine you're joining a virtual meeting with a new project team for the first time. Your goal is to establish a positive connection, demonstrate your competence, and convey your role in the project. Here's how you might introduce yourself:
"Good morning everyone. I'm thrilled to be joining this dynamic team. My name is Jane Doe, and I have worked as a product manager for the last six years, primarily in the tech sector. Most recently, I've been involved in developing and launching a successful software product that streamlined internal communications for several multinational corporations.
In this project, my main responsibility will be to oversee product development, ensuring that we deliver a high-quality product on time and within budget. Outside of work, I am an avid cyclist and can often be found exploring local trails. I'm looking forward to getting to know each of you and working together on this exciting project."
Example 2: Remote Team Building
Next, let's consider a remote team-building activity where each team member is asked to share something about themselves. This is an opportunity to showcase your personality and foster connections on a personal level. Here's an introduction that balances professional and personal information:
"Hello team! I'm John, your friendly neighborhood data analyst. I love turning raw data into meaningful insights that can drive our business forward. Before joining this organization, I worked in the finance industry, harnessing data to predict market trends. In my free time, I'm a mystery novel aficionado and also enjoy cooking. Fun fact: I can prepare a mean lasagna. If we ever have the chance to meet in person, dinner's on me!"
Example 3: Virtual Networking Event
Finally, let's look at a networking event. Here, the objective is to make a memorable impression that encourages further contact. This introduction is concise and sparks interest:
"Hi, I'm Clara, a digital marketing specialist with a passion for storytelling. I have a knack for creating compelling narratives that elevate brand identity and drive customer engagement. In my previous role, I increased our organic website traffic by 35% through a targeted content strategy. When I'm not optimizing SEO or brainstorming content ideas, you might find me hiking or experimenting with landscape photography. I'd love to connect with fellow marketing enthusiasts and anyone interested in swapping photography tips."
Each of these examples highlights the person's role, professional accomplishments, and a bit about their personal life or interests, providing a well-rounded introduction in each scenario.
Importance of Effective Virtual Introduction
Now that we've addressed the common queries, let's take a step back and explore the significance of virtual introductions.
Creating effective introductions in a virtual setting is not just about stating your name and role. It's about establishing rapport, creating a positive impression, and initiating connections. While it might seem challenging at first, with practice, you can master this skill and ensure your virtual presence is as impactful as your physical one.
Connecting Despite Distance
A compelling virtual introduction can bridge the geographical gap that often exists in remote settings. By conveying your personality and values effectively, you can establish a human connection, fostering better collaboration and understanding among the team.
Creating a Positive Professional Persona
Your introduction is the first step towards building your professional persona in the virtual workspace. A well-crafted introduction can highlight your communication skills, confidence, and professionalism, all of which are crucial for career growth in the digital age.
Breaking the Ice
An engaging introduction serves as an excellent icebreaker, especially in a new team or meeting. It can set the tone for positive interactions and open the door for productive conversations.
Engaging with Audience
Introductions aren't just about you. They're also about engaging your audience. Whether it's a meeting with potential clients or an internal team gathering, a powerful introduction can grab attention, spark interest, and initiate meaningful conversations.
Making Your Virtual Introduction Stand Out
Now that we understand the importance of virtual introductions let's look at some advanced strategies to make your introduction stand out.
Use Storytelling
Stories captivate us. They engage our emotions and make information more memorable. Incorporate a brief story into your introduction to make it more engaging and personal. It could be about your journey in your field, a challenge you overcame, or an event that shaped your career.
Show Your Passion
Passion is infectious. Expressing passion for your work can instantly draw people in and make your introduction more impactful. Describe what you love about your role, the impact you wish to make, or why you believe in your organization's mission.
Incorporate a Call-to-Action
An often-overlooked strategy in introductions is the use of a call-to-action (CTA). It's not just for sales pitches; it can be a request for input, an invitation for questions, or a suggestion for collaborative action. This turns your introduction into an interaction, inviting dialogue and engagement from your audience.
Overcoming Challenges in Virtual Introductions
Virtual introductions can present unique challenges, from technical issues to the absence of physical cues. Here are a few tips to overcome these hurdles.
Test Technology in Advance
Technical glitches can disrupt your introduction and create a negative impression. Test your internet connection, microphone, and webcam well in advance to prevent technical issues during your introduction.
Be Prepared for Delays
There can be a delay in virtual communications due to internet speeds. Pause briefly after your introduction to give others a chance to respond, and be mindful not to interrupt others if they're experiencing lag.
Make Use of Visual Aids
To compensate for the lack of physical presence, consider using visual aids in your introduction. It could be a short slide about your career journey, a picture of your workspace, or even an on-screen whiteboard to draw and share your ideas.
Handling Distractions
While introducing yourself, ensure to limit distractions as much as possible. This includes background noise, mobile devices, and other disruptions. A focused and uninterrupted introduction sends a message of respect and professionalism.
For a further in-depth understanding and additional strategies on how to effectively introduce yourself, especially when you're a new employee, visit this well-articulated guide on new employee self-introduction speech. This resource is filled with practical insights and steps to help you create a memorable first impression.
Mastering the Art of Online Communication
While an effective introduction is key, it's equally important to communicate well throughout the meeting. Here are some best practices for virtual communication.
Active Listening
Active listening is a crucial component of effective communication. Show that you're engaged by nodding in agreement, providing verbal affirmations like 'yes' or 'I see', and summarizing key points. Remember, communication isn't just about speaking; it's about listening too.
Non-Verbal Cues
In a virtual setting, non-verbal cues are as crucial as verbal communication. Maintain eye contact, a nod to show agreement, and use hand gestures for emphasis. Ensure your body language conveys attention and respect.
Clear and Concise Speech
Online meetings can be taxing, and attention spans can wane. Keep your communication clear and concise. Avoid using jargon and ensure your points are easy to understand.
Be Respectful and Considerate
Always be respectful and considerate in your communication. Be mindful of time zones, cultural differences, and personal circumstances of team members. Politeness and understanding foster a positive and productive communication environment.
The Future of Virtual Introductions
As we embrace the digital era, virtual introductions will become increasingly important. They'll be key skills for networking, team collaboration, client interaction, and more. Here's what the future might hold.
Increased Use of Video Introductions
Video introductions will likely become more popular. They offer a personal touch, bridging the gap between physical and virtual interactions. Creating a short, professional video introduction could be a useful asset in your digital toolkit.
AI-Assisted Introductions
AI could play a role in virtual introductions. From AI assistants helping craft compelling introductions to virtual reality environments making introductions more interactive, the future promises exciting possibilities.
Greater Emphasis on Personal Branding
Personal branding will be paramount. Your virtual introduction will be an essential part of your personal brand, reflecting your professional identity, values, and skills.
Related: What Does It Mean To Work Autonomously
Conclusion
Mastering the art of introducing yourself in a virtual setting is an invaluable skill in our increasingly digital world. It's more than just stating your name and role; it's about establishing a connection, making a positive impression, and kick-starting meaningful interactions. By incorporating these strategies and insights, you can ensure your virtual introduction is compelling, authentic, and memorable.
FAQs
How can I make my virtual introduction engaging?
Utilize storytelling, share interesting facts about your professional journey, and express your passion. Keeping your introduction concise, well-structured, and conversational can also keep your audience engaged.
How do I handle technical issues during a virtual introduction?
Test your technology well in advance. If an issue arises during the introduction, calmly acknowledge the issue, apologize for the inconvenience, and address it promptly.
How long should my virtual introduction be?
Aim for a 1-2 minute introduction. It's enough time to provide a snapshot of who you are without overextending.
Can I use humor in my virtual introduction?
Yes, if appropriate to the context and audience, humor can be a great icebreaker and make your introduction more engaging.
How can I introduce my team in a fun way in a virtual setting?
Consider virtual team-building activities, storytelling sessions, or a virtual "show and tell." This not only introduces team members but also fosters a sense of camaraderie.